Easy Stuffed Portabella Pizza recipe idea. A quick easy mushroom appetizer, grilled or oven baked for a side dish, or mini pizza.(GF)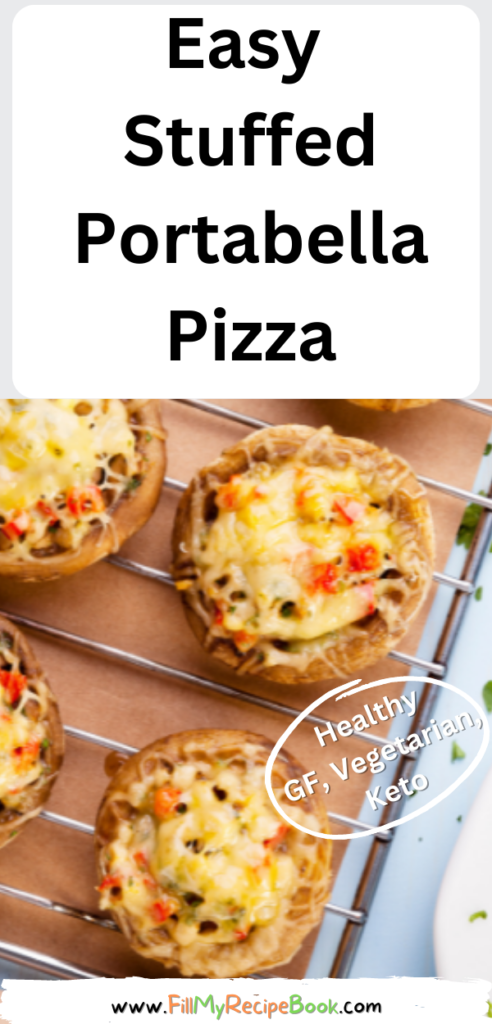 Easy Stuffed Portabella Pizza
Grill this delicious easy stuffed portabella pizza mushroom recipe idea for a appetizer or snack as well as a side dish. Grill on a braai or barbecue as well as an oven bake recipe.
What an amazing warm side dish or healthy mini pizza that is gluten free and vegetarian as well as keto friendly. This versatile light meal can be cooked in various ways and with different ingredients. Change ingredients to please or suit the different diets that people eat. If you have a family that is vegetarian or vegan or meat eaters. Change up the ingredients and make a few different fillings.
You can grill on a braai or cast iron stove top griller or bake in the oven on a baking tray. They cook quickly and you just need the cheese to melt and the mushroom must be soft.
Is portobello good for keto?
Healthy low in carbs mushrooms, such as oyster, shiitake, button and portabella mushrooms. This makes them keto friendly. All of these can be eaten raw or cooked. Add them in salads or casseroles, quiches, stir fries and so on. Versatile for grilling or braai or barbecue with stuffing inside for a side or appetizer.
Should you eat portobello gills?
The gills of portabella mushrooms are totally edible. You can take them out if you prefer. It is said that they (gills) can make your dish a little dark and an unappetizing looks. Others claim that they can have a bitter taste as well. I preferably take them out when making stuffed mushrooms.
Is Portabella mushrooms healthy?
Portabella mushrooms are a good sauce of vitamin B, these help break down the carbohydrates into sugar for fuel and energy. As well that portobello also contains riboflavin, niacin, and pantothenic acid which augments heart health and reduces risk of heart attacks. So yes very healthy.
Ingredients
portabella mushrooms
Mozzarella, cheddar or other cheeses required
yellow and red bell peppers(or small cherry tomatoes)
olives
salt and pepper
Italian seasoning or parsley
pizza sauce or a dab of butter.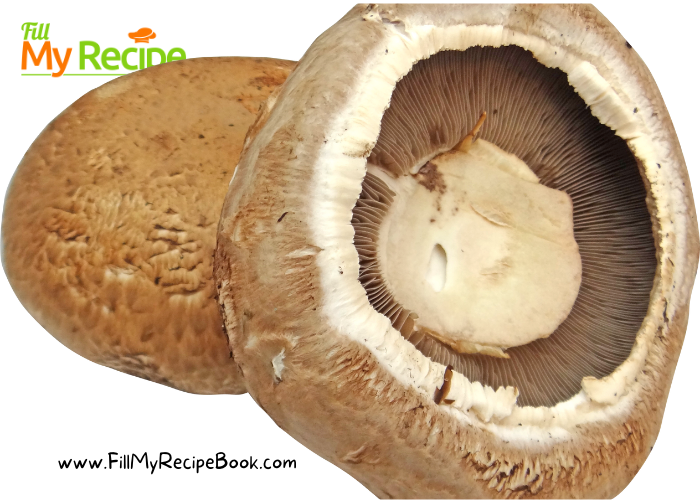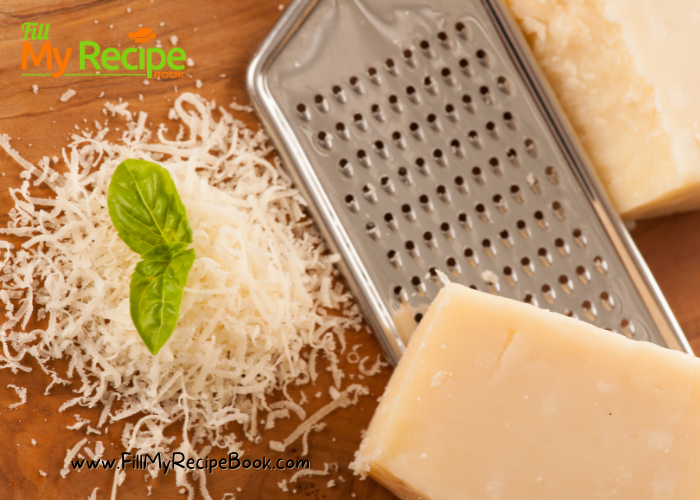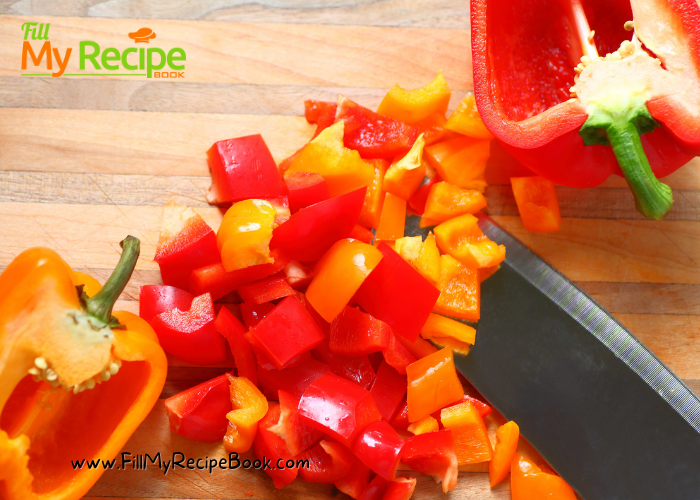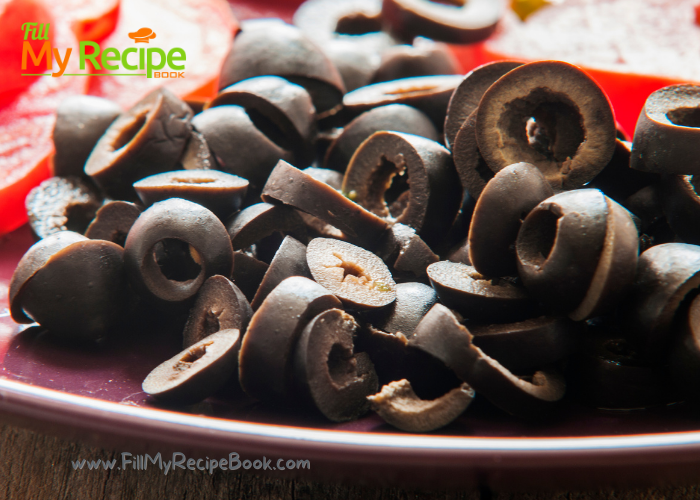 How To
Once you have taken out the stem of the portabella mushroom then baste with pizza sauce or just tomato sauce or a dab of butter. Add the bell peppers. Place them on a greased baking pan.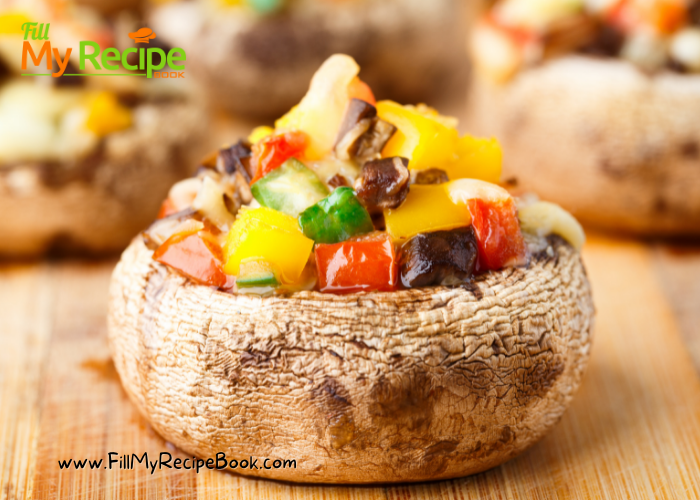 Bake in the oven or grill until cheese is melted and mushrooms are tender. They do not take long to cook. Portabella mushrooms are very healthy.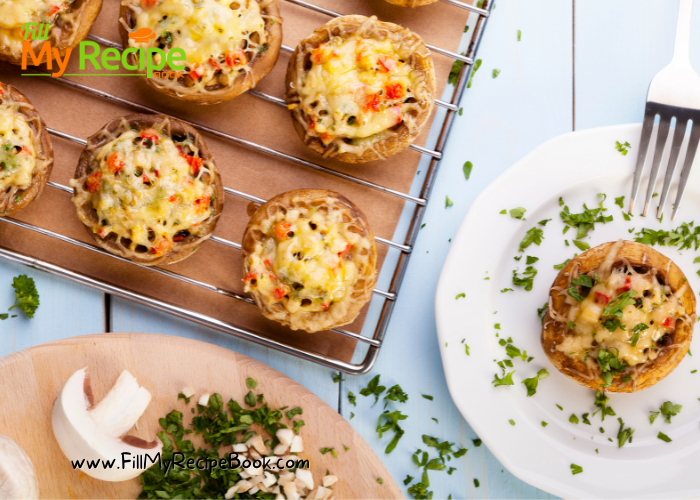 Oven grilled in a greased pan or on a braai or barbecue and ready to serve as a mini pizza or side dish. Great healthy tasting meal.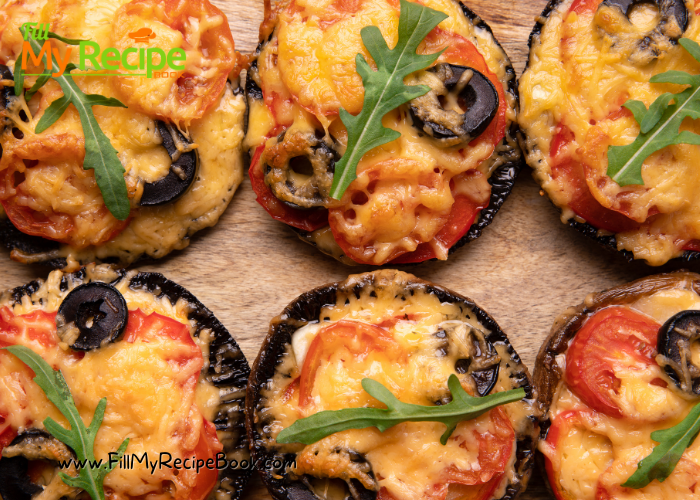 Oh so yummy, and absolutely delicious. We do this on the braai or grill and they can be eaten as appetizers as well. Also served with your braai meats and salads.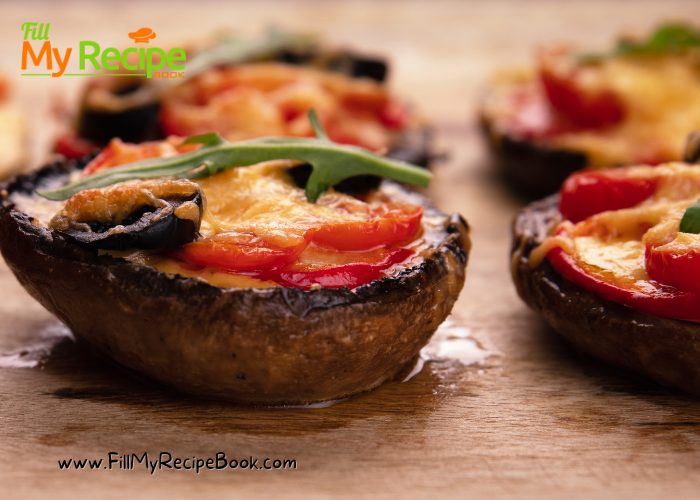 Recommendations.
(click the highlighted heading for recipes)
These are recipe ideas to create with mushrooms that are grilled —-> Grilled Sliced Button Mushroom Kebabs and Braai or Grill Stuffed Portabella Mushrooms
There are more pizza recipe ideas to create —-> Quick Homemade Pizza and Easy 2 Ingredient Pizza Base and Homemade Pepperoni Cheese Pizza and 12 Delicious Homemade Pizza Ideas
A few Mothers Day recipe Ideas to create —-> 21 Mother's Day Braai Ideas
Diabetic friendly recipe ideas to create —-> 15 Satisfying Diabetic Recipes
Get more recipes here.—–>14 Easy Healthy Light Meals Recipes
Mushroom mini pizza snack appetizers —-> Caprese Garlic Bread Recipe and Quick and Easy Pesto Flatbread and Braai or Grill Stuffed Portabella Mushrooms and Savory Toothpick Appetizers Ideas and Ham and Feta Bruschetta and Easy Cheese Straws Recipe and Easy Mini Cinnamon Rolls Recipe and Mini Puff Pastry Sausage Rolls and and Chocolate and Peanut Butter Balls and How to Make Cheese Platter Appetizers and Homemade Garlic Braai Loaf and Quick and Easy Pesto Flatbread and Two Easy Holiday Snacks
Having a dinner party? Then get some ideas and help here.—–> 25 Easy & Quick Dinner Party Recipes
As well as —–> 14 Easy Gluten Free Suppers Recipes then get more meal ideas —–> 14 Gluten Free Meal Recipes
more of —– 10 Sunday Vegan Meals and Dessert
You will love these recipe ideas as well —-> 19 Healthy Mushroom Filled Recipes
Get some recipe ideas for vegan meals —–> 13 Easy Vegan Dinner Recipes
There is more recipe ideas —–> 12 Delicious Homemade Pizza Ideas
Get these camping recipe ideas —-> 11 Yummy Camping Recipes
and these recipe ideas as well —–> 24 Tasty Parmesan Inspired Recipes
Sharing a few LCHF recipe ideas for you to create —-> 16 Easy LCHF Snack Recipes
Some great recipe ideas are —–> 13 Vegan Mushroom Recipes
For thanksgiving appetizers get these ideas —-> 15 Simple Thanksgiving Appetizer Recipes
Did you know you can enjoy a braai or barbecue as a vegetarian? get these ideas —–> 25 Vegetarian Braai or Barbecue Recipes
Appetizers and snacks to serve —–> 20 Easy Thanksgiving Appetizers Recipes and other —-> 22 Christmas Appetizer Recipes
With more appetizer recipe ideas to create —–> 22 Yummy Appetizer Recipes
Try these vegan meal recipe ideas —–> 18 Easy Vegan Recipes
Amazing tasty bites —–> 13 Lip Smacking Finger Food Recipes
Get these bargains while they last with a few Useful gizmos for the kitchen. Some interesting gizmos to help in and around the kitchen and house.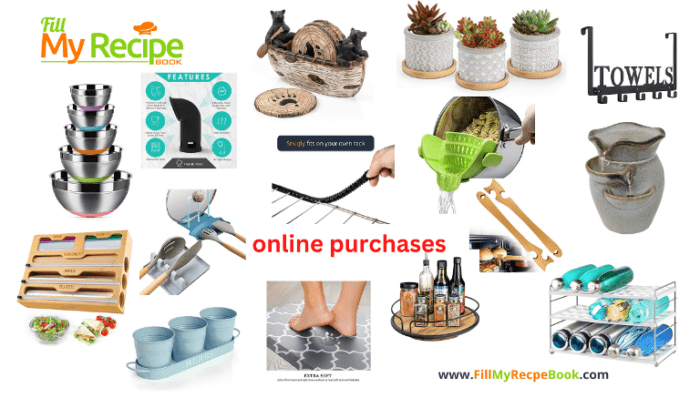 Print
Easy Stuffed Portabella Pizza
Easy Stuffed Portabella Pizza recipe idea. A quick easy mushroom appetizer, grilled or oven baked for a side dish, or mini pizza.(GF)
Author:
Prep Time:

10 min

Cook Time:

10 min

Total Time:

20 min

Yield:

4

Category:

side dish, appetizer, snack

Method:

Oven Baking, grill
Ingredients
4

Large Portabella mushrooms

1 Cup

of Mozzarella Cheese(or vegan cheese)or mix with cheddar cheese.

1/3 cup

of chopped bell peppers (green red and yellow.)Or small cherry tomatoes
A few chopped black or green olives.

1/3 cup

of parmesan cheese

1 Tablespoon

of Italian seasoning. (or dried parsley or basil)

1/4 cup

Pizza sauce or tomato sauce
Himalayan Salt and pepper
( for meat eater use small cuts of bacon or any other meats you like)
Instructions
Oven bake or grill on grill iron top (stove top) Braai grill as well.
Clean the parmesan mushrooms and remove the middle stem. Chop and cut bell peppers and olives in small pieces and Grate the cheeses.
Grease an oven baking tray, or grease the stove top grill plate with a little spray and cook or butter.
Place the mushrooms top facing down with the inside facing up. Baste the inside of the mushrooms with the pizza or tomato sauce (no to much).
Fill the mushrooms with your toppings(peppers and olives)
Sprinkle the mozzarella cheese over the peppers and add a little parmesan cheese on top of that. Then sprinkle some Italian Spices on top.
Bake in the oven at 180 Deg. C on the baking tray in the middle of the oven for about 10 minutes or until the cheese has melted and mushrooms are soft. Grill the top slightly. (They don't take long to cook)
OR
If you are grilling on the braai or stove top cast iron grill. Make sure they just melt the cheese and that the mushrooms don't over cook.
Serve warm or slightly cool on cooler rack.
Served as a warm side dish with a steak or any other meal is amazing. OR served as a healthy vegan and LCHF Gluten free mini pizza.
Scrumptious light meal.
Notes
For a healthy or vegan meal use vegan cheese or goats cheese. (feta)
For meat eaters add cuts of bacon or other meats.
Keywords: Easy Stuffed Portabella Pizza recipe ideas, mini meal or side dish.
Get some wonderful helpful FREE Printables to help in the kitchen Charts and Household planning. Even Kids and Adults coloring pages.
Go and get them NOW