Quick and Easy Pesto Flatbread snack recipe. Healthy and tasty oven baked bread idea for appetizer or meal for a vegetarian or other.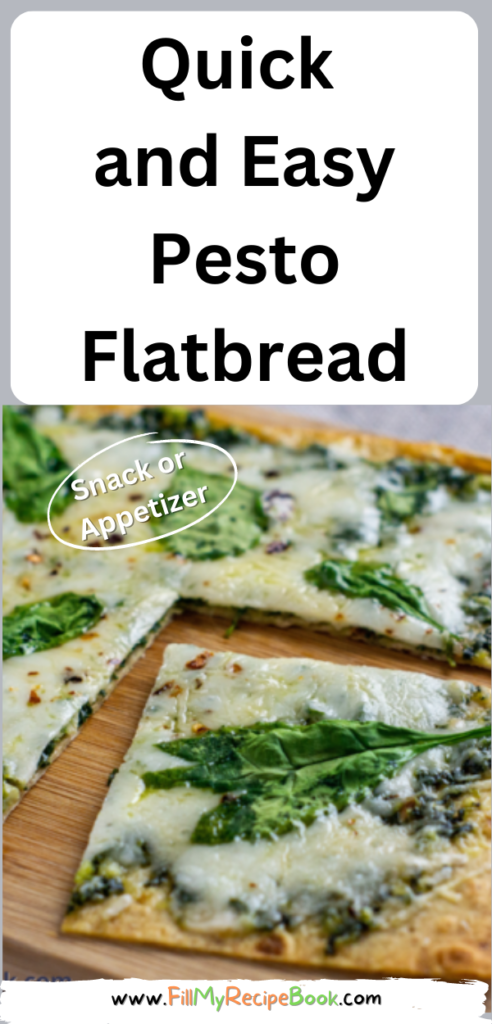 Quick and Easy Pesto Flatbread
A quick and easy basil pesto flatbread snack recipe idea to create with a bought flatbread or homemade flatbread and some added ingredients for a healthy appetizer or meal. Oven bake for vegetarians or any person to snack on. A light meal as a side dish idea.
What is flatbread?
A flatbread is a bread made with flour; water, milk, yogurt, or other liquid; and salt, and then thoroughly rolled into flattened dough. Many flatbreads are unleavened, although some are leavened, such as pita bread.
What makes pesto so high in calories?
Pesto can be high in calories because its ingredients include olive oil, nuts and cheese. The fats are unsaturated and may have heart and healthy benefits. Although pesto is full of antioxidants which help protect the cells against damage.
What do you eat pesto with?
Adds lots of flavor to add a scoop of pesto to hot soup.
a great bread spread.
makes great veggie dips.
elevates roasted vegetables.
added in mashed potato's
a pesto butter
a stuffing for chicken
great to be added with eggs.
Ingredients
basil pesto and leaves
mozzarella and parmesan cheese
spinach or kale
dried red peppers
Flat bread recipe
For all the ingredients amounts and the instructions follow the recipe attached.
How To
Roll out the flatbread and paste it with the basil pesto from edge to edge, make sure the whole flatbread is covered. Make yourself a homemade flatbread recipe –> Easy Homemade Flatbread Recipe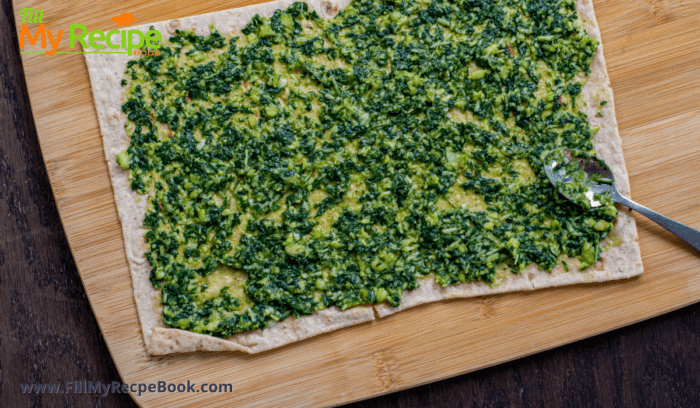 Spread the cheese of your choice over the Basil pesto. A mix of two of your favorite cheese would be a good idea.
Also sprinkle with a mixed herb of your preference, before the basil leaves are placed on top.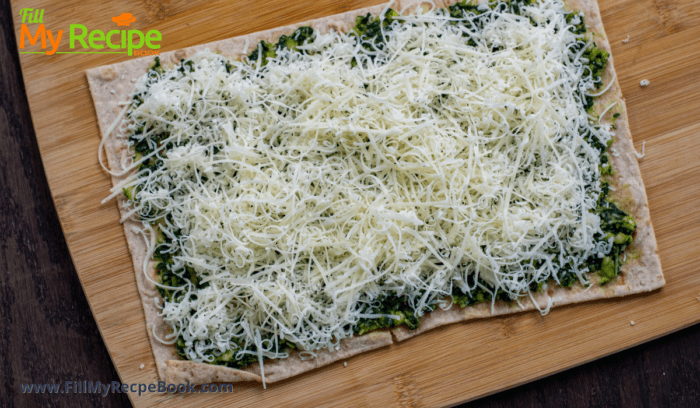 Once the basil leaves are on top of the cheeses. (two cheeses) then you are ready to place this on a baking sheet to bake in the oven.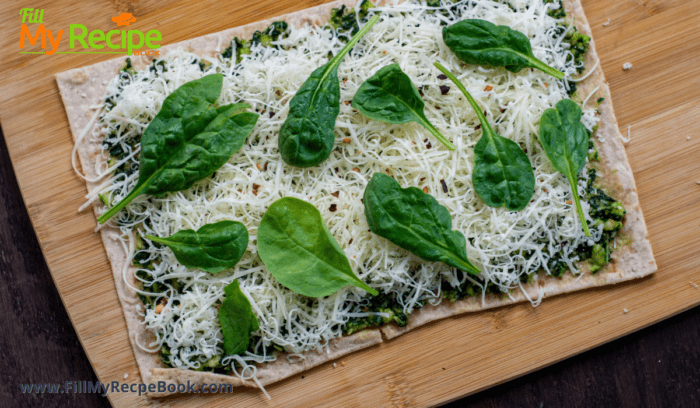 A quick bake of 7 minutes and its done. warm and crispy to the taste.
Its a great snack or healthy small meal. It can replace a pizza as the base is thin.
But that could not be done for me, we love pizza on week ends.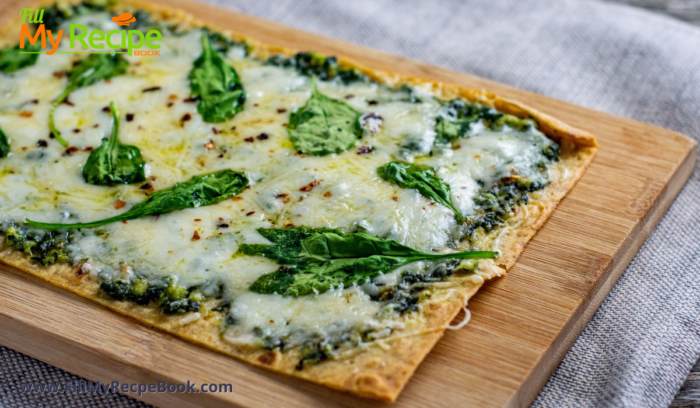 Cut with a pizza cutter and serve warm on a plate.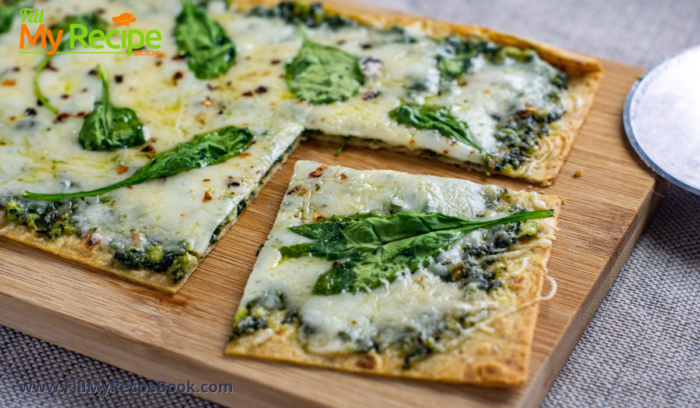 A great recipe below to make with little work to do. Its also very simple and fast just 3 ingredients needed and the warm oven. Then to enjoy.
Recommendations.
(click the highlighted heading for the recipe)
Make this —-> Easy Homemade Flatbread Recipe
Recipe ideas to create for Valentines —-> 14 Easy Valentine Appetizer Recipes
You will love these ——> 12 Easy Savory Bites Recipes
Get some ideas for a snack or healthy eats recipe ——-> 16 Healthy New year's Eats Recipes
Some more tarts and quiches recipes —–> 16 Quick and Easy Veggie Tart Recipes
and these recipe ideas as well —–> 24 Tasty Parmesan Inspired Recipes
Sharing some great organic kids recipe ideas —–> 20 Organic Kids Treats Recipes
Other recipe ideas that use Basil —–> 16 Cooking With Basil Recipes
Looking for something simple to bake or not to bake that's quick? then get these —-> 20 Easy Baking Recipes Ideas
Here we share recipe ideas to create for —-> 21 Quick and Easy Snack Recipes
Make these homemade —–> 29 Family Christmas Snack & Drinks Ideas
Amazing tasty bites —–> 13 Lip Smacking Finger Food Recipes
Print
Quick and Easy Pesto Flatbread
Quick and Easy Pesto Flatbread snack recipe. Healthy and tasty oven baked bread idea for appetizer or meal for a vegetarian or other.
Author:
Prep Time:

5 min

Cook Time:

7 min

Total Time:

12 min

Yield:

6

Category:

Meals, supper or lunch, dinner, snack

Method:

Oven Baking
Ingredients
1/4 cup

Thai Basil pesto

1

flatbread (6×9 inch) (homemade flatbread recipe)

1/4 cup

mozzarella cheese (shredded)

1/8 cup

parmesan cheese (shredded)

1 tbsp

red pepper flakes

1/2 oz

spinach leaves
Instructions
Heat the oven to 440 Deg. F (220 Deg.F)
Spread the pesto out on the flatbread from edge to edge.
Sprinkle the cheese and the red pepper flakes over the pesto.
Top with basil leaves.
Sprinkle more cheese over if you like.
Bake for 5 to 7 minutes.
Slice the flatbread with a pizza cutter, enjoy
Keywords: Quick and Easy Pesto Flatbread recipe
get more savory treats or snack recipes below. —-> Savoury Snacks Finger Foods