A homemade Blissful No Bake Custard Milk Tart recipe with condensed milk. Tennis biscuit base makes an easy fridge tart dessert.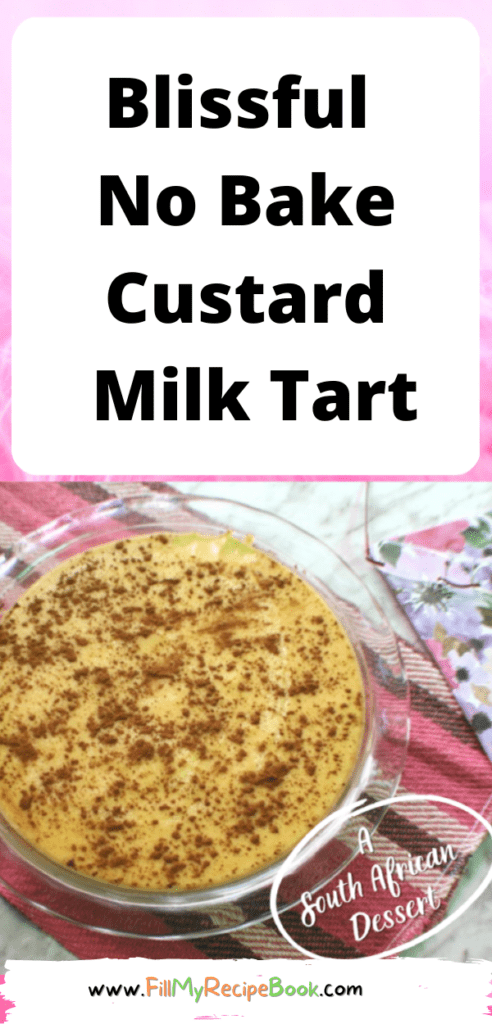 Blissful No Bake Custard Milk Tart.
A blissful no bake custard and condensed milk tart with tennis biscuit base dessert is so easy and delicious. A South African recipe idea that is similar to fridge tarts. A pleasing dessert to make on a stove top and chill in the fridge for tea time. Powdered with cinnamon on the top.
Love this south African blissful custard milk tart that is very versatile and may be used in mini tartlets or trifles.
Why is my milk tart not setting?
Allow the milk tart to cool at room temperature. It may not be setting as you did not use enough custard and corn starch to thicken it or cook it enough until it was thickened. Be sure to use the best quality ingredients.
Can you freeze milktart?
Milk tart can be made up to 2 days in advance and kept covered in the fridge. Leftover will keep in the fridge for up to 3 days. Freezing is not recommended as the custard might change texture once thawed. But does freeze well for a short period of time.
What is the best substitute for tennis biscuits?
You can substitute the South African made tennis biscuits for any coconut biscuits or graham crackers. Any type of coconut or plain biscuits you can purchase in the country you live in will do. If you would like the coconut flavor of the biscuit then add some desiccated coconut to the biscuit and mix in.
Ingredients
View the recipe attached for the instructions and ingredients.
1 Litre of Milk
1 egg
1 Tin of condensed milk
1 Pkt of tennis biscuits (or other) 200g
2 Tbsp of corn flour (mazena)
1 Tbsp of Custard powder
1 tsp of vanilla Essence
soft butter for biscuit base. 100g
Cinnamon (to sprinkle on top of tart)
How To Make.
Made with milk and a tin of condensed milk, brought to a boil. A paste is mixed with the other ingredients such as some milk from the main measure. An egg, corn flour and custard powder and vanilla essence. (please follow the recipe directions attached)
But firstly you blend or smash some tasty biscuits or tennis biscuits and melt butter to mix with this. A base for the milk tart, or many other tart recipes. Pressed in the pie or tart dish. Chilled in fridge until the custard milk tart filling is poured into it.
What is interesting about milk tart?
The milk tart or melk tert (in afrikaans) is one of the South Africas most traditional sweet tart or pie. It originated by the Dutch settlers in the cape of good hope. Dutch settlers introduced the milk based filling and the Cape Malays added the cinnamon flavor. The result is a rich, creamy custard filling with a hint of cinnamon.
You get the milk tart that is almost like a fridge tart and is not baked in the oven. Then there is the traditional oven baked milk tart with a pastry bottom.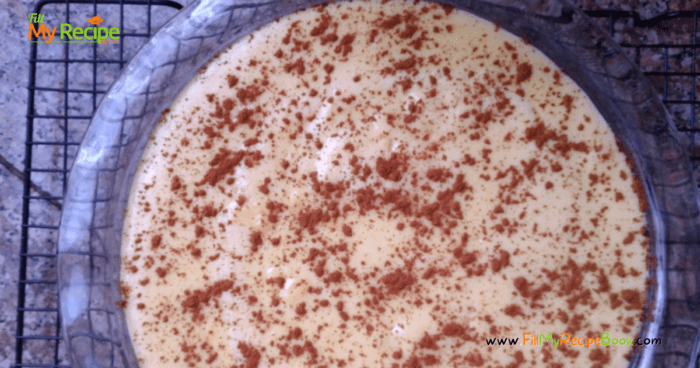 Once the paste mixtures made mix it into the hot milk and keep stirring until thick. Sprinkle with cinnamon for extra taste and cool on a cooling rack at room temperature for at least an hour. When cool enough place in the fridge to set further.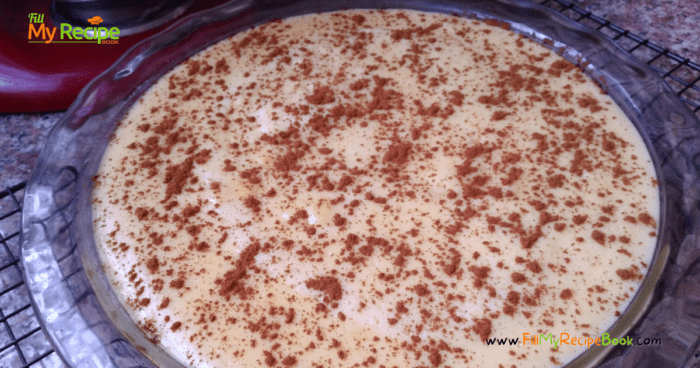 An amazing no bake winner of a custard milk tart, very versatile.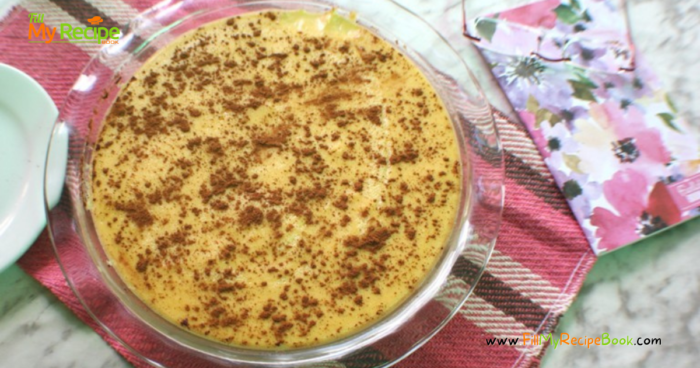 Use for a trifle with or without other ingredients. Simply make the biscuit base then layer the custard milk tart over, layer the biscuit again. Continue in this manner and sprinkle a cinnamon pattern on top. Favorite.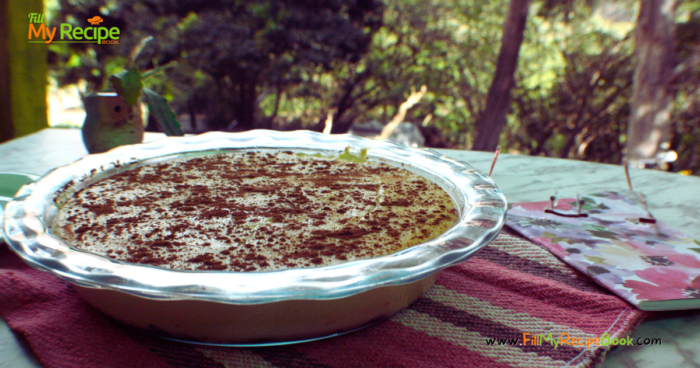 Recommendations.
(click on the highlighted heading or image for the recipes)
Another way to make a milk tart —-> Best Homemade Milk Tart
A few Mothers Day recipe Ideas to create —-> 21 Mother's Day Braai Ideas
Very tasty dessert recipe ideas to create for the family —-> 10 Puddings and Desserts Recipes
Mothers day recipe ideas to create for tea —-> 18 Tarts and Cakes for Mothers Day Tea
View more recipes made with custard —–> 12 Tasty Custard Baked Recipes
Get more fridge tart recipes. —–>11 Easy Fridge Tarts Recipes
Also these great Recipes as well.—–>10 Tasty Fridge Tart Recipes
Fathers day recipe ideas ——> 20 Fathers day afternoon tea recipes
Obtain some recipes Ideas —–> 16 Fathers Day Pudding Recipes
More of these amazing recipes for afternoon or weekend tea.—-> 24 Yummy Cakes and Tarts Recipes
Sharing more delicious dessert ideas —–> 20 Scrumptious Dessert Recipes
Get more milk tart recipes ideas —–> 8 Favorite Homemade Milk Tarts
More amazing puddings and pie tarts recipe ideas to create —–> 18 Delectable Puddings & Pies
Great ideas for a Christmas Desserts —–> 20 Pleasing Christmas Dessert Recipes
Amazing Christmas puddings ideas —–> 19 Christmas Pudding Recipe Ideas
Oven baked recipes.—-> Easy Lemon Meringue Tart and Easy Pear Cobbler and Affordable Apple Pie and Cream and A Tangy Asparagus Tart Recipe and Malva Pudding and Custard sauce and Easy Spinach Mushroom and Feta Quiche (LCHF)
Print
Blissful No Bake Custard Milk Tart
A homemade Blissful No Bake Custard Milk Tart recipe with condensed milk. Tennis biscuit base makes an easy fridge tart dessert.
Author:
Prep Time:

20 min

Cook Time:

20 min

Total Time:

40 min

Yield:

10

Category:

Desserts

Method:

Stove top No Bake

Cuisine:

South african
Ingredients
1

Litre of Milk

1

egg

1

Tin of condensed milk

1

Pkt of tennis biscuits (or other) 200g

2 Tbsp

of corn flour (mazena)

1 Tbsp

of Custard powder

1 tsp

of vanilla Essence
soft butter for biscuit base. 100g
Cinnamon (to sprinkle on top of tart)
Instructions
Crush the biscuits until fine and mix in the melted butter.
Grease and line the pie or tart dish with the biscuit mix, as a base. Keep in fridge until needed.
Use a small bowl add some of the milk, for instance 250 ml. mix and whisk in the corn flour and custard, egg and vanilla. Make a smooth paste.
Bring to boil the rest of the milk and condensed milk. Remove from the stove.
Add some of the warm milk mix with the paste and whisk until smooth. Then add the paste to the warm milk mixture, mixing all the time. Place the pot back on a low heat, stirring until the milk mixture thickens and is smooth.
Pour the milk filling over the biscuit base. In the tart or pie dish.
Sprinkle some cinnamon over the top while warm and leave to cool at room temperature until cool.
Place in a fridge to cool before serving.
Notes
This is the most amazing tasty and delishes custard milk tart recipe I have tasted and made. It can also be made as a trifle with biscuit base layered between the filling. It is blissful, believe me.
Keywords: Blissful no bake custard milk tart
Choose more No Bake Stove Top Recipes.
Download some FREE Printables.