Affordable Apple Pie and Cream dessert recipe. This is a super easy and affordable apple pie to bake for a large family dessert.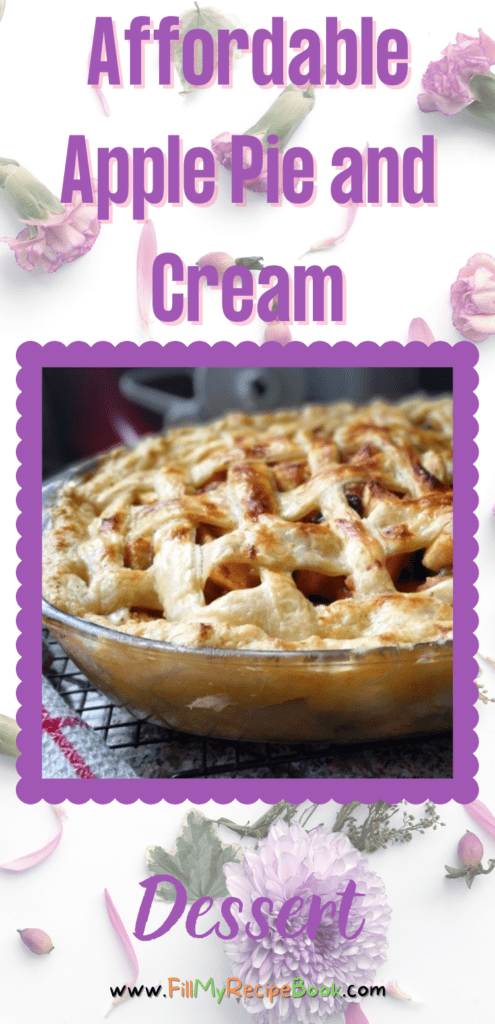 Affordable Apple Pie and Cream
Who doesn't love apple pie or tart with a dollop of cream. This pie was made for our large family. A nice size pie dish would be the best. A great pie crust is also what makes the difference for this pie. I used bought pastry, but in the future will try and make a pie crust myself.
We had a large quantity of apples needing to be used. Sweet apples were used. Would rather recommend a blend of granny smith and sweet apples. Chop up the apple pieces smaller. Add raison and cinnamon and toss to mix that cinnamon evenly to all the apples pieces.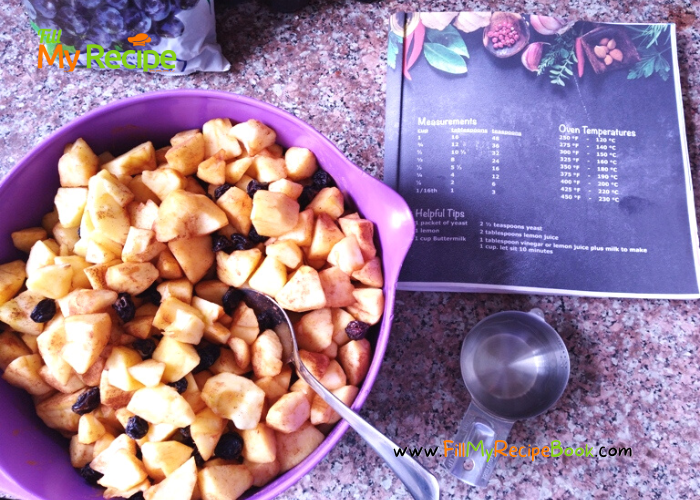 Heating the butter and thickening with some flour makes the sauce. Then adding the sugar and some more water to make a frothy creamy sauce. This sauce was darker, as panella brown sugar was used and not white sugar.
Pour the sauce over the apple pieces and stir up and mixed thoroughly.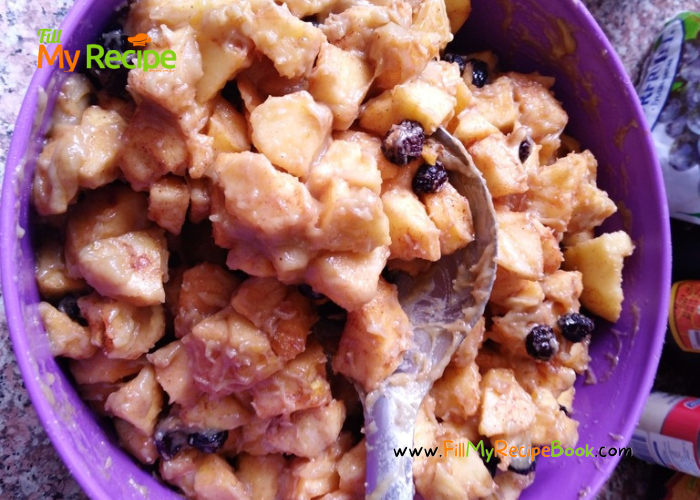 Roll the pastry dough in the bottom of the pie dish and press up the sides of the dish.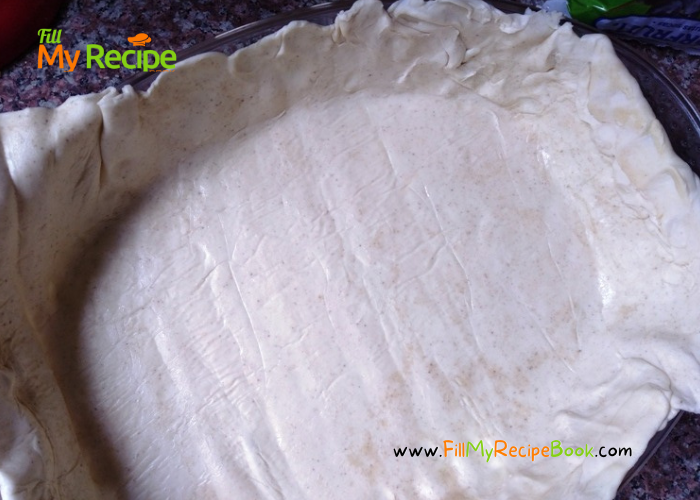 Fill the dish with apple pieces. Without wetting the sides of the pastry, and place more in the middle of the bowl.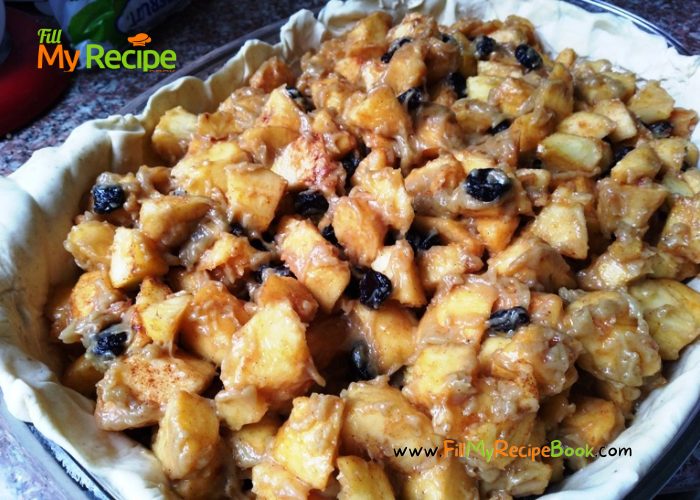 The other piece of pastry cut with a pizza cutter into some strips for a lattice. Much nicer than I did. But it came out much prettier.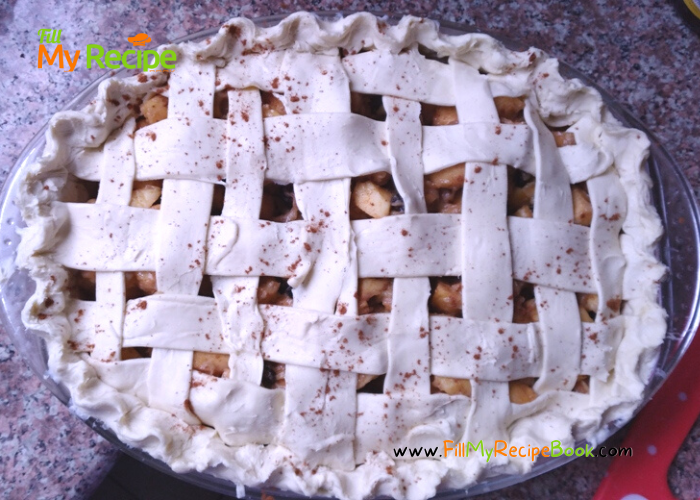 The baked apple pie cooling on a rack.
Then whip up some cream until stiff and slice and serve with a dollop of cream.
This pie or tart, is really an affordable apple pie and cream with a dollop on top.
Recommendations
(click the highlighted heading for the recipe)
Bake these delicious puff pastry hand pies —-> Homemade Savory Hand Pies
A breakfast eaten with apple pie —-> Traditional Irish Breakfast and Tea
Mothers day pudding dessert dishes to create —-> Mothers Day Pudding and Desserts
Oven baked recipes.—-> Easy Lemon Meringue Tart
Some —–> mini homemade apple pies to bake. Get some inspiration to decorate pies and tarts from this post. —-> 8 Decorative Pie and Pastry Ideas and A Tangy Asparagus Tart Recipe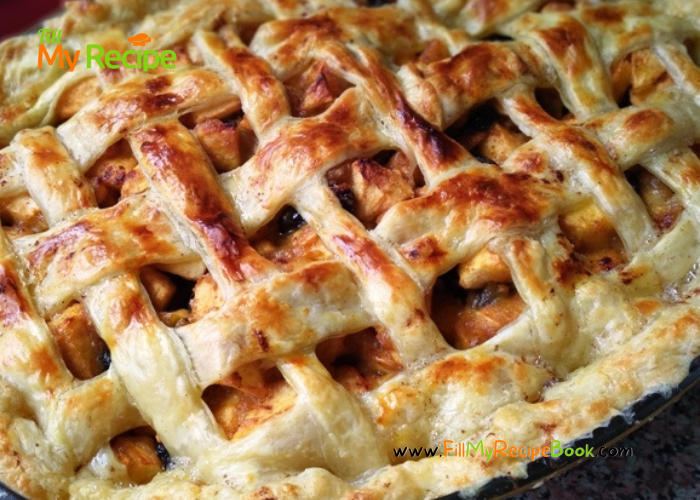 Obtain some recipes Ideas —–> 16 Fathers Day Pudding Recipes
Get some more recipe for puddings —–> 16 Wonderful Homemade Pudding Recipes
and more recipe ideas to create with these —– 13 Hot Fruit Filled Pudding Recipes
Get these amazing recipe ideas —-> 18 Easy Family Favourite Puddings and then these delicious ones to choose from —-> 21 Delicious Apple Recipes and these ideas —-> 8 Amazing Apple Pie Recipe
Sharing more thanksgiving dessert recipe ideas for you to create. —-> 23 Thanksgiving Dessert Recipes
Here are some amazing recipe ideas for you —–> 30 Ideas for Fruit Recipes
More amazing puddings and pie tarts recipe ideas to create —–> 18 Delectable Puddings & Pies
Amazing Christmas puddings ideas —–> 19 Christmas Pudding Recipe Ideas and these recipe ideas —–> 19 Vegetarian Christmas Desserts Recipes
Print
Affordable Apple Pie and Cream
Affordable Apple Pie and Cream. This is a super easy and affordable apple pie to bake for a large family. Made with sweet apples and pie crust.
Author:
Prep Time:

30 min

Cook Time:

1 hour

Total Time:

1 hr 30 min

Method:

Baking
Ingredients
2 1/4 Lbs of apples of choice. 7 Cups. (use a mix of granny smith and sweet, I used only sweet apples)
1 Cup of raisons.
1 /1/2 Tsp of cinnamon
8 Tbsp. (1/2 Cup)of Butter
3 Tbsp. of flour. 
1-/4 Cup of water
1 Cup of brown or white sugar
1 egg and 1 Tbsp. of water, for egg wash.
Pastry. (top and bottom of pie)I used bought pastry for the pie crust.
For a pie crust recipe click here
Instructions
Preheat oven 425 Deg.F (220 Deg. C)
Peel chop and core the apples, cut into small pieces or thin slices. As preferred.
Sprinkle the top of the apples with cinnamon and toss to combine all.
Melt butter in a pot on medium heat.
Whisk in flour, keep whisking until smooth simmer for a minute.
Then Whisk in your water and sugar, with continues whisking. Bringing to boil then reduce heat and simmer for 3 min. whisking all the time.
When frothy and smooth, remove from the heat.
Pour the butter sauce over the chopped apples and coat the apples while turning around.
Layer a sheet of pastry dough in the bottom of the pie dish, pressing the dough firmly to the sides and lapping the top of the pie dish.
Fill the coated apples  into the ready pie dish, making sure that the apples do not make the lips of the dough wet with sauce on the sides and edges. This will make the pasting of the dough difficult when doing a lattice on top. Leaving the apples to be higher in the middle of the dish.
Layer the next pastry dough on a floured top. Cut with a pizza cutter into strips for latticing. Take the longer strip for the middle and do a lattice over the top of the apple pie. 
Placing any left over dough on the edges and pressing the doughs together, making an edging with your fingers. 
Bake in heated oven for 15 min.
Reduce further the temperature to 350 Deg.F (175 Deg.C) and bake for a further 45 min. until browned on top  and apples are soft and filling is bubbling through the vents.
Take out of oven and leave to cool on a cooling rack at room temperature for at least an hour.
Whip some room temperature cream till set. Slice and dish up in a serving dish with a wallop of cream.
Or custard sauce. 
Enjoy
Keywords: Affordable apple pie and cream
More Oven Baking Recipes to choose from.
Download these FREE Printables that would help you in the kitchen.
More baked desserts you would love to make.
No Baked Recipes
Enjoy