Traditional Irish Breakfast and Tea in a large pot. The breakfast is fried rashes of bacon, tomato and black pudding with soda bread.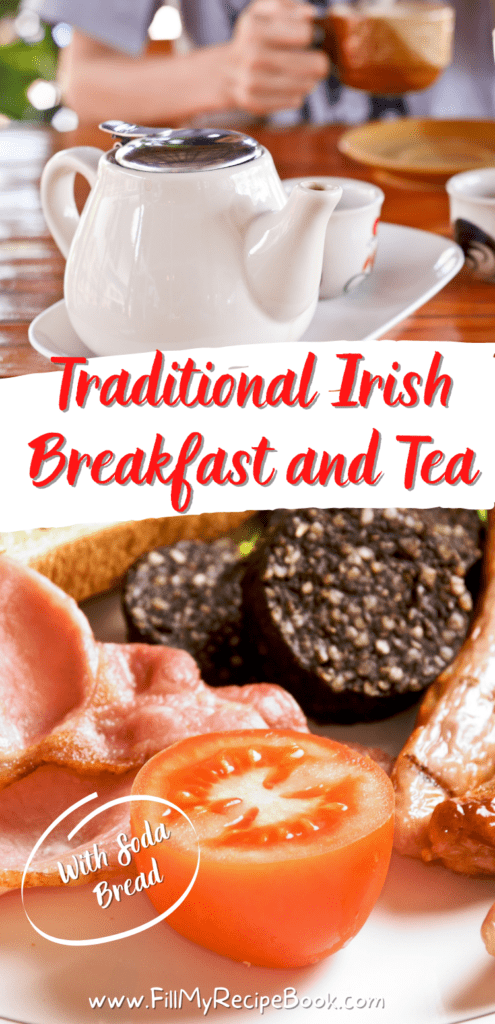 Traditional Irish Breakfast and Tea
Breakfast is celebrated by the Irish with a Full or normal breakfast. This consists of Fried rashers of bacon and tomato with black pudding. sausage with whole wheat or white soda bread. Eggs baked beans with grilled mushrooms and if you have some left over potato. Make into a hash or bubble and squeak.
A large pot of home brewed tea is made on a stove top. Filled into the teapot to drink with breakfast. Not forgetting the homemade Soda bread that goes with the breakfast.
Wow a great start to the day.
Normally and as per tradition, there is a lot of drinking during the day and this will help to have breakfast in the stomach.
Below is a normal smallish breakfast of rashes of bacon sausage and black pudding with cooked tomato and soda bread.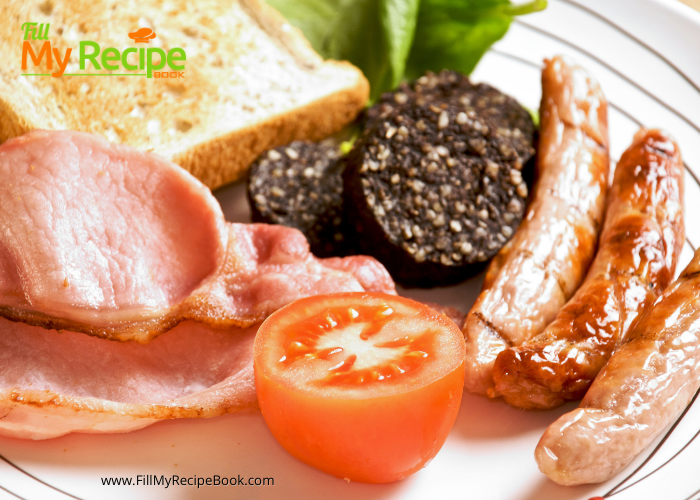 A full Irish Breakfast in known as "Ulster Fry" in Ulster in Northern Ireland.
Consists of all of these ingredients below. The sausages, grilled mushrooms and black pudding with rashes of bacon and backed beans with fried tomatoes and soda bread.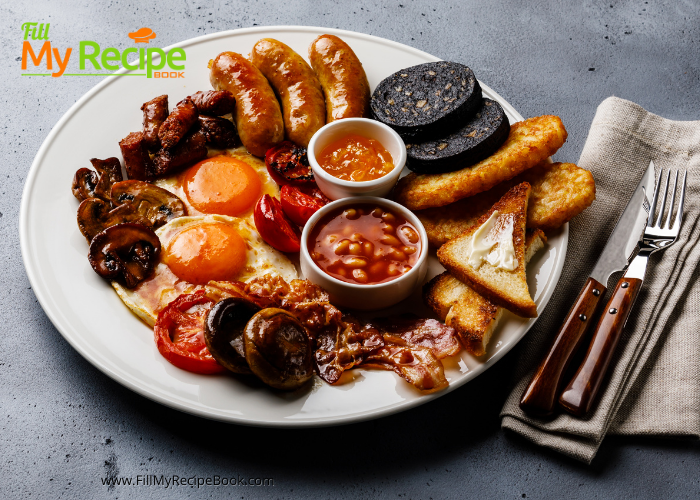 A large pot of homemade Irish tea to go with the breakfast. This is made in a pot on the stove top.
Brewed and topped up the tea cup of milk or cream in a cup. A lot of tea is drank with this breakfast.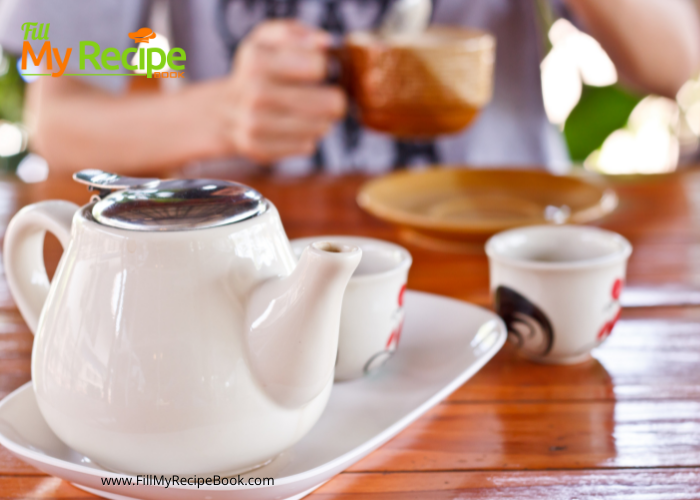 This amazing homemade whole wheat Soda Bread sliced and enjoyed with the breakfast and tea.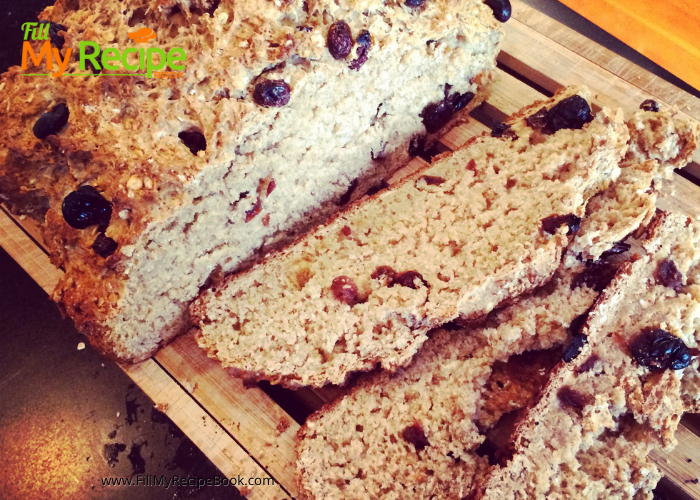 Get this Great Father´s Day breakfast Recipe —–> Eggs Benedict Breakfast Recipe
Other traditional St Patrick's day food is:
Easy Plain Scone Recipe with salted butter
Affordable Apple Pie and Cream (made in smaller quantity.
Beef Pot Roast and carrots
Hang over sandwich with crisps.
Get these ideas for Irish meals.—–> 12 D'Licious Irish Recipes
and a few more —-> 25 Healthy Easy Breakfast Recipes and other —–> 20 Easy Egg Recipes
Breakfast recipe ideas —–> 28 Easy Breakfast Ideas Recipes
Some recipe ideas for bacon filling —–> 17 Easy Bacon Filled Recipes
Get these great Christmas breakfast ideas —–> 35 Easy Christmas Breakfast Ideas
Print
Traditional Irish Breakfast and Tea
Traditional Irish Breakfast and Tea in a large pot. The breakfast is fried rashes of bacon, tomato and black pudding with soda bread.
Author:
Prep Time:

10 min

Cook Time:

15 min

Total Time:

25 min

Yield:

1

Category:

breakfast

Method:

Stove top

Cuisine:

Irish
Ingredients
For the Full Breakfast per person
3 Rashes of bacon
2 Sausages of choice.
Half tomato sliced
1/2 cup whole or sliced mushrooms
2 large eggs
2 Black pudding
1/2 cup of baked beans
Homemade sliced soda bread
Irish Tea to brew. (milk or cream)
Left over potato hash (optional)
Instructions
Fry the bacon and sausage and the mushrooms. Then the tomato and the black pudding.
Lightly cook the eggs and place all on a warm large plate. If you doing hash then warm that up and place a portion on the plate as well.
Add the baked beans to the main dish or have separate in a small bowl. Place the slices of soda bread on a side plate with some salted butter.
The Tea needs to be brewed in a kettle of water on the stove top. Bringing this to a boil . Then you add fresh tea leaves of the Irish tea in the ratio of 1 teaspoon per person plus one extra teaspoon to the pot.
In your tea cup or mug pour in 1/3  of milk or cream and pour in the brewed tea that has been put through a tea strainer. Fill up your teapot for seconds.
Eat and enjoy.
Keywords: Full Traditional Irish Breakfast and Tea with soda bread