Eggs Benedict Breakfast Recipe served with asparagus or fried cherry tomato. Topped with hollandaise sauce with bacon on a English muffin.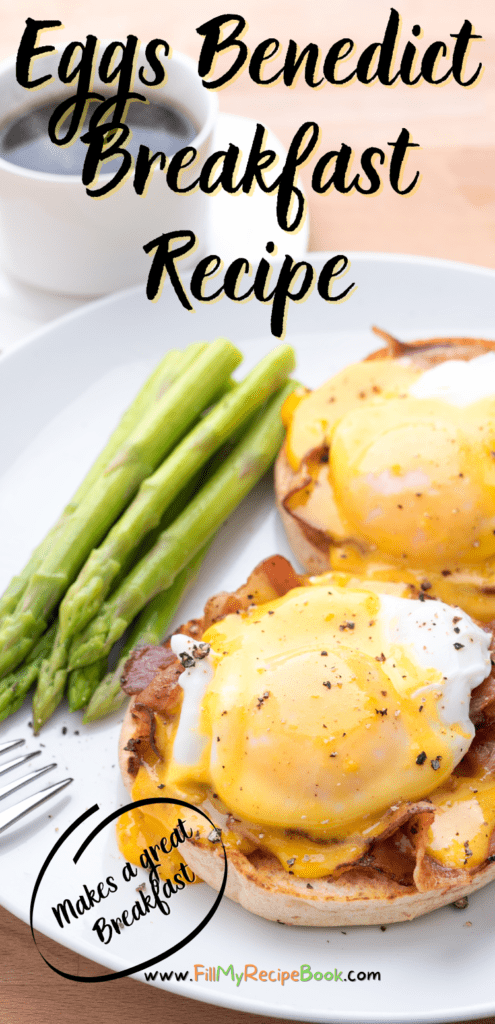 Eggs Benedict Breakfast Recipe
A delicious breakfast meal served on English muffins with slices of bacon and the poached soft egg. Drizzle freshly made warm Hollandaise sauce over the egg and serve with choice of side such as sautéed asparagus or salad.
Ingredients needed.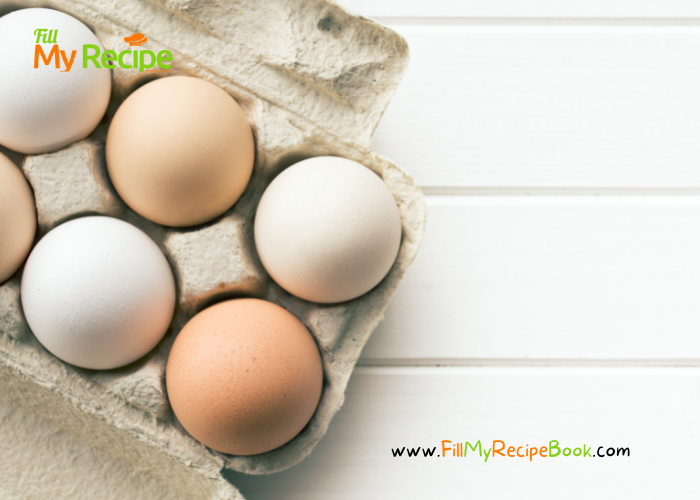 Fresh organic Eggs
Some English muffins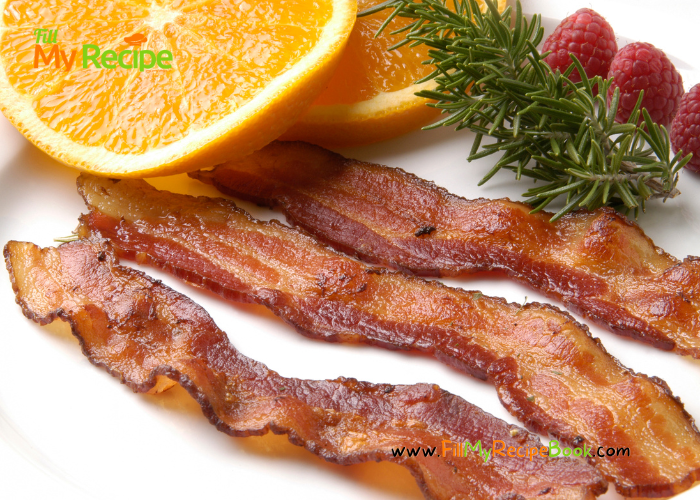 Slice of bacon fried.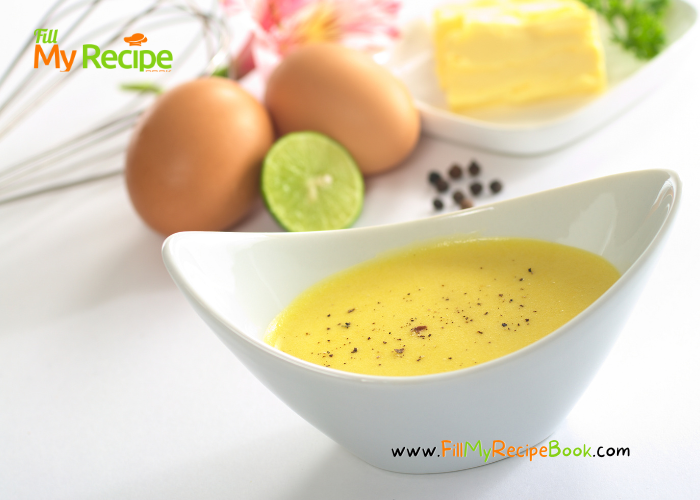 The Hollandaise Sauce made.
How To.
Make the Hollandaise Sauce according to the recipe instructions in the printable recipe.
Then bring a little bit of water to boil with a splash of vinegar to hold the egg whites together while simmering. Cook the egg yolks for 3 – 5 minutes keeping them soft. The yolks must run once cut open.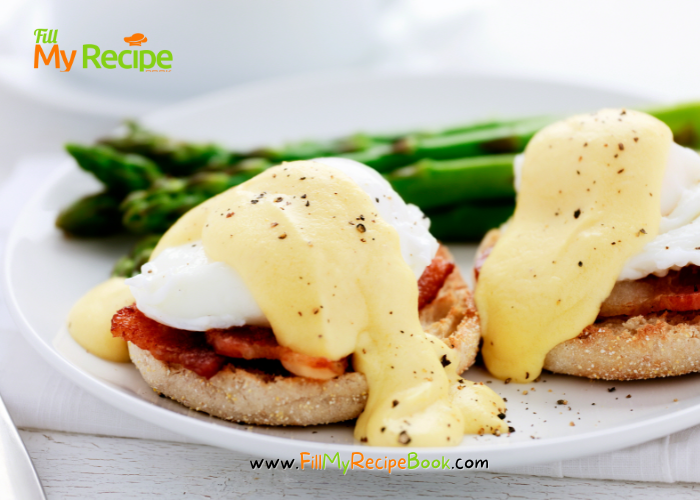 Toasting the English muffins and frying the bacon. Placing the bacon on the buttered muffin and then the cooked poached egg on top of that. Then most importantly pouring the Hollandaise sauce over the egg once serving.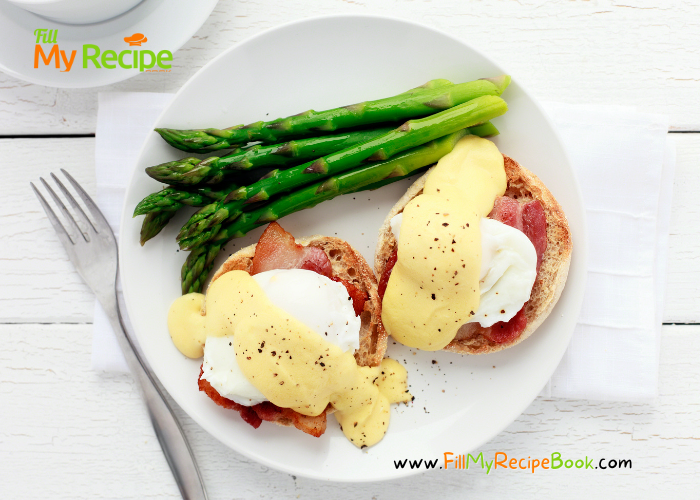 Serve with any side that you would love to eat. Here we have the sauté asparagus with the eggs benedict English muffin for breakfast. Use some red cherry tomato that has been sauté as well.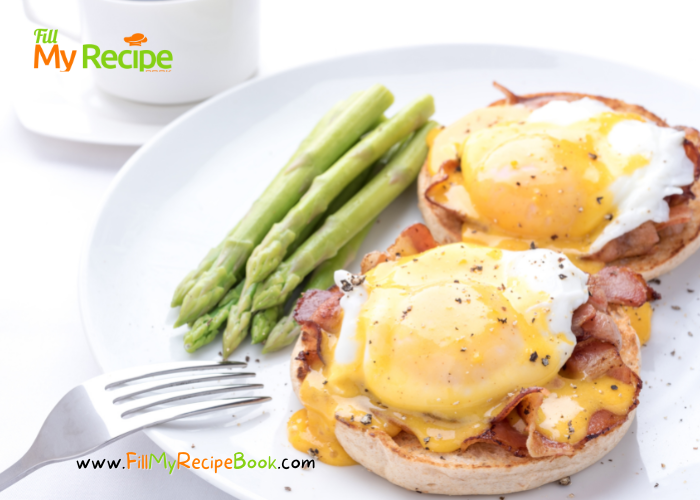 Delicious soft eggs benedict served on a muffin with bacon.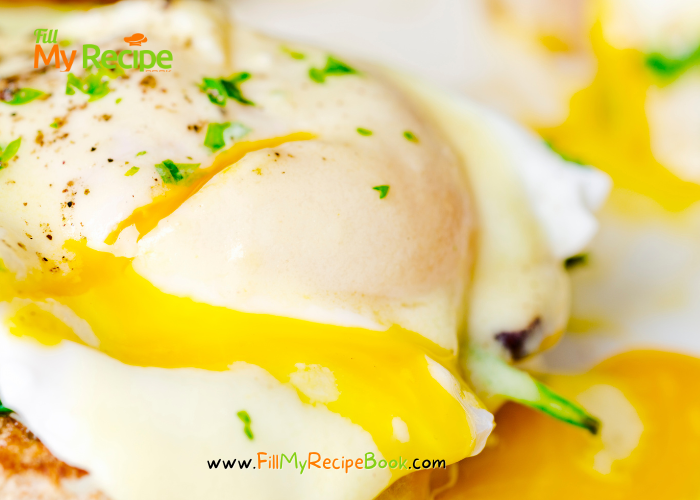 A very tasty breakfast to spoil somebody special with in the morning. There is always a Father´s Day or Mother´s Day that would suit this spoil. Serve with a juice or coffee.
Another egg breakfast idea to cook.—–> Traditional Irish Breakfast and Tea and other —–> 20 Easy Egg Recipes
Get a few ideas for breakfast —–> 16 Fathers Day Breakfast or Brunch Recipes
More recipes —-> 21 Easy Fathers Day Breakfast Recipes
and a few more —-> 25 Healthy Easy Breakfast Recipes
Breakfast recipe ideas —–> 28 Easy Breakfast Ideas Recipes
Some recipe ideas for bacon filling —–> 17 Easy Bacon Filled Recipes
More recipe ideas for egg recipes —–> 16 Tasty Egg Recipes
How to use asparagus in and with meals —–> 13 Unbelievable Flavorful Asparagus Recipes
Print
Eggs Benedict Breakfast Recipe
Eggs Benedict Breakfast Recipe served with asparagus or fried cherry tomato. Topped with  hollandaise sauce with bacon on a English muffin.
Author:
Prep Time:

10 min

Cook Time:

25 min

Total Time:

35 min

Yield:

4

Category:

Breakfast

Method:

Stove top No Bake
Ingredients
2 English Muffins
4 eggs
4 slices of bacon
Little vinegar (when boiling water for poached eggs)
Hollandaise sauce
4 Tablespoons of butter
4 egg yolks
2 teaspoons of lemon or lime juice
1 Tablespoon of heavy cream
salt and pepper
Instructions
In a small saucepan melt the butter on a medium heat. In a separate bowl over a double boiler beat the egg yolks and mix in the lemon juice and whipped cream salt and pepper. Stirring continually (so the eggs do not turn to scramble eggs)
Then carefully and slowly add a spoonful of melted butter a bit at a time and stir between adding butter until all is incorporated. (adding a little at a time will prevent the eggs from curdling)
Once this mixture has been stirred and combined then add it back into the pan and cook on a low heat stirring constantly for 20 – 30 seconds. Take off and set aside. (it thickens while cooling and if needed when serving just add in a stir a little more cream)
To Poach the Egg
In a medium sized pot fill in a little water.(about 3 inch) Bring to boil then lowering heat and then bringing to simmer. (small bubbles will appear on top)
Adding a splash of vinegar to the water will help the egg whites to stay together when egg is inserted in the water. Cracking one egg at a time in a measuring cup to easily slide it into the water. Cook the egg in this simmering water for 3- 5 minutes. (depending how soft you like the egg yolk) Removing the egg with a slotted spoon. (if you see white foam on top of the water then just spoon it off with a spoon, it is normal)
While the egg is poaching cook the bacon for a minute. Toast both sides of the English muffins that is cut in half.
Butter the muffin and add the bacon then the egg and pour hollandaise sauce over the egg. May be served with sauté asparagus or roasted tomato with avocado as well. Totally up to you what you have available.
Serve for a special breakfast.
Keywords: Eggs Benedict Breakfast Recipe