Vetkoek Bacon Egg with salad Filling recipe idea. The best South African Vetkoek meal for breakfast or brunch that is quick and easy.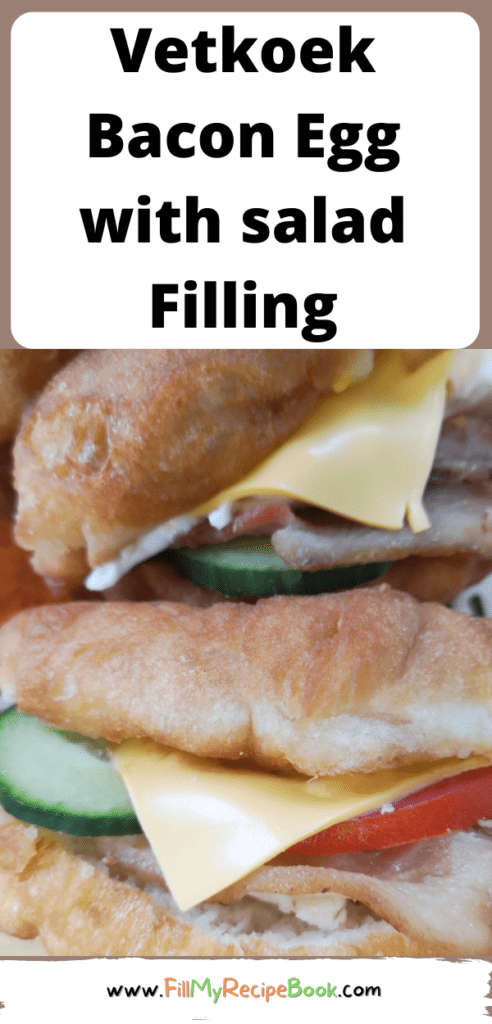 Vetkoek Bacon Egg with salad Filling
A quick and easy recipe idea for breakfast or brunch or even lunch. The best vetkoek is a very popular South African fried meal, with many different fillings to be added. A ouma se resep met deeg for an Afrikaans language and in Tswana African its called, magwinga doughnut. All stove top no bake recipe ideas.
The fillings depend on what one feels like eating or what meal it is serving. Simple one is just dotting butter and jam on it. Eating the vetkoek warm.
What to serve with Vetkoek?
The vetkoek and its fillings can be eaten alone or served with salad or fried chips and a cup of coffee or tea. The fillings added will fill you for a meal. Vetkoek is also usually eaten with boerewors or sausage for a lunch or dinner meal.
What is a vetkoek in english?
An Vetkoek is the afrikaans word for a fat cake in english. A south African food cuisine with so many different fillings.
Is vetkoek dough and bread dough the same?
It is a bread dough deep fried in oil. Eaten just like that or the most popular filling is jam, or curried ground mince meat and even bacon and egg, or a salad. Made up of flour, salt and yeast.
Can you make vetkoek in the oven?
Yes you can bake the vetkoek dough in the oven as it is a bread dough. You would flour the baking sheet and make round or long shapes and keep them apart for the rising of the dough and the bake. An oven of 190 Deg. C would work well. But they would not taste like the original vetkoek.
Can you make vetkoek with baking powder?
Yes you can, the original recipe is a bread recipe and made with yeast.
Ingredients
Obtain the fillings that this recipe would need.
Fry some bacon strips
Fried eggs.
Cut the cucumber in slices
Tomato sliced
Slice the cheese.
Cooked vetkoek (Homemade Vetkoek Recipe )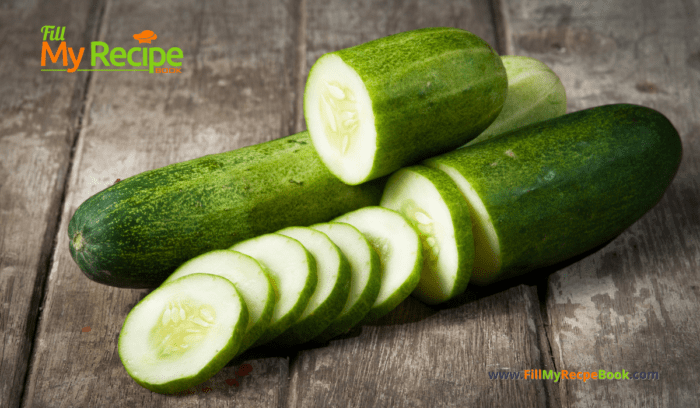 Cucumber sliced.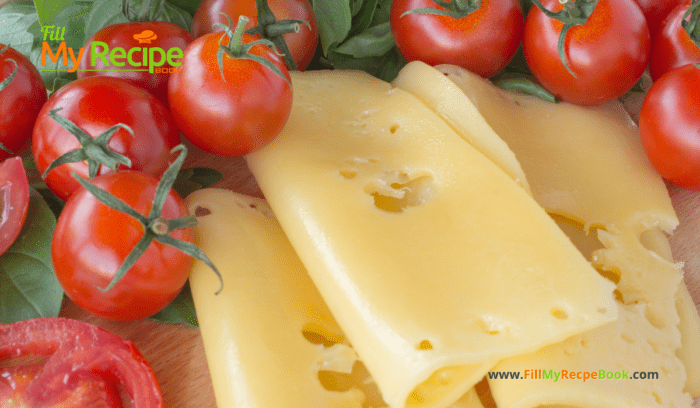 Tomato and cheese also cut and sliced for the filling of the vetkoek.
The scrumptious bacon and egg for your final filling on the vetkoek.
How To
Firstly fry the vetkoek for this filling. For the recipe for the –> vetkoek Recipe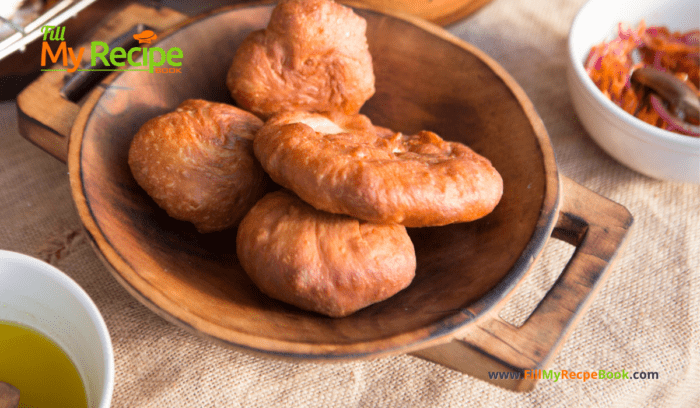 Add the fillings.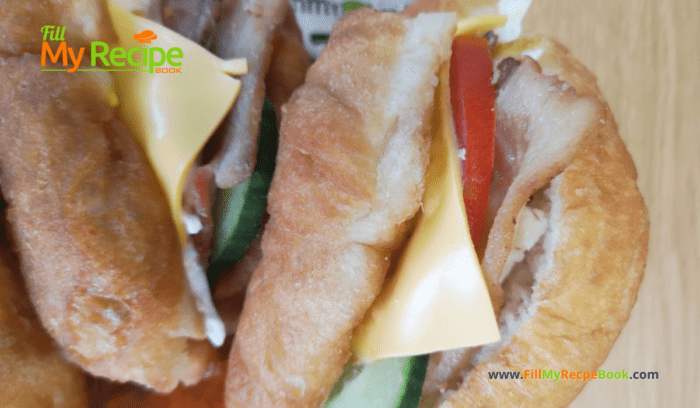 The vetkoek filled with the cheese, tomato and cucumber as well as the bacon and egg.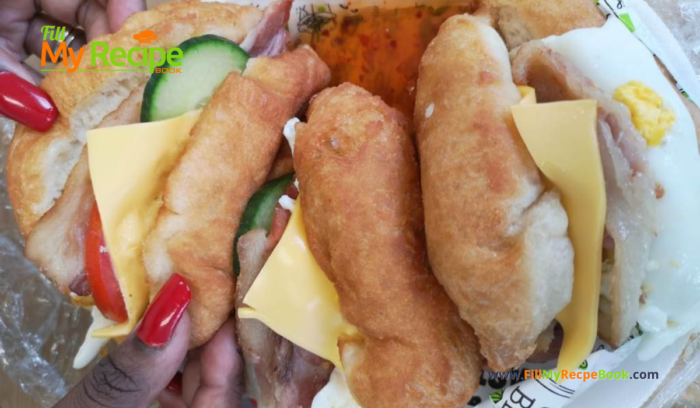 Recommendations.
(click the highlighted heading for the recipe)
Looking for another vetkoek filling —-> Curry mince vetkoek filling and Quick vetkoek curry chicken filling and Vetkoek Boerewors and Tomato Onion Sauce and Vetkoek with jam and cheese and Bobotie Filled Vetkoek Pockets
Make the Homemade Vetkoek Recipe
Get these easy breakfast recipe ideas to create —-> Traditional Irish Breakfast and Tea and Toad In a Hole Breakfast and How to Cook Basic Oat Breakfast and Easy Muesli Yogurt Parfait Breakfast and Eggs Benedict Breakfast Recipe and Crammed Savory Breakfast Crepes and Lemon Cream Cheese Danish Breakfast and Avocado on Toast Breakfast Ideas and Healthy Breakfast Sweet Potato Hash and Cinnamon Roll Breakfast Casserole and Easy Ham and Cheese Croissants and Chocolate Banana Breakfast Smoothie and Cheesy Ham Egg muffins and Breakfast Banana Muffins
Obtain these recipe ideas —-> 22 Leftovers Ideas for Monday Meals
Get more light meals here. 14 Quick Light Summer Meals. (click on the highlighted word for the recipe)
Not forgetting about Fathers Day. Make these for him.—–> 16 Fathers Day Breakfast or Brunch Recipes and other —–> 20 Easy Egg Recipes
and a few more —-> 25 Healthy Easy Breakfast Recipes
Breakfast recipe ideas —–> 28 Easy Breakfast Ideas Recipes as well as these ideas —-> 14 Valentine Family Breakfast Ideas
Some recipe ideas for bacon filling —–> 17 Easy Bacon Filled Recipes
More recipe ideas for egg recipes —–> 16 Tasty Egg Recipes
Some ideas for a brunch. —–> 22 Tasty Brunch Recipes
Get these great Christmas breakfast ideas —–> 35 Easy Christmas Breakfast Ideas
Some ideas for a beach snack —–> 20 Easy Beach Snack Ideas Recipes
Get a few recipe fillings for vetkoek ideas —–> Recipes for Vetkoek and Fillings
Print
Vetkoek Bacon and Egg with salad Filling
Vetkoek Bacon Egg with salad Filling recipe idea. The best South African Vetkoek meal for breakfast or brunch that is quick and easy.
Author:
Prep Time:

10 min

Cook Time:

10 min

Total Time:

20 min

Category:

Meals, supper or lunch

Method:

Stove top No Bake

Cuisine:

South african
Ingredients
Vetkoek. (fried already) The quantity depends on the amount of vetkoek you make.
Bacon fried
Eggs fried (medium or as prefered)
Some cut tomatoes
Some cut cucumbers
Slices of cheddar or gouda cheese.
Sat and pepper.
Sauce of your choice (tomato or mayonnaise)
Instructions
Obtain the cooked vetkoek and slice open for filling.
Place the tomato and cucumber and cheese in the middle of the vetkoek and a slice or two of bacon and an egg. salt and pepper them. 
Drizzle the sauce over or between the filling.
Serve on a plate for breakfast or supper. 
Notes
Vetkoek has many fillings that are popular just improvise to your taste.
Keywords: Vetkoek bacon and egg with salad fillings
Choose more No Bake Stove Top Recipes and other recipes.
Download some FREE Printables. to use for kitchen charts and household planners as well as some coloring pages for adults and kids.