Mini Pavlova and Meringues Recipes ideas. Easy and each individual dessert has flavors filled with fruits and cream with curds or sauce.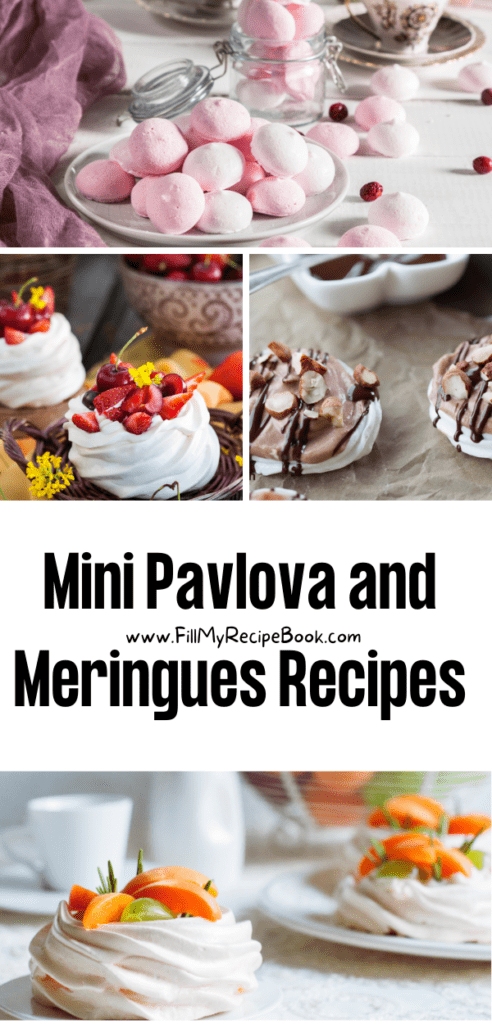 Mini Pavlova and Meringues Recipes.
Making a meringue or pavlova is quit simple. A lot of egg whites is needed for a meringue which can be very tasty with different flavors and colors. The fruit filled or colored meringues are amazing. Why not have them to match the color themes for your parties. Pavlova can be filled with fruits and other jams or curds which make them very attractive and tasty.
Did You Know that broken pieces of meringues or pavlova's can be used in a trifle bowl or other desserts?
Just add fruits and any other ingredients you have available. Its easy, waste not…..
Should egg be cold or at room temperature?
Take out of the fridge for at least 20 minutes for the eggs to get to room temperature before separating them. Cold egg whites take longer to whip up and so does not incorporate as much air, which makes the meringue lighter and fluffy.
Do you leave the door ajar when cooking pavlova?
No, bake with the door closed. Once they have cooked, then leave to cool with the door ajar, so that they cool down and set still in the oven. Once cooled place the meringue or pavlova in an air tight container on a wax sheeting. Seal well and do not have any other ingredient in the container as the pavlova will absorb their moisture. Store in a dry pantry or cupboard.
(Click on the Recipe Name or the pictures for the recipes )
Best mini pavlova and meringues recipes. They are great to make for parties and weddings. Fruit filled mini meringues and pavlova's.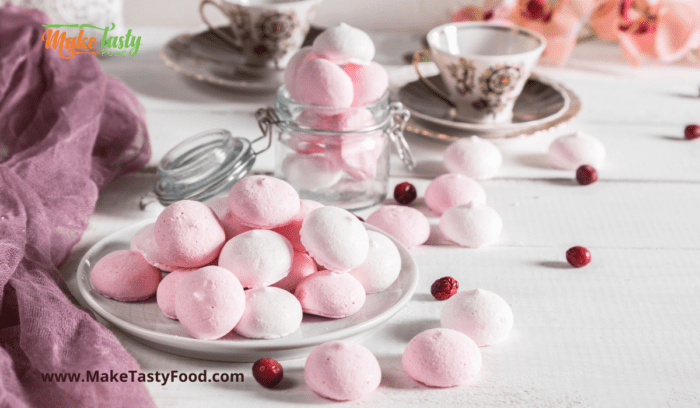 Amazing Mini Lemon Curd Filled Meringues
Mini Lemon Curd Filled Meringue. Meringue is easy to make and filled with some lemon curd and perfect for serving to guests.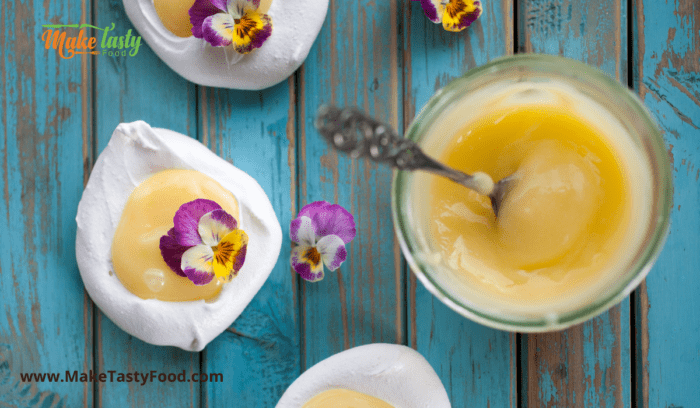 Get these amazing gadgets to cut and peel your fruit for these recipes on this highlighted link.
28 Awesome Kitchen Accessories (click and view and purchase online)
Wonderful Mini Berry Pavlova Twirls
Mini Berry Pavlova Twirls. An amazing Easy dessert to make for an occasion or just special treat with fresh fruits and berries.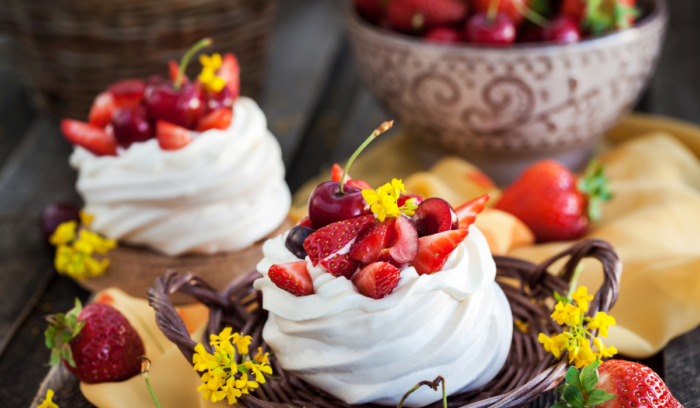 Mini Mint Meringue Bites. These can be colorful and minty to the taste, meringues to have as a bite for those teas and coffee.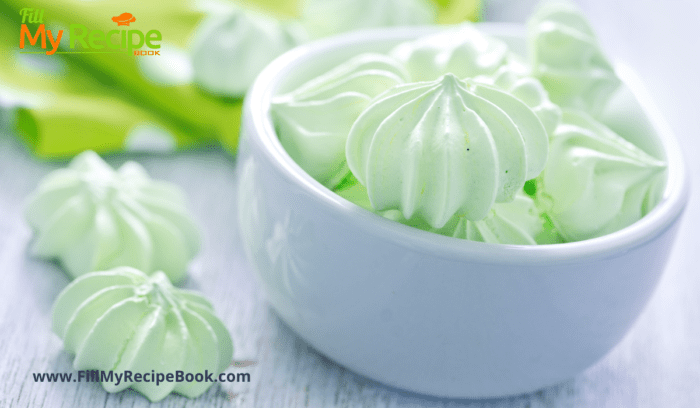 A Mini creamy chocolate and hazel nut pavlova
Mini Creamy Chocolate and Hazel Nut Pavlova. This is a creamy chocolate and hazelnut paste filled mini pavlova for dessert or tea time.
Mini Pavlova Strawberries & Cream
Mini Pavlova Strawberries & Cream. A decadent dessert to bake and decorate with tasty cream and strawberries for a tea or special occasion.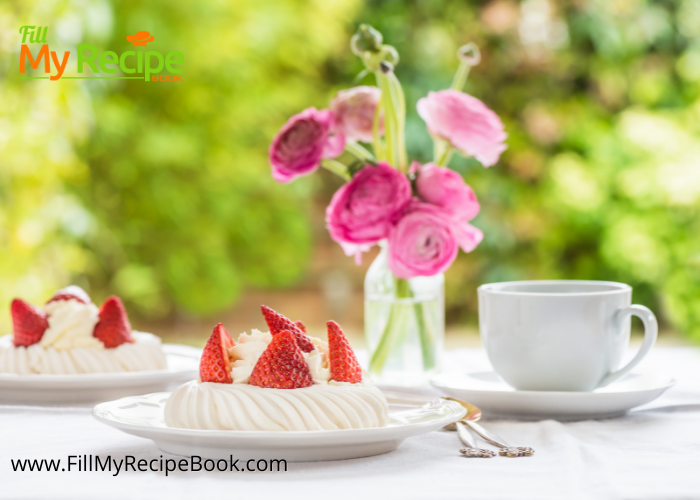 Mini Peaches and Cream Pavlova Recipe
Mini Peaches and Cream Pavlova Recipe. A recipe for fine dining desserts or special occasions with fresh cream and sliced peaches, grapes.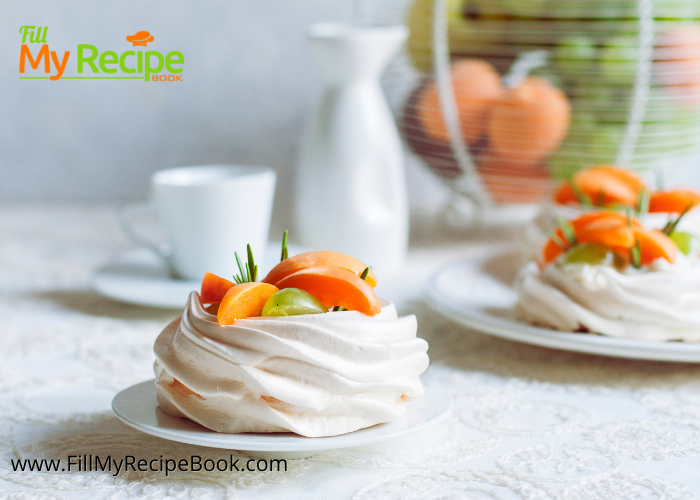 Mini Pavlova Cherries & Cream Cheese Filling
Make this stunning Mini Pavlova Cherries & Cream Cheese Filling with strawberry sauce recipe for a fine dining mini dessert for high tea.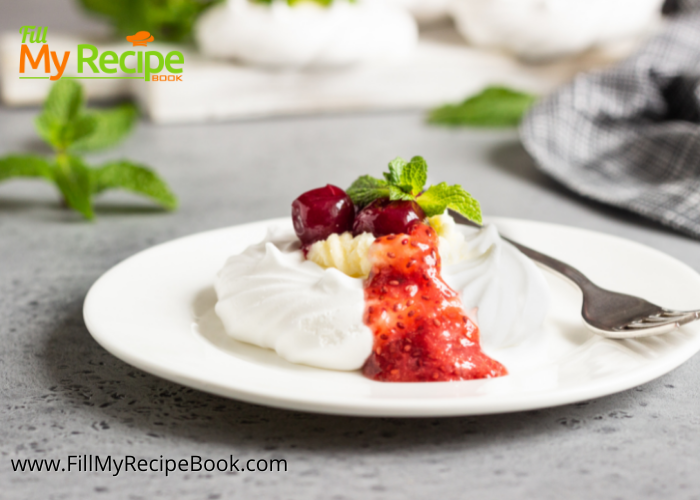 View more dinner party recipes to serve for special occasions here —–> 25 Easy & Quick Dinner Party Recipes
Fine Dining Dessert Serving Dishes to purchase online to make these a gourmet fine dining presentation served on good china stylish dishes.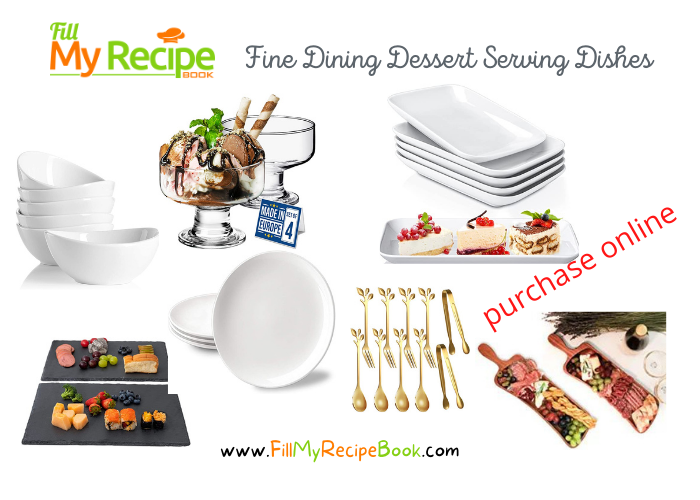 (click on the highlighted headings for your recipes)
This post may contain affiliate links, where we earn from qualifying purchases. See more details in the policy page. Does not effect your purchase cost.
Recommendations
Create these easy delicious truffle balls recipe ideas —-> Easy No Bake Truffles Recipes
Get more Recipe Ideas here below.
Other desserts you would love
More Oven Baked Desserts get them here and start baking.
Don't miss out on making these scrumptious No Bake Desserts either. You love No Bake Recipes then get different ideas and create these stove top recipes.
Wanting to bake some Cakes or Biscuits then just click these links highlighted to get busy baking.
You will be busy for a while with these Oven Baked Recipes. enjoy