Mini Peaches and Cream Pavlova Recipe. A fine dining desserts or special platter or finger snack decorated with yellow cling peaches.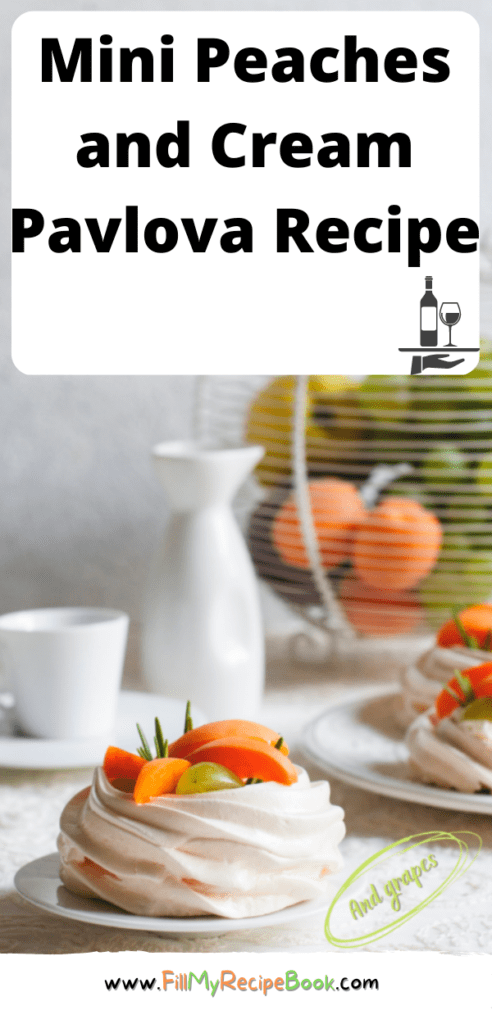 Mini Peaches and Cream Pavlova Recipe
A wonderful fine dining dessert that is pleasing and so tasty. Make the pavlova basic recipe then add some whipped cream when the pavlova has cooled. The pavlova is a very sensitive recipe and is best made the day before or at least a few hours before. As they need to cool in the oven without opening the door.
Once cooled you whip the cream and add the sliced yellow cling peaches that are sweet and the cut green grapes. So yummy they just invite you to eat them.
Serve on a plate with some greens for decoration. A finger snack or a special platter for a special occasion, such as a valentines dessert or a fine dining dessert after a special meal.
Should eggs be cold when making pavlova?
Eggs should be at room temperature. If taking out of the fridge then leave for about 20 minutes before separating them. Cold egg whites take longer to beat and it does not incorporate the air which helps the pavlova or meringue be light and fluffy.
What is the difference between meringue and pavlova?
Pavlovas and meringues are both made of whipped egg white, but a Pavlova has a delicate crispy exterior with pillowy soft marshmallow inside, while meringue is dry and crisp all the way through.
What can I use instead of whipping cream for pavlova?
You may also like to try using mascarpone as an alternative to whipped cream. If the mascarpone is too firm then stir in a splash or two of milk until it is soft enough to spread over the tender meringue.
Ingredients.
The ingredients and their measurements are listed in the recipe attached.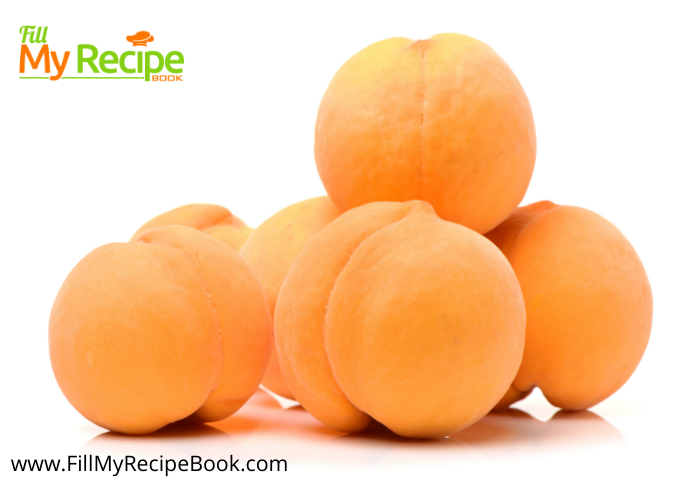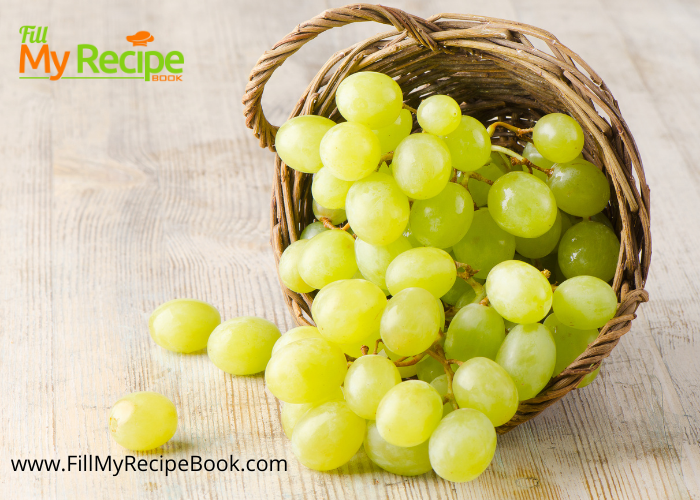 How To
Make the pavlova according to the recipe below. Then clean and slice thinly the cling peaches and some green grapes. Once the cream is whipped up nice and stiff. Add the cream in the middle of the cooled Pavlova and attractively place some thinly sliced peaches over the cream with one or two sliced grapes. Garnish with some greens. Serve.
To help you make them perfect purchase this online. Turntable and Leveler-Rotating Cake Stand with Non Slip pad-7 Icing Tips Amazing.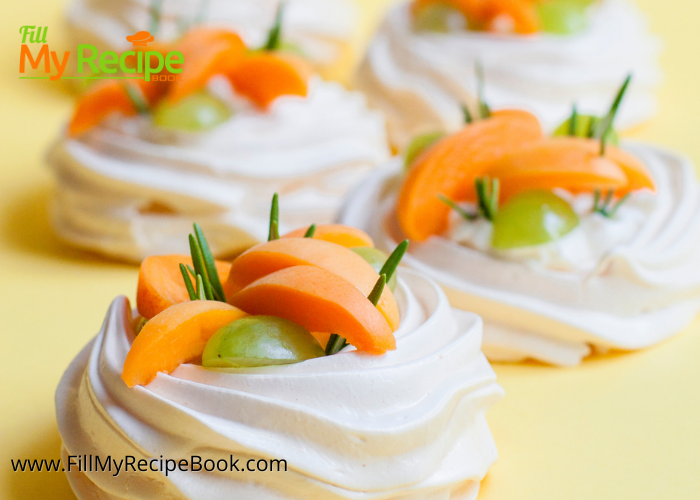 Tea or coffee time, serve your delicious pavlova peaches and cream with it and enjoy.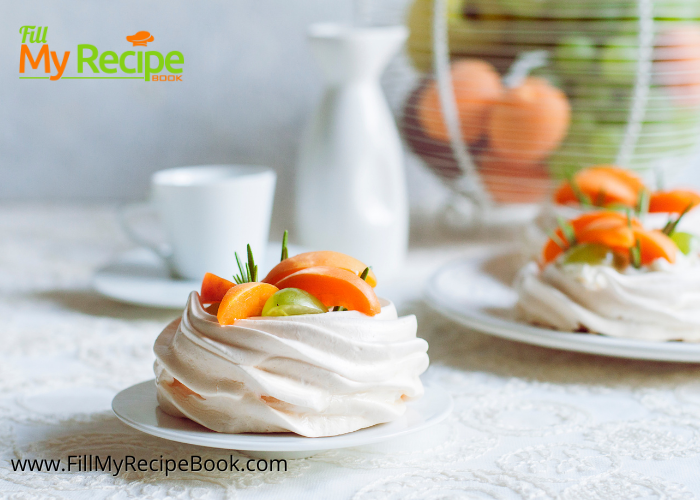 A bite size pavlova for a pleasing and appetizing dessert.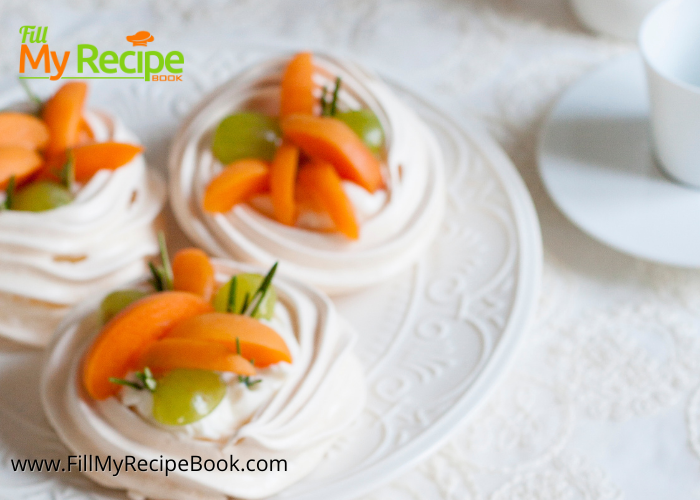 Recommendations.
(click on the highlighted heading for the recipe)
Get more dessert recipes of pavlova and meringues below. —-> Best Mini Pavlova and Meringues Recipes
Mini pavlova recipe ideas to create —-> Mini Pavlova Cherries & Cream Cheese Filling and Mini Pavlova Strawberries & Cream and Mini Easter Pavlova Nests and Mini Chocolate and Hazel Nut Pavlova and Mini Berry Pavlova Twirls
Recipe ideas to create for Valentines —-> 14 Easy Valentine Appetizer Recipes
Serve these pavlova on any pretty—–> Wilton 3-Tier Customizable Scalloped Dessert and Cake Stand
Dish up on some well designed plates. Such as—–> Porcelain Appetizer Plates Set of 6, 7 inch White Dessert
For a General Recipe Page to download to write out your recipe for FREE
Then go and download for FREE again more Kitchen Charts and Household Planners that will help you organize you kitchen and groceries and there is also a wonderful Budget planner.
Go download all of these Printables for FREE
View more dinner party recipes to serve for special occasions here—–> 25 Easy & Quick Dinner Party Recipes
Get more treats idea recipes —-> 14 Munchie Treats Recipes
There are these pavlova cake recipe to create —–> 12 Easy Pavlova Cake Recipes and Create some more amazing mini pavlova —–> 16 Mini Pavlova Desserts Recipes and other you would love to make —-> 24 Easy Mini Dessert Recipes
Not forgetting these fine dining ideas —–> 15 Gourmet Fine Dining Desserts Recipes
Who doesn't love desserts get some ideas here —–> 21 Easy Dessert Recipes
Some of the Traditional Australian recipe ideas —–> 17 Enticing Australian Recipes
Christmas ideas and other —-> 22 Christmas Appetizer Recipes
This post may contain affiliate links, where we earn from qualifying purchases. See more details in the policy page.
Print
Mini Peaches and Cream Pavlova Recipe
Mini Peaches and Cream Pavlova Recipe. A fine dining desserts or special platter or bit size snack decorated with yellow cling peaches.
Author:
Prep Time:

25 min

Cook Time:

1 hr 45 min

Total Time:

1 hr 70 min

Yield:

16

Category:

Desserts

Method:

oven Baking

Cuisine:

New Zealand, Australian
Ingredients
For the Pavlova
4

 egg whites (room temperature)

280 g

 of castor sugar (fine sugar)

1/2 tsp

 of cream of tartar
For Filling
500g

 full cream Stored in fridge the day before.
Fresh (or tin)yellow cling peaches and some green grapes. Cut in thin slices, grapes halved.
Tin peaches would be softer.
Instructions
Preheat oven to a medium heat. 0f 80 Deg. C to 100 Deg. C (200Deg F)
Line two baking sheets with grease proof paper or non stick sheets.
In a clean dry bowl pour the egg whites, cream of tartar and start whisking them on a low speed until foamy. Once foamy increase the speed to medium, until the beaten egg whites form a stiff peak.
Only then do you add castor sugar one tablespoon at a time whisking between additions until all is combined and you have a stiff glossy mix.
Fill a piping bag with the egg whites and use a basket weave/star nozzle.(what you prefer)
Start by piping a blob and then start on the outside and pipe in one action the pavlova twirls.
Repeat until you have piped your pavlova basket, base and side.
Place the pavlova in the oven and bake for 1 hour and 45 min.
Do not open the door, also once they have baked switch of the oven and leave the door closed for at least 1 hour. Or preferably leave over night until cool to prevent them from cracking. Before removing.
Once removed from the oven and well cooled, then you can fill them just before serving.
Obtain the 500 g of full cream (that was stored the day before in the fridge)
The cream is to be whisked with a mixer until it forms peaks.
Fill the pavlova with cream in the middle and place the sliced peaches in the middle on top of the cream, then add the odd cut grapes for color and taste.
Keywords: Mini Peaches and Cream Pavlova Recipe peaches with grapes