Mini Berry Pavlova Twirls recipe idea. An oven baked easy dessert for any occasion presented with fresh fruits and berries.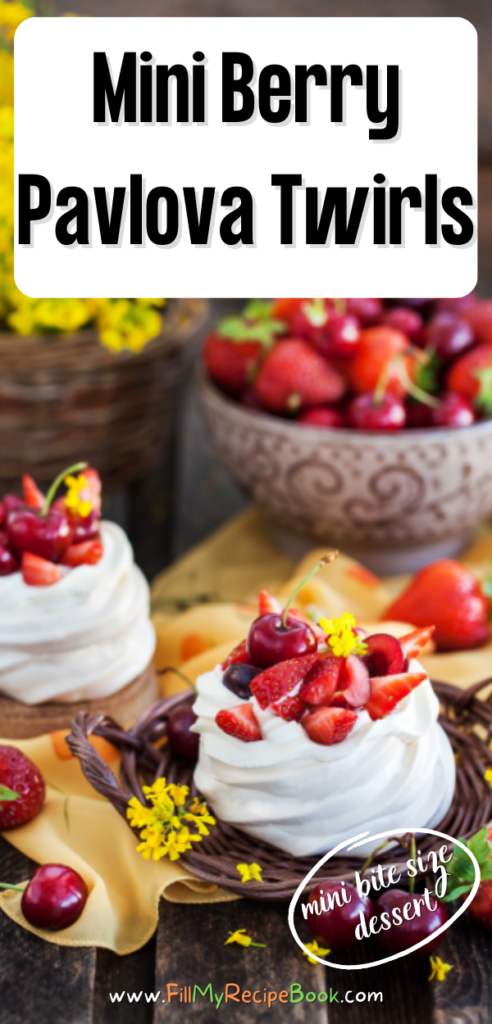 Mini Berry Pavlova Twirls
To make this berry pavlova recipe is not easy but not difficult either. Its the time that it takes and the time for the pavlova to cool that is the problem. Otherwise its simply knowing how to whisk the egg whites properly.
What is the difference between a meringue and a pavlova?
Pavlovas and meringues are both made of whipped egg white, but a Pavlova has a delicate crispy exterior with pillowy soft marshmallow inside, while meringue is dry and crisp all the way through.
How long will mini pavlovas keep?
Undressed pavlovas can be kept in an airtight container for up to 1 day.
Is it OK to make pavlova the day before?
I do recommend making the pavlova the day before you will be serving it and then letting it cool down in the oven completely (about 6 hours at least), to prevent it from collapsing or cracking.
How To
Below is the egg whites whisked and the egg yolks aside. The secret is knowing how to combine the castor sugar and firstly the medium speed whisking, then the faster speed when applying a small amount of sugar at a time.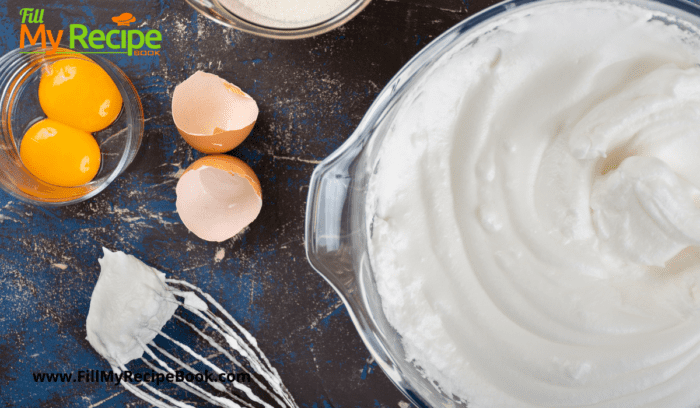 Then the piping of the pavlova is not a secret. Just pipe a swirl or round base, then go round the sides for the side of the basket. Twirling twice for the sides for the filling to be inserted in.
Filled pavlova and berries like strawberries and cherries.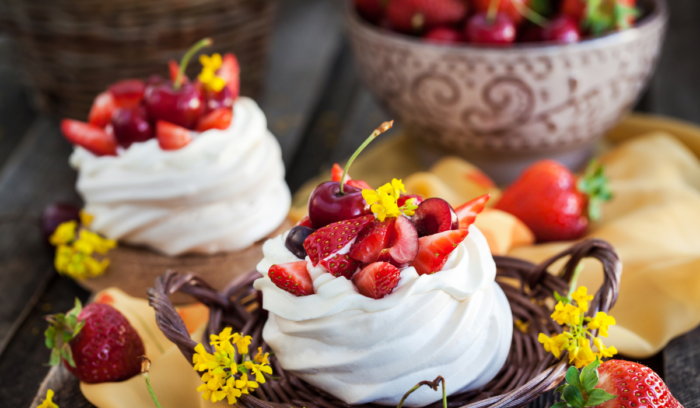 A delicious mini berry pavlova twirl filled with cherries and strawberries.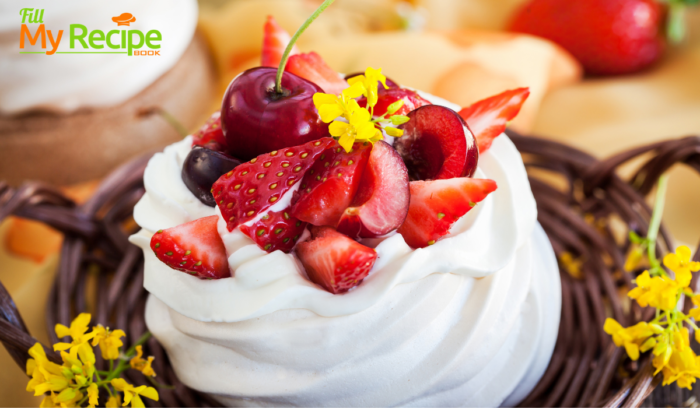 An amazing and eye please dessert for any body to have for tea or a snack.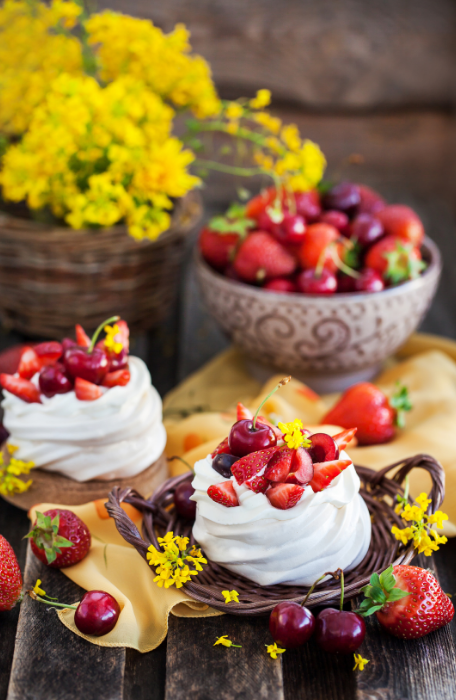 Mini pavlova filled with many berries that you have in your kitchen, it doesn't matter what you have it will be tasteful.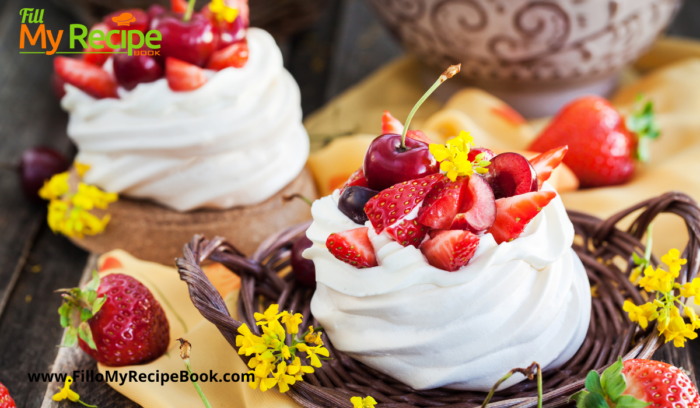 Print and keep the mini berry pavlova twirls recipe attached below.
Recommendations.
(click the highlighted heading for the recipe)
Create some more amazing mini pavlova —–> 16 Mini Pavlova Desserts Recipes
Get some more recipe ideas with berries —-> 22 Easy Berry Treats Recipes
A great collection —–> Best Mini Pavlova and Meringues Recipes and other fruity ideas —-> 27 Fruit Inspired Recipes
and these ideas —–> 16 Easy Valentines Snacks Recipes
Mini Berry Pavlova Twirls
Cooking time
1
hour
45
minutes
Total time
2
hours
10
minutes
Mini Berry Pavlova Twirls recipe idea. An oven baked easy dessert for any occasion presented with fresh fruits and berries.
Ingredients
1. 2 egg whites (from two eggs)

2. 100 g of castor sugar (fine sugar)

3. 1/2 tsp of cream of tartar

4. Berries, strawberries and cherries or raspberries.
Directions
Preheat oven to 80 to 100 deg. C
In a clean dry bowl pour the egg whites, and start whisking them on a low speed until foamy. Once foamy increase the speed to medium, until the beaten egg whites form a stiff peak.
Only then do you add castor sugar one tablespoon at a time whisking between additions until all is combined and you have a stiff glossy mix.
Line two baking trays with grease proof paper or a non stick baking sheet.

Fill a piping bag with the egg whites and use a star nozzle.
Start by piping a blob and then start on the outside and pipe in one action the pavlova twirls. Then once more on top for the sides.
Repeat until you have pipes your pavlova twirls, which would make about 8
Place the pavlova in the oven and bake for 1 hour and 45 min.
Do not open the door, also once they have baked switch of the oven and leave the door closed for at least 1 hour. Or preferably leave over night until cool to prevent them from cracking. Before removing.
Once removed from the oven and well cooled then fill with your berries you have in your kitchen, ie. strawberries and cherries or raspberries or even some blueberries.
Notes
Firstly whisk the pavlova slowly in the beginning. The trick to non cracked baked pavlova is to allow them to cool sufficiently in the oven for a long period. These pavlova may be kept well in freezer and do not need to be defrosted.
get more pavlova and meringue recipes here below.
Best Mini Pavlova and Meringues Recipes
some more dessert recipes to make: