Mini Blueberry Cheesecake Tartlets Recipe. Easy homemade oven bake with a biscuit base and a creamy cream cheese filling with blueberries on.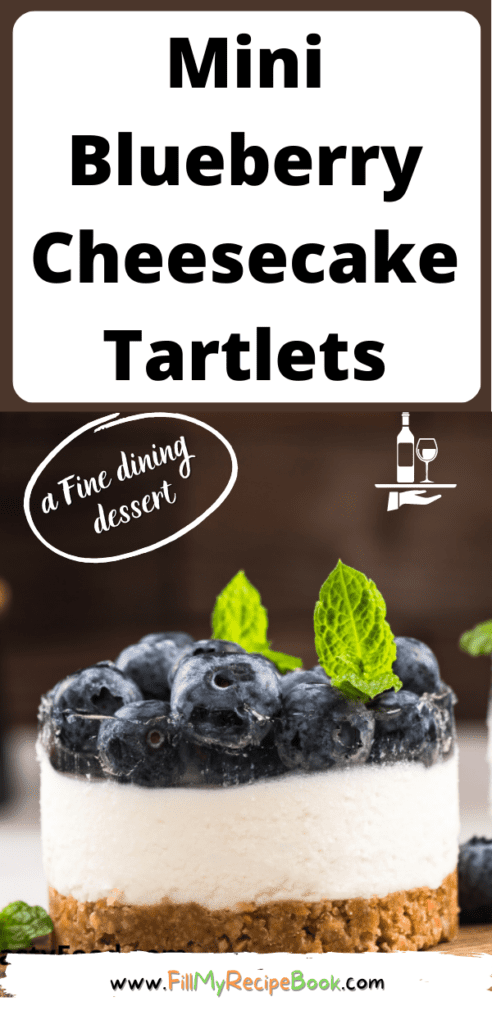 Mini Blueberry Cheesecake Tartlets
Easy homemade Mini Blueberry Cheesecake Tartlets recipe idea to create. Oven baked with my favorite easy biscuit and butter base. Creamy cream cheese and sour cream filling topped with delicious blueberries for a small tart for tea. A delicious dessert or fine dining dessert to serve with special meals.
Is there any cheese in Cheesecake?
A cheesecake is a sweet dessert consisting of one or more layers. The thickest layer or main layer is a mixture of soft cheese such as cottage cheese or cream cheese or ricotta mixed with egg and sugar and sometimes cream.
Which is better baked or no bake cheesecake?
The key difference between baked and no-bake cheesecakes is the former's superior texture. Baked cheesecakes have a dense, fluffy, moist and smooth texture, which is not possible with the recipe for no-bake cheesecake.
Is cheesecake a tart or a cake?
It technically is a tart. As it has a bottom crust and is thicker than a pie crust.
What is the difference between a tart and a tartlet?
A tart is a freestanding shallow open-faced pastry, often baked in a tart pan with a removable bottom, with fluted or straight sides. Smaller tarts are occasionally referred to as tartlets, which fit very adorably in the palm of your hand.
Why does cheesecake need eggs?
Eggs give cheesecakes and custard that extra rich smooth texture. But to much egg in the recipe will give a baked cheesecake a concaved Centre.
Ingredients
All the ingredients and amounts needed are in the recipe attached.
crushed biscuits
butter melted
blueberries
cream cheese
sour cream
vanilla
and more in the recipe.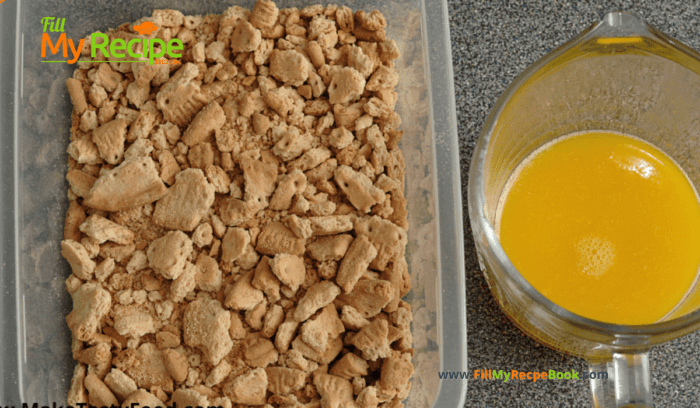 When baking with your kids purchase this apron online a 2 Pack Cotton Linen Parent and Child Apron with Pockets
Have plenty blueberries or its blueberry time, then use them in cheesecakes or muffins.
How To
Firstly you would crush the biscuits and mix them with the melted butter and bake. Then in a blender mix the cream cheese and sour cream with other ingredients needed. See the recipe attached for all the ingredients. Bake in the oven and top with blueberries and sprigs of mint leaves and serve for a dessert.
This mixture makes at least 12 cheesecake tartlets that make an amazing treat, or tea or coffee snack.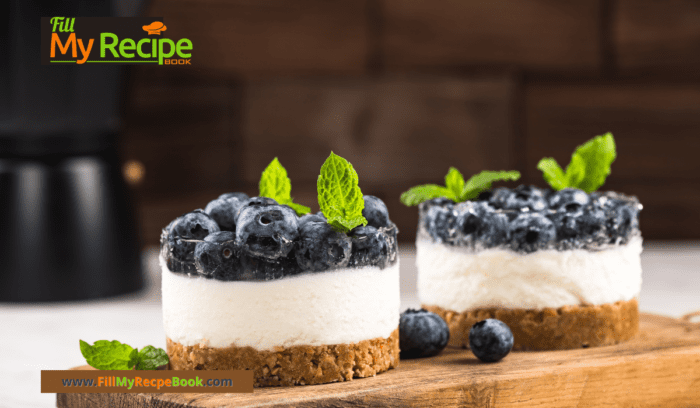 Beautiful big blueberries and sprigs of mint for decoration. Just serve and enjoy.
Cheesecake is my favorite and love the touch of blueberries. Also use whatever you have in the fridge, you don't need to go out and buy berries.
Some raspberries or strawberries would be a great choice as well.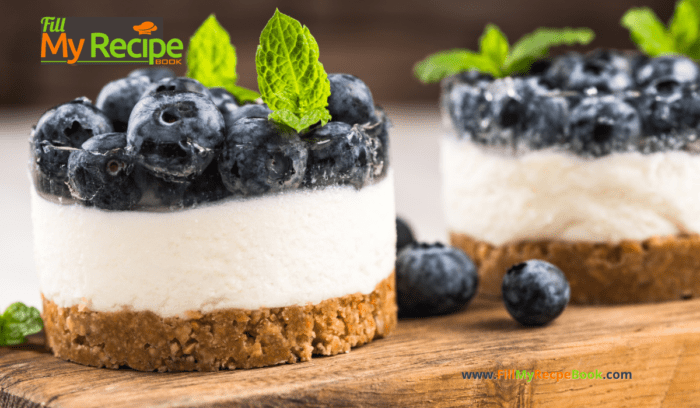 Recommendations.
(click on the highlighted heading for the recipe)
Very tasty dessert recipe ideas to create for the family —-> 10 Puddings and Desserts Recipes
A delicious cheesecake recipe idea to create —-> Instant Pot Caramel Apple Cheesecake
Get some great recipes here —-> 18 Mother's Day Morning Tea Ideas to spoil your mother and show how you appreciate her.
Looking for ideas to serve your mini cheesecake tartlets on then I would recommend these Porcelain Serving Platter Rectangular Plate They make a better serving dish for a gourmet fine dining dessert.
Love blueberry theme then these would be so beautiful for your kitchen. Blueangle Set of 2 Blueberry Hanging Tie Towels Kitchen Hand Towel purchase them online.
What about these —–> 13 Decorative Mini Tartlets Recipes You will love these —–> 12 Decorative Fruit Tart Recipes and other you would love to make —-> 24 Easy Mini Dessert Recipes
Get these amazing recipes for afternoon or weekend tea.—-> 24 Yummy Cakes and Tarts Recipes
You will love these recipe ideas —–> 12 Marvelous Cheese Cake Recipes
Get some more recipe ideas with berries —-> 22 Easy Berry Treats Recipes
Sharing more delicious dessert ideas —–> 20 Scrumptious Dessert Recipes
Here are more ideas to make a recipe with cream cheese. —-> 21 Cream Cheese Inspired Dessert Recipes
Some more recipe ideas —–> 12 Delishes Mini Cheesecake Recipes
Not forgetting these fine dining ideas —–> 15 Gourmet Fine Dining Desserts Recipes
Great ideas for a Christmas Desserts —–> 20 Pleasing Christmas Dessert Recipes and Some recipe ideas for Christmas desserts. —–> 24 Christmas Fancy Dessert Recipes
Make these cheesecakes recipe ideas —–> 10 Scrumptious Cheesecake Factory Recipes
Get these recipe ideas to create for valentines —-> Easy Valentines Treats to Choose. and these Valentine desserts ideas —-> 14 Special Valentine Dessert Recipes for Two
A few purchase online links of Fine Dining Dessert Serving Dishes to choose from. Fine dining desserts must be presented well.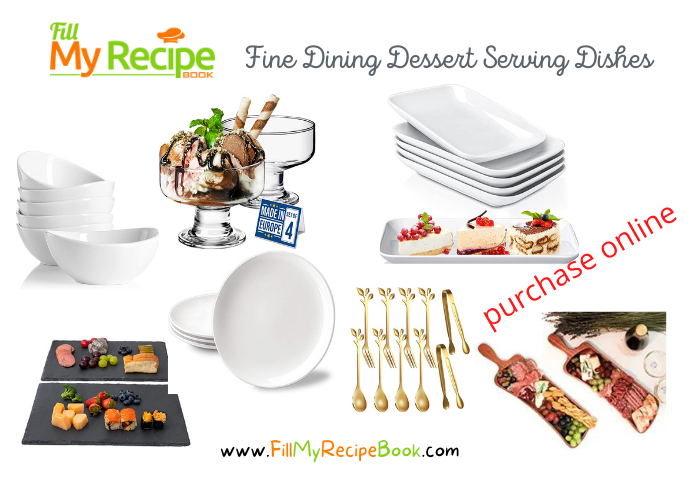 This post may contain affiliate links, where we earn from qualifying purchases. See more details in the policy page.
Print
Mini Blueberry Cheesecake Tartlets
Mini Blueberry Cheesecake Tartlets Recipe. Easy homemade oven bake with a biscuit base and a creamy cream cheese filling with blueberries on.
Author:
Prep Time:

20 min

Cook Time:

20 min

Total Time:

40 min

Yield:

12

Category:

Desserts

Method:

Oven Baking
Ingredients
For the Biscuit Crust.
3/4 cup

of crushed biscuits (tennis biscuits or graham crackers)

3 Tbsp

. of unsalted butter (melted)

2 Tbsp

. of sugar (white castor or granulated)
For the Filling
12 oz

of Cream Cheese (at room temperature)

1/4 cup

(

60 g

) of sour cream

1/2 cup

(

100 g

) granulated sugar (fine)

3 Tbsp

(

45

ml) of lemon juice (or lime)

1 tsp

of vanilla essence

1

large egg room temperature

1 cup

of blueberries
sprigs of mint.
Instructions
Crust.
Preheat the oven to 325Deg.F (160 Deg. C)
Spray each pan or muffin pan of a count of 12 for mini cheesecakes well with nonstick or grease with butter and set aside. (ps. if using muffin pans then line them with grease proof paper for easy removal) 
Add the tennis biscuits/ graham cracker to a blender or smash them by hand, process them until you have fine crumbs. Scoop the crumbs into a mixing bowl and add the melted butter sugar and mix until all is blended.
Place the biscuit mixture into the mini cheesecake pans and press firmly making they are evenly layered.
Bake at 325 Deg.F (160 Deg.C) for 5 minutes. Then remove from the oven and allow to cool on a cooling rack. 
Leave to oven at this temperature for the baking of the whole tart.
Cheesecake Filling.
With your mixer beat the cream cheese until smooth, add the sour cream and granulated sugar and mix until sugar has been dissolved.
Add the lemon or lime juice and vanilla essence and mix until fully combined and fluffy.
Lastly add the egg and mix on a low speed until all is mixed in.
Evenly fill the cheesecake mixture filling between the 12 pans or muffin pans. Then return to the oven.
Bake at 325 Deg.F (160 Deg.C) for 15 to 18 minutes or until tops of the cheesecakes are set.
Remove from the oven and allow to cool at room temperature for at least 1 hour.
Cover with plastic sealing wrap and place in a fridge for to chill for at least 3 – 4 hours or even better leave overnight.
Once the cheesecakes are chilled remove from the various pans.
Garnish with blueberries and a sprig of mint.
Serve and enjoy.
Notes
The baked cheesecakes need to be chilled for at least 4 hours or overnight before serving.
These cheesecakes may be stored in a sealed container in the fridge for at least 3 – 4 days.
They also freeze very well,  for 4 months and need to be thawed overnight.
Keywords: mini blueberry cheesecake tartlets
Get more dessert recipes below.
Gourmet Fine Dining Desserts Recipes
More Oven Baking Recipes to choose from and other desserts and tarts to make, click here.
Download and print these FREE Printables for help in the kitchen