Instant Pot Salted Caramel Apple Cheesecake tart recipe. Cheesecakes are a favorite for many people, with apple, nuts and melted caramel.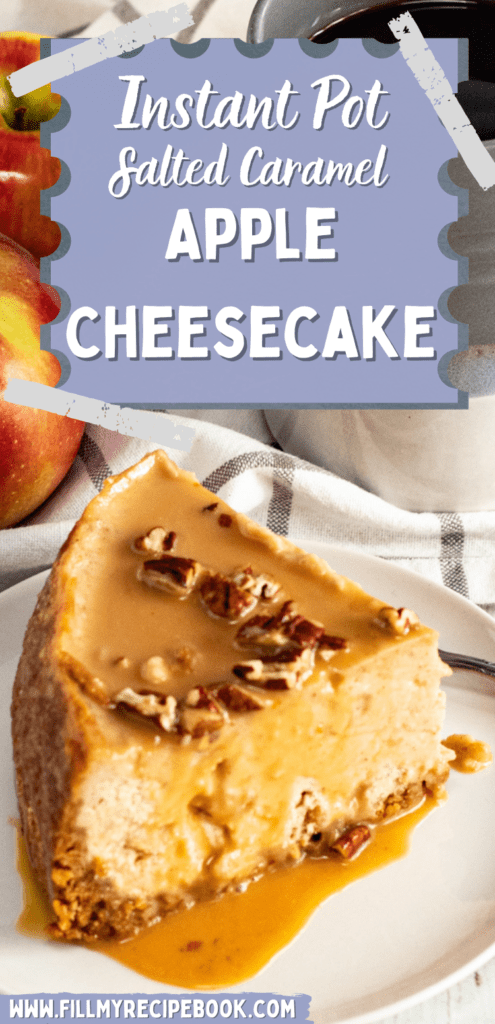 Instant Pot Caramel Apple Cheesecake
Instant Pot Salted Caramel Apple Cheesecake.
Some ingredients for the cheesecake recipe. work the instant pot as per recipe below.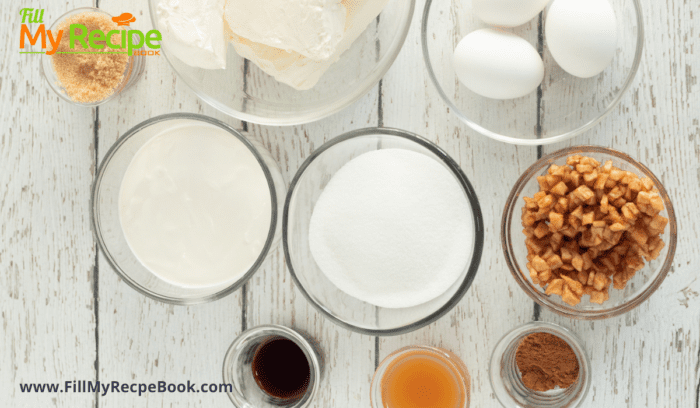 Using my favorite recipe base for any tart you make. This is the biscuit and butter base that is pressed into the pan and the filling poured over it. Super easy and tasty.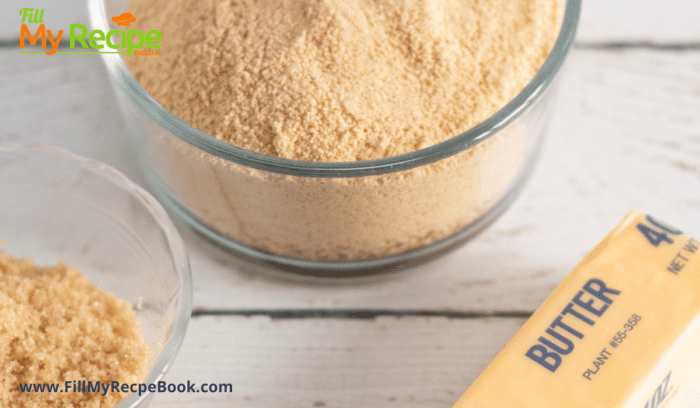 Once you have set the biscuit base in the pie dish, then chop up the apples and leave aside until they are ready to place in the cheesecake mix.
After mixing the cheese cake mix, according to the recipe then you would add the nuts and get ready to melt the caramel sweets. These are so delicious and be careful not to eat to many and leave some to melt for the topping.
Prepare the finished cheesecake according to the recipe and cover with foil to bake in the instant pot.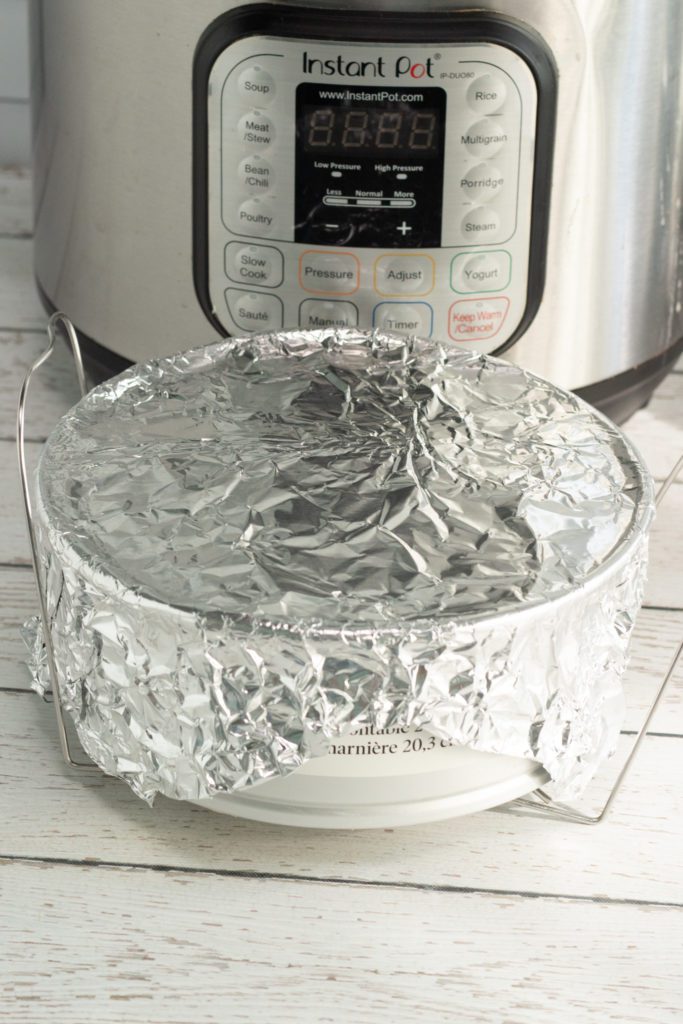 Once baked then you can add that melted caramel on top of the cheesecake and decorate with nuts or any other nuts you will love.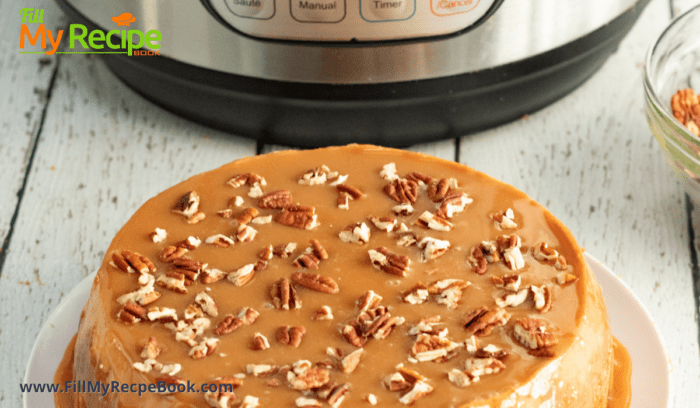 A cheesecake with melted caramel drizzled over this cheesecake.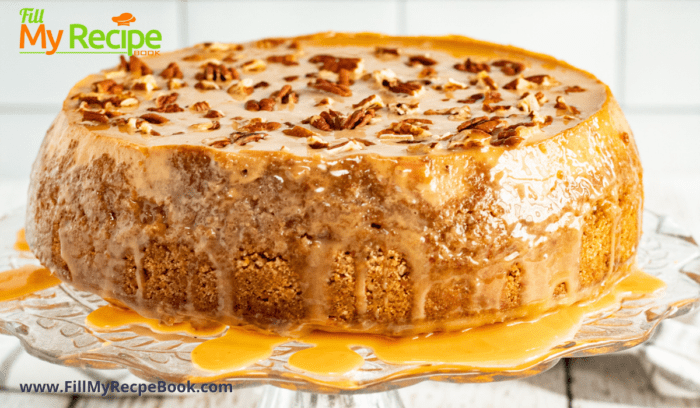 Serve with your coffee or tea and add a slice on a serving plate and enjoy.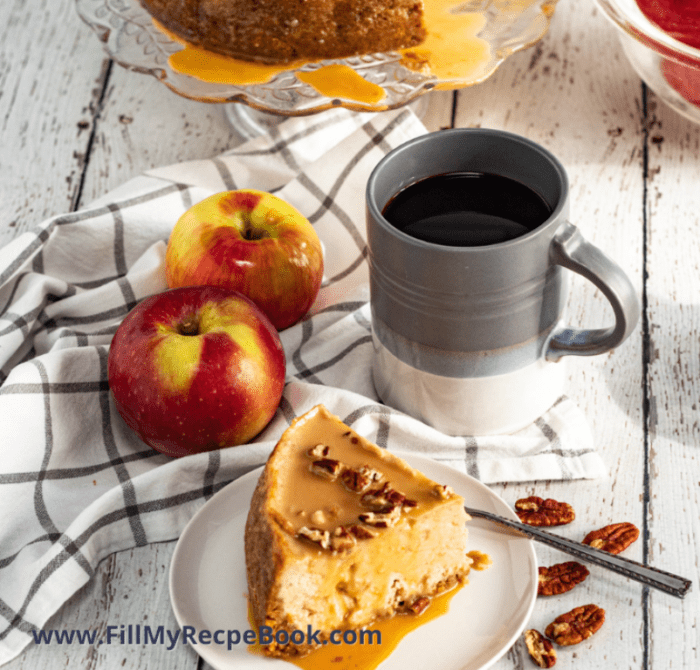 A slice of cheesecake that is looking so scrumptious.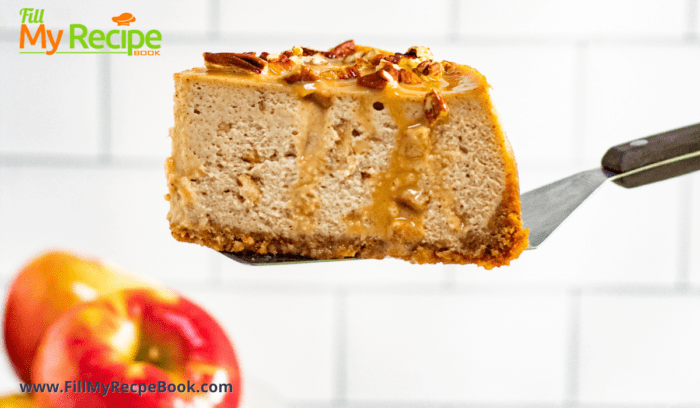 The recipe to print or save is below. enjoy.
Recommendations.
Get these recipe ideas ——> 20 Fathers day afternoon tea recipes
Obtain some recipes Ideas —–> 16 Fathers Day Pudding Recipes
More of these amazing recipes for afternoon or weekend tea.—-> 24 Yummy Cakes and Tarts Recipes
Get some more recipe for puddings —–> 16 Wonderful Homemade Pudding Recipes
You will love these recipe ideas —–> 12 Marvelous Cheese Cake Recipes
Here are more ideas to make a recipe with cream cheese. —-> 21 Cream Cheese Inspired Dessert Recipes and then these delicious ones to choose from —-> 21 Delicious Apple Recipes
Get these amazing recipe ideas —-> 18 Easy Family Favourite Puddings
Sharing more thanksgiving dessert recipe ideas for you to create. —-> 23 Thanksgiving Dessert Recipes
Amazing Christmas puddings ideas —–> 19 Christmas Pudding Recipe Ideas and Some recipe ideas for Christmas desserts. —–> 24 Christmas Fancy Dessert Recipes and these recipe ideas —–> 19 Vegetarian Christmas Desserts Recipes
Make these cheesecakes recipe ideas —–> 10 Scrumptious Cheesecake Factory Recipes
Instant Pot Salted Caramel Apple Cheesecake
Total time
1
hour
30
minutes
Instant Pot Salted Caramel Apple Cheesecake. Cheesecakes are a favorite for many people, this one has apple nuts with melted caramel.
Ingredients

Crust

¾ c graham cracker crumbs

¾ c finely crushed pretzels

3 tbsp brown sugar

4 oz melted unsalted butter

Apples

2 kg apples, peeled and diced (I like Granny Smith or Honey Crisp

6 tbsp granulated sugar

1 tbsp cinnamon

Filling

24 oz cream cheese (softened)

4 tbsp brown sugar

4 tsp apple cider or apple juice

¾ c granulated sugar

2 tsp vanilla extract

2 tsp ground cinnamon

3 large eggs

1 c sour cream

Topping

24 squares caramel candy (such as Kraft Caramels)

1 tbsp flaked salt

1 tsp water

2 tbsp cream or half and half

1 c chopped pecans or pecan halves (optional)
Directions

Crust
Lightly spray an 8-inch springform pan with baking spray
Cut a circle of parchment paper the size of the bottom of the pan and place it in the pan
Using a medium bowl, combine graham cracker crumbs and pretzel crumbs. Add in butter and sugar and mix with a fork until the consistency of wet sand.
Add mixture to pan and press firmly into the bottom and about ¾" up the sides of the pan.
Place crust in freezer while preparing apples and filling.
Filling
Mix peeled and diced apples with the sugar and cinnamon. Set aside.
Using a stand or hand mixer, beat the cream cheese in medium bowl until fluffy. Make sure to scrape bowl to get all the cream cheese mixed.
Add brown sugar and granulated sugar and mix for approx. 2 min.
Add cider, vanilla and cinnamon and mix until thoroughly combined.
Add in eggs, one at a time, mixing each on low until just combined
Add in sour cream and mix on low until combined and batter is smooth.
Gently fold in prepared apples.
Pour filling into prepared pan and cover pan with foil, sealing edges.
Add 1½ c. of water to bottom of Instant Pot.
Place cheesecake pan on trivet or sling and lower into pot.
Seal pot according to your instructions. Cook on high pressure for 35 min, allow to sit for 10 min, then manually release. Cheesecake should jiggle a bit in the middle. If too loose, cook for an additional 5 min. Place on wire rack, in pan to cool for at least two hours or until you notice the sides of pan pulling away from the cheesecake. Run a knife around pan edges and remove cheesecake from pan.
Caramel Topping
Place caramels and water in pan and heat over low temperature on stove top, stirring constantly until smooth and melted. (Can do in microwave in short increments until melted if you like.) Allow to cool until thickened a bit. It should be a pouring consistency but not too liquid. If too thick, add a little of the cream to thin.
Pour caramel over top of cheesecake and allow to drip down the sides. Sprinkle flaked salt across the top evenly. Place pecan halves or chopped pecans over top of caramel if you choose.
Some other cheesecake recipes to choose from.
Another instant pot dessert for you as well.