Mini Apple Cream Tartlets recipe with baked shortbread pastry for tarts. Filled with creamed apple sauce, slices of fresh apples for dessert.
Mini Apple Cream Tartlets
An amazingly easy mini apple cream tartlet recipe idea to create topped with thinly sliced sweet pink lady apples. Serve for a fine dining dessert.
A filling made with some cooked apples and mixed with cream. Piped into the cooked shortbread pastry shells and then topped with sweet thinly sliced sweet apples.
What apple is best for apple tart?
Be sure to have Golden Delicious or Jonagold apples on hand for an exceptional tart you won't soon forget. Braeburn is another great choice thanks to its sweet-tart and spicy flavor.
What is the difference between apple tart and apple pie?
If you've ever thought a tart was pie, you're forgiven because they're incredibly similar. The main difference is that tarts only have a bottom crust, and the crust is much thicker than a pie crust.
What are the three types of tart?
Brisée, Sucrée, & Sablée. The 3 Types of Pastry Dough You Need to Know.
Which type of pastry is used mainly in tarts?
Perfect for cooks who love to bake, shortcrust pastry is a stout dough used to make thicker pastries like tarts and cookies.
Can I use pie crust instead of tart crust?
Can You Make a Tart with Pie Crust? The short answer is yes. There are a few things to consider: sable has more flavor than pie crust, so if you want the crust to add its own flavor to the dish, you may want to stick with tart dough.
Ingredients
Some of the ingredient images. But please follow the recipe attached for the direct ingredients.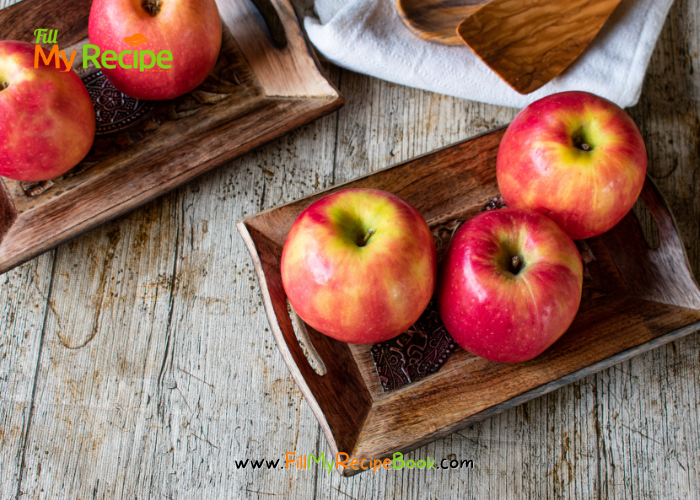 Pink Lady apples (sweet apples)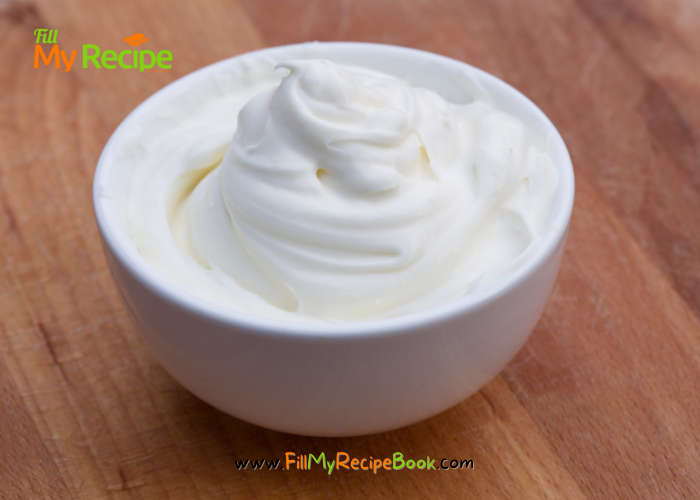 Thick cream
How to.
Obtain this Easy Shortbread Crust Recipe and bake these for this creamy apple sauce filling with fresh thinly sliced apples on top. (get the pastry recipe from the highlighted heading here)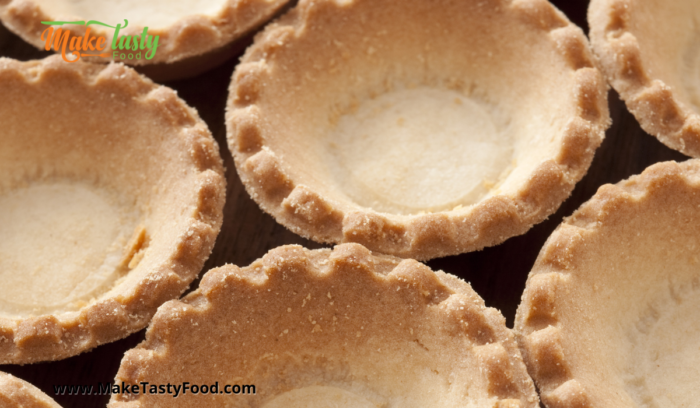 After baking the pastry for the tartlets then leave aside to cool. Slice the apples thinly.
Cooking some in a little water to soften them. Then mashing them and leaving to cool.
Once cooled mix the mashed apple with the cream and fill out the tartlet pastry shells.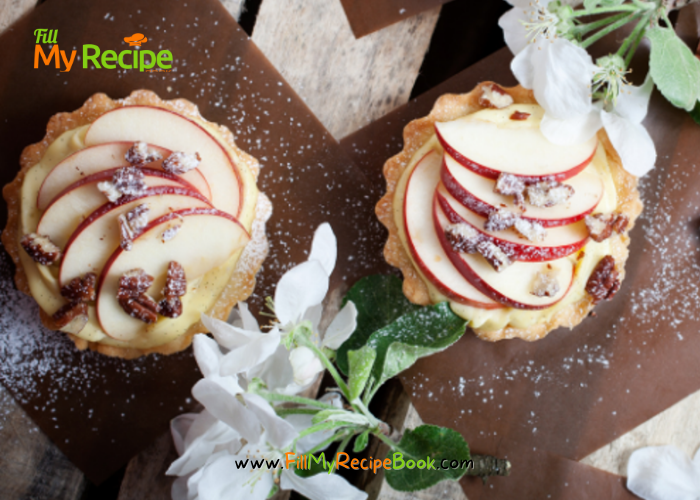 Laying the sliced pink lady sweet apples over this cream and dusting with castor sugar and some crushed cashew nuts.(optional)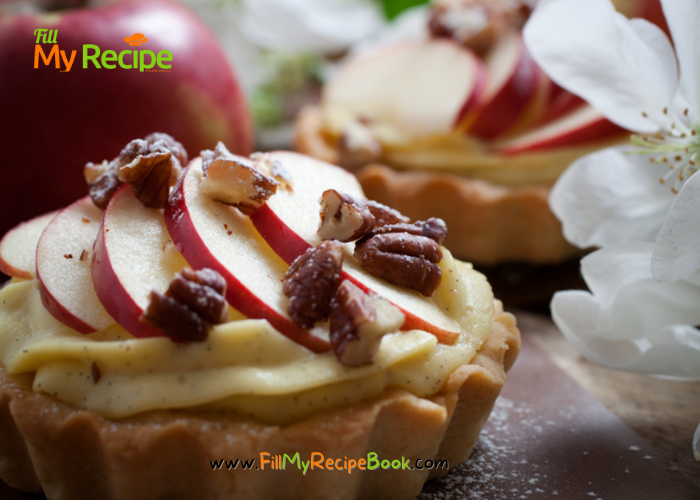 Serve this amazing simple tartlet with these fresh thinly sliced sweet apples for a tea or a fine dining dessert.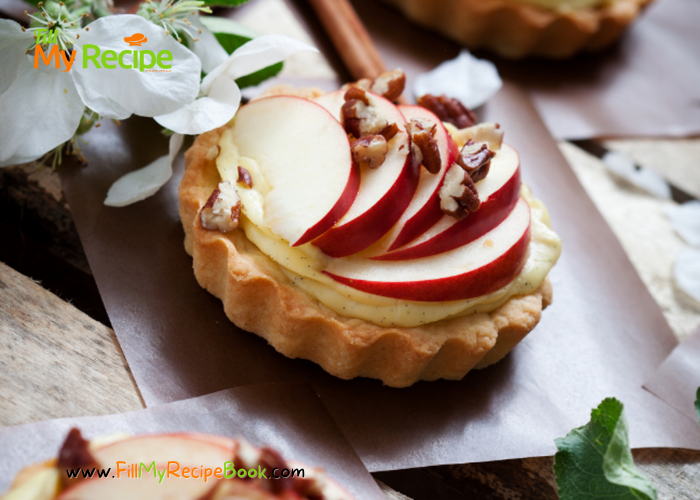 Nothing better than this easy filling with apples sauce and cream. Follow the recipe below.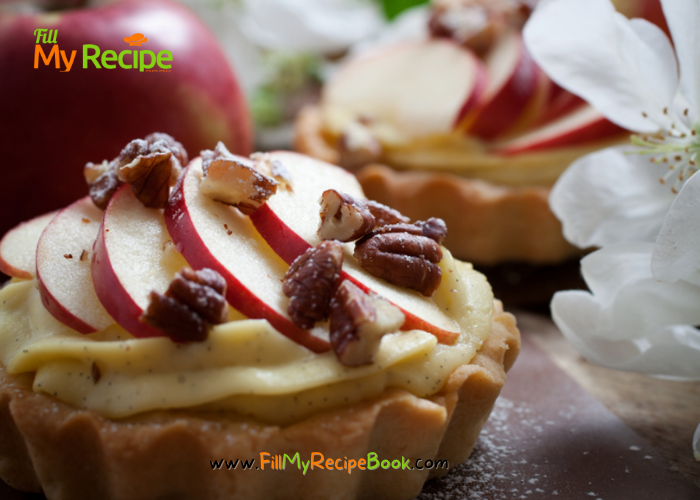 Recommendations.
(click on the highlighted heading for the recipe)
Try this —–> Lemon Curd & Blueberry Tartlets
Get this —–> Easy Shortbread Crust Pastry to bake for these tartlets and others you would want to fill with different fillings.
View and make these —–> 15 Gourmet Fine Dining Desserts Recipes and these Valentine desserts ideas —-> 14 Special Valentine Dessert Recipes for Two
and these —–> Mini Fine Dinning Desserts and other you would love to make —-> 24 Easy Mini Dessert Recipes
What about these —–> 13 Decorative Mini Tartlets Recipes
Get more recipe ideas —–> 14 Cashew Nut Inspired Recipes
You will love these —–> 12 Decorative Fruit Tart Recipes
Who doesn't love desserts get some ideas here —–> 21 Easy Dessert Recipes and then these delicious ones to choose from —-> 21 Delicious Apple Recipes and other fruity ideas —-> 27 Fruit Inspired Recipes
Sharing more thanksgiving dessert recipe ideas for you to create. —-> 23 Thanksgiving Dessert Recipes
Here are some amazing recipe ideas for you —–> 30 Ideas for Fruit Recipes
Great ideas for a Christmas Desserts —–> 20 Pleasing Christmas Dessert Recipes and Some recipe ideas for Christmas desserts. —–> 24 Christmas Fancy Dessert Recipes
Purchase some of these recommended kitchen dishes online for your convenience.
Get these beautiful Casserole Dishes & Table Mats to bake your healthy homemade casserole dishes in, many ceramic and stoneware dishes.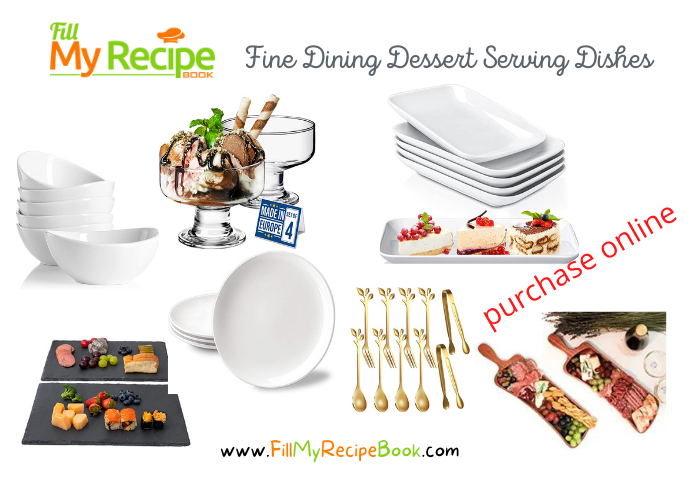 Print
Mini Apple Cream Tartlets
Mini Apple Cream Tartlets recipe with baked shortbread pastry for tarts. Filled with creamed apple sauce, slices of fresh apples for dessert.
Author:
Prep Time:

20 min

Cook Time:

15 min

Total Time:

35 min

Yield:

6

Category:

Desserts

Method:

Oven Baking

Cuisine:

French
Ingredients
6

Red sweet Pink Lady apples

4 Tablespoons

of thick heavy cream

2 Tablespoon

of castor sugar (fine sugar)
Some crushed cashew nuts for topping. (optional)
Instructions
Bake and make the pastry according to this recipe below.
Make this Shortbread pastry for the tartlets. Grease the tartlet pans and place the pastry in. (get recipe for pastry on the highlighted words)
Clean peel and core the apples. Cut two of the apples in slices of eight pieces each. Place the apples slices in a little water (about 2 tablespoons) cover and simmer until soft. Mash them and set them aside to cool.
Cut the rest of the apples in half and slice them very thinly (about 2 mm) To be able to eat them.
Mix the mashed apples with the cream and fill the tartlets with this apple cream. (can pipe them in).
Place the apple slices on this cream by overlapping them in a spiral patten from the outside towards the center of the tartlet. Do not leave any gaps.
Sprinkle some castor sugar over the apples and some crushed cashew nuts on top of the apple.
Serve.
Keywords: Mini Apple Cream Tartlets
This post may contain affiliate links, where we earn from qualifying purchases. See more details in the policy page. Does not effect your purchase cost.