Chocolate Banana Cake Recipe with Chocolate Chips, frosted with chocolate cream cheese icing. An easy and healthy moist chocolate cake.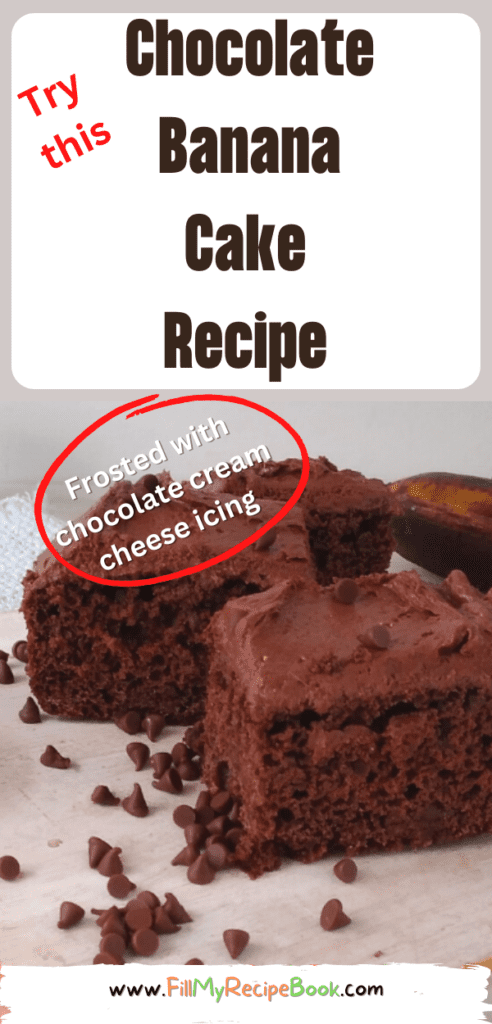 Chocolate Banana Cake Recipe
This chocolate cake is quit different and has a great taste. Oven baked with ripe bananas and dark cocoa powder with added chocolate chips. An easy moist cake frosted with chocolate cream cheese icing. The icing or frosting as I call it is to die for. It is the same icing as the carrot cake. Just adding some cocoa powder, it makes it absolutely so delicious. It is to me the best tasting icing yet. Very tasty and delicious dessert to serve for any occasion and tea snack or treat. Homemade recipe and easy instructions to follow.
Is banana cake made of banana?
With normal cake ingredients for this cake you just add ripe mashed bananas. After all bananas are a replacement ingredient for eggs if you do not have them to make a recipes with. It just add a moister sponge and taste. Guess using box cake mix with be the same as just adding mashed ripe bananas. In my recipe site I use natural ingredients all made from scratch and home. Never use boxed ingredients.
What's the difference between banana bread and banana cake?
The banana cakes can often be more moist inside, whereas the banana breads are firmer and less moist. Also a cake recipe has more sugar in as it is a sweet dessert whereas banana breads use less sugar. A banana loaf does not require icing. Also made with all purpose flour or whole wheat flours. A cake is made with lighter cake flour (which is lighter) and then iced.
Can bananas be too ripe for banana cake?
A banana that has dark or black skin is ok, but if the inside banana itself is dark then it is on the way to be rotten. They will also be leaking juice or fluid. Not good to use in cakes or any other recipes. Rather soak them in some water in a small bucket to soak for 12 – 24 hrs for a plant fertilizer. Works very well.
Ingredients
flour, baking powder, baking soda, salt
cocoa powder
chocolate chips
ripe bananas
vanilla
cream
cream cheese
icing and butter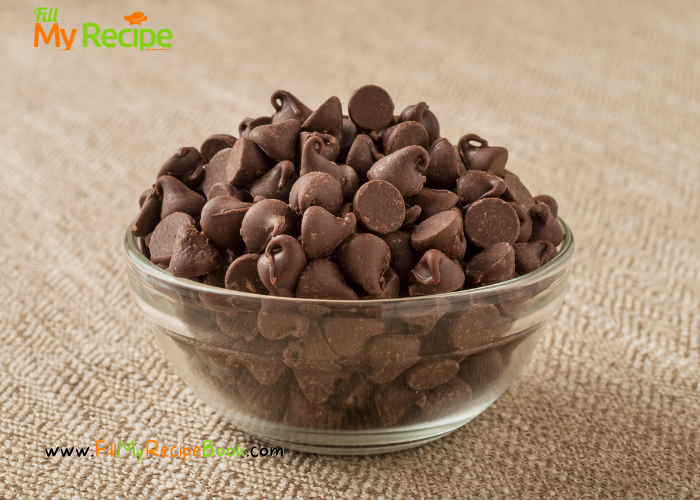 Some good quality chocolate chips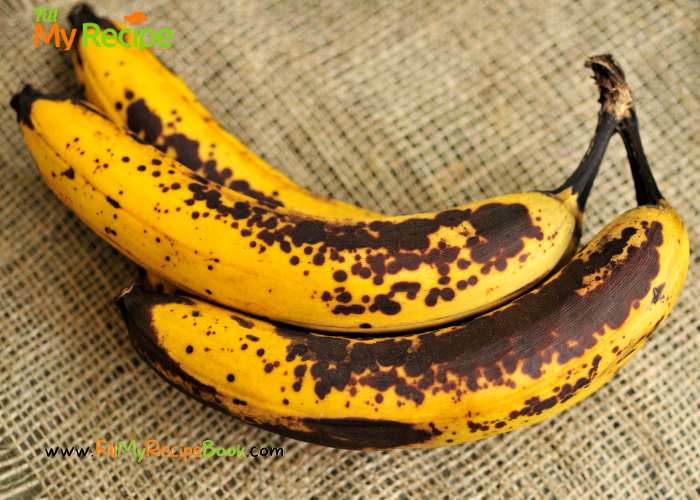 Overripe bananas mashed
How to.
Firstly sort your self out a greased and lined roasting pan. To make this rectangular "poke" cake. Or if you prefer then make a double or 3 tier round cake. Totally up to you.
Make the cake according to the recipe attached.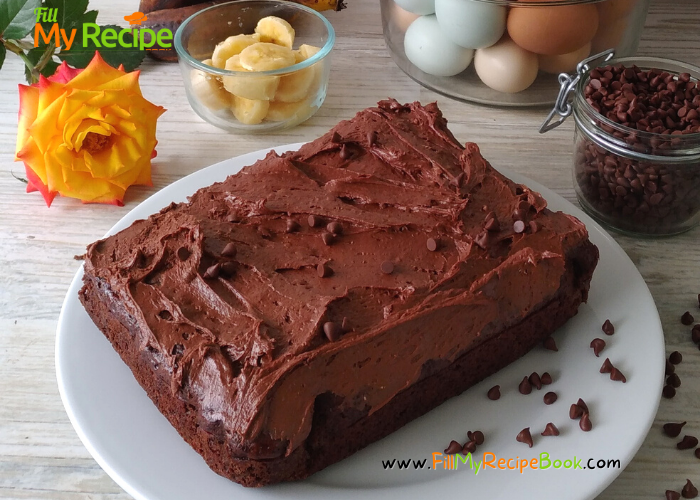 Once cool then ice it with the best chocolate cream cheese icing you will ever make.
Cut into squares and have some tea. Your grandkids will surely be visiting you for more until its all eaten up.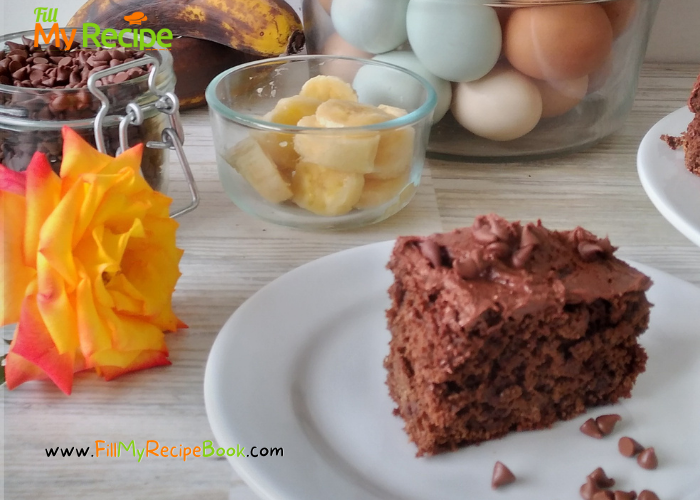 Can you put bananas in a cake.
Placing bananas in a cake makes the sponge a delicious and decadent dessert. Topped with this chocolate cream cheese icing just puts it on the top of the list of desserts. SO Yummy.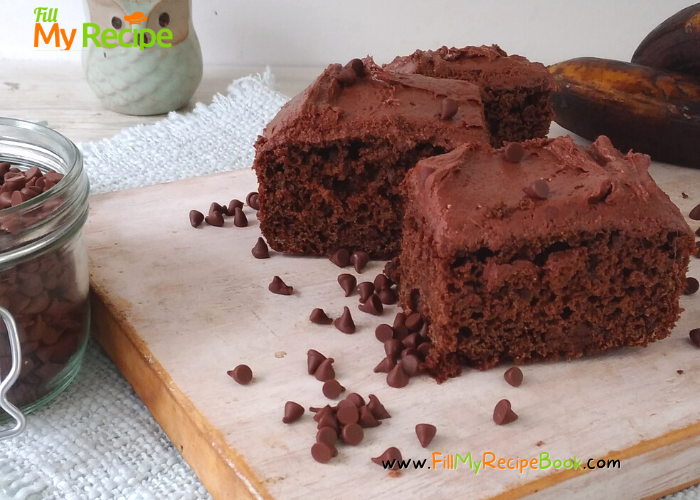 Recommendations
(click the highlighted heading for the recipes)
View this cream cheese icing and also make this –>Tasty Moist Carrot Cake. and carrot cupcakes with cream cheese icing
Muffins made with banana –>Easy Chocolate Banana Muffins as well as a few more banana muffin recipes to choose from.
Use bananas for pancakes ideas. —-> Easy Banana Pancake Recipe
Get these recipe ideas ——> 20 Fathers day afternoon tea recipes
More of these amazing recipes for afternoon or weekend tea.—-> 24 Yummy Cakes and Tarts Recipes as well as these mixes —–> 16 terrific cake mix recipes
Get these other banana cake recipe ideas —-> 12 Fantastic Banana Cake Recipes
You will love to get more ideas —–> 13 Heavenly Chocolate Cake Recipe
These are amazing easy cake recipe ideas to —–> 18 Easy Cake Recipes
Print
Chocolate Banana Cake Recipe
 Chocolate Banana Cake Recipe with chocolate chips, frosted with chocolate cream cheese icing. An easy and healthy moist chocolate cake.
Author:
Prep Time:

20 min

Cook Time:

50 min

Total Time:

70 min

Category:

Cakes desserts

Method:

Oven Baking

Cuisine:

South african
Ingredients
2 Cups

[400g]of brown sugar

2/3 cup

of cream.

2

eggs

1 teaspoon

of vanilla essence

2 1/2 cups

of flour

2/3 cup

of cocoa

2 teaspoon

of baking powder

1 teaspoon

of baking soda

2 Cups

of mashed over ripe bananas

1 teaspoon

of Himalayan salt

1 Cup

of chocolate chips
CREAM CHEESE FROSTING
4 oz

 of cream cheese (room temperature)

1/4 cup

 of unsalted soft butter

1 cups

 of castor or powdered sugar (melts easier)

1 tsp

 of vanilla essence

1/2 cup

of cocoa powder
Instructions
Preheat oven to 180 Deg. C (350 Deg. F)
Grease a roasting pan with spray and cook or butter and place a wax proof sheet of paper over the bottom and spray and cook that. Leave aside for the cake mix.
In a large bowl add the wet ingredients such as the sugar, cream and eggs and vanilla and mix with a mixer until all is combined.
Then sieve the flour cocoa and baking powder and baking soda and salt.
Mash your bananas to make 2 whole cups.
Mix together the wet and dry ingredients then the banana. Add the chocolate chips and then pour the cake batter into the greased and lined roasting pan.
Bake in the oven for 50 minutes, until tested cooked with a clean knife.
Let cool for 5 minutes then turn out on a cooler rack and remove the wax paper. leave to cool.
Make the chocolate cream cheese icing.
Mix all the cream cheese until smooth and then slowly add in  the castor sugar, Cocoa and butter and vanilla essence. It so delicious.
Mix until a good consistency has been achieved. Leave to cool in the fridge if needed.
I kept this cream cheese icing in the fridge for a while.
Notes
This chocolate cream cheese frosting lasts a long time kept sealed in the back of the fridge where it gets very cold. Take out and bring to room temperature to frost your cakes.
Keywords: Chocolate Banana Cake with Chocolate Chips with chocolate cream cheese icing. Dessert
Purchase some of these amazing kitchen accessories online to use that are so attractive and cute.