Tasty Banana Blueberry Muffins Recipe. Best taste of homemade banana muffins just sweet enough made with buttermilk to enrich the taste.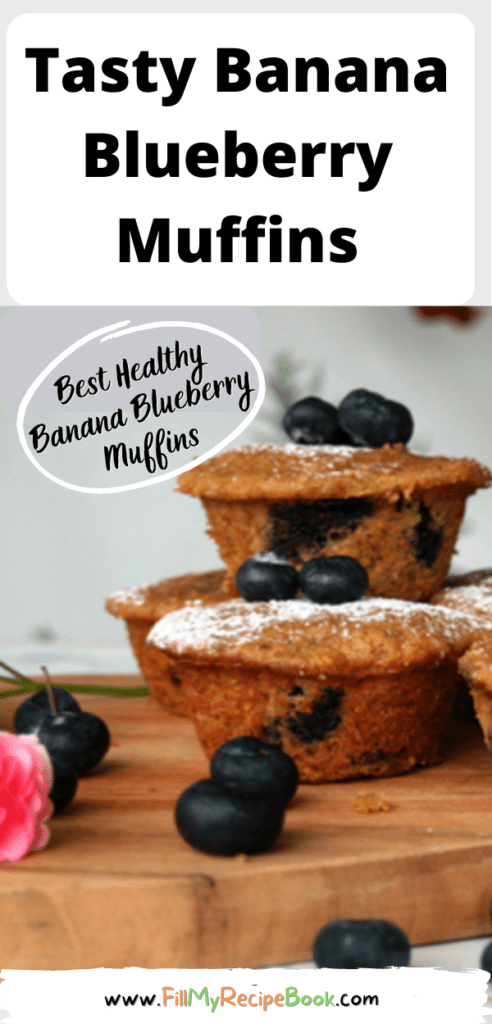 Tasty Banana Blueberry Muffins
These banana blueberry muffins recipe taste sweet enough with the blueberries and useful for a different breakfast or snack. Everyone's favorite blueberry muffins, as they melt in the banana mix when baked. The kids grab them while they are warm and eat at least half of them by the time they cool down. The best healthy and easy to bake banana filled blueberry muffin dessert.
Is oil or butter better for muffins?
Butter makes a better tasting muffin, but olive oil make the muffin light and fluffier. Oils let the gluten develop slower and this lets the mixture rise and be lighter and fluffier.
What is the secret to making moist muffins?
Top tips.
Keep wet and dry ingredients separate.
All fillings and flavoring are added last.
Consider paper liners in the muffin pans.
Don't over fill the muffin cups, make them three quarter full.
Check the temperature of the oven.
Do the cooked test to see if they are baked.
Top the muffins with flavor or toppings.
What to add to muffin mix to make it taste better?
A few ways to jazz up your muffins.
Add fresh fruits, such as bananas, raspberries, blueberries, strawberries.
Nut or dried fruit may be added.
Dip the tops in melted butter then roll in cinnamon sugar mix.
Use fruit juice instead of the liquid listed in the ingredients.
Is it better to use fresh blueberries in muffins?
Fresh or frozen blueberries may be used. Remember to stir them in at the end. If you using frozen ones then stir them in while they are frozen, or coat with flour. If you let them defrost then they will make the muffin mix color.
Ingredients
Ripe banana
Blueberries
Buttermilk
Butter
Sugar
Eggs
Flour, baking powder, baking soda
salt
Get the ingredient amount on the recipe attached. As well as other hints or replacements.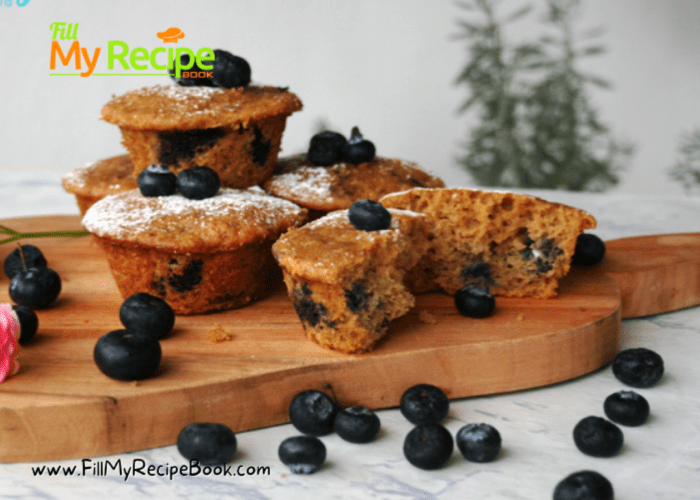 How To
Mixing the dry ingredients and the wet ingredients, then follow the instructions on the recipe attached.
Fresh banana blueberry muffins are the best for tea or a small meal.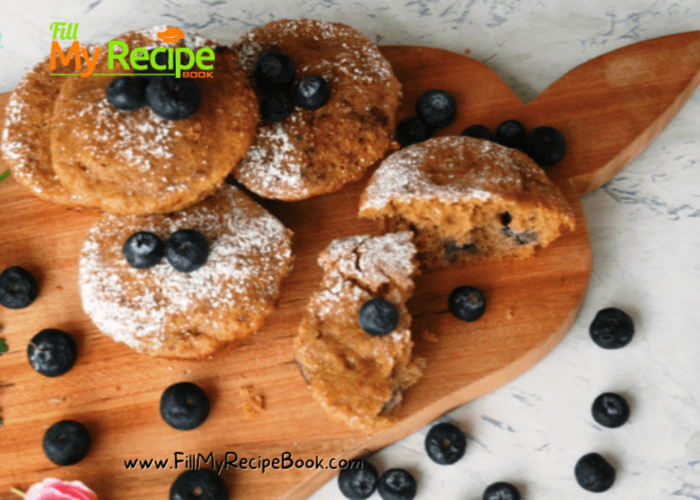 Lovely light muffins decorated with castor sugar and fresh blueberries. Taste great as a Breakfast.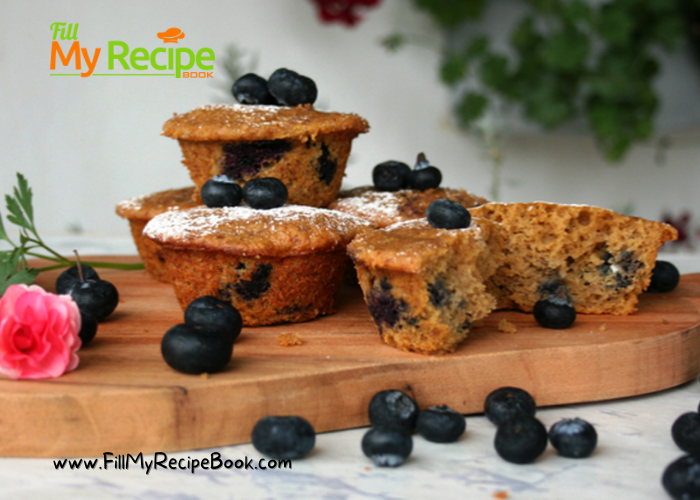 Healthy blueberries fresh and organic are loaded with goodness and taste. Kids will love them to.
Recommendations
(click the highlighted heading for the recipe)
Create more muffins that use banana and those that don't. —-> Breakfast Banana Muffins Recipe  and Easy Chocolate Banana Muffins and Scrumptious Banana Oat & Honey Muffins and Oat Raisin & Date Muffins and 12 Healthy Zucchini Muffins and Gluten Free Zucchini Muffins and Amazing Pecan Crumb Muffins and Divine Oat and Chocolate Muffins and Simple Crumbed Pecan Muffins and Cheesy Ham Egg muffins and Fresh Homemade Raspberry Muffins and learn all about banana —-> Farm Bananas and Trees
Get these amazing muffin recipes here, —–> 8 Tasty Muffins Collection and these —–> 8 Healthy Oat Muffin Recipes
Get some great recipes here —–> 18 Mother's Day Morning Tea Ideas to spoil your mother and show how you appreciate her.
There are more fruit filled muffin recipes here —–> 16 Fruit Filled Muffin Recipes and other recipe ideas —–> 18 Easy Muffin Recipes not forgetting these other recipe ideas —-> 6 Scrumptious Blueberry Muffin Recipes
Get some more recipe ideas with berries —-> 22 Easy Berry Treats Recipes and other fruity ideas —-> 27 Fruit Inspired Recipes
Here are some amazing recipe ideas for you —–> 30 Ideas for Fruit Recipes
Then there are the traditional favorites for Alaskans —-> 14 Amazing Alaska Meal Recipes
Here are 28 rather awesome accessories to use in the kitchen! We might not NEED some of these, but they are hard resist!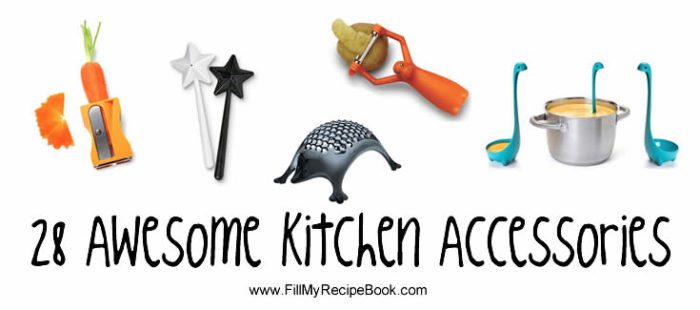 This post may contain affiliate links, where we earn from qualifying purchases. See more details in the policy page. Does not effect your purchase cost.
Print
Tasty Banana Blueberry Muffins
Tasty Banana Blueberry Muffins Recipe. Best taste of homemade banana muffins just sweet enough made with buttermilk to enrich the taste.
Author:
Prep Time:

10 min

Cook Time:

25 min

Total Time:

35 min

Yield:

12

Category:

Desserts, muffins

Method:

Oven Baking

Cuisine:

South african
Ingredients
1 1/3 Cup

of flour

1 tsp

of baking powder

1/2 tsp

of salt

1/8 tsp

of baking soda

1/2 cup

of soft unsalted butter

1 cup

of sugar

2

large eggs (room temp)

1 cup

of mashed ripe bananas (

3

med)

1/4 cup

of buttermilk (room temp)

1 tsp

of vanilla essence

1 cup

of frozen blueberries

1 Tbsp

of flour (to coat the blueberries)

3 Tbsp

of turbinado sugar
Instructions
Preheat the oven to 180 deg. C
Grease muffin pans and set aside.
Sieve and mix the dry ingredients, of flour, baking powder, baking soda and salt.
Mix all the wet ingredients in another bowl, eggs and sugar until smooth. Then add butter mix, as well as buttermilk and vanilla essence. Mix all well.
Add the banana mash to the mixture and mix in. Add the dry mix to this wet mix mixture.
In a small bowl combine the blueberries and a Tbsp. of flour. toss until well coated.
Fold the blueberries into the mixture.
Spoon mixture into the muffin baking trays .
Bake for 25 minutes until tested cooked with a toothpick.
Sprinkle the turbinado sugar over the muffins while warm.
Leave pans to cool on a cooling rack for 15 minutes.
Remove muffins from the muffin pans and leave to cool on the rack.
Serve 
Notes
This Recipe can be made as a blueberry loaf as well. Only bake for about 50 – 60 minutes. In a loaf pan.
Keywords: Tasty banana blueberry muffins
Also there are more Oven Baking Recipes to choose from.
Download the free printable for oven temperatures and conversion chart here. Other free printables as well.