Fresh Tuna Pasta Salad Recipe idea for a full meal in the summer. Protein and pasta with fresh salad for a side dish or complete meal.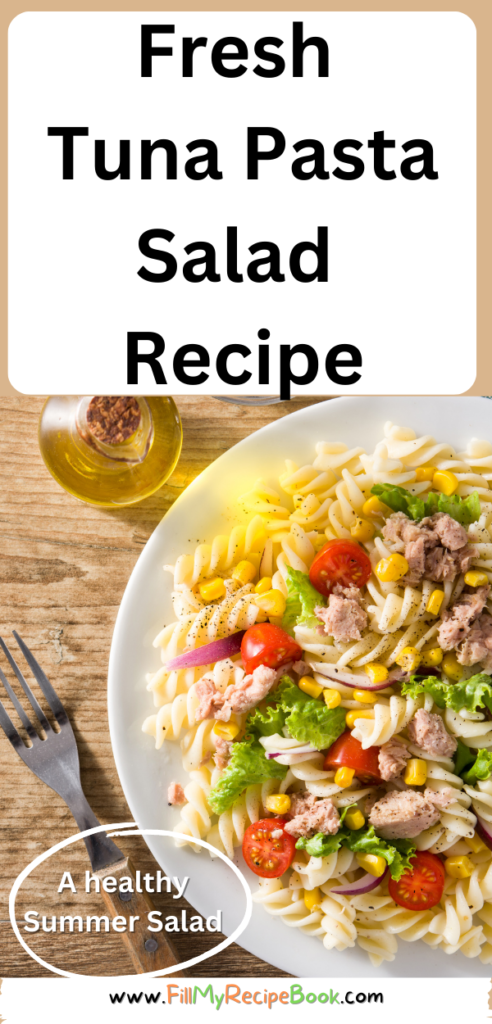 Fresh Tuna Pasta Salad Recipe
Put together this fresh tuna pasta salad recipe idea for a full meal in the hot summer days. Filling and healthy with protein and pasta that is a carb, fresh salad of lettuce, cherry tomato, corn and onion, with a dressing. A lunch or dinner meal for the family that is a no bake stove top and a side dish recipe. Quick and easy fresh salad recipe.
What are the five mistakes to avoid pasta salad?
You need to use the right size and type of pasta.
do not overcook or under cook the pasta, follow the directions on the package.
Lack of seasoning the pasta salad.
Not dressing the pasta salad when its warm, so it penetrates the pasta and gives it a great taste.
Do not make the pasta salad to far in advance.
How long will tuna pasta salad keep in the fridge?
To keep the tuna pasta salad in the fridge chilled you have to seal it in a container and then it will keep for 2-3 days. Always toss before serving as the dressing would have drained to the bottom of the bowl or container.
Should noodles be rinsed for pasta salad?
Pasta should not be rinsed for a warm dish, as the starch in the water is what adheres the sauce to the pasta. If you are making a cold salad for a side dish then this is the only time to rinse the pasta, but adding the dressing or sauce with the lightly warm pasta helps the pasta to absorb the flavors.
What is the best herb to go with tuna?
A mix of parsley, basil, chives, chervil and marjoram, for example, would be splendid, as would one of cilantro, mint and basil.
Ingredients
Rotini pasta
red cherry or grape tomatoes
red onion
corn
lettuce
dressing included (see the attached recipe for the ingredients)
Get all the amounts and instructions from the recipe attached.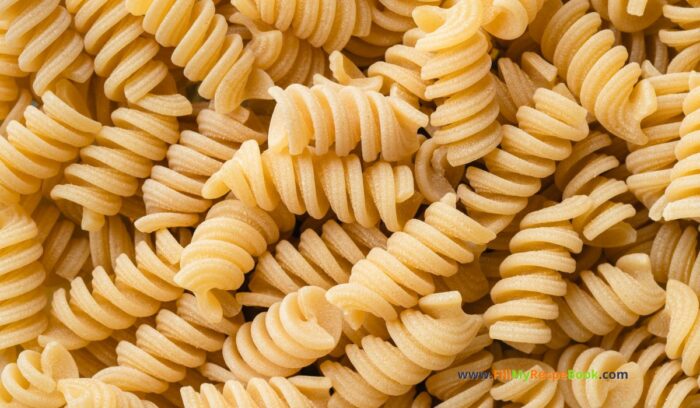 Rotini pasts (or other)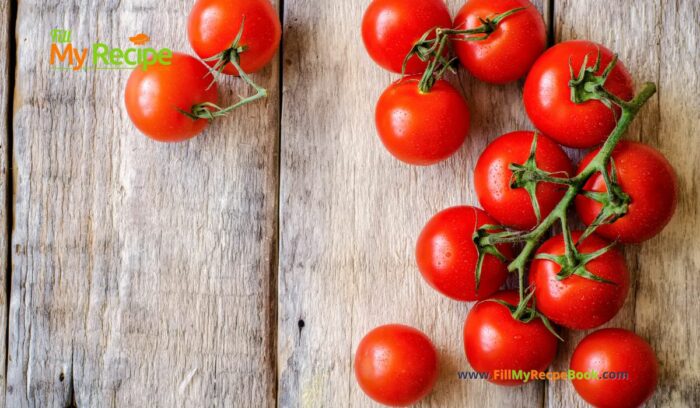 Cherry tomato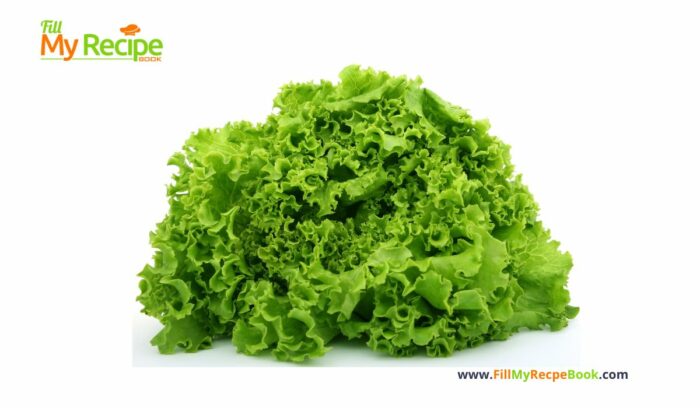 lettuce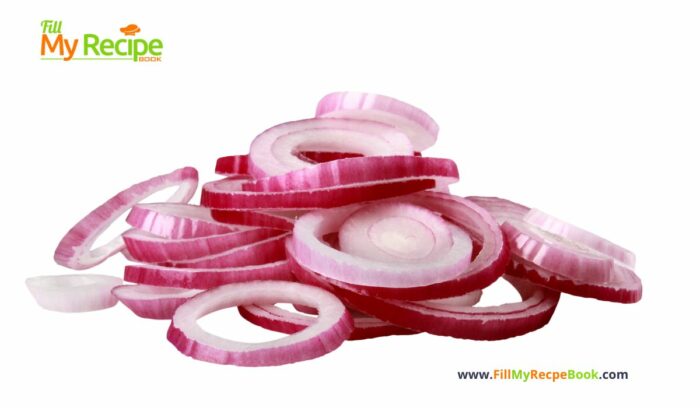 Red onion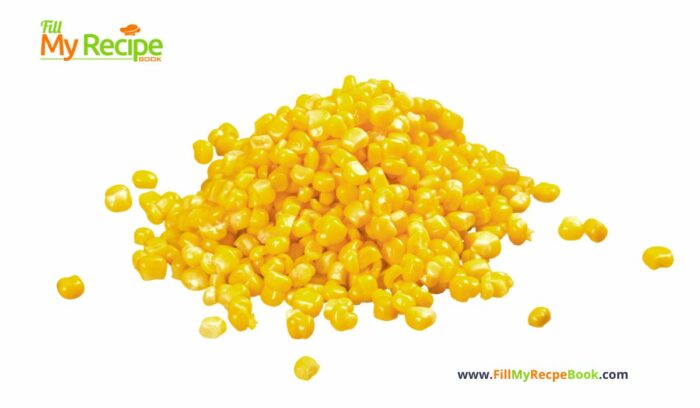 corn
How To
Boil the pasta firstly according to the instructions on the packets, as much as 10 – 12 minutes. Drain.
Cut up all the ingredients to size and make the dressing.
toss everything together and serve for a light filling meal or use as a side dish to any main meal.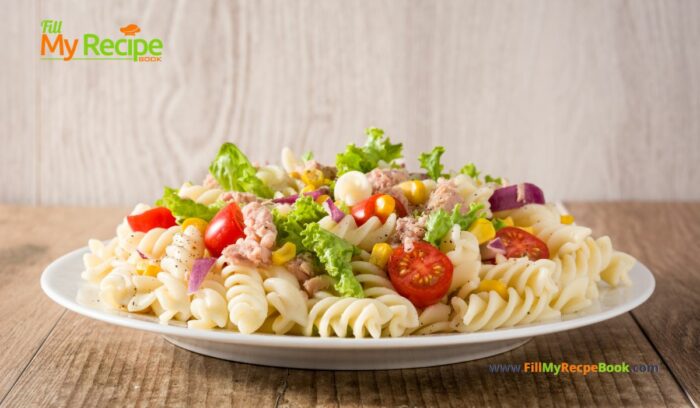 A serving of tuna pasta salad is so easy to make in the summer for a hot day meal that is light enough to eat during the day for a lunch or supper.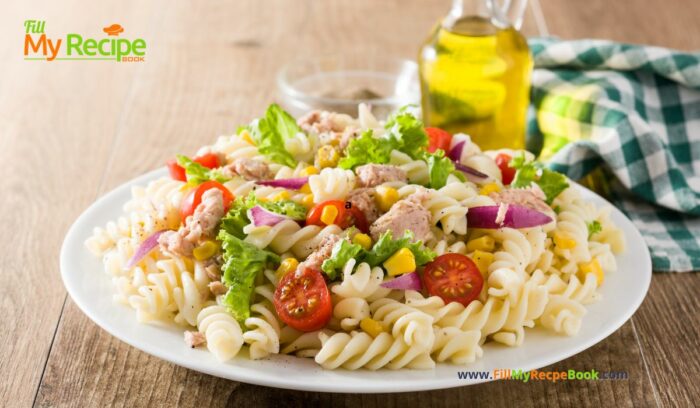 A great easy dressing to whisk up with olive oil and some spices and parsley.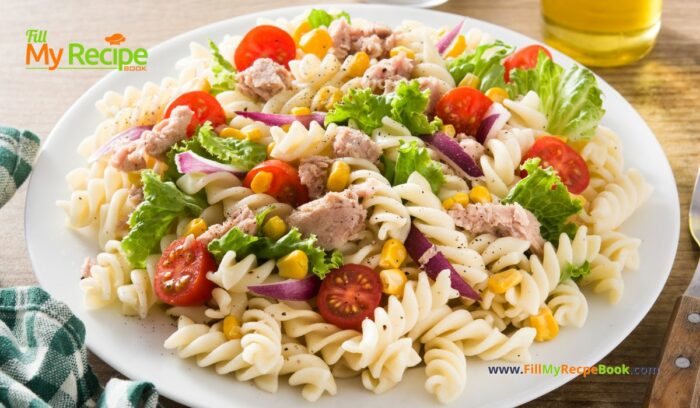 Pasta that will fill you with the protein tuna, and fresh few salads. What makes this salad is the dressing.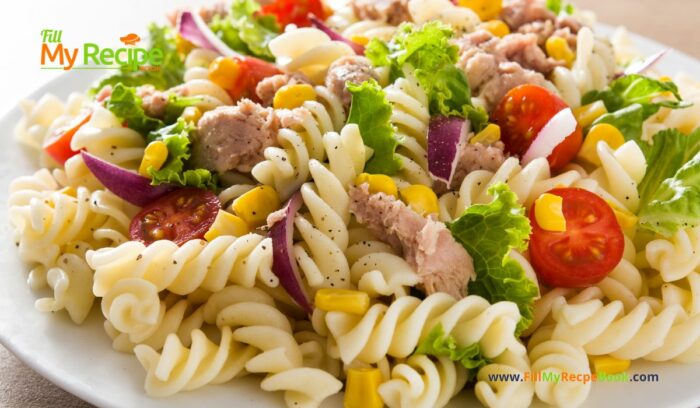 Recommendations
(click the highlighted heading for the recipe)
More salad or cold side dish recipe to create —-> A Filling Homemade Chicken Salad and Corn and Black Bean Salad and Simple Pasta Salad and Dressing and Simple Tomato and Onion Salad and Crunchy Coleslaw Salad and Sauce and Three Bean Salad and Dressing and Mustard Curry Green Beans and Creamy Potato Salad Recipe and Tasty Curry Beetroot Chutney and Best Greek Salad Recipe
Here are 28 rather awesome accessories to use in the kitchen! We might not NEED some of these, but they are hard resist!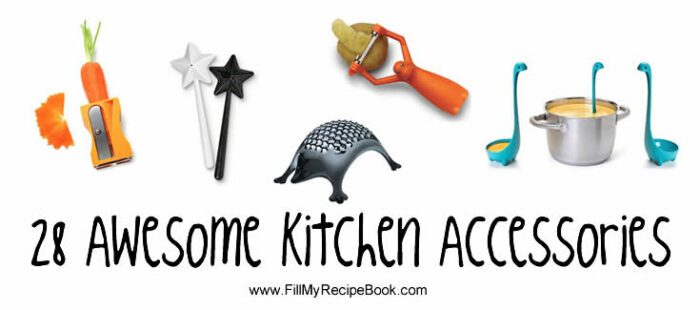 Print
Fresh Tuna Pasta Salad Recipe
Fresh Tuna Pasta Salad Recipe idea for a full meal in the summer. Protein and pasta with fresh salad for a side dish or complete meal.
Author:
Prep Time:

15 min

Cook Time:

10 min

Total Time:

25 min

Yield:

8

Category:

Meals, lunch, dinner, side dish

Method:

Stove top No Bake

Cuisine:

Mediterranean
Ingredients
500 g

of Rotini pasta. (or other pasta )

1

medium red onion sliced and cut into small pieces

1 cup

of corn

2 cups

grape or cherry tomatoes (red or yellow) cut in half.

2 cups

of shredded lettuce
Dressing
3 tablespoons

of fresh lemon or lime juice

1/4 cup

of olive oil

2 tablespoons

of yogurt

1/2 teaspoon

of Dijon mustard

1/4 teaspoon

of garlic powder

1 teaspoon

of salt

1/2 teaspoon

of black pepper or lemon pepper

1 tablespoon

of chopped parsley
Instructions
Place all the dressing ingredients in a bowl and whisk them together.
Boil the Rotini pasta according to the directions on the package. Drain and rinse quickly.
While the pasta is warm add half of the dressing on, and toss together for it to be absorbed by the pasta.
In another bowl add all the chopped and cut up ingredients. Adding in the (drained) whole tuna and breaking up to small bits. Toss together.
Add the pasta to the fresh salad and tuna. Toss together.
Pour over the rest of the dressing and toss nicely so that is is equally mixed and the pasta is coated with the dressing.
Serve lightly chilled or as is, depends on your taste. Serve as a side dish for main meals or eat as a main meal.
Keywords: Fresh Tuna Pasta Salad Recipe