Simple Tomato and onion salad with spiced balsamic sauce. A salad idea for a braai or barbecue that could be added to a curry dish or meals.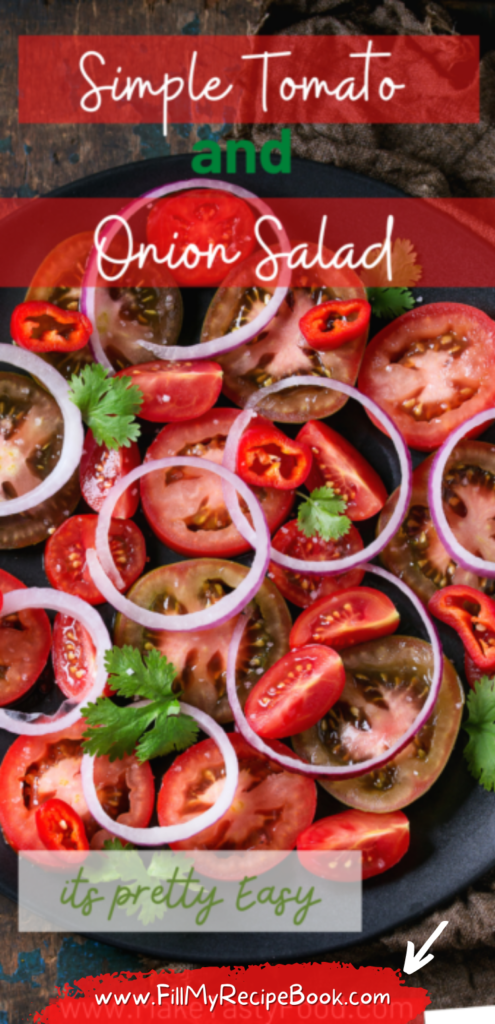 Simple Tomato and onion salad
A very easy salad to make, with tomatoes and onions and a delicious balsamic vinegared spiced sauce. This is a versatile salad as you may add them onto sandwiches if the dish has not been totally eaten. They also make a great side dish for a curry dish as they would cool your taste buds. The best sandwich is the tomato and onion and a piece of lettuce. Yummy.
How To
Obtain a few lovely red ripe organic tomatoes out of your veggie garden.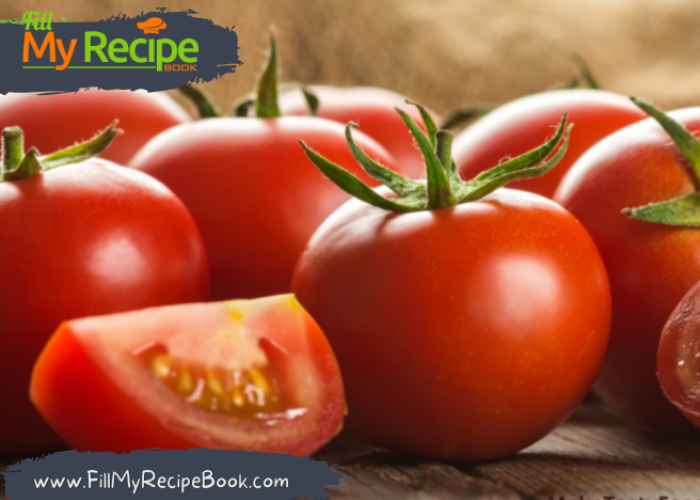 Wash and slice into a salad bowl.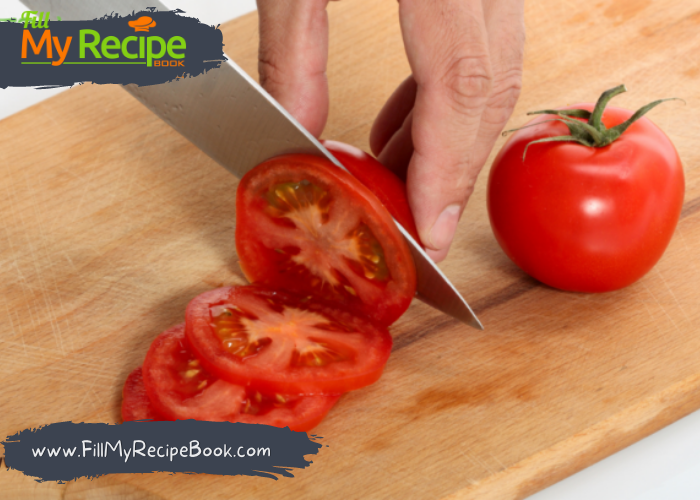 Use white or red onions and peel the skin and slice those as well. Adding to the tomatoes.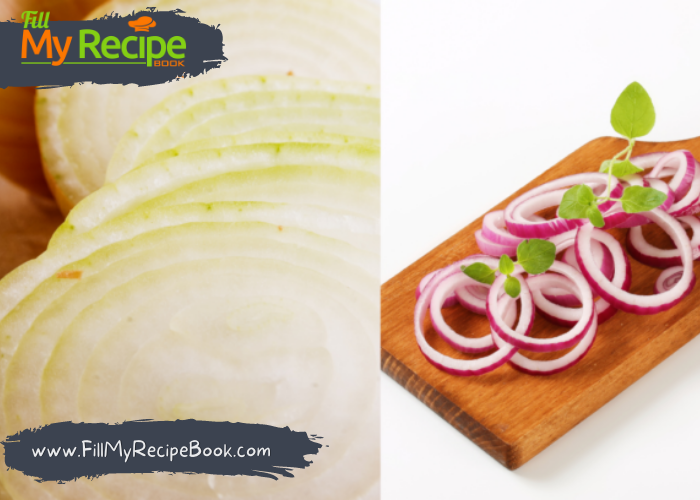 If you prefer a strong onion then use the white ones, but the red are sweeter and do not burn your eyes. Also adds some color.
Scatter the tomato and onion nicely over the salad dish and sprinkle some chopped parsley over the top. For garnish.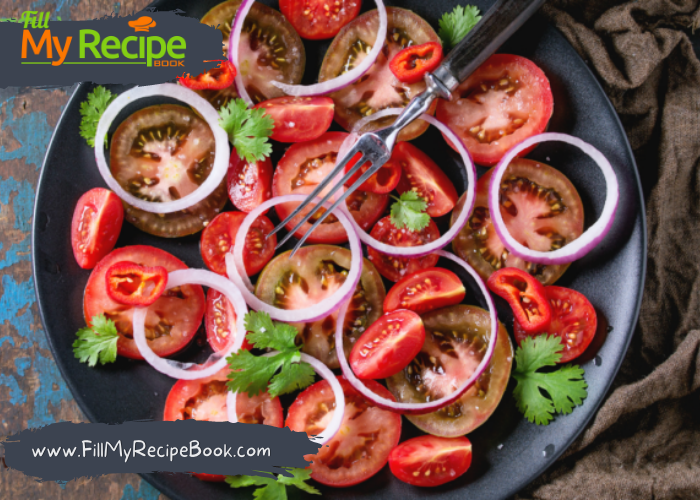 For ingredients to mix and pour over the tomatoes and onions see the recipe attached
Below is the balsamic vinegar and olive oil jars. They are spiced with herbs.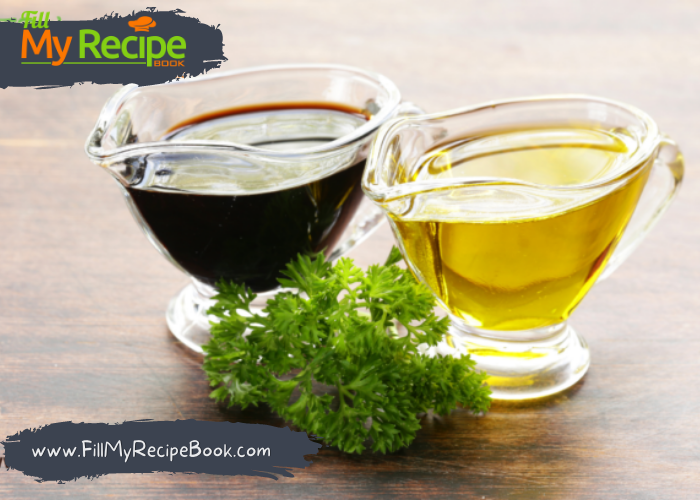 Mix all well and pour over the tomato and onions and leave stand for a while in fridge, covered.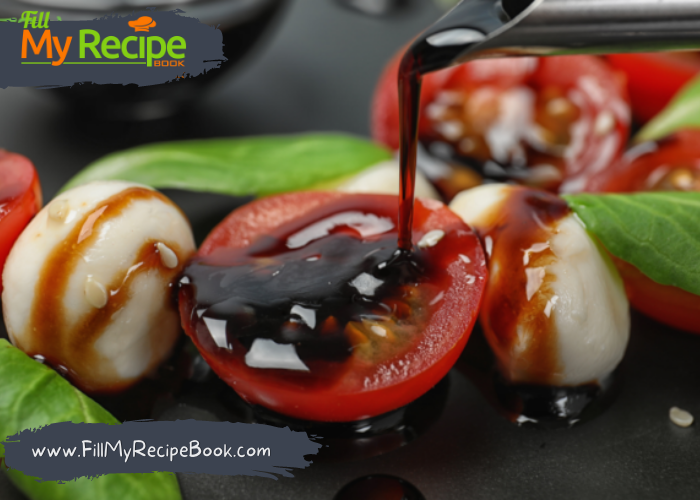 More ideas to use tomato and onion for are to fill a sandwich or a salad roll with.
Recommendations.
You may want to add this Greek salad recipe to —-> Fried Fish and Chips with Salad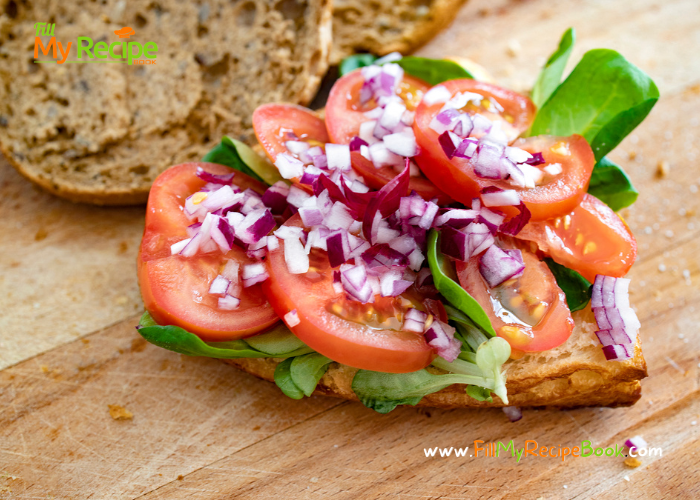 Some sandwich filling ideas —–> 13 Simple Sandwich Filler Recipes
You can make these amazing braai or grilled BBQ toasted sandwiches with tomato and onion or add more. —-> Toasted Braai Grilled Sandwiches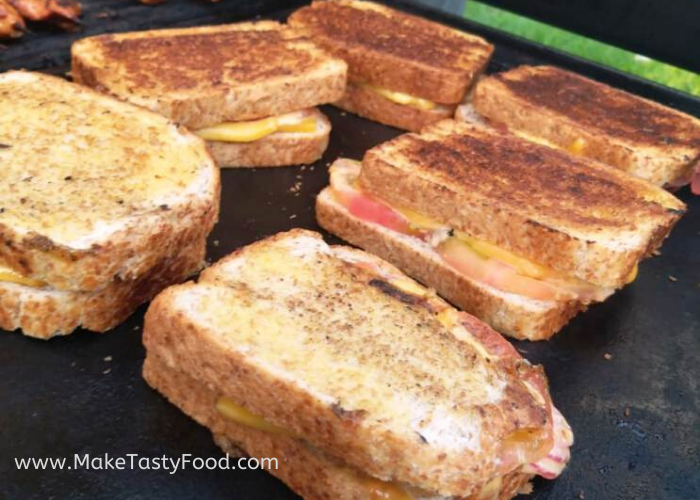 Make a braai menu with these side dish ideas.—–> 10 Best Braai Salad Side Dishes
More amazing lunch recipe to choose from here.—–> 14 Best Mother's Day Lunch Recipes
Here are some other ideas with these recipes.—–> 15 Tasty Healthy Tomatoes Recipes
Salad ideas to create —–> 19 Amazing Salad Recipes
As well as these salad ideas to create —–> 19 Amazing Salad Recipes and more salad ideas to create —–> 18 Quick Salad Recipes
Sharing Thanksgiving side dishes to create —–> 27 Thanksgiving Side Dishes
Did you know you can enjoy a braai or barbecue as a vegetarian? get these ideas —–> 25 Vegetarian Braai or Barbecue Recipes
Ideas for a vegetarian Christmas meal —–> 34 Vegetarian Christmas Dishes Recipes
A great few Christmas cold side dish salads to choose from.—–> 21 Healthy Cold Christmas Salads Recipes
Summer Barbecue or Braai side dishes recipe ideas —–> 19 Easy Salad Recipes Ideas
Serve with other salads for the meal as Side Dishes. As well as more No Bake Stove Top Recipes.
Great served with Cold meats or Grill Braai or Barbecue.
Download some FREE Printables to use in the kitchen when baking.
Print
Simple Tomato and onion salad
Simple Tomato and onion salad to add to your salads for a braai or barbecue. This salad is so quick and versatile. 
Author:
Prep Time:

15 min

Cook Time:

0 min

Total Time:

15 min

Yield:

6

Category:

side dish

Method:

no bake
Ingredients
3 Ripe red tomato's (sliced
1 red onion 
Parsley garnish
Balsamic vinegar and olive oil sauce
3 tablespoons virgin olive oil
1–2 tablespoons balsamic vinegar ( start with one)
Salt and Pepper to taste
garlic powder to taste
dried basil leaves (or fresh parsley chopped, whatever is on hand)
Some white sugar may be added. (1 tsp)
Instructions
Slice the tomato´s in nice even slices and then also slice the onion and push them loose so that the form single rings. Fill your salad bowl with the tomato and onion.
Mix the balsamic vinegar and olive oil with the salt and pepper and garlic powder with the dried basil and sugar and drizzle over the tomato and onions before serving. Leave to stand in the fridge for a little to chill. Add garnish of parsley. Serve with meals or braai or BBQ meals.
Keywords: Simple Tomato and onion salad with sauce.