Mini Lemon Curd Filled Meringue. Meringue is easy to make and filled with some lemon curd and perfect for serving to guests.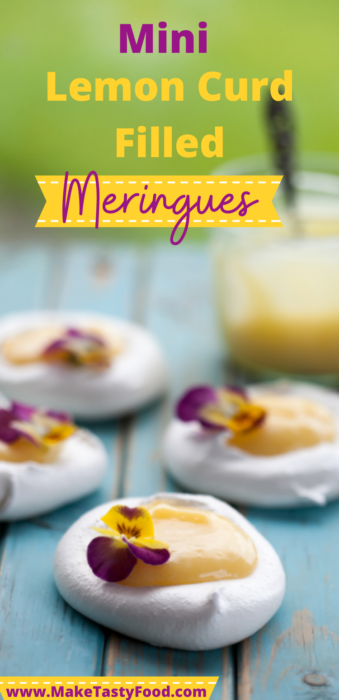 Mini Lemon Curd Filled Meringue.
How to make meringues successfully.
Use some fresh eggs and they should be at room temperature. Always separate the yolk from the egg whites carefully without breaking the yolk. The mixing bowls should be clean and dry, the whites must not have any yolk in.
Whip the egg yolks with a mixer until it forms a stiff frothy peak. Don't over beat the egg whites.
Adding castor sugar and cream of tartar slowly as the sugar must be fine so that it melts faster.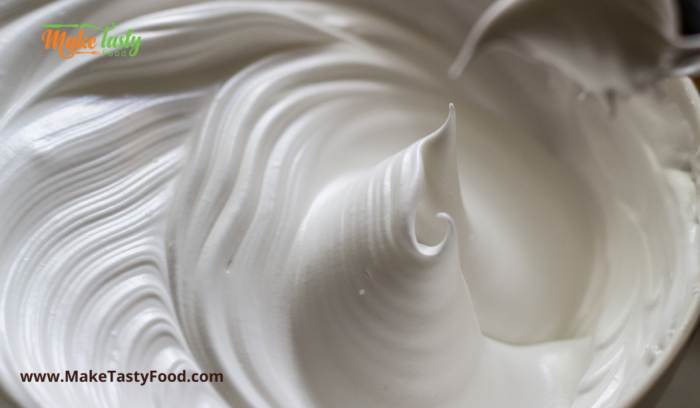 Do you need cream of tartar for meringue.
Cream of tartar is used to stabilize the egg whites into peaks for a meringue or pavlova. But you may use lemon juice to help the process if you don't have cream of tartar. Cream of tartar would be the first choice as lemon juice is a liquid which could be a problem to make the mix stabilize.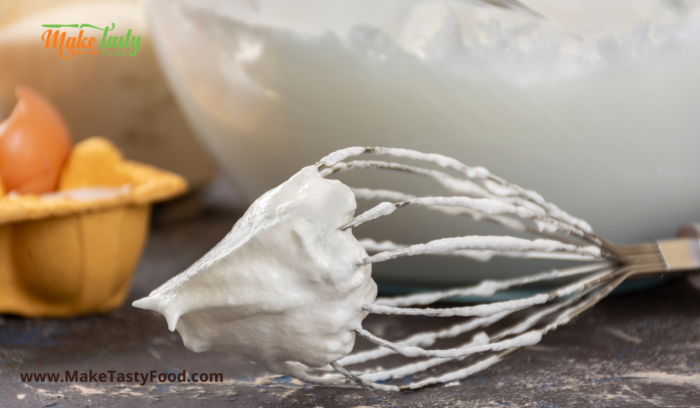 The above photo shows the egg whites are whipped well. You can whip the egg whites by hand but that is going to take time and a lot of whipping.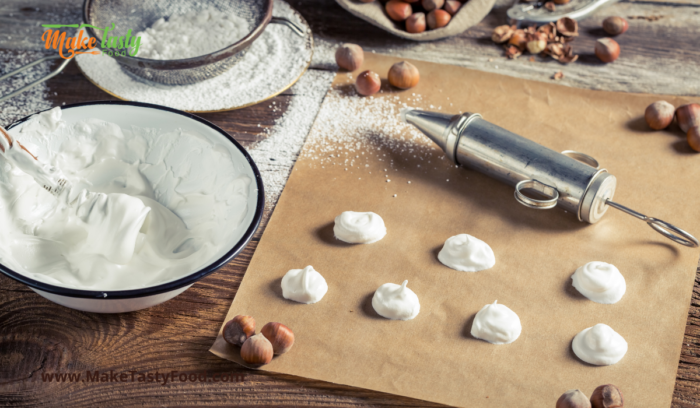 Above shows you how to pipe the whipped egg whites onto a baking tray to form a little nest big enough to fill with lemon curd. Then bake in the oven until hard and a little golden. Cooled while left in the oven with the door ajar.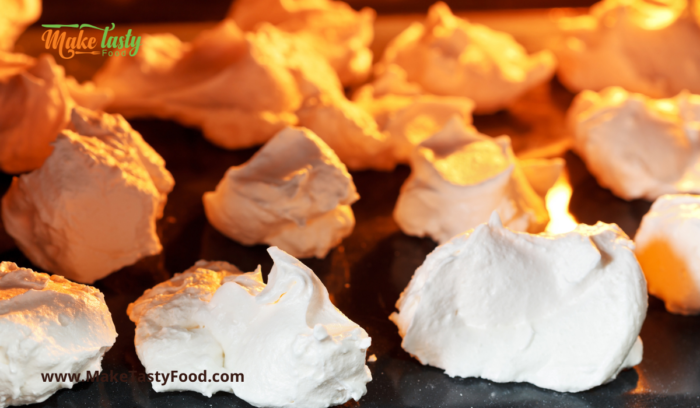 Fill the meringues with lemon curd, and decorate with what you have in the house. Can be a pretty flower or some berries.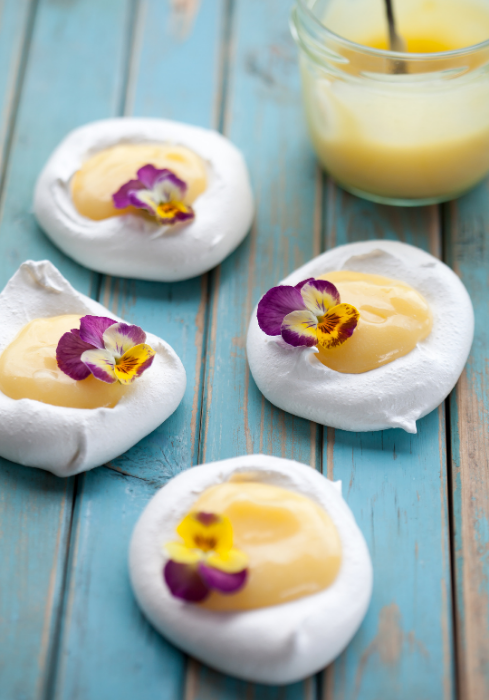 Very easy to use lemon curd filling the meringues inside.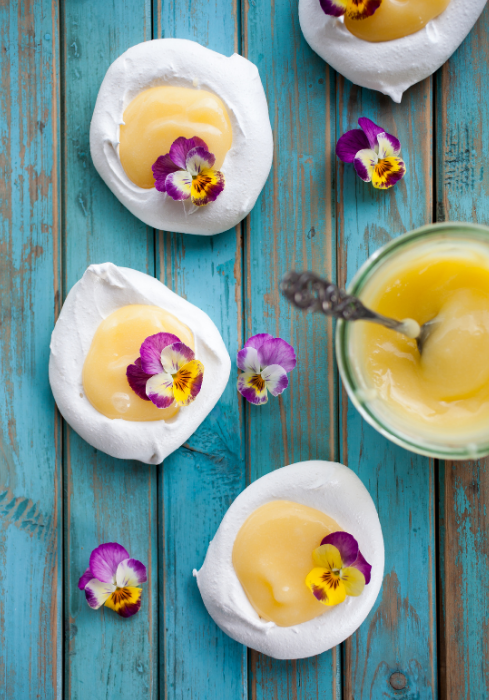 Tasty and crunchy lemon curd filled meringues for snacks, or appetizer's for any occasion.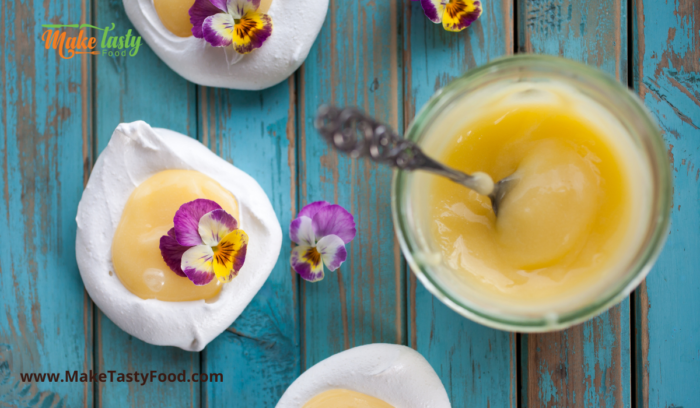 More lemon recipe ideas —-> 14 Useful Lemon Dessert Recipes
Create some more amazing mini pavlova —–> 16 Mini Pavlova Desserts Recipes
Make these homemade —–> 29 Family Christmas Snack & Drinks Ideas
Get these recipe ideas to create for valentines —-> Easy Valentines Treats to Choose.
Print
Mini Lemon Curd Filled Meringue
Mini Lemon Curd Filled Meringue. Meringue is easy to make and filled with some lemon curd and perfect for serving to guests.
Prep Time:

30 min

Cook Time:

30

Total Time:

60 min
Ingredients
4 large eggs (at room temp) Egg Whites only
1/2 tsp of cream of tartar
1 cup of castor sugar (fine sugar)
2 Cups of lemon curd (alternatively use Ina Parmens) or bought one.
Instructions
Preheat oven to 300 Deg.F (150 Deg.C)
Line two baking sheet pans with wax paper or baking mats.
In a clean and dry mixer whip the egg whites on high until they become frothy and form high peaks. Doesn't take long.
Add the cream of tartar and continue beating on high while adding a tablespoon of castor sugar slowly and  continue beating until all is added. This can take up to 10 minutes.
When mixture has formed stiff peaks, you can then fill a piping bag with the mixture.
Then pipe slowly a 3 -5 cm egg white, then start around that and pipe up until a required form is done. (a mini nest)All in one action.
Bake for 10 minutes at 300 Deg.F (150 Deg.C) Then reduce heat to 250 Deg.F (120 Deg.C) and bake for a further 10 – 20 min. until the meringues feel hard and slightly golden.
Turn oven off and leave meringues in oven to cool with oven door slightly open.
Once cool, spoon some lemon curd into the mini nests and serve. (the recipe here)
decorate as you please.
The lemon curd may be stored in the fridge separately.
Keywords: mini meringues lemon curd
get more pavlova recipes here below.
Best Mini Pavlova and Meringues Recipes
How to make lemon curd at home. (click on the highlighted heading for recipes)
Another lemon recipe to make.
Another meringue to make.
Other snacks you would love below.
PS: Have some broken meringues or pavlova's? Make a trifle with them.
A Christmas cherry trifle bowl
A lot more Oven Baking Recipes for you to choose from.
Don't forget to download some FREE Printables for use in the kitchen.