Two Easy Holiday Snacks ideas to place for treats that are simple. Quick idea for healthy Christmas holidays snacks or appetizers for family.
Two Easy Holiday Snacks
This snack is really simple and was always available at our home during the Christmas season. Sometimes only peanuts and raisins.
Here there is a variety of nuts that can be added, including cashew nuts as well. Then dried cranberries, with small white chocolate balls.
This will give that little bit of sweetness needed but doesn't overwhelm the taste. Two different mixes in the below picture. Sweet and savory an easy family friendly treat or appetizer for the Christmas holidays.
Are peanuts and raisins healthy?
Nuts and dried fruit are healthful foods because of their nutrient profiles. They provide dietary fiber, potassium (K) and a variety of health protective bioactive compounds. Nuts are a source of protein and monounsaturated (MUFA) and polyunsaturated fatty acids (PUFA).
What happens if we eat raisins daily?
Raisins are rich in antioxidants such as phenols and polyphenols. There are studies that show that antioxidants stimulate fat breakdown, reduce calorie intake and increase the level of good bacteria in the gut that aids in digestion.
Studies also show that raisins can lower your risk of heart disease by reducing blood pressure and blood sugar. The fiber in the raisins work to lower the (LDL) bad cholesterol which reduces the strain on the heart.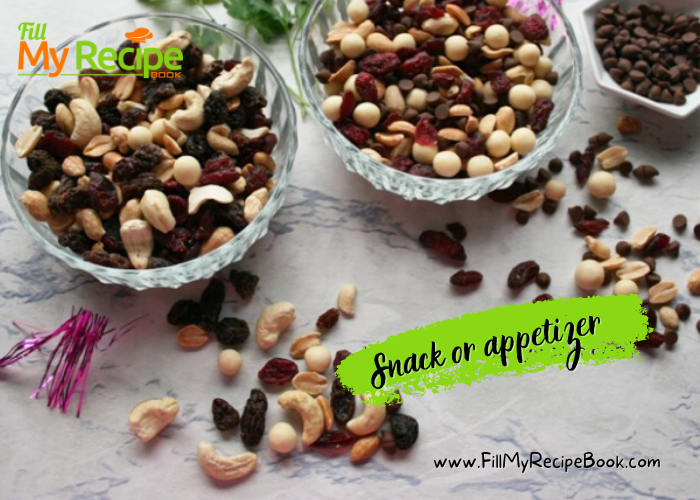 How to
This mix below contains the peanuts and raisins and cashew nuts, with dried cranberries. Buy some peanut and raisins or the mix, add some cashew nuts or almonds. Salted or roasted if you prefer.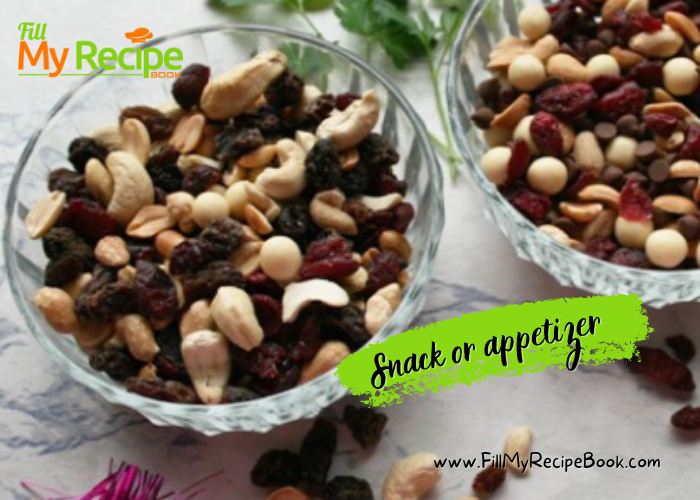 This mixture below is sweeter than the one above. Also for the person who doesn't like raisins, which includes dried cranberries and peanuts with small white chocolate balls and tiny chips of dark chocolate.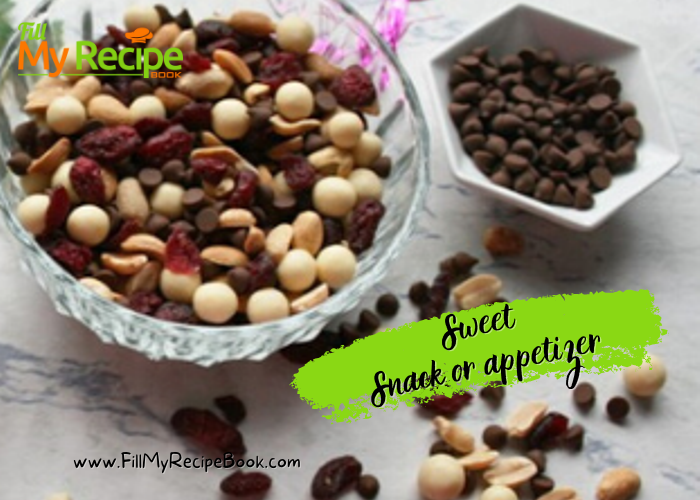 Two varieties of of snacks to keep available in the holiday season and for Christmas, as its much fruitier and can assist with the digestion at this time of the season. There is always the sweeter version for someone looking for something sweet.
Recommendations.
(click on the highlighted headings for recipes)
Having a dinner party? Then get some ideas and help here ——> 25 Easy & Quick Dinner Party Recipes
Get some ideas for a snack or healthy eats recipe ——-> 16 Healthy New year's Eats Recipes
Get more recipe ideas —–> 14 Cashew Nut Inspired Recipes
Here we share recipe ideas to create for —-> 21 Quick and Easy Snack Recipes
Make these homemade —–> 29 Family Christmas Snack & Drinks Ideas as well as these party snack ideas —–> 18 Quick Christmas Party Snacks
Appetizers and snacks to serve —–> 20 Easy Thanksgiving Appetizers Recipes. With more appetizer recipe ideas to create —–> 22 Yummy Appetizer Recipes
These recipes are easy and simple enough for kids to make.—-> 22 Easy Recipes Kids Can Make
More cranberry recipe ideas to create —–> 9 Easy Cranberry Dessert Recipes
Print
Two Easy Holiday Snacks
Two Easy Holiday Snacks ideas to place for treats that are simple. Quick idea for healthy Christmas holidays snacks or appetizers for family. 
Author:
Prep Time:

10 min

Cook Time:

0 min

Total Time:

10 min
Ingredients
Such an easy and simple snack to made for any event or the holidays.
Raisons and Cranberries.
Peanuts and cashew nut or any other nuts you love. (can be roasted or salted)
Small chocolate chips and white chocolate chips.
Instructions
Make two mixes, one that has no chocolate in and the other with chocolate pieces.
Savory and sweet snack.
Keywords: Two Easy Holiday Snacks
Get more ideas for savory snack or finger foods.
Choose more No Bake Stove Top Recipes here.
Download some FREE Printables for your baking and cooking.