Ham and Feta Bruschetta an appetizer recipe idea for guests. Every crispy bite offers the savory taste of tomato, feta, basil and garlic.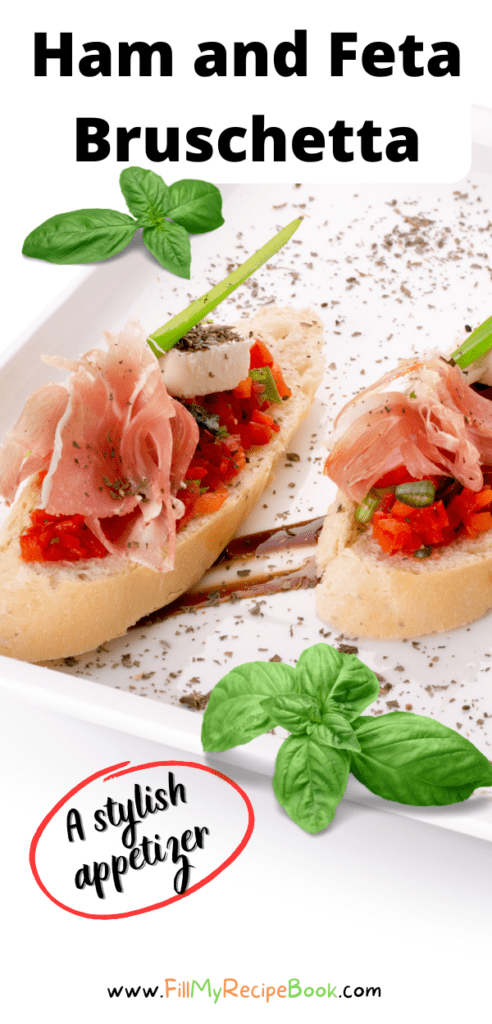 Ham and Feta Bruschetta
This Bruschetta recipe idea will produce some savory and crispy bites of tomato, ham and feta cheese with a tang of balsamic vinegar with basil for an appetizer for guests or parties.
Baking the sliced breads with some garlic butter and olive oil gives them that delicious taste that you would want more of. An option is to pan roast the tomato and basil mixture on the toasted slices in the oven to serve a warm appetizer with the ham and feta placed on after the roasting.
Do you eat Bruschetta hot or cold?
Bruschetta can be eaten warm or cold. Serve it warm with pasta, or grilled chicken. Or as a appetizer.
Is Bruschetta always toasted?
Bruschetta is pronounced [brusˈketta]. Which translates to a little burnt thing in Italian. Its usually a crispy crusty piece of country bread, brushed with garlic olive oil and butter and sprinkled with salt and pepper.
How do you plate ham and feta Bruschetta?
To serve, top each toasted baguette slice with tomato mixture and arrange on a serving plate. Serve the slices and the tomato mix separately and the reduced balsamic vinegar in a small gravy bowl. With the ham and feta. Guests can help themselves and the toast will not go soggy.
Ingredients.
Obtain these ingredients for this tasty bruschetta appetizer for guests. (get the measurements of the recipe attached)
Older breads or loaves will be great to toast or bake for this recipe.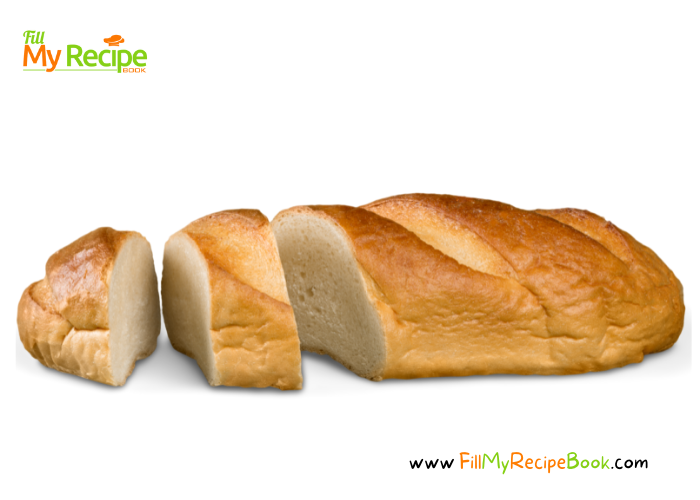 French loaf cut.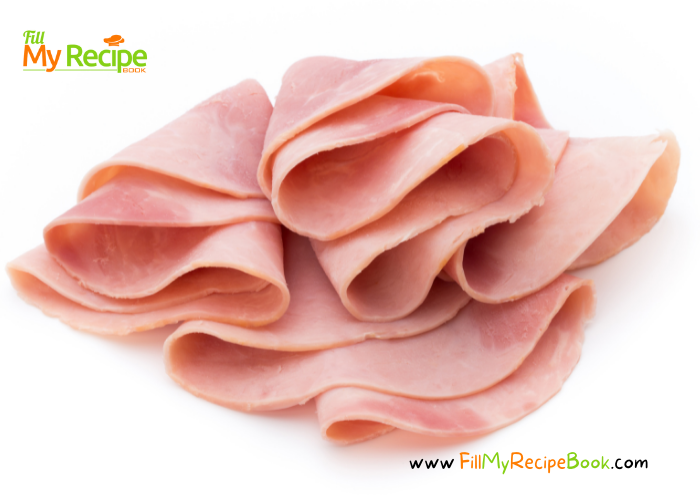 Deli ham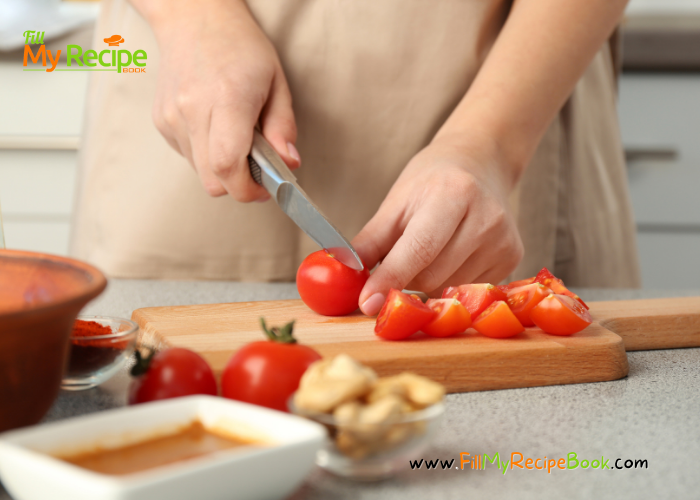 Tomaoes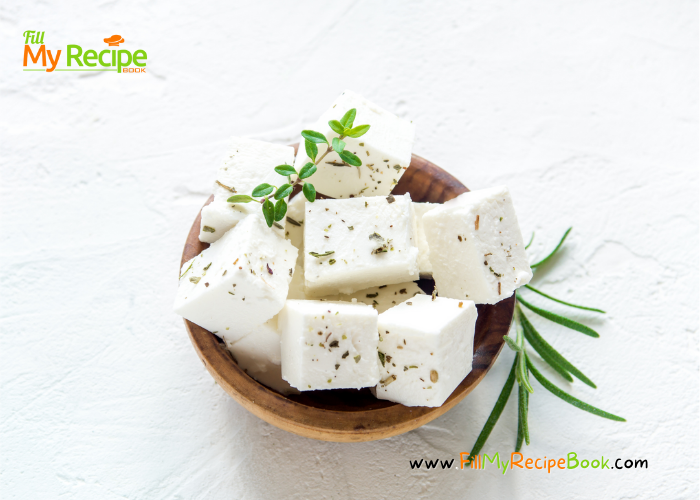 Square feta cheese with herbs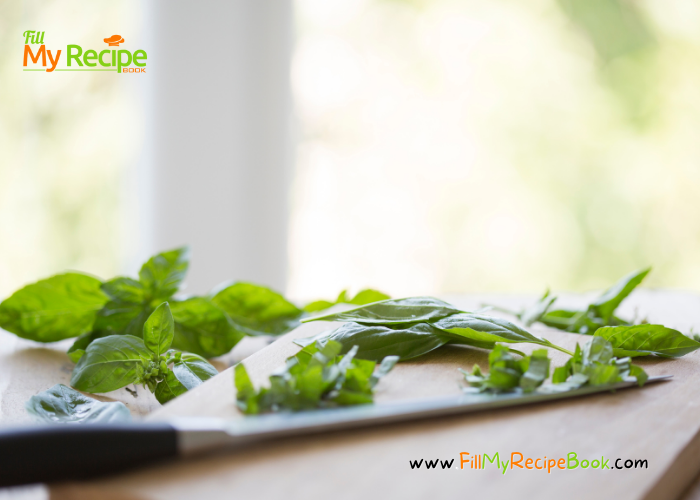 Basil leaves chopped.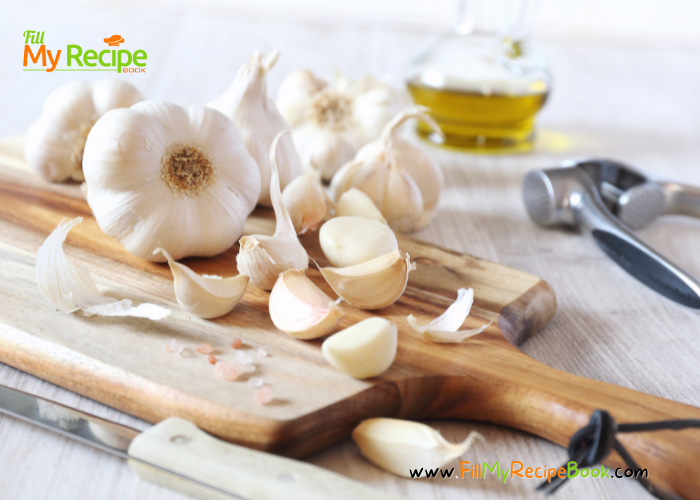 Garlic and a little red onion
How To.
Preheat the oven and grease some baking sheets to toast the sliced French loaf with some butter and olive oil and minced garlic. Chop the tomatoes, red onion and basil leaves finely and salt and pepper them. (according to the recipe attached)
The lightly toasted slices are topped with the tomato mixture and some feta cheese with the sliced deli ham.
Reduce the balsamic vinegar to half and drizzle some on the tomato. Decorate with a long leaf of any vegetable or some basil leaves.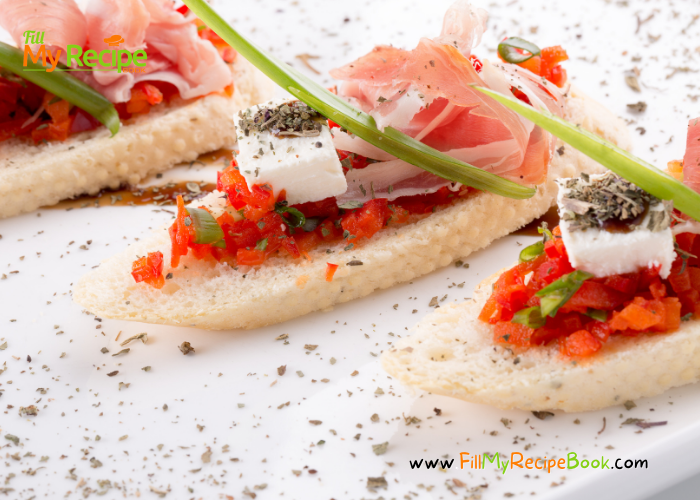 Decorate.
On a stylish serving dish or any platter, add the reduced balsamic vinegar in two stripes and sprinkle some herbs over the plate. Place the final dressed bruschetta neatly over the balsamic stripes as in the picture below.
Serve for an appetizer or snack for guests or family with a small gravy bowl of balsamic vinegar for guests to sprinkle over the bruschetta. A great party platter to great guests.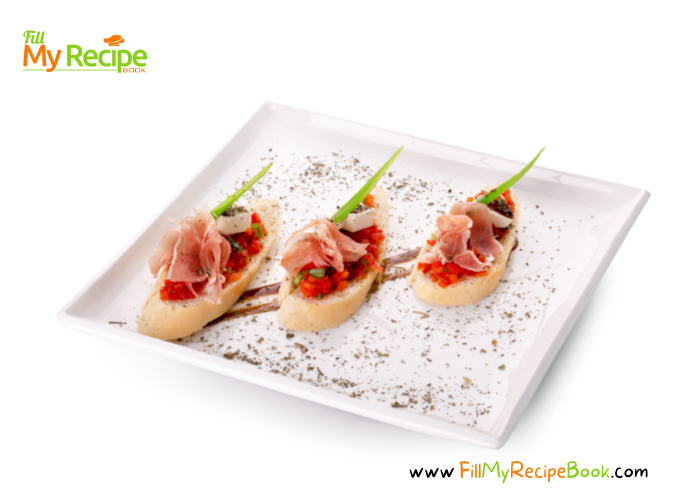 Recommendations.
(click the highlighted heading for the recipe)
Mushroom mini pizza snack appetizers —-> Caprese Garlic Bread Recipe and Quick and Easy Pesto Flatbread and Braai or Grill Stuffed Portabella Mushrooms and Savory Toothpick Appetizers Ideas and Easy Stuffed Portabella Pizza and Easy Cheese Straws Recipe and Easy Mini Cinnamon Rolls Recipe and Mini Puff Pastry Sausage Rolls and and Chocolate and Peanut Butter Balls and How to Make Cheese Platter Appetizers and Homemade Garlic Braai Loaf and Quick and Easy Pesto Flatbread and Two Easy Holiday Snacks
Amazing tasty bites —–> 13 Lip Smacking Finger Food Recipes
A few purchase online links of Fine Dining Dessert Serving Dishes to choose from. Fine dining desserts must be presented well.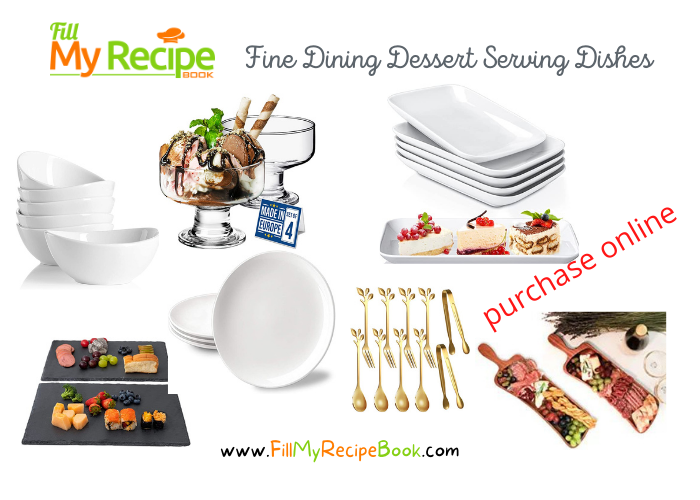 This post may contain affiliate links, where we earn from qualifying purchases. See more details in the policy page. Which does not effect your price of purchase at all.
Print
Ham and Feta Bruschetta
Ham and Feta Bruschetta an appetizer recipe idea for guests. Every crispy bite offers the savory taste of tomato, feta, basil and garlic.
Author:
Prep Time:

10 min

Cook Time:

10 min

Total Time:

20 min

Yield:

8 – 10

Category:

appetizer or snack

Method:

oven baked

Cuisine:

Italian
Ingredients
1/4 cup

of butter. softened.

1/4 cup

of olive oil

8

slices of French loaf, cut into

1

inch slices.

1 Cup

(

4 oz

) of herb feta cheese in small blocks.

3

cloves of minced garlic

1 Tablespoon

of minced chopped fresh basil. (

1 teaspoon

of dried basil)

1 Cup

of finely chopped and seeded cherry tomatoes.

1

small red onion. Finely chopped.
Balsamic vinegar.
salt and pepper.
Instructions
Preheat oven to 400 Deg. F (200 Deg. C)
In a small bowl combine the butter and olive oil and garlic, brush this mixture on both sides of the slices.
On a greased baking sheet pan, place the cut slices of French loaf that has been brushed with the mixture. Bake for 8 – 10 minutes until lightly brown.
In a medium bowl chop a few basil leaves and mix these with the tomato and a little chopped onion. Salt and pepper them. Then place the newly baked slices of toast on a bread board.
Layer some of the tomato mixture on the slices, then add some deli ham folded neatly on top of the tomato mixture with a few squares of feta cheese. Decorate with basil leaves.
In a small pan on the stove top, bring some balsamic vinegar to a boil, then bring down the heat to simmer for reducing the vinegar to about half.
Drizzle some reduced balsamic vinegar on a serving plate, across decoratively and sprinkle some dried parsley and basil on the plate. Add the dressed bruschetta breads neatly on this plate. Drizzle a little balsamic vinegar on the tomato for taste. (as per picture)
This make a tasty and delicious appetizer.
Keywords: Ham and Feta Bruschetta, with roasted garlic buttered bread.