An amazing tasty Easy Mini Cinnamon Rolls Recipe to bake for treats or snacks on a platter. Two fillings to choose from decide to frost or not.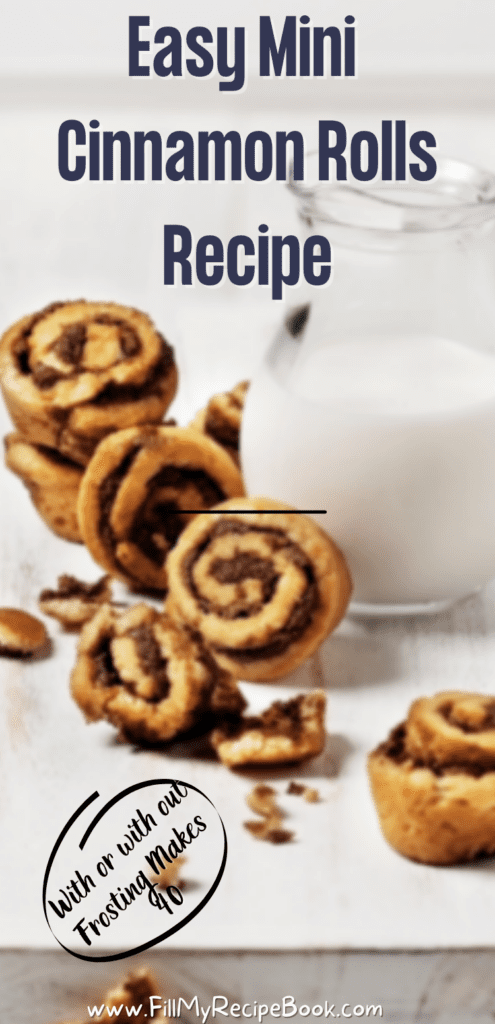 Easy Mini Cinnamon Rolls Recipe
A popular cinnamon bun or rolls to make for appetizers or snacks for platters.
Who doesn't love these tasty cinnamon rolls, jus tone bite and a sensation in your mouth.
There are options to making these rolls with cinnamon and sugar or chocolate nut spread. Then you may make a frosting or not which there are two frosting to choose from in the notes. So any way they will be absolutely amazing.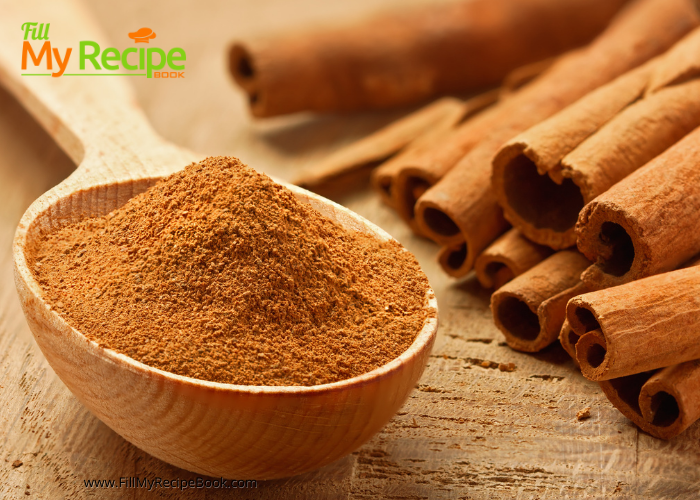 Cinnamon for the rolls
Rolled and cut dough with cinnamon inside
Baked cinnamon rolls to plate or keep. You can frost them with some sugar/milk frosting or cream cheese frosting. See the notes for ingredients.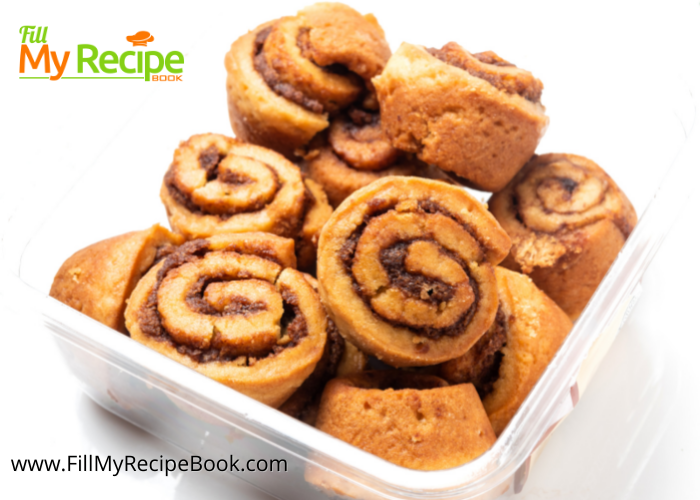 Served with a hot cup of chocolate cinnamon drink and shared with family or friends.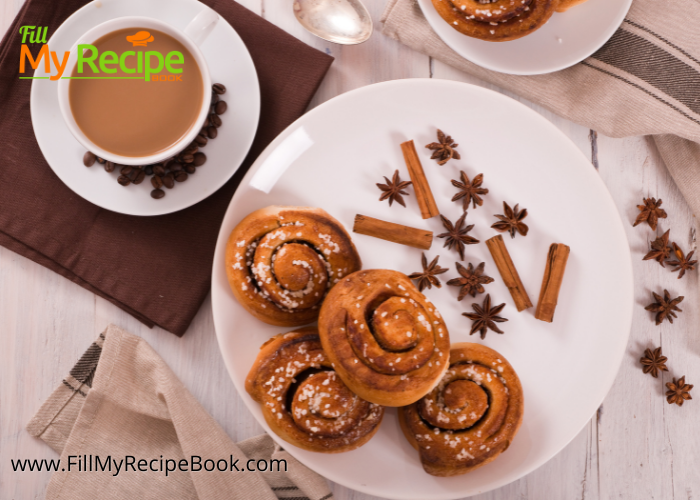 What else goes well with these cinnamon rolls but milk. Like milk and cookies.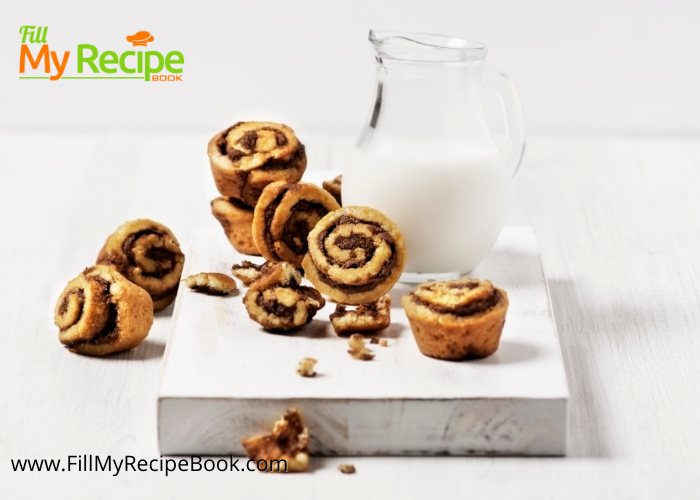 Kids or adults will love to have some milk with these rolls. Have them for a breakfast for special occasion if you wish. Such as a valentine days treat for special person. OR a Fathers day or mothers day tea, go on spoil that someone in your life.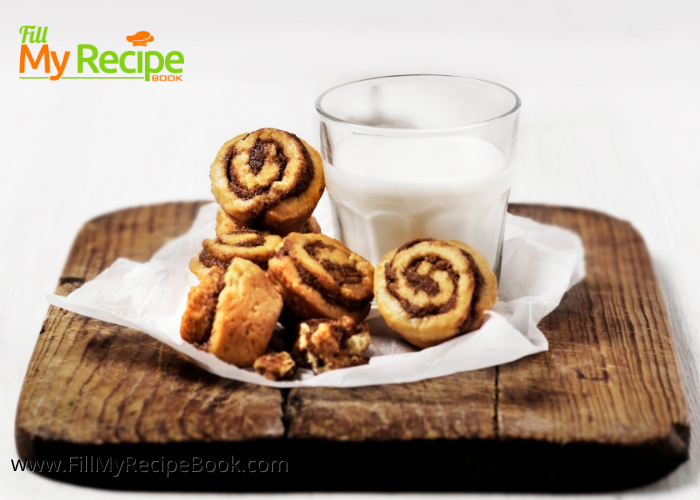 Recommendations.
(click the highlighted heading for the recipe)
Get these mini snack appetizers —-> Caprese Garlic Bread Recipe and Quick and Easy Pesto Flatbread and Braai or Grill Stuffed Portabella Mushrooms and Savory Toothpick Appetizers Ideas and Ham and Feta Bruschetta and Easy Stuffed Portabella Pizza and Easy Cheese Straws Recipe and Mini Puff Pastry Sausage Rolls and and Chocolate and Peanut Butter Balls and How to Make Cheese Platter Appetizers and Homemade Garlic Braai Loaf and Quick and Easy Pesto Flatbread and Two Easy Holiday Snacks
Other cinnamon Rolls that you would love the bake at home.—->Easy Homemade Cinnamon Rolls and 30 Minute Dinner Rolls and Cinnamon Roll Breakfast Casserole
For some Printables to download for FREE (click on the highlighted word) There are Kitchen Charts and Household Planners for meals and shopping and a Budget Planner. ALL FREE. YES
Even download some—–> coloring pages for Adults and Kids. Go Relax.
You will also love these —–> 12 Easy Savory Bites Recipes (click the highlighted wording)
Get some great recipes here—–> 18 Mother's Day Morning Tea Ideas to spoil your mother and show how you appreciate her.
Get more treats idea recipes —-> 14 Munchie Treats Recipes and other you would love to make —-> 24 Easy Mini Dessert Recipes
You will love to get more recipe ideas for buns here —–> 15 Delishes Bun & Rolls Bakes
For thanksgiving appetizers get these ideas —-> 15 Simple Thanksgiving Appetizer Recipes and Appetizers and snacks to serve —–> 20 Easy Thanksgiving Appetizers Recipes
Here we share recipe ideas to create for —-> 21 Quick and Easy Snack Recipes
Make these homemade —–> 29 Family Christmas Snack & Drinks Ideas as well as these party snack ideas —–> 18 Quick Christmas Party Snacks and other —-> 22 Christmas Appetizer Recipes
the kids will love these —-> 24 Christmas Snacks for Kids Recipes
With more appetizer recipe ideas to create —–> 22 Yummy Appetizer Recipes and Recipe ideas to create for Valentines —-> 14 Easy Valentine Appetizer Recipes
Print
Easy Mini Cinnamon Rolls Recipe
An amazing tasty Easy Mini Cinnamon Rolls Recipe to bake for treats or snacks on a platter. Two fillings to choose from decide to frost or not.
Author:
Prep Time:

30 min

Cook Time:

30 min

Total Time:

To rise 180 min Total 240 min

Yield:

40

Category:

pastry

Method:

Baking
Ingredients
Dough
1/2 cup (120g) Luke warm milk
2 Tablespoons of luke warm water
1/2 Tablespoon of active dry yeast
3 Tablespoons of unsalted melted butter. (not warm)
1 Large egg
2 Tablespoons of brown sugar
2 Tablespoons of sugar(white)
1 1/2 Cups of flour
3/4 Cup of bread flour
1/4 Teaspoon of salt
Filling
3 Tablespoons of melted unsalted butter
1 Tablespoon of cinnamon
6 Tablespoons of brown sugar
Instructions
In a bowl of a mixer or large bowl. Mix the milk and water then add the yeast.
Allow the yeast to dissolve for about 5 minutes until it bubbles (shows it is active) Then stir in the butter egg and all sugars until smooth and dissolved.
In another small bowl combine both flours and salt(bread and normal flour) Place half of the flour mixture in the liquid ingredients and mix well then add the rest and mix further until a dough is formed.(using a mixer with a dough hook.) this should take about 7 minutes until the dough is slightly sticky but smooth. If the dough does not easily come of the bowl sides then your dough mixture is to wet. Then add a tablespoon of flour and mix further. Until its correct.
Once the dough is done place in a lightly greased bowl and cover with plastic and leave to rise for about 1 1/2 hours until it has doubled in size.
When the dough has risen then empty it out on a lightly floured surface and cut the dough in half. Roll out the half with a rolling pin in a rectangular shape that should measure about 6″ x 22″. paste the melted butter of the rolled out rectangular dough. Spread the mixed cinnamon sugar mixture over the buttered dough  evenly.
Then starting from one end roll the dough tightly up until the end and pinch the edges closed. Then cut the roll into 1 " pieces that should make 20. Lightly grease a mini muffin pan and place the cut cinnamon rolls facing up  in them.
Then repeat this process with the other half of the dough.
Cover the mini muffin pans with plastic to rise again for about 40 minutes.
While waiting for the finish of the rise Preheat the oven to 350 Deg. F (175 Deg.C)
Bake in the oven for about 15+17 minutes. The edges will show a light golden brown.
Notes
A Thick cream cheese frosting can be made with 4 oz cream cheese(room temp) and 1/4 cup melted butter and 1 cup of powdered sugar with 2 tblsp of milk.
or make a glaze with sugar and 2 cups of powdered sugar 1/4 cup of milk and 1/2 tsp of vanilla essence.
Another alternative for the cinnamon sugar, you can use chocolate spread with nuts or nutella.
Keywords: Easy Mini Cinnamon Rolls Recipe, without frosting. with cream cheese frosting or sugar glaze. chocolate nut filling
get more savory snacks or treats food recipes below.
More recipes that you would love below