Homemade Tasty Croissant Recipe to make for a breakfast or snack idea. The oven baked croissant is flaky and buttery, add easy tasty fillings.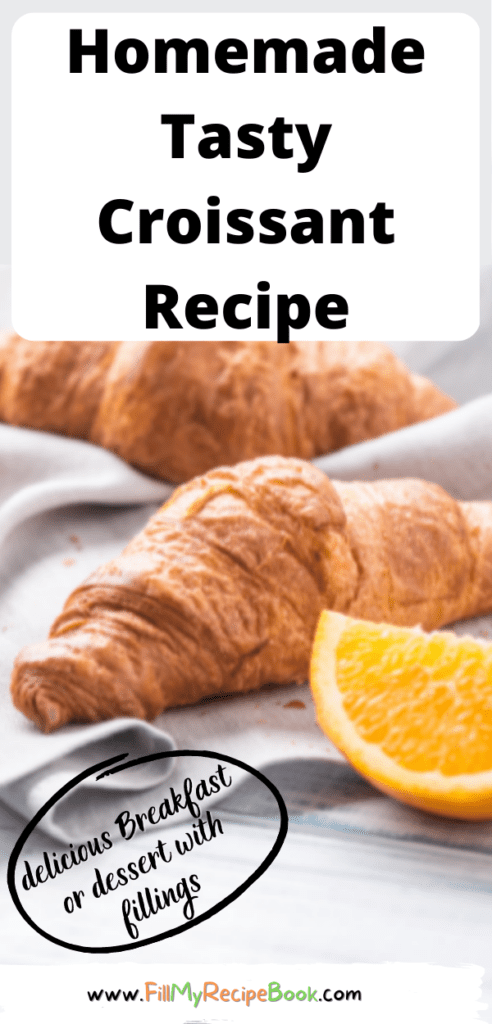 Homemade Tasty Croissant Recipe
A scrumptious breakfast or snack to make with so many fillings. Warm and flaky and buttery is the what you can get with this homemade easy recipe idea. These croissants are popular for breakfasts with some scrambled egg or jam and cheese. Make a great snack or appetizer when made a little smaller. (mini)
Great choice for a special breakfast for Valentines day or Fathers or Mothers day Breakfast.
What is the secret to a good croissant?
Stoneground organic flour is recommended by chefs for the perfect croissants. Since one of the key ingredients in croissants is butter, chefs recommend using a high quality butter which is 84-87% fat with no additives or extra water.
What can I put inside a croissant?
cheese, berries and some honey
jam (jelly)and brie
figs sliced, honey and salt
lemon curd and fresh whipped cream
Nutella chocolate, mascarpone and fruit such as bananas
Ricotta, roasted red peppers, salt, and pepper.
What do French people put in a croissant?
Croissants make for versatile and satisfying 'sandwiches' when cut in half and filled with savoury delights such as sliced Gruyère or Emmental cheese, thinly sliced ham, cheesy scrambled eggs, fried egg, omelette, or any combination of these.
Ingredients
for the dough, dry yeast, flour, salt, egg, sugar, milk
Get the amounts and all the ingredient from the recipe attached.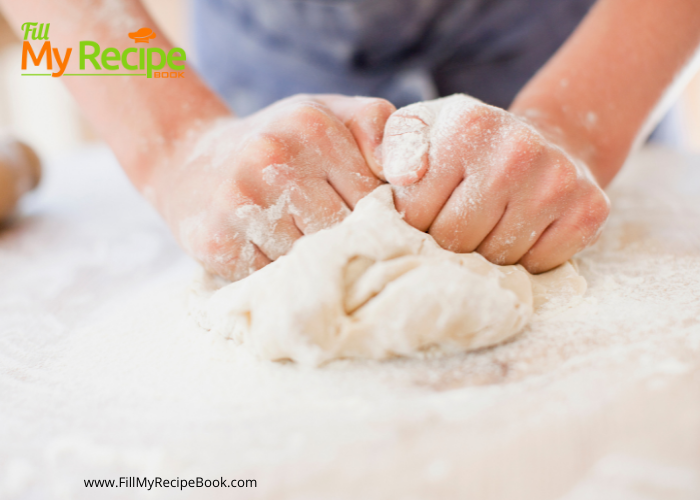 Adding the dry ingredients together then the butter and milk and mixing to a stiff dough.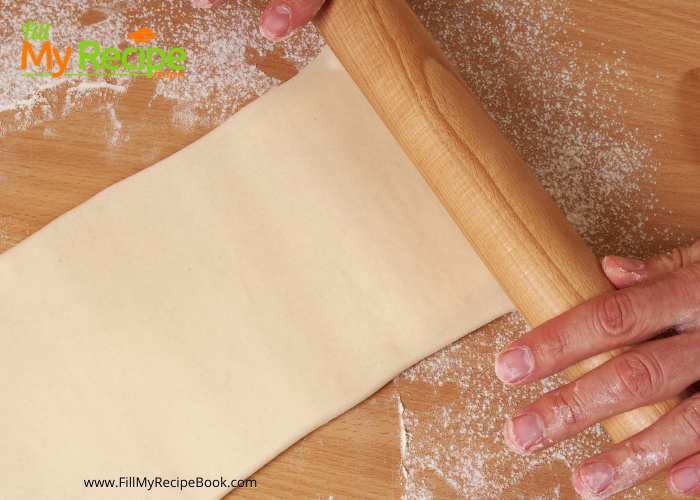 After the dough has chilled roll out then fold a few times.
How To
Follow the instructions in the recipe attached.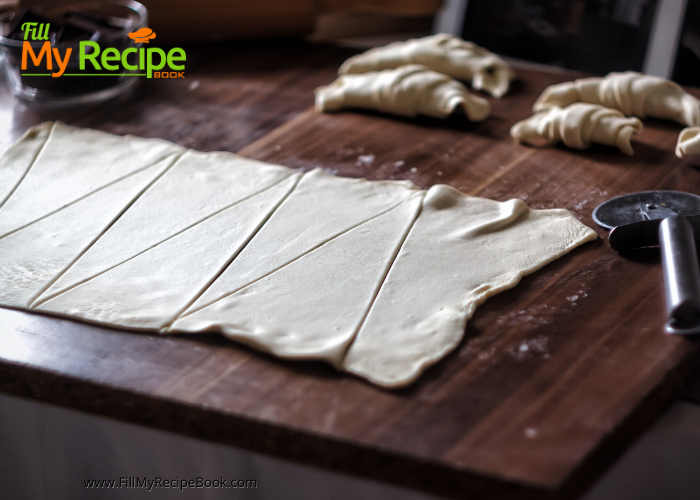 Cutting out the triangle shapes to roll the croissants.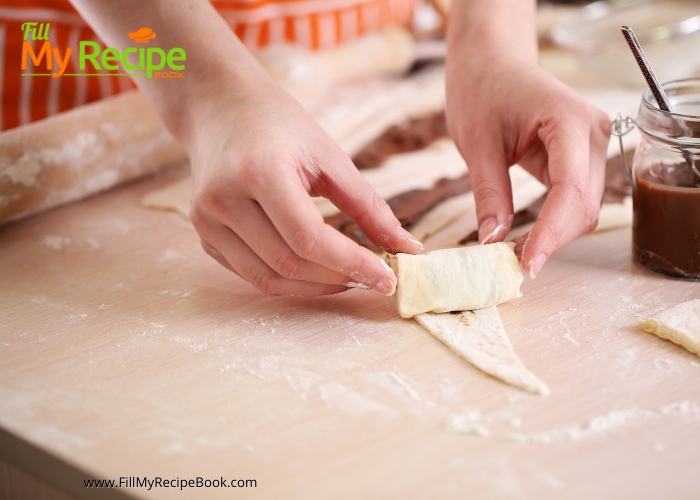 Rolling the croissants from widest side to smallest to form their shape.
Once the cutting and rolling is done then covering to proof until risen to double the size. Then bakes until golden brown flaky and puffed, just like a great croissant should be. Yummy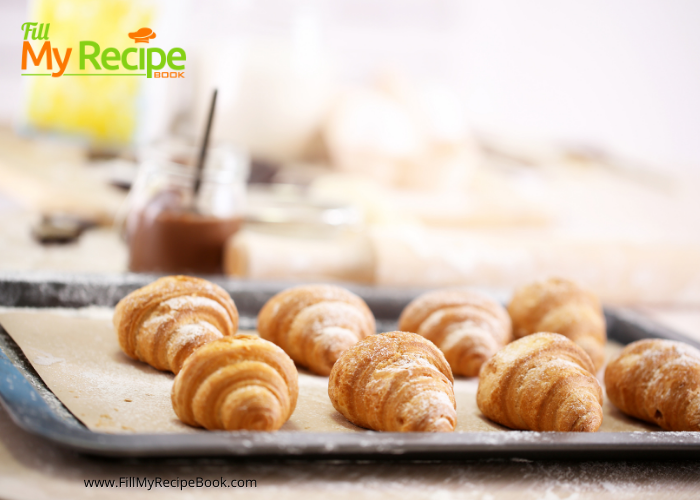 What to eat with croissants.
Warm fresh croissants are yummy just as they are as they are nice and buttery. But you can spread them with a small bit of butter, jam and cheese or lemon curd or other curds.
If you would like to roll them with some small pieces of chocolate on the large side. Or either spread on some chocolate spread that has some nuts in. Use layer them with ham and cheese before rolling.
The croissant roll can be cut and filled with a salad or cold meats of choice.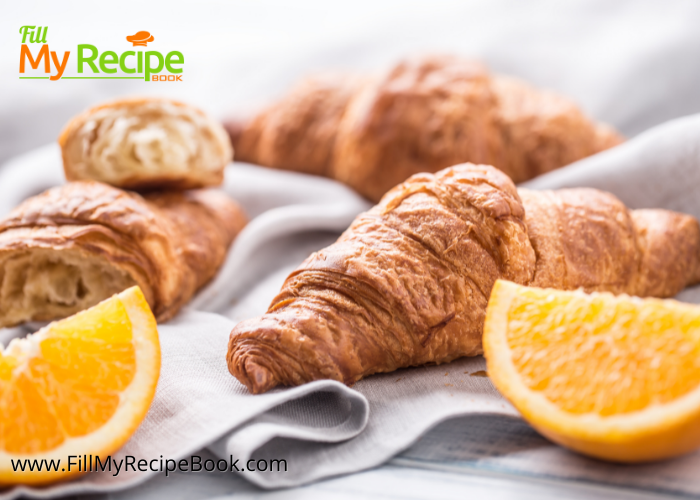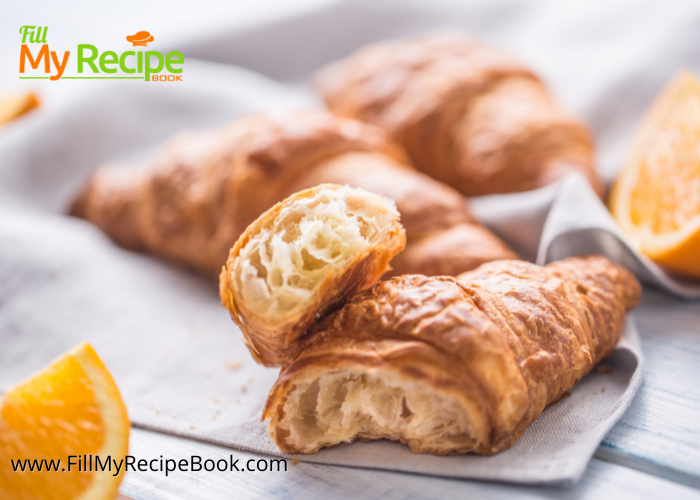 How do you keep croissants.
Keep in a sealed container in the refrigerator for up to a week. Then their shelf life can last for up to 10 days to two weeks this way.
Warm up by slightly brushing some liquid on them and placing in a warm oven for a minute or two until warm. (or microwave.)
WHAT IS A CROISSANT.
Croissants are a classic French pastry, rolled and shaped into a crescent.
Do they taste good? Oh yes they are so flaky and buttery you will not have to place any filling inside or on top.
Recommendations.
(click the highlighted heading for the recipe)
For Mothers Day tea recipe ideas —-> 25 Mother's Day Morning Tea Ideas
Spoil mother on the special day recipe ideas —-> 22 Easy Mothers Day Breakfast Recipes
Recipe ideas to create for Valentines —-> 14 Easy Valentine Appetizer Recipes
There are some Printables for Kitchen Charts and Household Planners to organize meals and shopping for weekly or monthly planners. Budget chart to download for FREE.
OR download this FREE General Recipe Page to write out the recipe.
Other recipe ideas to use puff pastry for. —->10 Puff Pastry Veggie Tart Recipes
as well as these —–> 11 Savory Puff Pastry Snack Recipes
You will also love to bake these —–> 8 Easy Puff Pastry Recipes
Get these delicious pastry recipe ideas as well —–> 11 French Pastry Desserts Recipes
Make these homemade —–> 29 Family Christmas Snack & Drinks Ideas and other —-> 22 Christmas Appetizer Recipes
Get these great Christmas breakfast ideas —–> 35 Easy Christmas Breakfast Ideas
Get more Italian recipe ideas —–> 17 Easy Italian Recipes
Print
Homemade Tasty Croissant Recipe
Homemade Tasty Croissant Recipe to make for a breakfast or snack idea. The oven baked croissant is flaky and buttery, add easy tasty fillings.
Author:
Prep Time:

40 min

Cook Time:

20 min

Total Time:

rest time 4 hrs Total 5 hrs

Yield:

15

Category:

Breakfast, dessert

Method:

Oven Baking

Cuisine:

French
Ingredients
4 Cups

of all purpose Flour

1/3 Cup

of sugar(granulated)

4 teaspoons

of active dry yeast

2 1/4 teaspoons

of Himalayan salt (kosher)

1 Cup

of Milk

1

large egg Beaten (for coating the croissants)
Instructions
In a large bowl place all the dry ingredients in and whisk together to mix them well. (flour, sugar, yeast and salt)
With the butter cut or slice pieces into about 1/8 inch pieces and add to the flour mixture. Toss and coat with flour.
Add the milk and stir all together until a stiff dough is formed. Then wrap the dough in cling wrap tightly and chill in fridge for about an hour.
On a lightly floured surface role out the dough with a roller to long rectangular shape. (to form croissants)
Fold it into thirds like you do a letter and then turn 90 Deg. Do this 4 – 6 times over. Until the dough shows streaks of butter in it. But it must be smooth and flat. (the butter must not feel soft, otherwise you must chill it in the fridge again.
Wrap tightly and chill for another hour.
Cut the dough in half and roll out again in 1/8 inch long rectangular pieces. (about 10 inch. wide and 22 inch long) Do this for both the dough balls.
Cut the dough into triangles with the width of the longest side being about 5 inch. Notch the wide end of the triangle with 1/2 inch cut. Then roll the croissant from the wide side to the narrow side and tuck the point under to croissant. Do this with all the dough triangles.
Place the rolled croissants on a grease proof or lined paper on a baking sheet and wrap loosely with cling wrap or plastic and allow to proof (rise double in size) which will take about 1-2 hours.
Preheat the oven to 375 Deg. F (190 Deg. C)
Brush the croissants with the egg mixture. Bake for about 15 – 20 minutes until golden brown and puffed and flaky.
Notes
Use bought puff pastry if prefered.
Keywords: Homemade Tasty Croissant Recipe, breakfast croissants. how to bake croissants, lunch or snack.
More recipes you would love to make and eat.
Have these for a breakfast as well