Easy Apple Puff Pastry Tarts recipe ideas. A simple mini dessert to bake with pastry and sweet apples sliced, seasoned with sugar, cinnamon.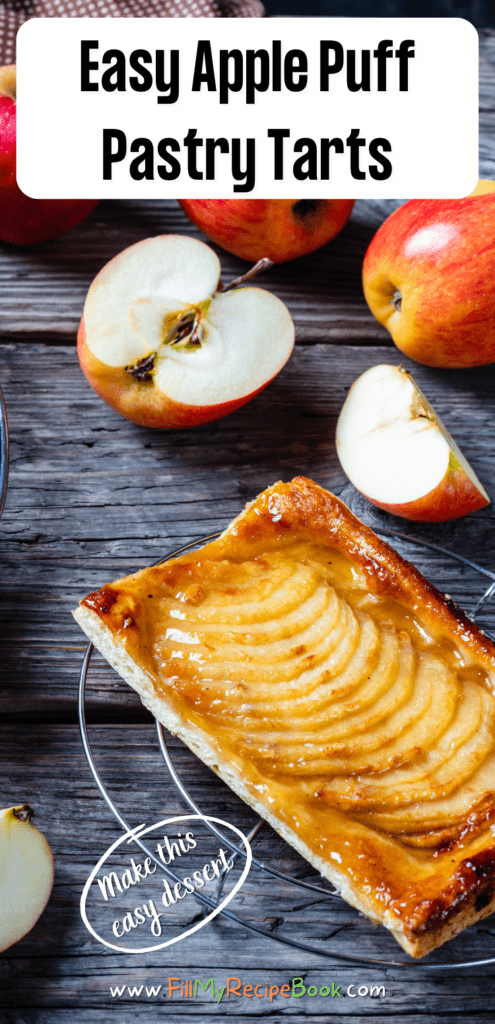 Easy Apple Puff Pastry Tarts
An amazing very easy apple puff pastry tart recipe idea to create for a tea or a dessert after a meal. So simple and not much to do. I love this type of recipe and to make use of a store bought pastry is not a sin. Make your own puff pastry if you prefer. Makes a fine dining dessert with mini tartlets and cream.
What apples are best for apple tarts?
Be sure to have Golden Delicious or Jonagold apples on hand for an exceptional tart you won't soon forget. Braeburn is another great choice thanks to its sweet-tart and spicy flavor.
Is it better to brush puff pastry with milk or egg?
For a crisp crust with a matte, classic pie appearance, use just milk. Many biscuits and rolls are brushed with milk or buttermilk to give them that finishing touch. For a little more shine than an all-milk wash, but not as much as an egg wash, use heavy cream or half-and-half.
Can you use puff pastry for tart base?
I love using puff pastry to make a tart base because you don't even have to have a tart pan. It's a crust and a pan all in one! Just roll out the thawed puff pastry and use a paring knife to gently score a border about ¾-inch inside the edge of the pastry.
Ingredients.
Some of the ingredients for this quick but simple and delicious tart for a dessert. A packet of bought puff pastry and some sweet apples. View the recipe attached to create this easy apple tart.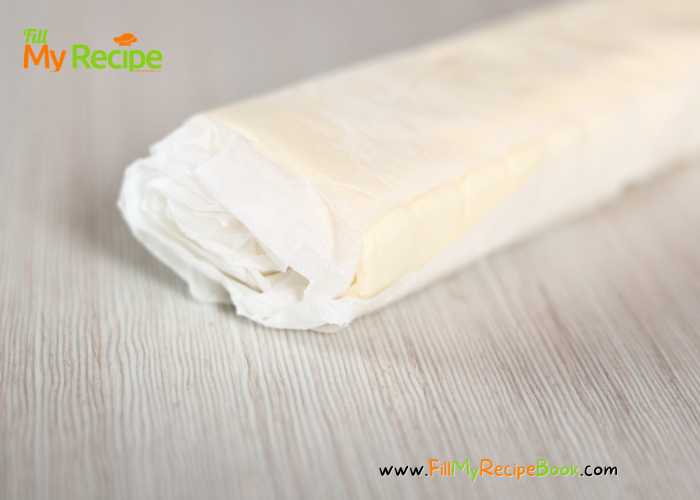 a packet of bought puff pastry
sweet apples
How To.
The puff pastry should be thawed but not taken our of the fridge. Being cold help to work better with it. Adding some flour to a board to open the roll up helps for the pastry to not stick to the board.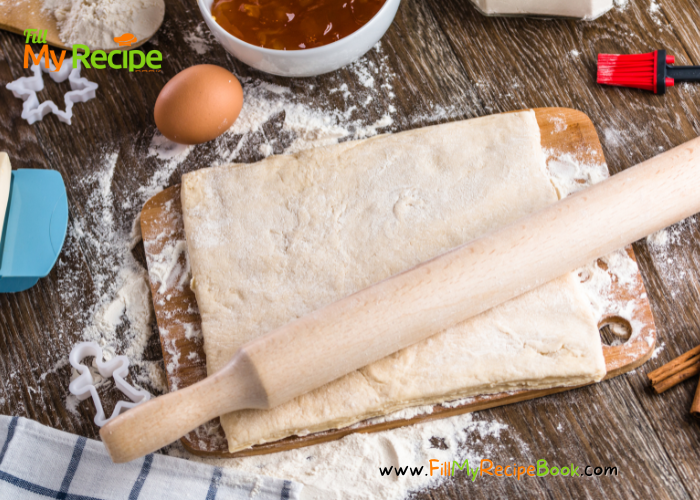 Lightly roll the pastry, as it should not be rolled thinly. Cut into required size rectangle pieces.
On a greased and lined baking tray add the rectangular pastry pieces and then add the slices of apple in a neat and overlapping way. Keeping the apples to the middle of the rectangle. Allowing the sides of at least a cm to be pasted with some egg mix to brown well. (for specific instructions view the recipe attached)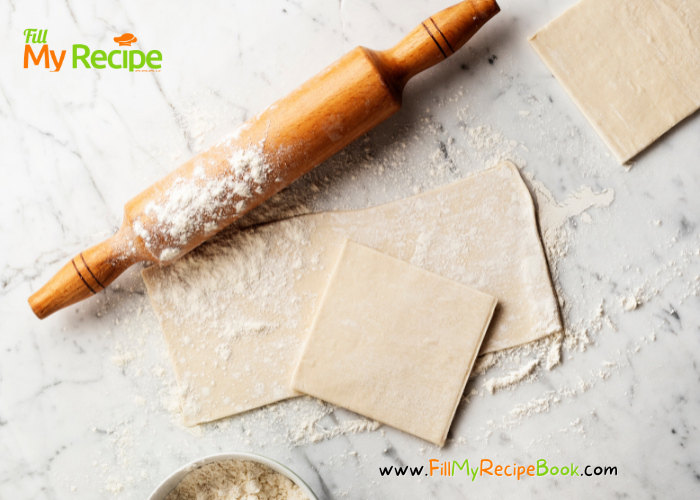 After brushing the apple pastry with egg mixture then sprinkle the left over sugar and cinnamon mix over the apples. Bake for about 20 – 25 minutes until brown. As it will also depend how thick your pastry is. The pastry sides will rise a little to provide the edge for a great and delicious tart.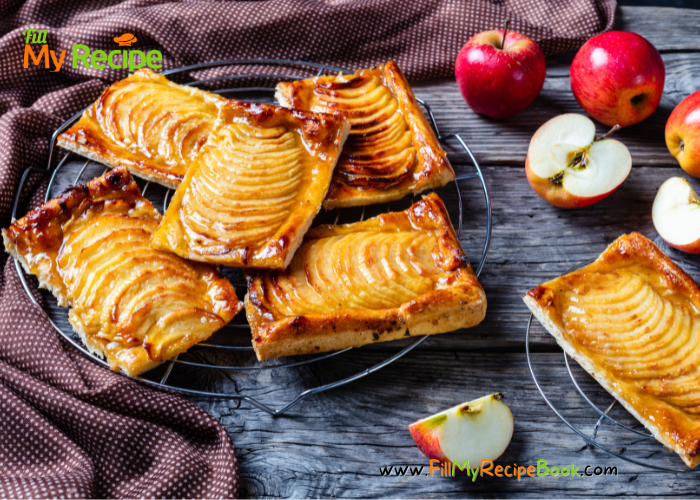 Serve the apple tart slices cooled or warm. Depending on your preference. Also serve with whipped cream or ice cream. Drizzle some healthy honey on the apples or maple syrup.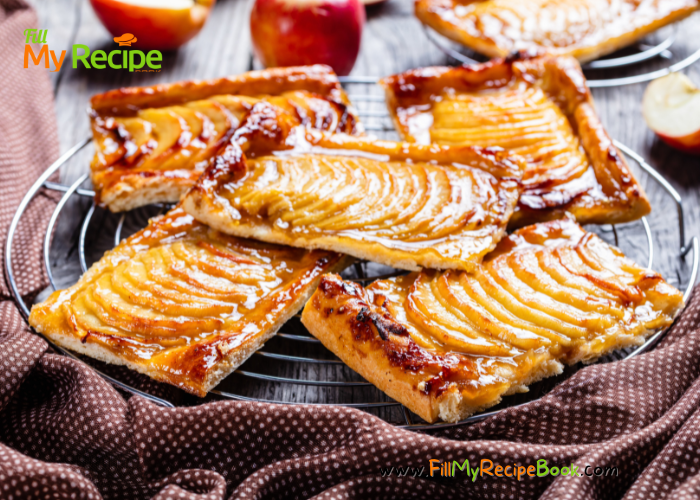 Recommendations.
(click on the highlighted heading for the recipe)
There are some more ideas for recipes with puff pastry, create them. —-> 11 Savory Puff Pastry Snack Recipes
You will also love to bake these —–> 8 Easy Puff Pastry Recipes and —–> Puff Pastry Apple Turnovers and A Tangy Asparagus Tart Recipe
Sharing more delicious dessert ideas —–> 20 Scrumptious Dessert Recipes and other you would love to make —-> 24 Easy Mini Dessert Recipes
Get these delicious pastry recipe ideas as well —–> 11 French Pastry Desserts Recipes
Not forgetting these fine dining ideas —–> 15 Gourmet Fine Dining Desserts Recipes
Who doesn't love desserts get some ideas here —–> 21 Easy Dessert Recipes and then these delicious ones to choose from —-> 21 Delicious Apple Recipes and these ideas —-> 8 Amazing Apple Pie Recipe
For thanksgiving appetizers get these ideas —-> 15 Simple Thanksgiving Appetizer Recipes and Sharing more thanksgiving dessert recipe ideas for you to create. —-> 23 Thanksgiving Dessert Recipes
Looking for something simple to bake or not to bake that's quick? then get these —-> 20 Easy Baking Recipes Ideas
Make these homemade —–> 29 Family Christmas Snack & Drinks Ideas and other —-> 22 Christmas Appetizer Recipes
With more appetizer recipe ideas to create —–> 22 Yummy Appetizer Recipes
Some recipe ideas for Christmas desserts. —–> 24 Christmas Fancy Dessert Recipes
Print
Easy Apple Puff Pastry Tarts
Easy Apple Puff Pastry Tarts recipe ideas. A simple mini dessert to bake with pastry and sweet apples sliced, seasoned with sugar, cinnamon.
Author:
Prep Time:

15 min

Cook Time:

25 min

Total Time:

40 min

Yield:

6

Category:

Desserts

Method:

Oven Baking

Cuisine:

Italian
Ingredients
1

packet of store bought puff pastry. (thawed but cold)

3

sweet apples cleaned and thinly sliced

1/2 cup

of brown sugar

2 teaspoons

of cinnamon

1

egg whisked to paste puff pastry.
Instructions
Preheat oven to 200 Deg. C (400 Deg. F.)
Grease baking pan and add a layer of wax proof paper.
Roll out the puff pastry but not to thin. Or just open it on the floured board. Cut into rectangles required.
In a bowl with your finely sliced apples add half of the sugar and cinnamon mix and toss the apples so they all coated with it.
Layer the rectangles of puff pastry on the grease proof paper. Layer the apple slices neatly after and halfway on top of each other in the middle of the rectangle pastry. Leaving the edges for pasting egg mix.
Then sprinkle the left over brown sugar and cinnamon mix on top of the apple. Paste the edges with egg mix.
Place the baking tray in the preheated oven and bake for about 20 – 25 minute until brown and apples are tender.
Serve for tea with cream or ice cream or even drizzle icing sugar mix over them.
A delicious tart or dessert.
Keywords: Easy Apple Puff Pastry Tarts