Extraordinary Gourmet Fine Dining Recipes that are so beautiful and delicious. A perfect selection of dining dishes for you to recreate.
Extraordinary Gourmet Fine Dining Recipes
Cooking up a storm for a special occasion then here are some wonderfully tasty meals to prepare.
They don't have to be exactly the same as you can improvise with side dishes and garnish as you please. Even make the sauces or puree, to suit your taste.
(click on the heading or the image for the recipes you love)
This herb crusted lamb is made of parsley and thyme and rosemary, blended with parmesan cheese with a little olive oil. Then added on the seared rack of lamb after searing in garlic butter and thyme.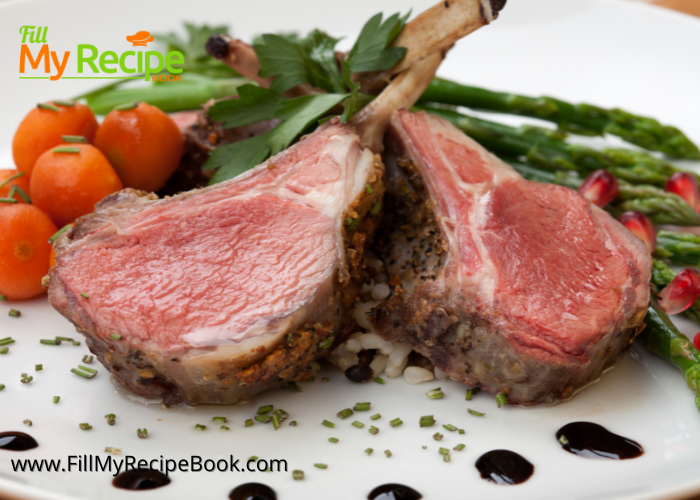 Filet Mignon in Red Wine Sauce
An amazingly delicious filet mignon steak seared and sauteed soft vegetables with mushroom, served with red wine sauce.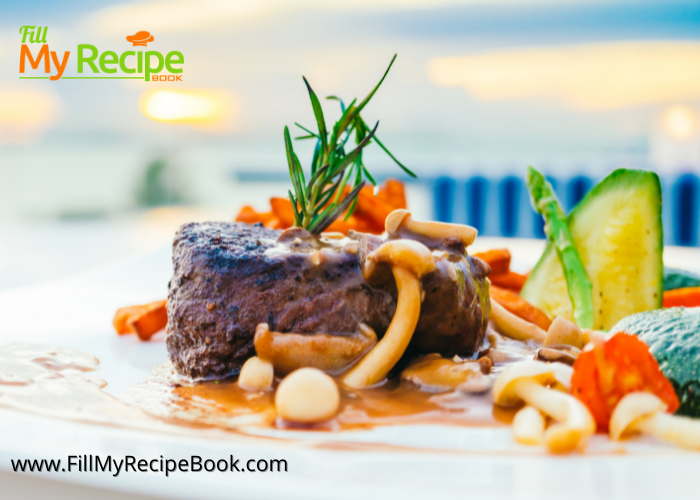 Pan Seared Garlic Butter Steak
Pan seared steak with butter and garlic and rosemary with simple tomato salad with lettuce.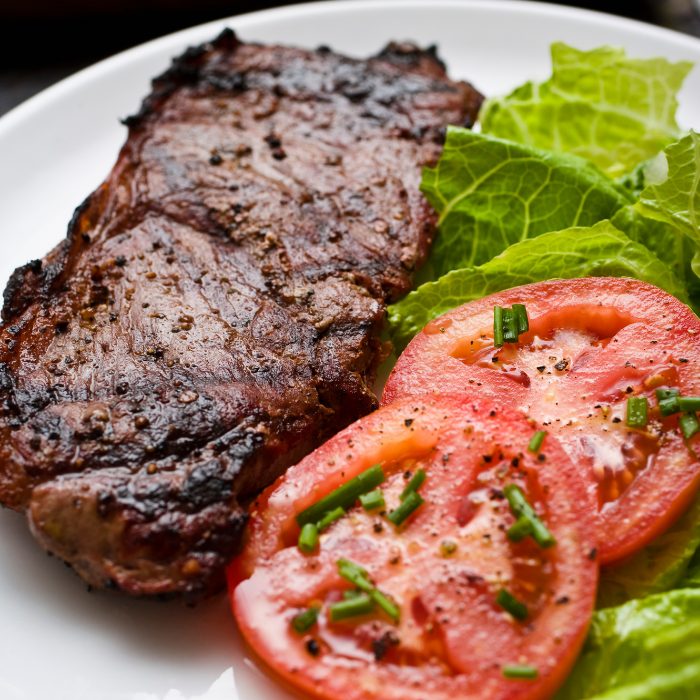 Soy and Molasses Glazed Baked Salmon
An oven baked salmon glazed with molasses sauce and baked with vegetables such as bell peppers and broccoli.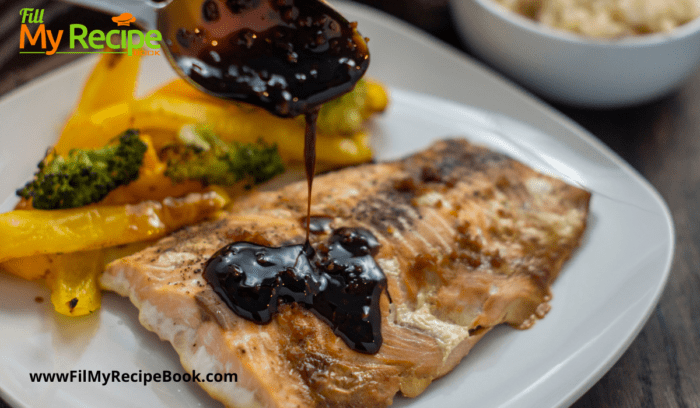 The garlic potato dish cut tastefully with round cookie cutter, was baked with cream. Platted with some cherry tomatoes and homemade mushroom sauce.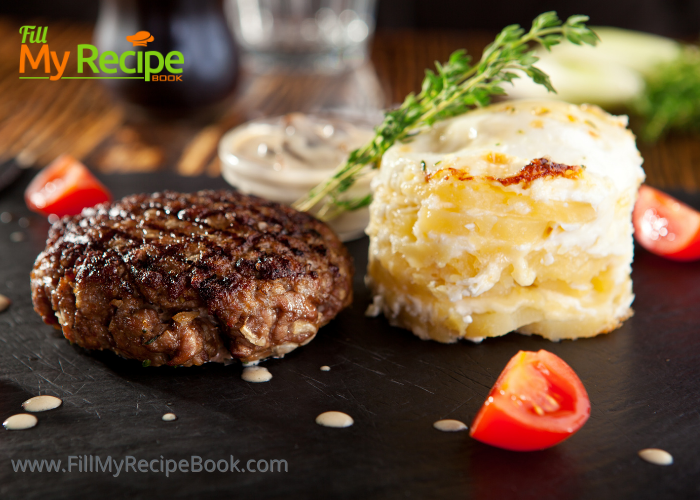 How To Make Your Own Sushi (Salmon and Rice)
Here it shows you how to make various sushi dishes step by step.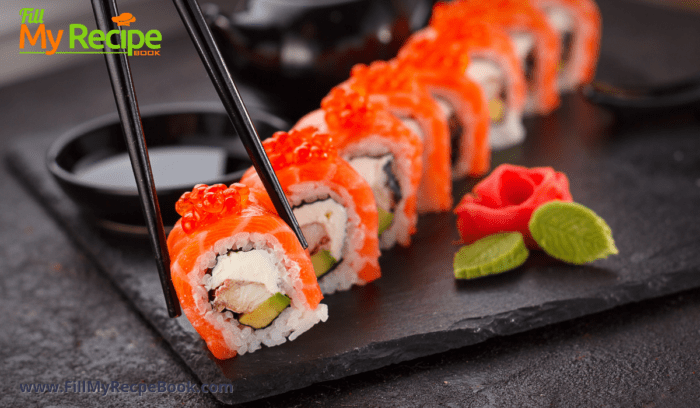 Garnished with alfalfa sprouts a seared duck breast with bell peppers. Ribbon egg pasta cooked for the base of this dish.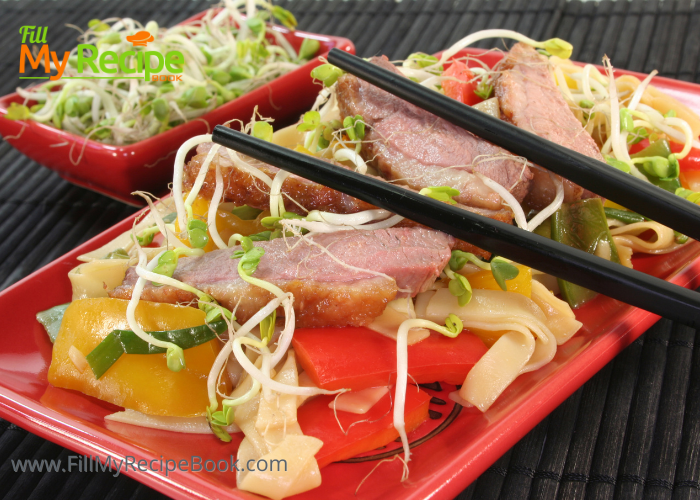 Bacon Wrapped Pork Tenderloin and gravy served with sautéed cherry tomatoes and asparagus on creamy basil dressing for a gourmet meal.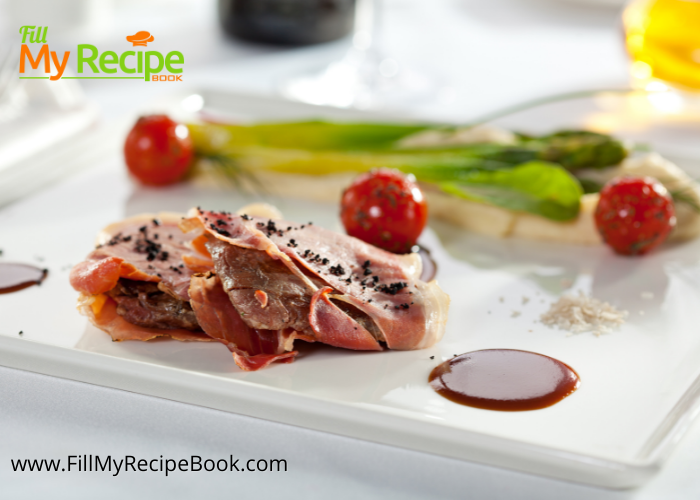 Crab Cake with Tomato Butter Sauce
Crab Cake with Tomato Butter Sauce plated for a gourmet fine dining meal. A dish to serve for a special meal set on corn salad with greens.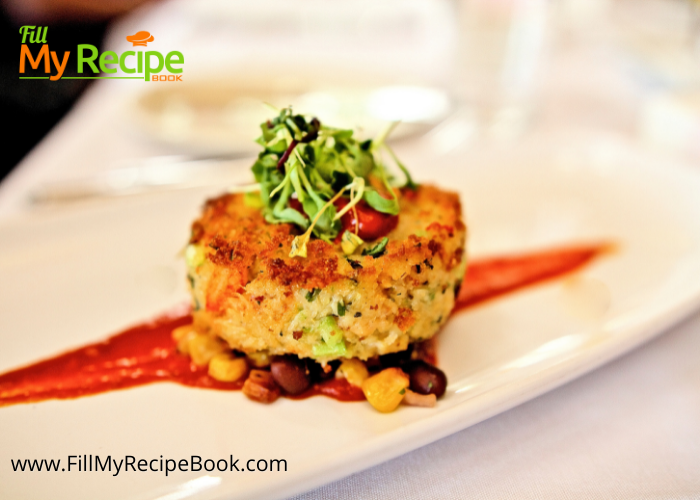 Romesco with Bellota ham, vegetables and radishes
Don't be put off by the exquisite plating of this salad recipe, as it is actually very simple to prepare. Romesco is a popular sauce which is thought to originate from Catalonia. More often than not it includes red pepper, but in this romesco recipe the tomatoes are important.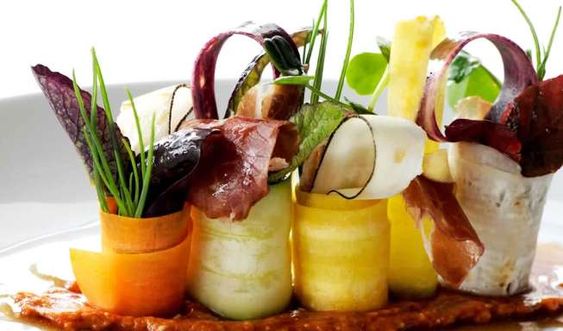 Learn how to make some garnishing ideas here.—–> 9 Attractive Garnishing Ideas Recipes
Here are other dinner recipes —-> 14 Must Try French Dinner Recipes
Get more recipe ideas here below for gourmet meal.
Purchase online these amazing dishes to make you gourmet meals extra special.
Fine Dining Dessert and Meal Serving Dishes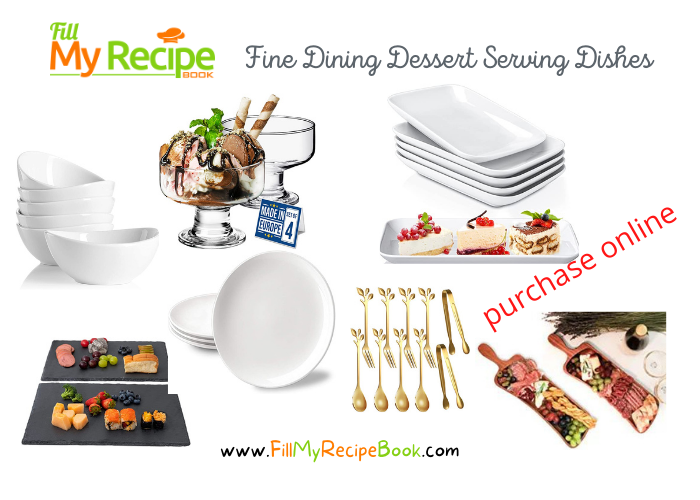 Some fine dinning mini desserts to compliment these meals.
Some great ideas for recipes to use left over foods.
10 Ideas for Leftovers Meals Recipes
10 Leftovers Ideas for Monday Meals
Other meal recipes to make other than your fine dinning meals meant for special occasions. Go to All Recipes
Oven Roasts – Sunday Roast Dinner Recipe (some amazing tasty vegetable dishes)
10 Salad Meals for Dinner Recipes
12 Easy Large Family Meal Recipes
Anti-Inflammatory Meal Recipes
Then there are these amazing stove top meal recipes that can be cooked for a light meal or snacks and treats. No Bake Stove Top Recipes
(only have to click on the highlighted links for you to go get these recipes)