Bacon Wrapped Pork Tenderloin recipe and sauce served with sautéed cherry tomatoes and asparagus on creamy basil dressing for a gourmet meal.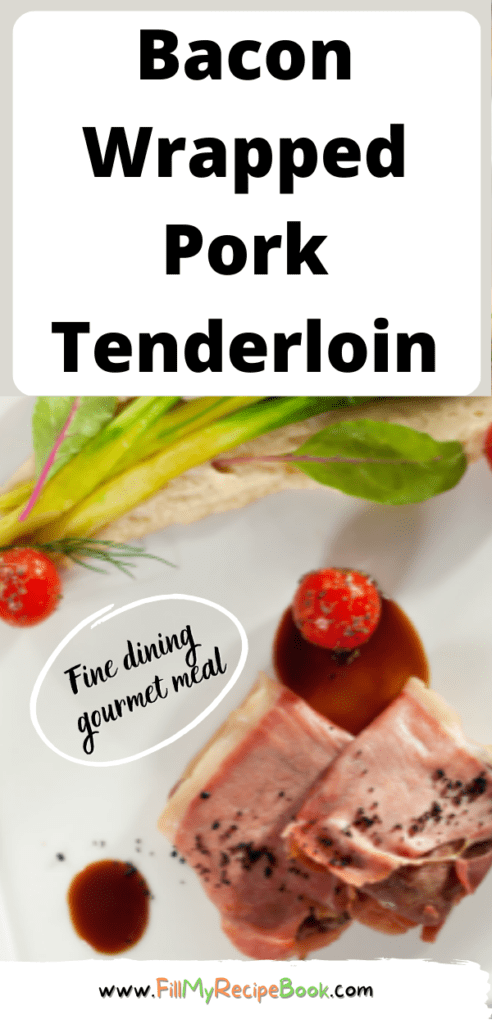 Bacon Wrapped Pork Tenderloin
Put together this tantalizing gourmet meal for 4 to 6 people for dinner or lunch. With the delicious sautéed asparagus and cherry tomatoes on a bed of creamy basil dressing. Placing some sweet and amazingly easy soy and maple syrup sauce in small drops next to the sliced pork tenderloin wrapped with bacon. Plated and served for a gourmet meal setting.
What does wrapping meat in bacon do?
Bacon wrapped around things is there for two reasons: to add fat and flavor. This means it needs to fully render during the cooking process, which means you don't want whatever is being wrapped to get overcooked while you wait for bacon.
Should you sear pork tenderloin before baking?
For the best, juiciest pork tenderloin, sear the pork on all sides in a skillet before finishing in the oven. The spice blend you use is up to you; we love using a spicy steak spice blend or fresh herbs like rosemary and thyme.
Should I season pork before searing?
When it comes to a perfect sear, water is the enemy. Pat the meat dry with paper towels to get it completely dry! Season. Just before cooking, sprinkle with salt and pepper, or your favorite seasoning blend.
Ingredients.
Below are images of some of the ingredients needed.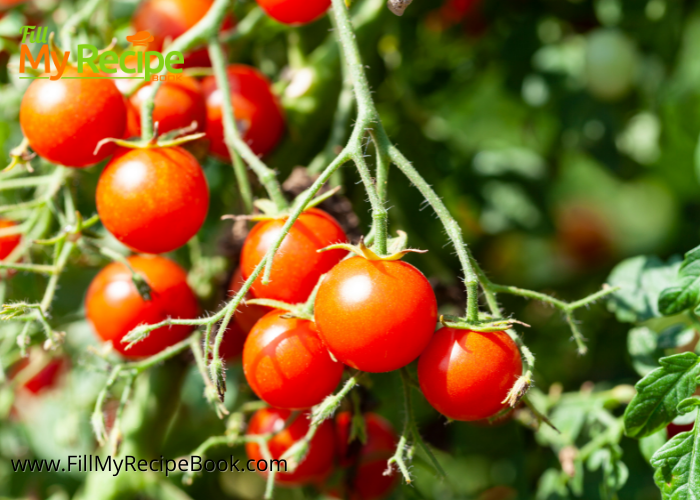 A bunch of ripe cherry tomatoes to sauté.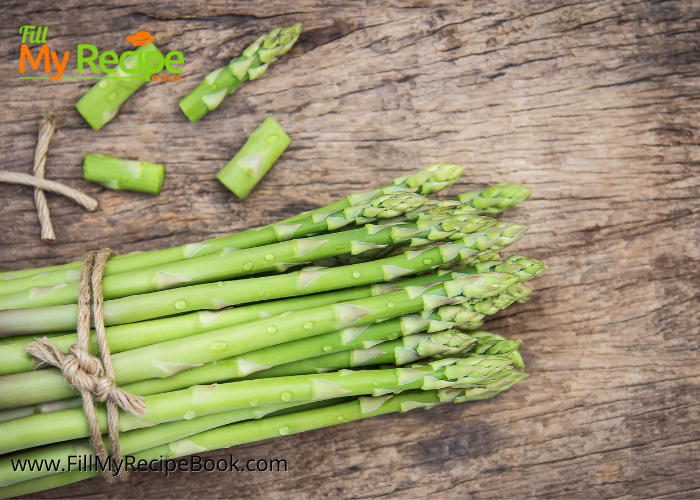 Fresh green asparagus
Your uncooked pork tenderloin, wrapped with bacon.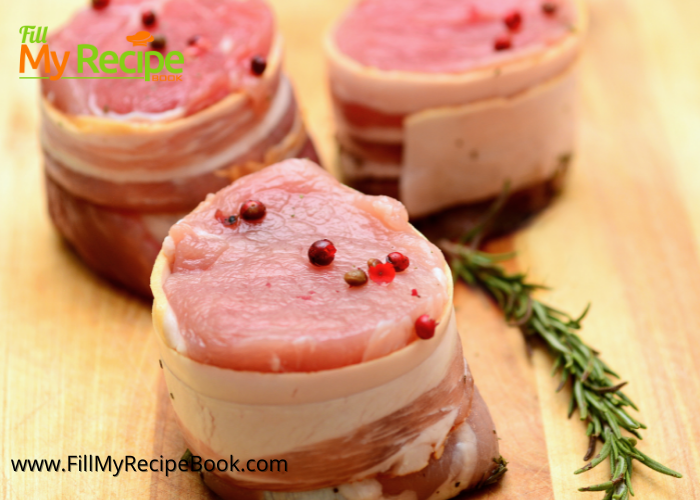 How To.
For this recipe sliced pork tenderloin wrapped in bacon would be sautéed in a heated oiled pan for browning and flavor first. Then brushed with mustard and salt and peppered and placed in the oven to complete the cooking. (you can sauté a roll of pork tenderloin first and then salt and pepper it and finally wrap up in bacon slices and finish the cooking in the oven. Slice the roasted loin when done and serve it)
Plating and serving this pleasing gourmet meal for serving.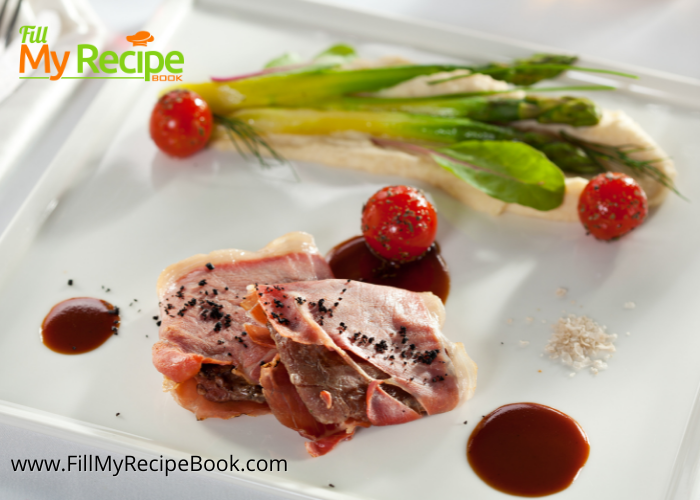 Sliced tenderloin wrapped in bacon and served with sweet soy based gravy and veggies served on top of the easy creamy basil dressing and some sautéed cherry tomatoes on the side.
(Follow the recipe attached)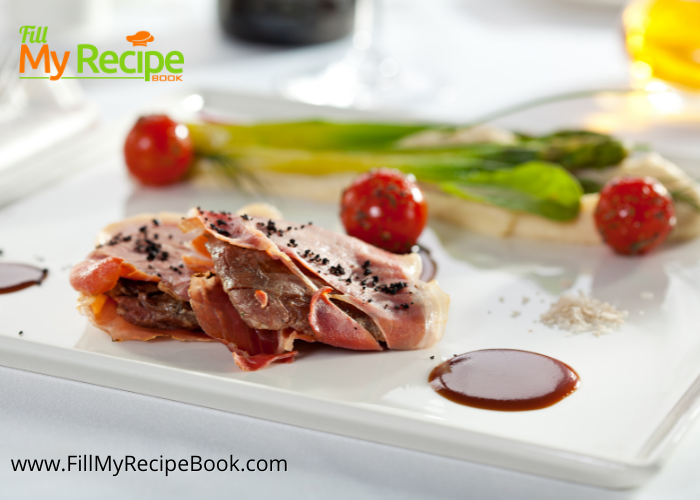 Keeping some pork wrapped in the bacon once serving and placing peppers over the meat.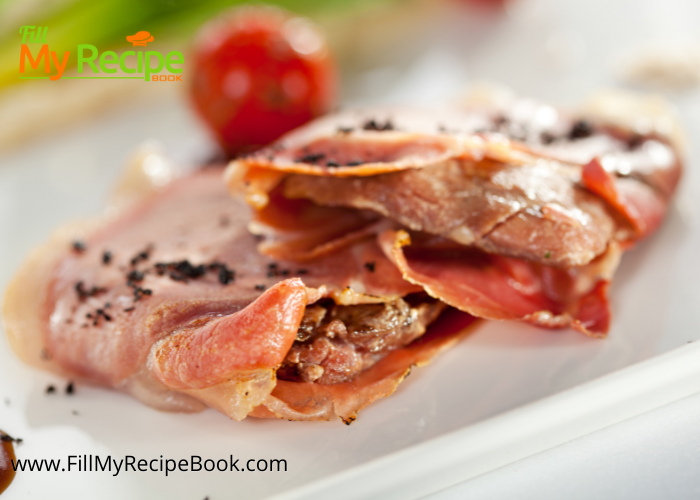 (click on the highlighted headings for the printables)
Download print or save this recipe. But if you prefer to write it out then download this FREE General Recipe Page to do so.
There are also some printable charts for the kitchen and household planning for weekly or monthly grocery shopping and meal planning. Don't forget to budget as there is one for that to.
Recommendations.
(click on the highlighted headings for the recipes)
Some recipe ideas for bacon filling —–> 17 Easy Bacon Filled Recipes
These are a few great healthy dinners for two recipe ideas —-> 25 Easy Dinner Recipes For Two
Get these Valentines recipe ideas to create —-> 10 Valentine Dinner For Two Recipes
Love to make some special meals for gourmet fine dinning —-> 10 Extraordinary Gourmet Fine Dining
This post may contain affiliate links, where we earn from qualifying purchases. See more details in the policy page. Does not effect your purchase cost.
A few purchase online links of Fine Dining Dessert Serving Dishes to choose from. Fine dining desserts must be presented well.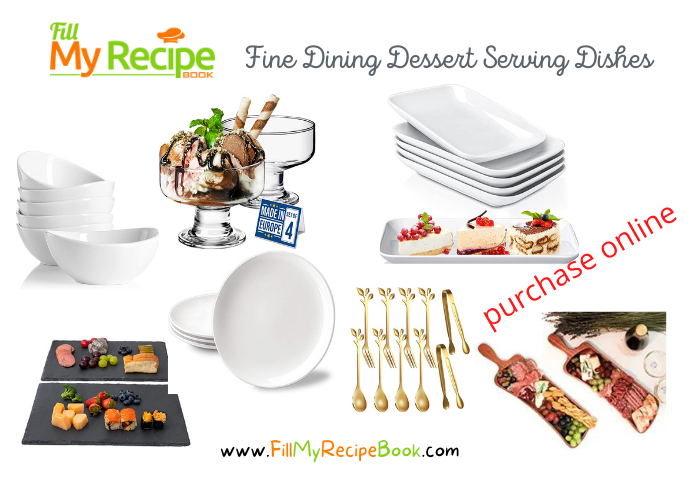 Print
Bacon Wrapped Pork Tenderloin
Bacon Wrapped Pork Tenderloin recipe and sauce served with sautéed cherry tomatoes and asparagus on creamy basil dressing for a gourmet meal.
Author:
Prep Time:

20 min

Cook Time:

30 min

Total Time:

50 min

Yield:

4-6

Category:

Gourmet fine dining meals

Method:

Stove top No Bake, oven bake

Cuisine:

Europe, America
Ingredients
1

–

2

Lbs of Pork Tenderloin (about

1

kg)

6

–

8

sliced of bacon (To wrap around the tenderloin)

2 Tablespoons

of mustard
Salt and Pepper
For the Gravy

1 cup

of pure maple syrup

1 tablespoon

of brown sugar

2 1/2 tablespoons

of soya sauce

2 1/2 tablespoons

of apple cider vinegar
Sauté veggies

600g

of asparagus

1

–

2

cups of cherry tomatoes
basil leaves
Some olive oil and butter for sauté
Salt and pepper
Creamy Basil Dressing

60 g

of sour cream or (crème fraîche)

1 Tablespoon

of mayonnaise

1 teaspoon

of maple syrup
Sautéed basil leaves
Salt and pepper
 
Instructions
Pork tenderloin.
In a pan add a little olive oil, salt and pepper and pan sear the pork tenderloin to obtain some flavor and lightly brown it on all sides.
Coat the tenderloin with mustard and wrap with bacon.
Place it in the oven on a heated roasting pan and bake for about 15- 20 minutes. (internal thermometer should read between 145 – 150 Deg. F)
Sauce or gravy.
Combine all ingredients in a small pan and simmer until thicken for about 15- 20 min.
Creamy Basil Dressing
Add the blanched basil leaves mayonnaise cream and maple syrup to a container and blend with an immersion blender until all has been blended adding salt and pepper to taste.
Sauté veggies
Remove the hard ends of the asparagus. Add some butter to a sauce pan, and sauté the asparagus and add the whole cherry tomatoes and basil leaves. Salt and pepper them. (about 6 min)
Final
When the pork tenderloin has been cooked and left to rest for a few minutes then slice thinly and plate with the bacon covering the pork tenderloin.
Plating the gourmet meal with some pork tenderloin and dotting some soya gravy pleasingly on a few places next to the pork.
For the veggies first add the creamy basil dressing to the plate with a long smear for the veggies to be placed on top of the dressing. Place some asparagus and fresh basil leaves over the dressing.
Add the cherry tomatoes between and next to the pork and veggies. Serve warm for a pleasing and tantalizing gourmet meal.
Keywords: Bacon Wrapped Pork Tenderloin