Fresh Tasty Snoek Braai recipe. A fish fresh from the south african sea, grill with sticky apricot jam an easy glaze and serve with salads.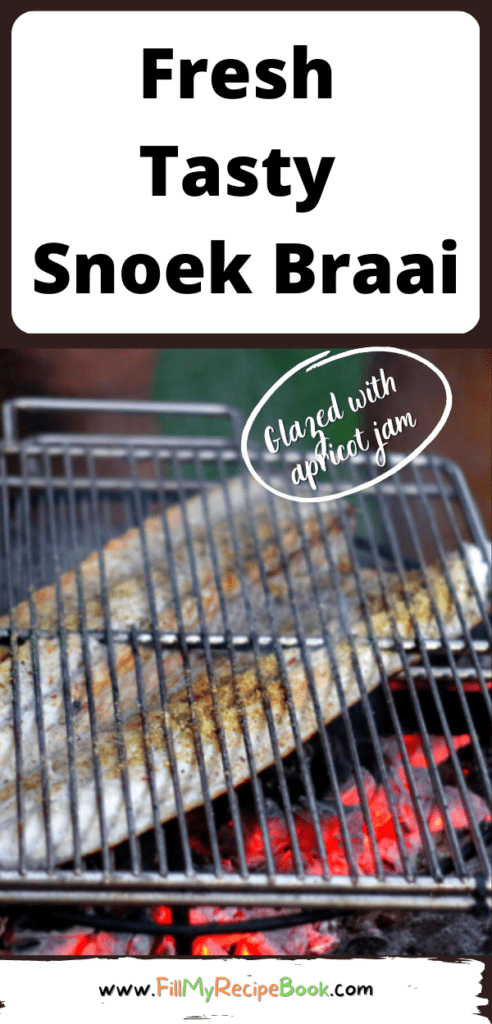 Fresh Tasty Snoek Braai
The Atlantic ocean on the west coast of South Africa is where snoek fish are caught in the cold water ocean. The snoek has soft white meat therefore its smoked or grilled on a braai. Basted with easy apricot jam recipe. These are the most popular methods used for this soft fleshy snoek fish for lunch or supper.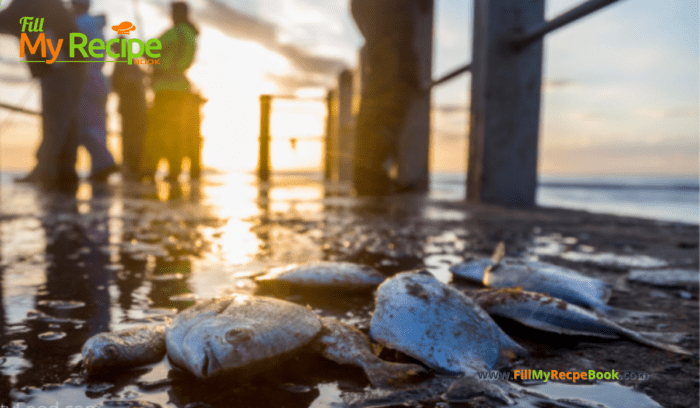 How do you know when snoek is done?
You can test whether the snoek is ready by inserting a fork in the thickest part and slightly turning the fork. If the flesh flakes, the snoek is ready.
Which Robertson product is used with glazed snoek on the braai?
Apricot jam is traditionally used in the Cape for creating a fruity glaze for braaied fresh snoek. In this recipe, we've combined it with honey, soy sauce, butter, garlic, chilli flakes and Robertsons Braai & Grill All-in-One to create an irresistibly spicy basting sauce.
Why is snoek fish salty?
The Snoek fish is dried and cured with salt, hence preserving it for eating later on.
How do you remove salt from salted snoek?
Place the fish into a large bowl and pour boiling water over the fish. The water should cover the fish. Cover the bowl and let the saltfish soak overnight. The following morning, drain off the salty water.
Ingredients
fresh snoek
butter
oil
apricot jam
salt and pepper
See the recipe attached for all the amounts and ingredients needed.
This long bodied and long head fish has a lot of bones in the flesh as well. The fishing vessels that go out to sea catch the fish on a hand line and place the fish on ice to keep its firmness and freshness.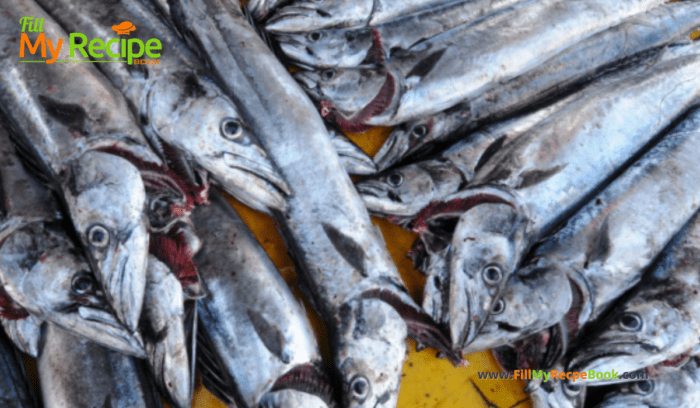 How To
Once the snoek has been gutted(stomach out) and head cut off and scaled, then the fish is either smoked or dried as another method.
The grilling of this fish on a braai is very popular for the
South African people. Glazed with apricot jam for some sweetness.
A snoek fish grilling on coals on a braai. Notice that the skin still kept on the fish for the protection of the meat while grilling (prevent the meat from breaking up)
This process of grilling.
The closed grill holds the fish in place as it turned around.
But for the start of the grilling process the fish is first grilled with the skin side down.
Once its grilling you baste the fish with a apricot jam mixture.
Below is a fresh tasty snoek braai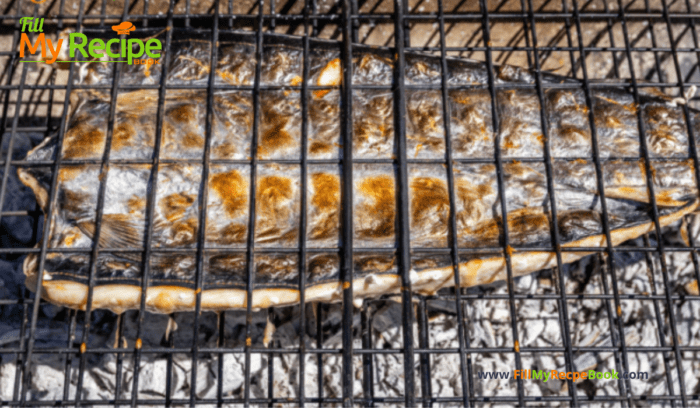 Break the white flesh away from the skin once the fish has cooked and place on a plate.
Do not use a knife to cut the soft white flesh of the fish with a knife as that will cut the soft bones as well. Therefore pulling fish from the braai or grill is the better option and allows the bones to stay behind or intact.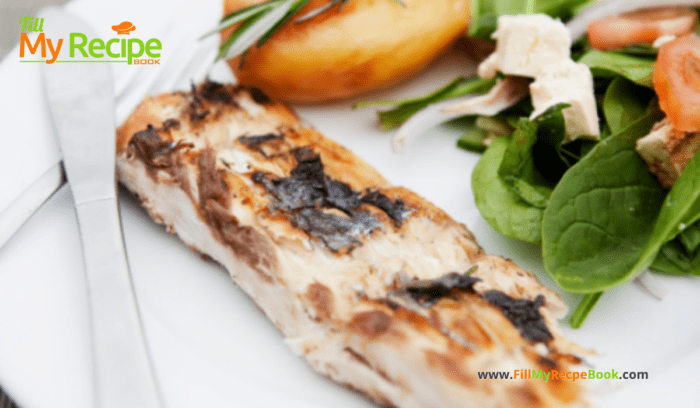 What goes with snoek?
Snoek fish normally eaten with :
(View the recipes in the highlighted headings)
braaied sweetcorn
braaibroodjie
roasted vegetables
chakalaka
pap and chakalaka
grilled pineapple
and a few vegetables.
Recommendations
(click the highlighted heading for the recipe)
Seafood recipe you would love as well. —-> Sautéed Shrimp Scampi with basil and garlic and Best Molasses Glazed Oven Baked Salmon and Best Pickled Curry Fish and Creamy Seafood and Wine Potjie Recipe and Crustless Salmon and Spinach Quiche and Crab Cake with Tomato Butter Sauce and Fried Fish and Chips with Salad and A Tuna Lasagna Casserole and How To Make Your Own Sushi
A few Mothers Day recipe Ideas to create —-> 21 Mother's Day Braai Ideas
Click here for other Grill Braai or Barbecue recipes —-> Braai or Grill Stuffed Portabella Mushrooms and Filling Lamb Shank Potjie and Grilled Beef and Peppers Sosaties and Grilled Honey Mustard Chicken Kebabs and Juicy Grilled Whole Lemon Chicken and Toasted Braai Grilled Sandwiches and Homemade Garlic Braai Loaf
More amazing recipe ideas for a meal menu for a braai. —–> 12 Fathers Day BBQ or Braai Recipes A selection of fish recipe ideas. —–> 14 Enticing Fish Recipes as well as these ideas. —-> 17 Easy Seafood Recipes to create.
You will love to get more recipe ideas —–> 13 Finger Licking Barbecue Recipes
Print
Fresh Tasty Snoek Braai
Fresh Tasty Snoek Braai recipe. A fish fresh from the south african sea, grill with sticky apricot jam an easy glaze and serve with salads.
Author:
Prep Time:

20 min

Cook Time:

15 min

Total Time:

35 min

Yield:

35 min

Category:

Meals supper or lunch

Method:

Braai or barbecue, grill,

Cuisine:

South african
Ingredients
Two fresh snoek (fresh is best as the meat is firm, otherwise it goes soft to quickly)
Some apricot jam
Butter
Olive oil
lemon
salt and pepper
Instructions
Have a braai that has formed coals.
Cut the snoek head and tail off and clean the gut out. Scale it.(or purchase the fish cleaned)
Leave the skin on for braaiing.
Make sure the grid is clean and baste the snoek with olive oil so that it doesn't stick.
Make the marinade to baste the fish as it braais. Apricot jam with some melted butter or oil.
Cut lemon to squeeze on the fish while braaiing.
Place the snoek on the grill with the skin down. 
Baste the apricot jam on and salt and pepper while its grilling.
Once the fish is cooked, which is a few minutes. White fresh soft meat.
Break it off the grill, as it will break into pieces. Do not cut it as it has soft bones.(breaking it will leave bones behind)
Place on a plate with salad or baked sweet potatoes.
Delicious sweat and tasty
Notes
A simple quick method to braai and baste fresh snoek with apricot jam.
Keywords: fresh braai apricot basted snoek
More Grill Braai or Barbecue recipes you would love to make —–> Filling lamb shank potjie pot
and these —–> Juicy grilled whole lemon chicken