Best Molasses Glazed Oven Baked Salmon Recipe. A seafood dinner with vegetables and rice. Soy and molasses sauce make an amazing glaze.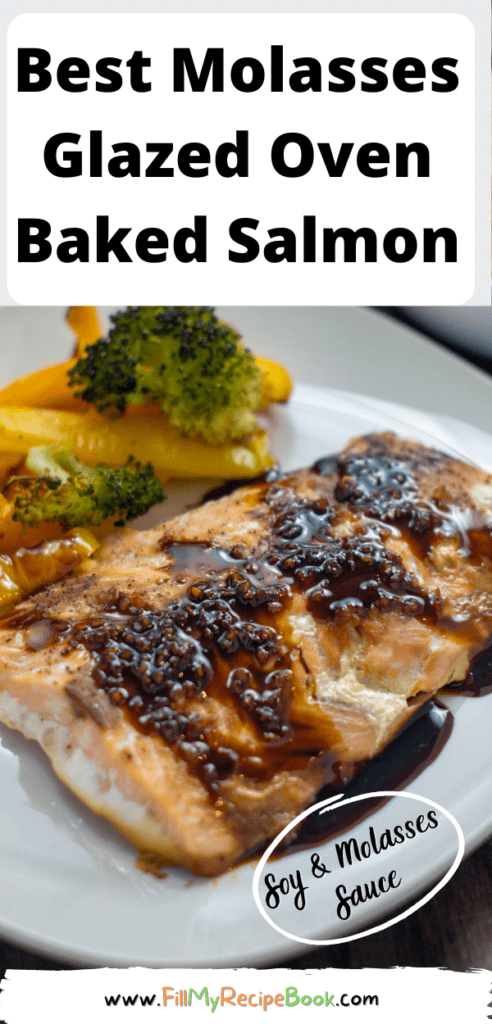 Best Molasses Glazed Oven Baked Salmon
The best meal to serve for a special dinner or lunch that is healthy and has a soy and molasses sauce glazed over the salmon and baked in the oven. Fish recipe idea to create for a fine dining experience for a special occasion of seafood.
Is it better to bake salmon covered or uncovered?
For the best results. Healthy Recipes suggests leaving the salmon uncovered and keeping a meat thermometer handy to avoid overcooking it. Fish cooks quickly so keep an eye on the clock and remove it from the oven when the internal temperature reaches 145 degrees Fahrenheit.
How long does it take for salmon to cook in the oven?
Preheat the oven to 450 degrees F. Season salmon with salt and pepper. Place salmon, skin side down, on a non-stick baking sheet or in a non-stick pan with an oven-proof handle. Bake until salmon is cooked through, about 12 to 15 minutes.
Should I use butter or oil for salmon?
Butter is the fat used to pan sear salmon. If butter isn't your jam, you can also try olive oil.
What to put on top of salmon?
Dried basil.
Dried oregano.
Dried rosemary.
Fresh parsley.
Garlic powder.
Fresh dill.
Red chili flakes.
Ingredients
Some of the ingredients and spices and vegetables needed for this dish. Optional vegetables you would rather prefer to cook is up to you. Follow the recipe attached.
soy and Molasses
ginger and garlic
vinegar
olive oil
salt and pepper
broccoli and bell peppers
salmon
brown rice (optional)
How To.
Heat up the soy and molasses mix with other ingredients as per recipe in a small pan on medium heat.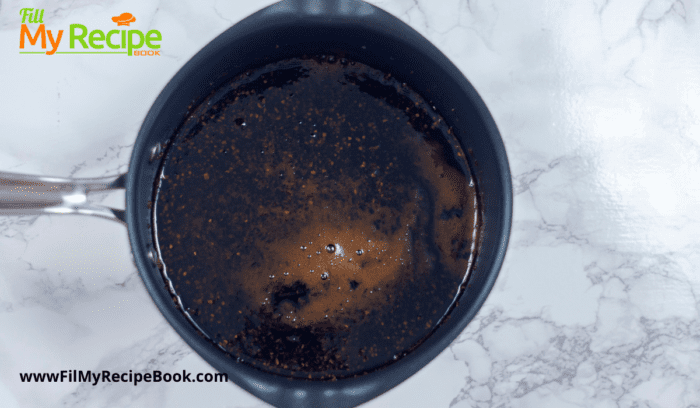 Slice up some bell peppers, as well as some broccoli to place on a roasting pan in the oven with the salmon.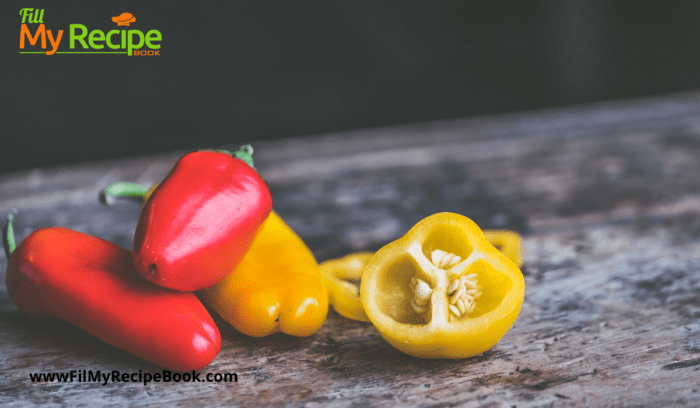 Have the salmon cut and clean and place that on a greased or oiled roasting pan with lipped side for baking. Oven baked sheet pan recipe style with roasted veggies.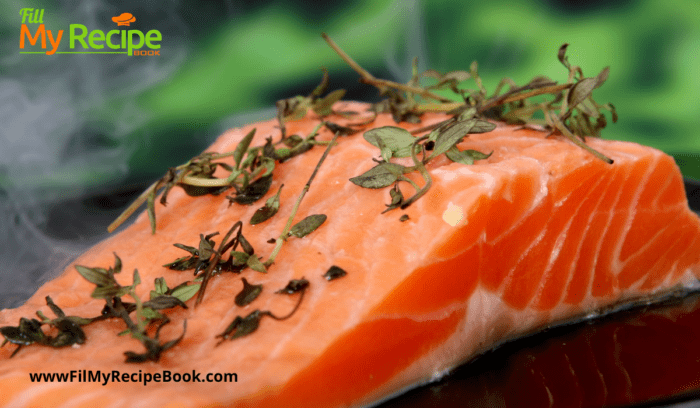 Lay the bell peppers and salmon and the broccoli on the pan as you see below.
Fatty fish such as salmon and Herring, Sardines and Mackerel are some of the fish that produce omega 3 fatty acids to fight of inflammation. Bake this fish and exclude the glaze and add ingredients that suit your diet.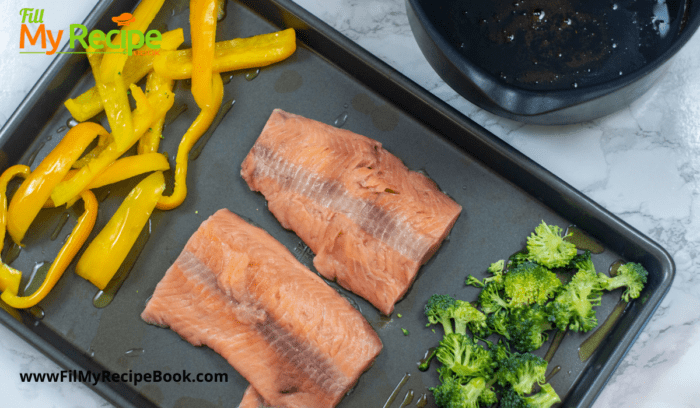 Drizzle the salmon with the soy molasses glaze. Add salt and pepper and then bake in the oven until done.
Serve on a plate with the vegetables on the side. Rice is also served with this meal.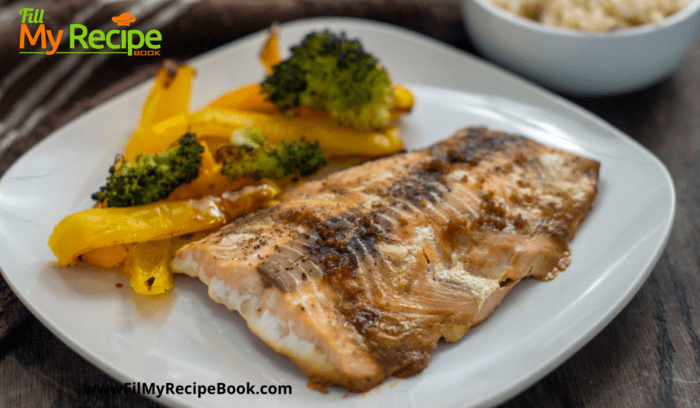 Drizzle more of the soy molasses glaze over the baked salmon once cooked and served. Gives the fish an amazing taste.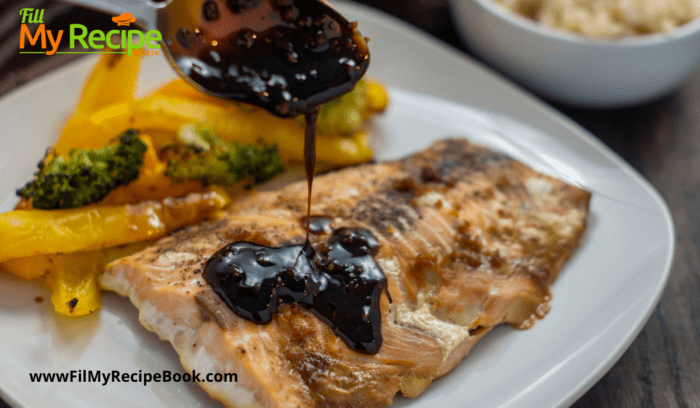 Have this served for 4 and enjoy this wonderful easy all together meal with rice.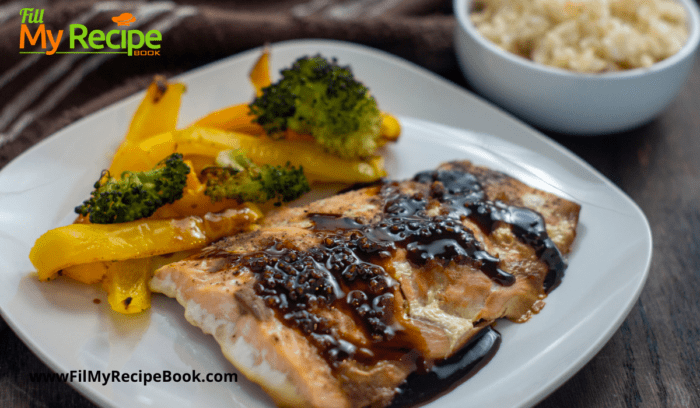 Recommendations.
(click the highlighted heading for the recipe)
Seafood recipe you would love as well. —-> Sautéed Shrimp Scampi with basil and garlic and Best Pickled Curry Fish and Fresh Tasty Snoek Braai and Creamy Seafood and Wine Potjie Recipe and Crustless Salmon and Spinach Quiche and Crab Cake with Tomato Butter Sauce and Fried Fish and Chips with Salad and A Tuna Lasagna Casserole and How To Make Your Own Sushi
View these savory and deliciously tasty recipes that use molasses. —–> 11 Tasty Meals With Molasses
View more dinner party recipes to serve for special occasions here—–> 25 Easy & Quick Dinner Party Recipes
More amazing lunch recipe to choose from here.—–> 14 Best Mother's Day Lunch Recipes
Get inspired with these —–> 15 Healthy Fish Recipes
Also get some other inspiration for a special valentine meal idea —–> 20 Romantic Valentine Meals Recipes Get these Valentines recipe ideas to create —-> 10 Valentine Dinner For Two Recipes
You will love to get more recipe ideas —–> 14 Enticing Fish Recipes as well as these ideas —-> 17 Easy Seafood Recipes
Then there are the traditional favorites for Alaskans —-> 14 Amazing Alaska Meal Recipes
These are a few great healthy dinners for two recipe ideas —-> 25 Easy Dinner Recipes For Two and these ideas —–> 12 Healthy LCHF Dinners
Print
Best Molasses Glazed Oven Baked Salmon
Best Molasses Glazed Oven Baked Salmon Recipe. A seafood dinner with vegetables and rice. Soy and molasses sauce make an amazing glaze.
Author:
Prep Time:

15 min

Cook Time:

20 min

Total Time:

35 min

Yield:

4

Category:

Meals, supper or lunch, dinner

Method:

Oven Baking
Ingredients
1. 1/4 cup soy sauce
2. 1/4 cup molasses
3. 1 tsp ground ginger
4. 1 tbsp rice vinegar
5. 2 cloves garlic (minced)
6. 1/2 lb broccoli
7. 2 yellow bell peppers
8. 2 tbsp olive oil
9. 16 oz salmon fillets
10. 1 tsp salt
11. 1 tsp pepper
12. 2 cups brown rice
Instructions
Preheat the oven to 400F
Grease Baking Pan
In a small saucepan, over medium heat, combine the soy sauce, molasses, ginger, rice vinegar, and garlic.
Cook for about 5 minutes until reduced by half
Meanwhile, slice the bell pepper and chop the broccoli.
Place the salmon fillets on top of the vegetables and spoon about one tablespoon of the soy-molasses on each fillet.
Place the salmon fillets on top of the vegetables and spoon about one tablespoon of the soy-molasses on each fillet.
Sprinkle everything with salt and pepper, to taste.
Bake for about 15-20 minutes, until the fish is cooked and the glaze is golden brown.
While the fish is baking, prepare the rice according to the package.
Divide the rice among the serving plates and top with salmon and vegetables.
Serve with extra sauce to drizzle on the fish, rice, and vegetables as desired.
Keywords: Best Molasses Glazed Oven Baked Salmon recipe
Here are 28 rather awesome accessories to use in the kitchen! We might not NEED some of these, but they are hard resist!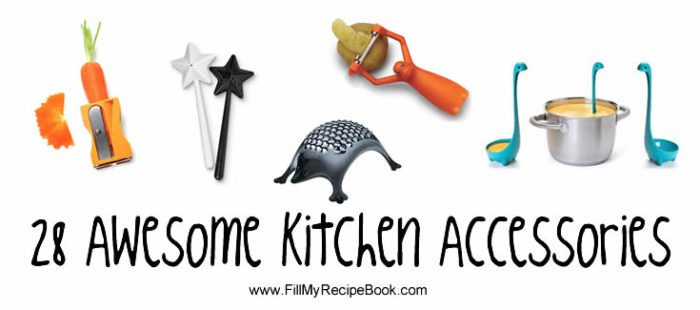 This post may contain affiliate links, where we earn from qualifying purchases. See more details in the policy page. Does not effect your purchase cost.