Oven Roasted Brussels Sprouts with Bacon and onion recipe. Transform bland Brussels Sprouts vegetables into a healthy mouthwatering meal.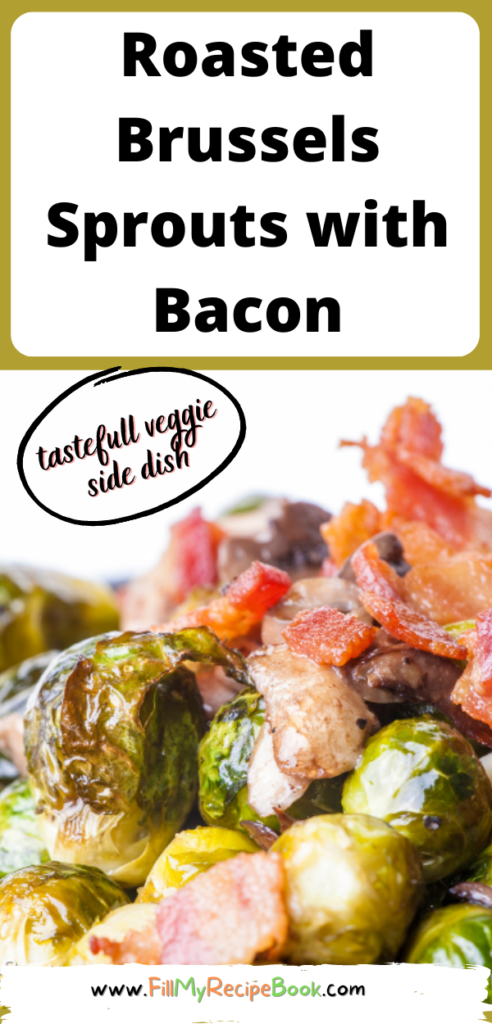 Roasted Brussel Sprouts with Bacon
The most delicious vegetable side dish recipe idea to roast is Brussel sprouts with bacon and onion, spiced with garlic and salt and pepper. Drizzled with olive oil and oven baked for a vegetable warm side dish to serve with a meal. Veggies for lunch or dinner, or supper for a family meal. Easy recipe that can be quickly roasted.
Roasting may not be the typical cooking method in most kitchens, but it can help transform bland vegetables into mouthwatering side dishes the entire family will enjoy.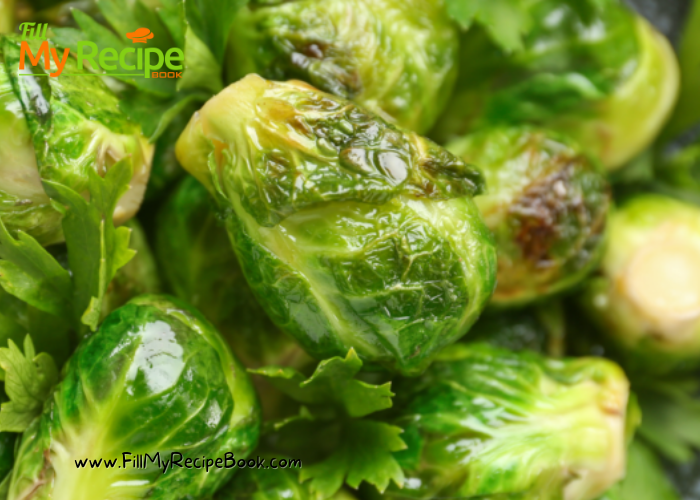 Once you've tried roasting vegetables and realized how easy the process is. Then there is truly no going back.
Do I need to boil Brussel sprouts before roasting?
You can parboil the brussel sprouts before roasting, as they are not like other vegetables. This can also be done the day before. This will save you some roasting time in the oven. When your roasted meats are done and resting then stick the tray of brussel sprouts veggies in the oven to roast.
Why do you soak Brussel sprouts before roasting?
This is the parboiling discussed. It will soften the leaves of the brussel sprouts right down to their core and tenderize them. They will not go all mushy. This will speed up the roasting time and caramelize the sprouts to crispy and tasty veggie, anybody will eat.
Should you cut brussel sprouts in half before roasting?
It is fine to cut the brussel sprouts in half. Placing them with their cut side down on the baking sheet. Leaving them to caramelize better and then the leaves would crisp up and absorb the spices well. Cutting the sprouts in half helps will help that bitterness that's in the center of the brussel sprouts taste better. It releases that bitter component.
How long does it take to parboil Brussel sprouts?
Parboiling veggies is only to partially cook them. This will take a short time to parboil brussel sprouts, such as 3 – 4 minutes. You will be able to tell when they are ready to drain as they will turn a bright green.
Ingredients
red onion
bacon bits
brussels sprouts
olive oil
garlic cloves
salt and pepper
View the recipe attached for the amounts and instructions needed.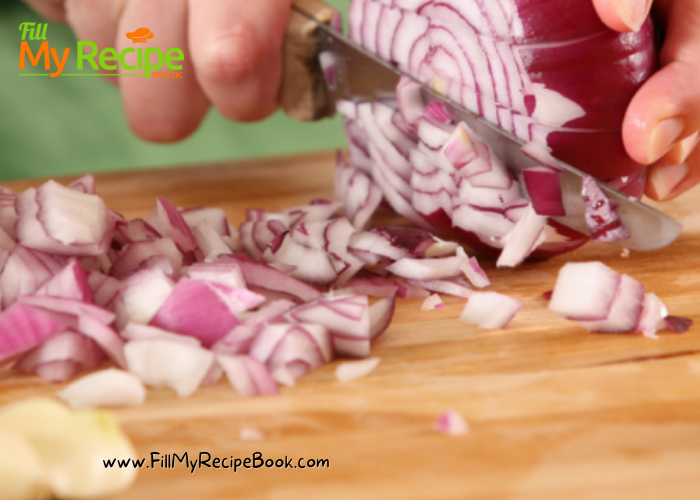 red onion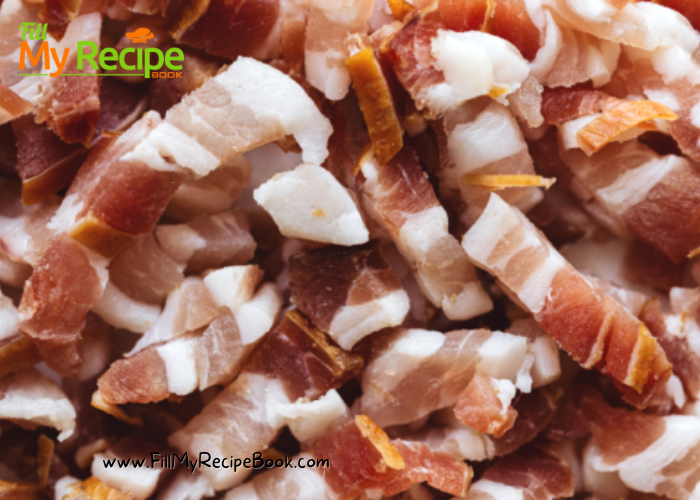 chopped bacon
The ingredients chopped as per the recipe below for you to follow. Should be cut into smaller pieces and sliced and tossed in oil in a bowl with salt and pepper. Be careful not to use to much salt as the bacon will be salty as well.
How To
The preparation is beyond simple and all that's required is an oven, some oil (preferably olive oil), salt, and pepper. Add to the flavor and personal taste add bacon and garlic and onion for that mouthwatering meal.
Roasting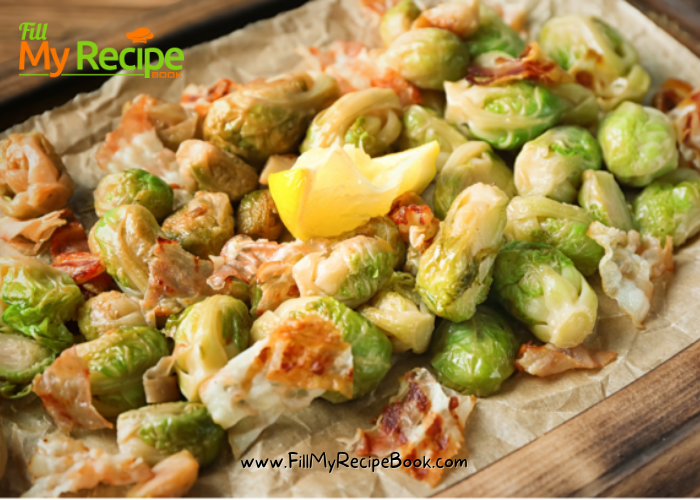 Spread them out evenly over a roasting pan sheet to prepare for roasting. (you can line the pan to prevent sticking)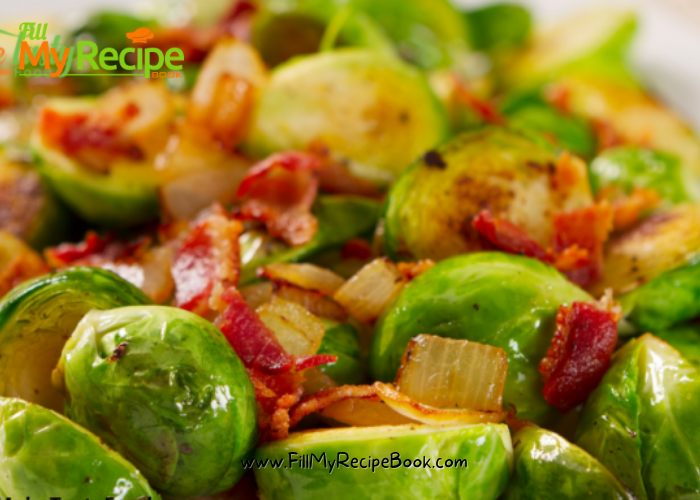 Served.
Roasted Brussels Sprouts with bacon and onion as well as garlic and spices make a healthy and warm side dish for any meal.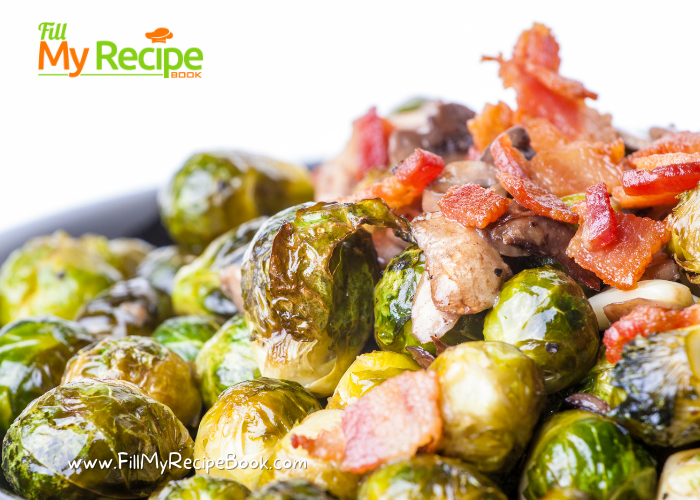 Keep in mind, that cooking times may need to be adjusted for the smaller the vegetables (or slices), as they are quicker to roast.
Download this easy recipe to transform your vegetables. Print or save the recipe. But if you want to write it down then why not download the free General Recipe Page available.
Recommendations.
(click the highlighted heading for the recipe)
A few more side dishes recipe ideas to create —-> Warm Side Dishes for Meals
More roasted vegetable warm side dishes and meals.—-> Roasted Curry Cauliflower with Cheese and Sunday Roasted Chicken and Potato's and Easy Roasted Brussel Sprouts
View more dinner party recipes to serve for special occasions here —–> 25 Easy & Quick Dinner Party Recipes
Try these amazing delicious vegetable recipes. —-> 24 Easy Veggie Side Dish Recipes and 10 Vegetable Side Dish Recipes
Some recipe ideas for bacon filling —–> 17 Easy Bacon Filled Recipes
Sharing Thanksgiving side dishes to create —–> 27 Thanksgiving Side Dishes
Some warm roasted meals for the family dinner or lunch on Christmas —–> 18 Roasted Christmas Family Meal Recipes
Then there are these vegetable recipe ideas to —–> 10 Easy Vegetable Recipes
Print
Roasted Brussels Sprouts with Bacon
Oven Roasted Brussels Sprouts with Bacon and onion recipe. Transform bland Brussels Sprouts vegetables into a healthy mouthwatering meal.
Author:
Prep Time:

15 min

Cook Time:

20 min

Total Time:

35 min

Category:

Meals, supper, lunch. dinner, warm side dish

Method:

Oven Baking, roast
Ingredients
1

package of fresh brussels sprouts

1

–

2

teaspoons olive oil

1

packet of bacon

1

onion
some garlic cloves
salt and pepper
Instructions
Trim bottom of brussels sprouts and cut in half, and chop or slice the onions and cut the cloves (can use dried flakes as well)
Also cut the bacon in pieces (as desired)
Place halved brussels sprouts, onion, garlic and bacon in a bowl and coat lightly with olive oil.
Season with salt and pepper.
Arrange sprouts cut side down on a baking sheet and make sure all the other ingredients are spread out evenly.
Roast in a 400-degree oven for 15-20 minutes, or until the cut sides of the brussels sprouts are a deep golden brown and onion and bacon is cooked.
Fill the roasted vegetables into a serving bowl and serve as a warm side dish.
Keywords: Roasted Brussel Sprouts with Bacon and onion recipe
Another easy and healthier way to cook vegetables instead of boiling in a pot of water or microwaving them is roasting. They pick up the spices added and this gives them a scrumptious taste, more inviting to eat as well. Family will love them.