Easy Spicy Guacamole Recipe that makes a tasty filling for tortilla and wraps as well as crepes. A versatile filling and easy to make.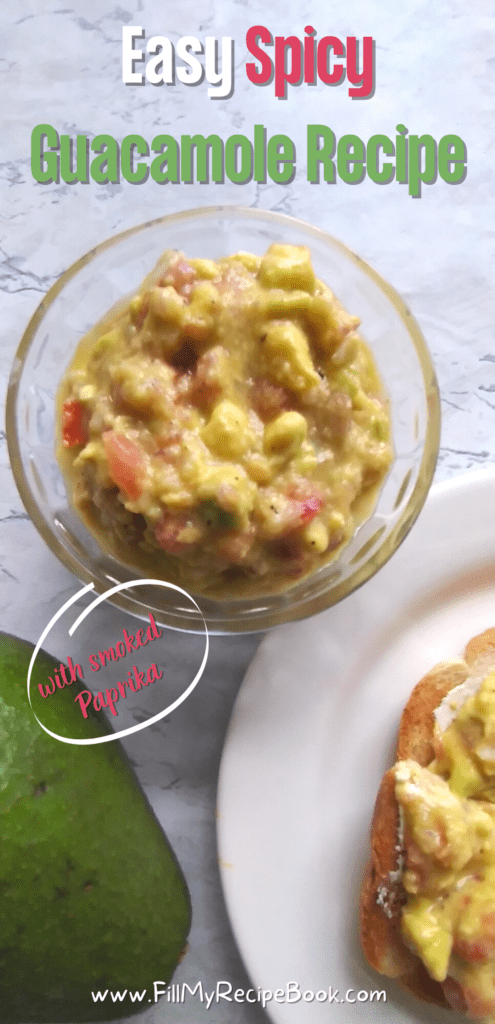 Easy Spicy Guacamole Recipe.
Some times you have to use all the fruits you have that are in abundance on the farm. Then you have to be creative and make a few different recipes with avocados.
We have so many avocado going ripe at the same time. Then some spicy guacamole was made for sandwiches and breakfast toast.
Use guacamole as a filling for wraps and tortillas. A breakfast Crepe is also a great way to use this filling. If you do not like spicy then add less or omit the paprika, as it really is not to spicy.
Some of the ingredients to have handy are: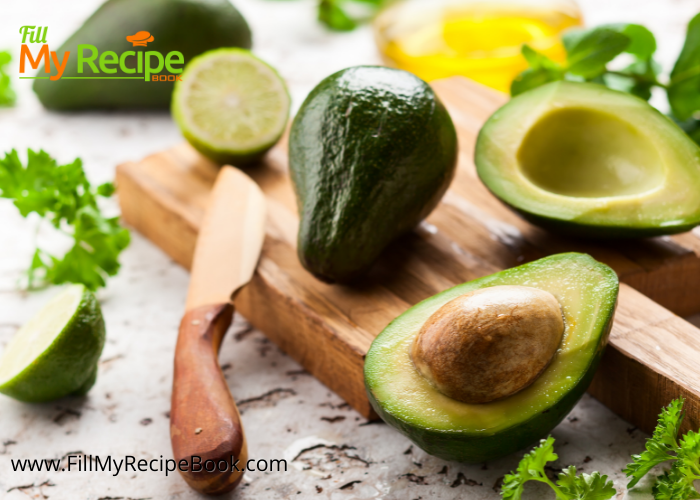 Ripe Avocados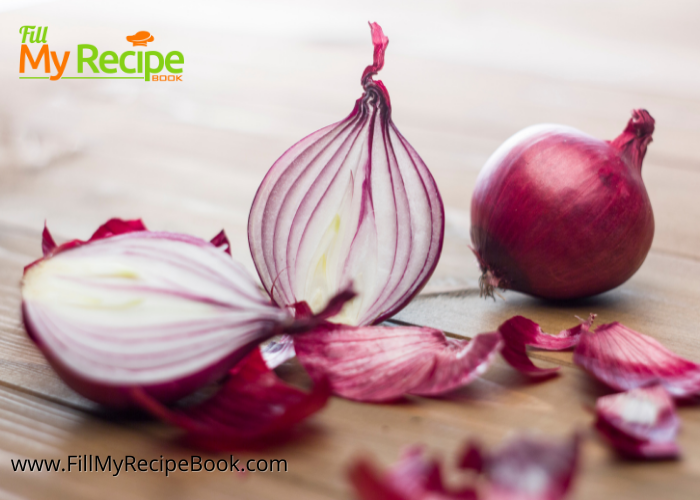 Red onion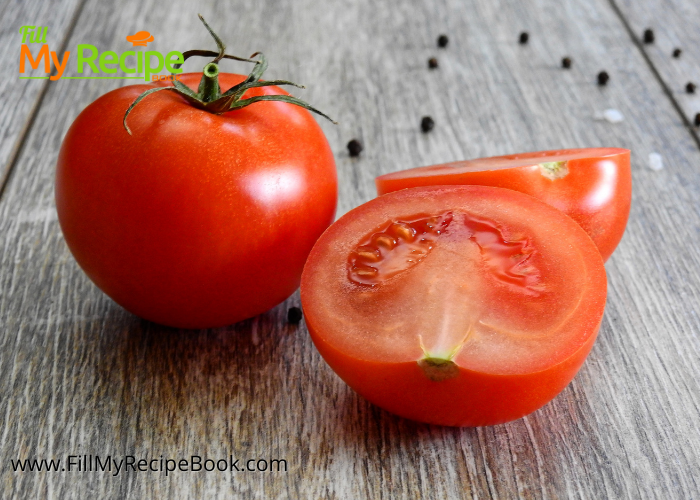 Tomatoes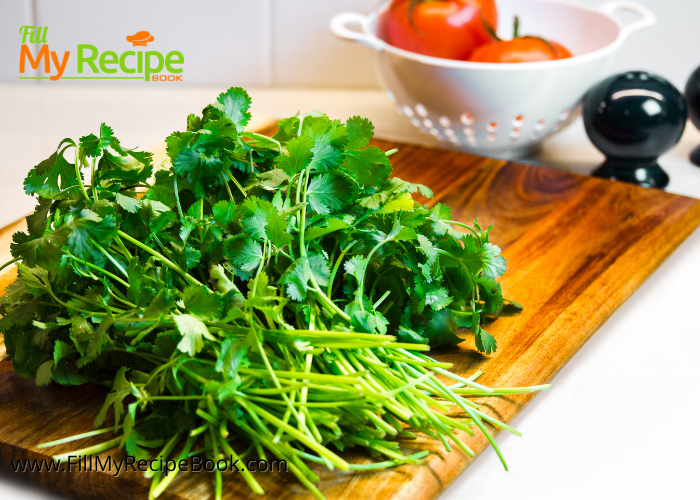 Cilantro
Then of course you will use lemon to prevent the avocado from going dark and oxidizing.
I prefer the avocado not mashed but in some form of pieces as well as the tomato and onion. But they are chopped very small. When you have it on toast for breakfast you get that crunchy bite of onion. Which is great, but not strong.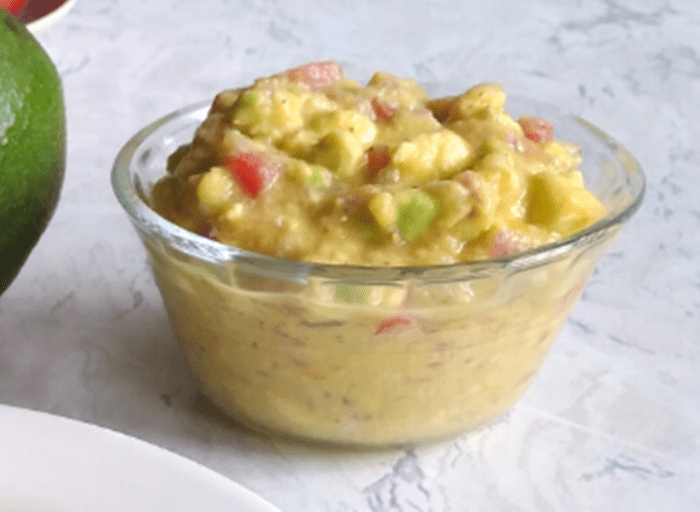 Health information.
Avocado is one of health foods that is packed with potassium and magnesium and fiber.
They also have monounsaturated fats and contain carotenoids and tocopherols which are linked to reduce risk of cancer. Then there are compounds in avocados that may reduce inflammation in newly forming skin cells.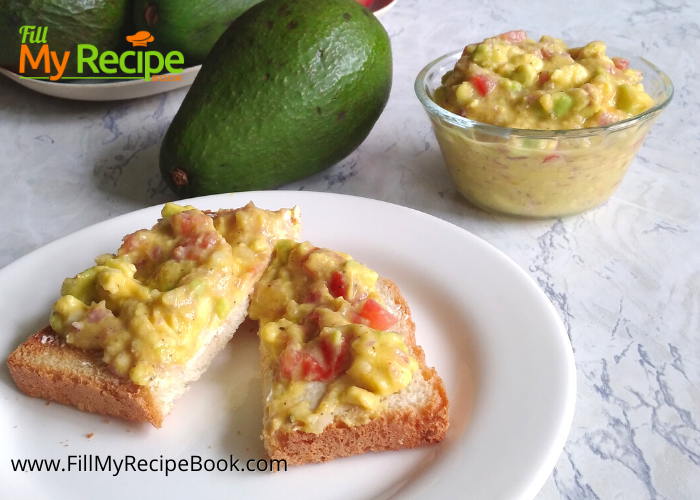 A good way to start your day with toast and avocado guacamole.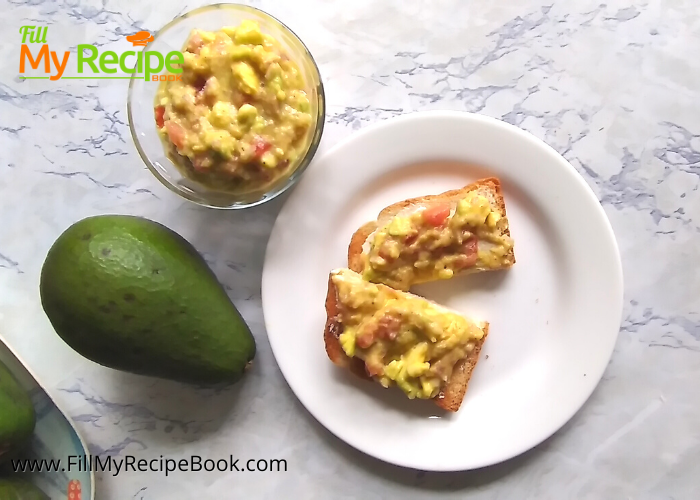 Guacamole may be stored in a sealed container for about 3 -4 days. That's why lemon juice is added to stop it from oxidizing. (darkening). Freezing avocado is also possible with the same lemon juice and sealed in a freezer bag. Learn how HERE. Also learn all about avocado trees and the fruit. HERE.
Easily keep or freeze avocado.
Some wonderful lemon pepper was sprinkled on the guacamole. Love it.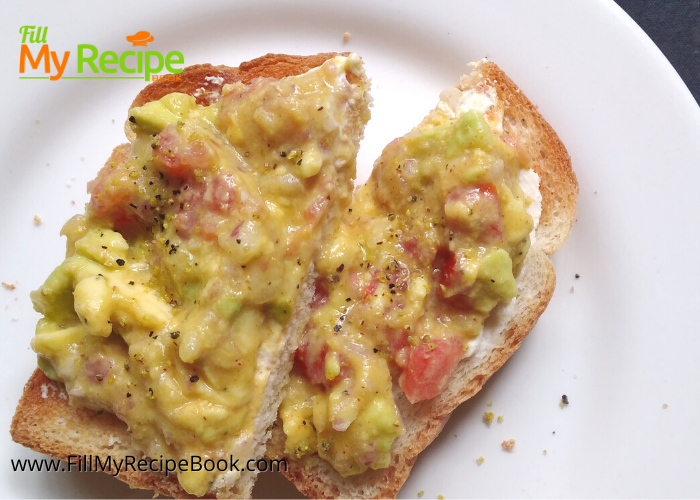 Below is the recipe for Guacamole. (click on the highlighted words for the downloads and recipes)
There are Printables to download for FREE. Kitchen charts and household planners for help in your kitchen. Planners for meal preparation and budgeting and shopping lists. Weekly and monthly planning of meals all listed for the smooth running of your home meals and life. Get them HERE FOR FREE.
Get these healthy recipes —–> 12 Healthy Snack Recipes (Gf.Sf.Df)
More avocado recipe to choose from —-> 17 Surprising Avocado Recipes Ideas and not forgetting these fillings —–> 11 Avocado Filled dishes
Recipe ideas for the use of lemon and herbs —-> 21 Meals With Lemon and Herbs Recipes
and these are other recipe ideas to try —-> 18 Yummy Fat Free Recipes
then get more meal ideas —–> 14 Gluten Free Meal Recipes
Print
Easy Spicy Guacamole Recipe
Easy Spicy Guacamole Recipe that makes a tasty filling for tortilla and wraps as well as crepes. A versatile filling and easy to make.
Ingredients
4 medium avocados
1/3 cup of chopped Cilantro (optional)
1 medium red onion (1/2 heaped cup chopped)
2 medium tomatoes chopped
1 teaspoon of lemon juice
3/4  teaspoon Salt
1 teaspoon smoked paprika (add more paprika if you need it spicier or cayenne pepper)
1/2 teaspoon of garlic powder
1 teaspoon of lemon pepper.
Instructions
Peel the avocado and cut out the flesh into a bowl.
In a blender add the cut onion and tomato and chop to small pieces. (not to big)
Chop cilantro (use half until you approve of the taste, then add if you prefer more cilantro)
Add the ingredients into a bowl with all the spices and lemon juice and mix well.
If you like you can blend the avocado until smooth but I prefer it in small pieces.
Keep in a sealed container in the fridge for 3 – 4 days.
View other recipes to make avocado with below.