Healthy Breakfast Sweet Potato Hash. Love sweet potato's add some vegetables with fried eggs, for a healthy vegetarian breakfast.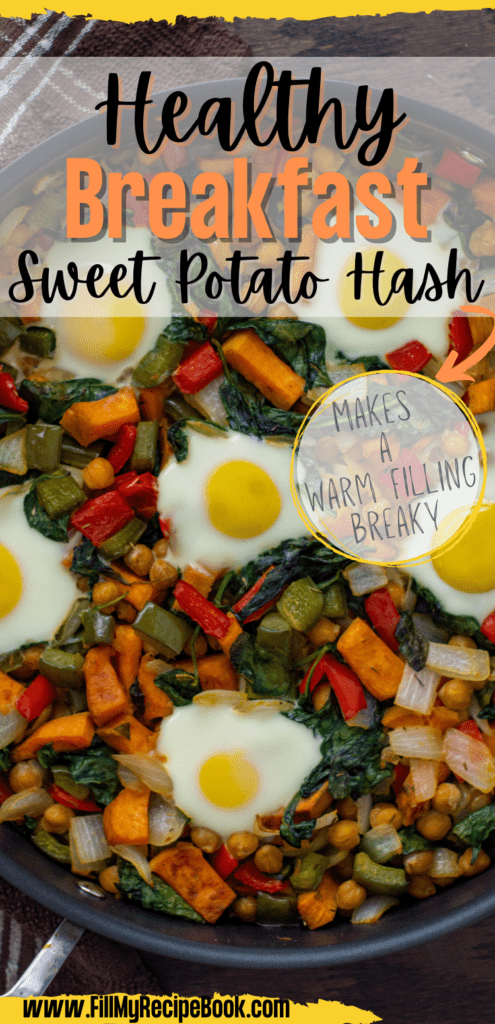 Healthy Breakfast Sweet Potato Hash
Some ingredients to have with this super easy dish are the amazing sweeet potato's. healthier you couldn't get. Add to a skillet pan, and your chopped onion and red and green peppers. With the chickpeas.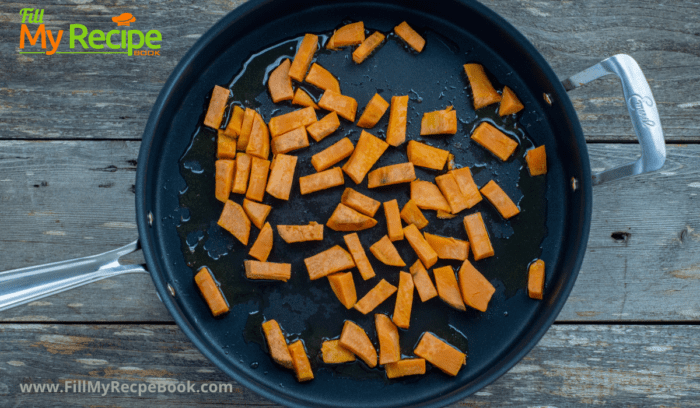 Eventually adding some fresh spinach when the other ingredients are soft. Cook until soft as well.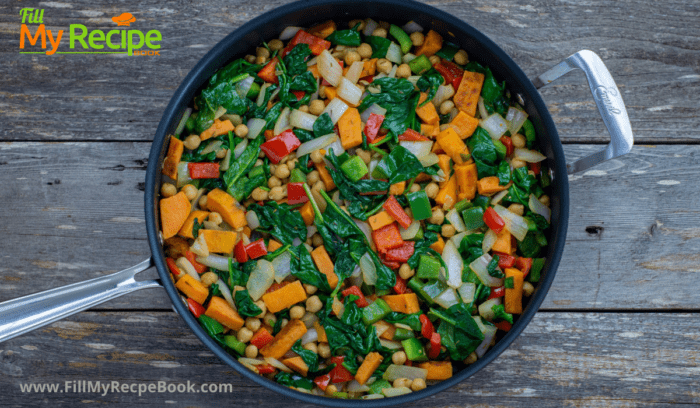 Take off the stove and make some indents in the potato and veg dish for the eggs.
Break open the fresh farm eggs into the indents and fry until done.
Once the eggs are cooked plate up immediately as a warm filling breakfast is what is needed.
A wonderful fresh vegetarian sweet potato hash breakfast with eggs.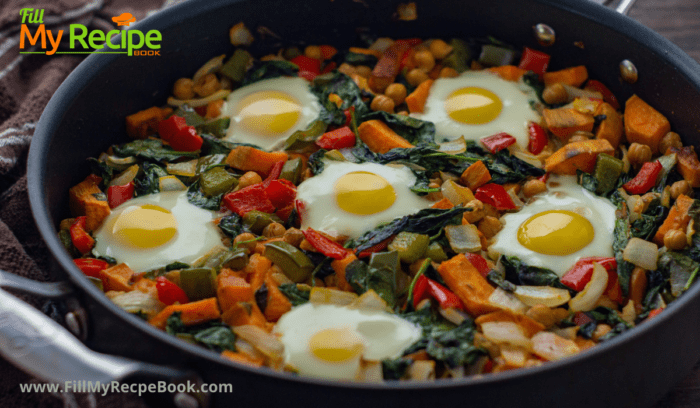 Recommendations.
Not forgetting about Fathers Day. Make these for him. —–> 16 Fathers Day Breakfast or Brunch Recipes and other —–> 20 Easy Egg Recipes as well as these ideas —-> 14 Valentine Family Breakfast Ideas
More delicious sweet potato recipes. —–> Foiled Sweet Potato on Coals
and a few more —-> 25 Healthy Easy Breakfast Recipes
Get more chickpea recipes —–> 10 Easy Chickpea Recipes
Some amazing stir fry recipes —–> 8 Easy Vegetarian Stir Fry Recipes
There are more recipes ideas for you —–> 12 Easy Healthy Skillet Meal Recipes
Breakfast recipe ideas —–> 28 Easy Breakfast Ideas Recipes and more —–> 10 Homemade Hashbrowns Recipes
Other recipe ideas for eggs —–> 17 Simply Easy Egg Recipes
There are also these recipe ideas —–> 12 Healthy LCHF Breakfast Recipes as well as these breakfast ideas —-> 20 Easy Vegetarian Breakfast Recipes
These are simple ideas that can be made with left overs —–> 21 Easy Meatless Monday Recipes
Get these great Christmas breakfast ideas —–> 35 Easy Christmas Breakfast Ideas and make these ahead —–> 17 Vegetarian Christmas Breakfast Recipes
Healthy Breakfast Sweet Potato Hash
Ingredients
1 sweet potato, peeled and cut into small pieces

2 tbsp. olive oil

15 oz chickpeas, rinsed and drained

1 onion, chopped

1 red bell pepper, chopped

1 green bell pepper, chopped

1/2 tsp paprika

1 tsp thyme, dried

5 oz spinach

6 eggs

1 tsp of salt and pepper
Directions
Preheat the oven to 400F
Place the sweet potato in a single layer on a plate, sprinkle with water, and microwave for 2-3 minutes, until soft
In an oven-safe skillet, heat the oil over medium-high heat
Add the sweet potato in a single layer and cook for 3-4 minutes without stirring
Stir in the onion, peppers, paprika, and thyme
Cook for about 7-8 minutes, stirring occasionally, until the vegetables soften
Slowly add the spinach, stirring until it wilts between batches
Remove from the heat and make an indent in 6 places
Crack the eggs into the indents
Place the entire pan in the oven and bake until the eggs are done to your preference:
◦5-7 minutes = runny yolk
◦7-10 minutes = semi-firm yolk
◦10-15 minutes = hard yolk
Sprinkle with salt and pepper to season and serve immediately.
Get some Printables for FREE. There are Kitchen charts and Household Printables to download.
Here are more breakfast recipes to choose from below.
8 Easy Valentine's Day Breakfast Recipes
10 Fathers Day Breakfast or Brunch Recipes