Easy Heart Sandwiches Ideas.. How to make these heart shaped sandwiches of love for Valentines or snacks, safe for kids with a cookie cutter.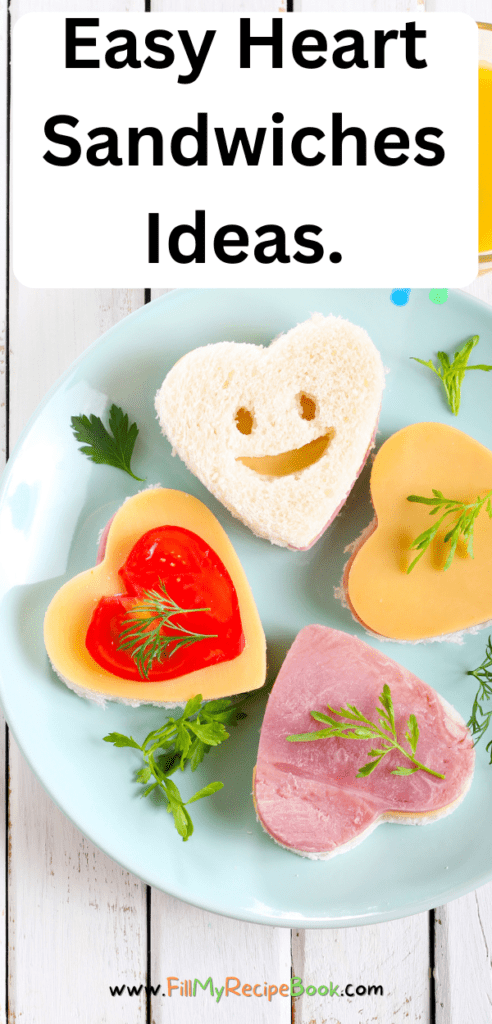 Easy Heart Sandwiches Ideas
These are made with a single slice of bread, like canapés, which is what they are.
Easy heart shaped sandwiches or canapés to make for a special occasion or snacks. Its so easy kids can do it. We show you how to cut the heart shapes into the bread slices and cut the cheese and other ingredients for the sandwiches. Using a cookie heart shaped cutter that you simply just press the heart shape out with.
You will love to make them and they are so simple that the kids will love to make them to spoil or treat their Mother on Mothers day or a Fathers Day or even Valentines Day spoil. A special Breakfast or snack for parties. Even as appetizers.
What is cold open sandwich?
These are made with a single slice of bread, like canapés, which is what they are. Like canapés, the filling or topping should be attractively arranged and garnished.
What are canapé toppings?
The toppings can consist of cheese slices, boiled eggs, salmon, shrimp, meat such as smoked meat or sausage, and various vegetable and fruits. The use of cheese spread as canape spread will mix nicely with fruits, vegetables, or meat.
Can cold sandwiches be prepared in advance?
Yes, cold sandwiches are some of the best sandwiches to make the night before. This can be especially useful when planning easy sandwiches for a crowd such as a party the next day.
What do you place on the top of the bread in canapé?
Canapes are hor d'oeuvres that have a base, a spread and a topping. The base is a thin slice of bread, a cracker, puff pastry or a shell. Spread is butter, mayonnaise or fresh cheese. Topping is veggies, meats, seafood, fruits, mixture of nuts and chocolate.
Ingredients
All your need is sandwich bread cut into slices. Some slices of cheese and ham or salami to cut in heart shapes. Tomato or any other topping for a sandwich. View the recipe attached.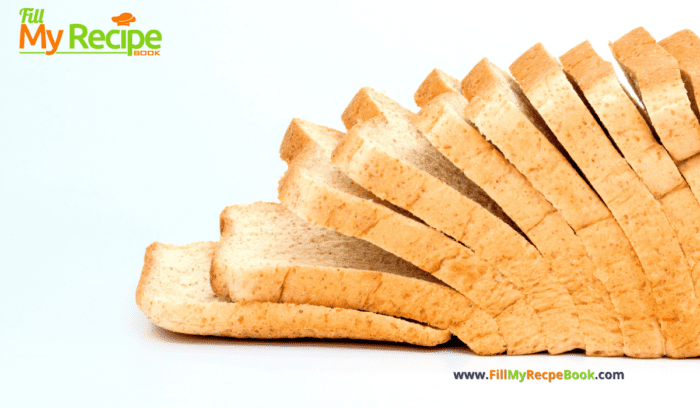 How To Make.
Using various sizes of cookie cutters, just press on the slices to form hearts. For any other eats you would like to put on these special occasion sandwiches.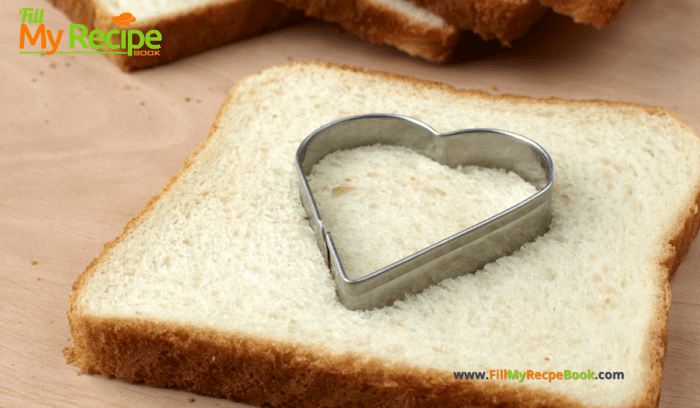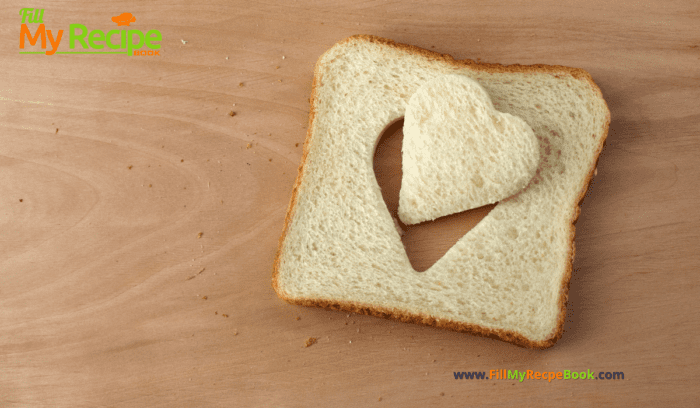 I good add on would be cheese or cold meats. These look very attractive and then you can personalize your own sandwiches.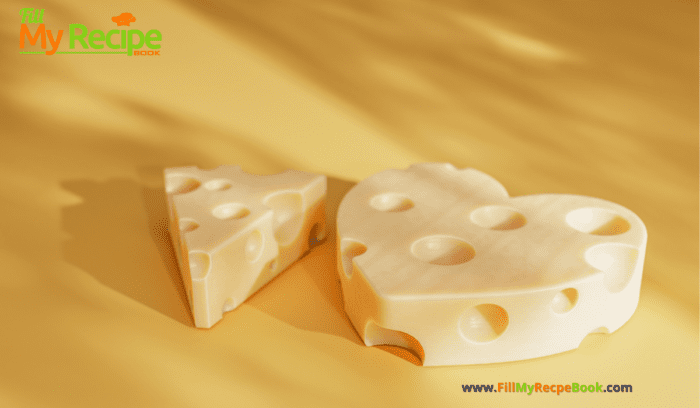 Below are these pretty edible and attractive sandwiches made for someone special.
Decorate with add on´s like tomato and cucumber or olives. Then on the plate add some greenery.
This all would be awesome plated on a tray with a cool drink or coffee or even favorite tea.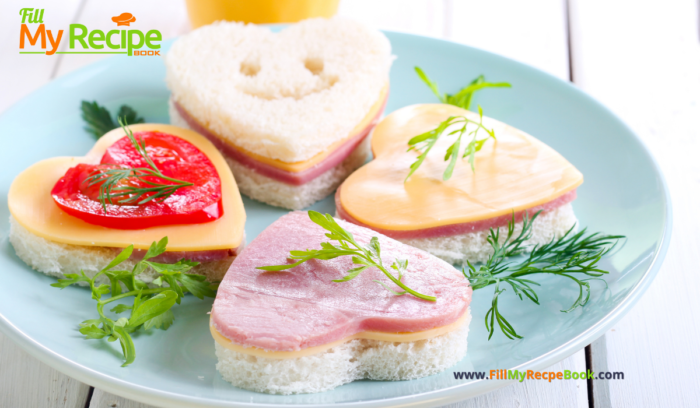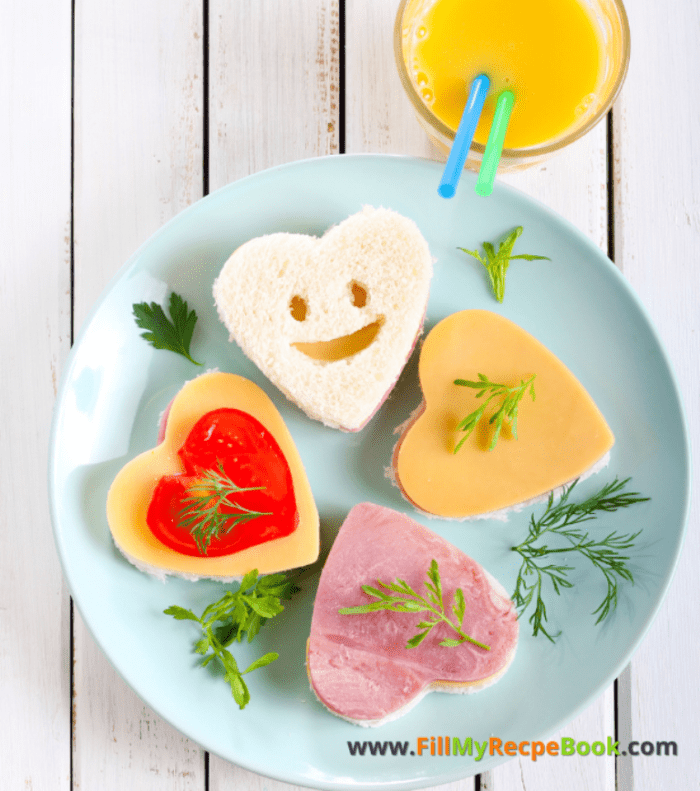 An easy recipe for anybody to make, even a child can make this for a mothers day or fathers day breakfast. Even Valentines day. enjoy
Recommendations.
(click on the highlighted headings for the recipe)
Get some great recipes here —–> 18 Mother's Day Morning Tea Ideas to spoil your mother and show how you appreciate her.
Not forgetting about Fathers Day. Make these for him.—–> 16 Fathers Day Breakfast or Brunch Recipes and for valentines day ideas —-> 16 Easy Valentine's Day Breakfast Recipes
Some ideas for a brunch. —–> 22 Tasty Brunch Recipes
and these are other recipe ideas to try —-> 18 Yummy Fat Free Recipes
Here we share recipe ideas to create for —-> 21 Quick and Easy Snack Recipes
the kids will love these —-> 24 Christmas Snacks for Kids Recipes
Some ideas for a beach snack —–> 20 Easy Beach Snack Ideas Recipes
These recipes are easy and simple enough for kids to make.—-> 22 Easy Recipes Kids Can Make
and these ideas —–> 16 Easy Valentines Snacks Recipes and Get these recipe ideas to create for valentines —-> Easy Valentines Treats to Choose.
Print
Easy Heart Sandwiches Ideas.
Easy Heart Sandwiches ideas. How to make these heart shaped sandwiches of love for Valentines or snacks, safe for kids with a cookie cutter.
Author:
Prep Time:

20 min

Total Time:

20 min
Ingredients
Loaf of bread (sliced)
Cookie cutter (heart)
Sliced cheese (of your taste)
cold meat 
Tomato
Cucumber
Butter (to butter bread slices)
Fresh herbs for greenery.
Any eats you would love and enjoy for a sandwich.
Instructions
Press out the heart shape on each slice of bread.
Butter the heart pieces.
Cut out the heart shapes on the cheese and cold meats and any other sandwich eats you would love to place on the heart shaped sandwiches.
Decorate the heart sandwiches with some pretty and edible eats like olives or tomatoes or even some tomato sauce or mayonnaise. In a decoration style.
Place the heart sandwiches on a decorative plate and add some greenery (parsley) as well to brighten up the plate.
Serve with your favorite juice or if its preferred coffee and tea.
Best to put all this together on a tray. with a flower. (this is if its for a special someone and an occasion like valentines day)
Notes
These heart sandwiches can be made to your preference of eats.
Keywords: Easy heart sandwiches for valentines day
get some savory treats or snacks here below.
Making something special for a special day be it Fathers or Mothers or Valentines day then here are some ideas below.
10 Fathers Day Breakfast or Brunch Recipes
mini lemon curd filled meringue
Even Tarts and cakes
Blissful no bake custard milk tart
A quick super chocolate cake.
7 minute chocolate cake and a few others.
Many more No Bake Stove Top Recipes and other Recipes to choose from.
download some FREE Printables here for kitchen chart help and planners for households for meals and shopping as well. Not forgetting the rest time when you not cooking, so download some coloring pages to relax.