Marshmallow Fridge Cake Biscuits recipe idea for a dessert. A No Bake stove top recipe with biscuit and condensed milk, coconut coated.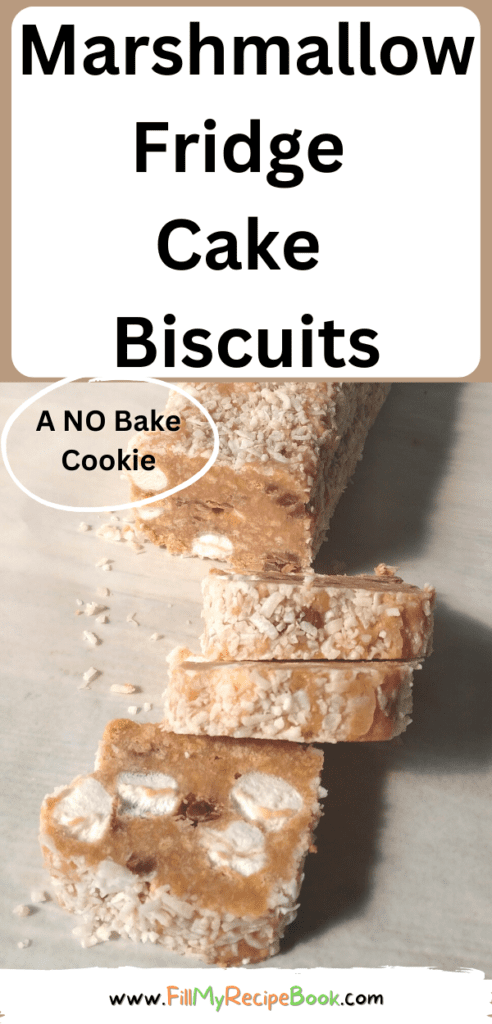 Marshmallow Fridge Cake Biscuits
Easy marshmallow fridge cake biscuits recipe idea to create and chill in the fridge to enjoy for a treat or a snack. Coated with coconut and sliced to show the small marshmallows in the middle. A quick no bake stove top recipe to put together for the kids. A crowd pleaser with soft texture, kept in the fridge for when a treat is needed. A hit with the adults as well, taste almost as if you have dates in, but rather pleasing.
How long does biscuit cake last in fridge?
A cake that needs to keep its shape needs to keep chilled in the fridge, and it should, if it lasts, keep for 2 weeks. This is not a large roll for biscuits, but you could not eat more than about 3, at a time. Not terribly sweet but surely hits a tasty note.
Can I freeze biscuit cake?
These fridge cake biscuits can be kept chilled until eaten. That about 2 – 3 days. 😊 Otherwise they can be frozen wrapped in wax wrap and foil or placed in a sealed container for at least 2 months.
What is a good substitute for biscuits?
Any healthy snacks to use instead of biscuits.
pecan nuts
rice crispies, or other
dried fruit chopped
crisps
malt or chocolate biscuits
marie biscuits, or graham crackers, or tennis biscuits.
For other filling ideas use small chopped dried fruits or colorful soft sweets and marshmallows. Even chopped up nuts, bits of biscuits.
Make a few different truffle balls with broken or crushed biscuits, with different flavors.
Ingredients
biscuits, tennis or graham crackers or coconut biscuits crushed. 250 g, 9 oz
11/2 stick butter unsalted 113 g, melted
1/2 tin of condensed milk 200g, 7 oz
3/4 cup of small marshmallow 150g
1/4 cup of small chocolate chips
1/2 cup of fine desiccated coconut
wax wrap
View the recipe attached for the instructions on how to make this no bake stove top fridge biscuit recipe.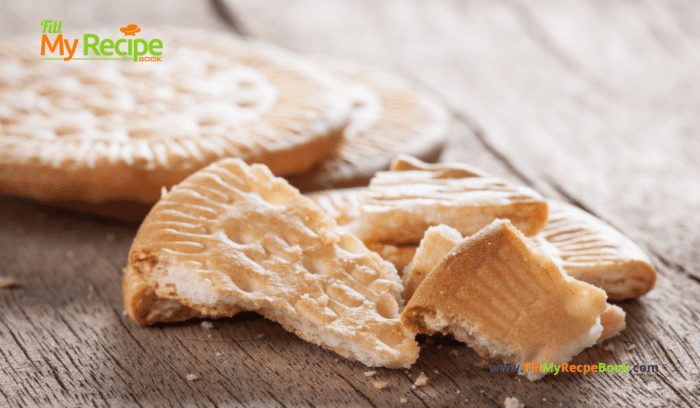 Biscuits crushed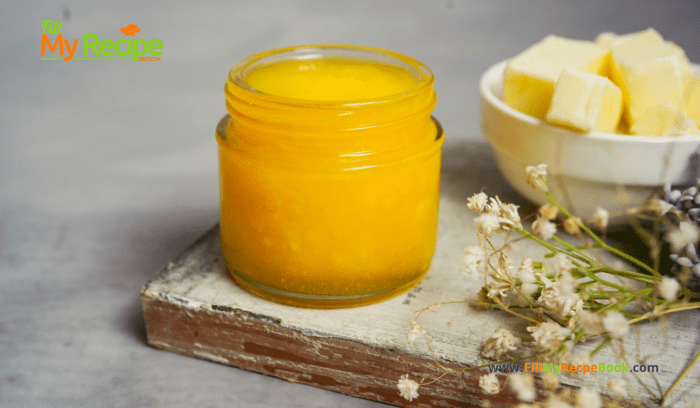 Butter melted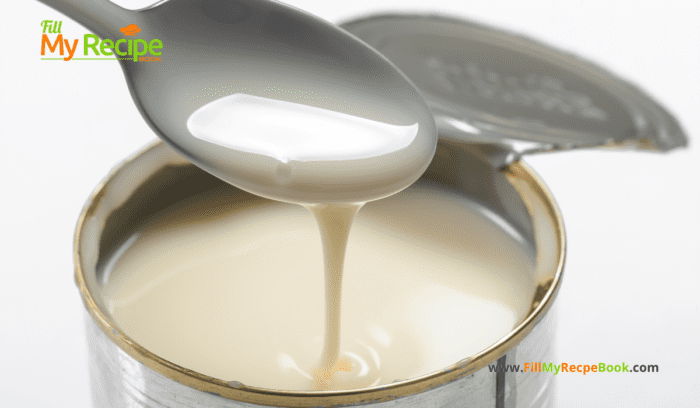 Condensed milk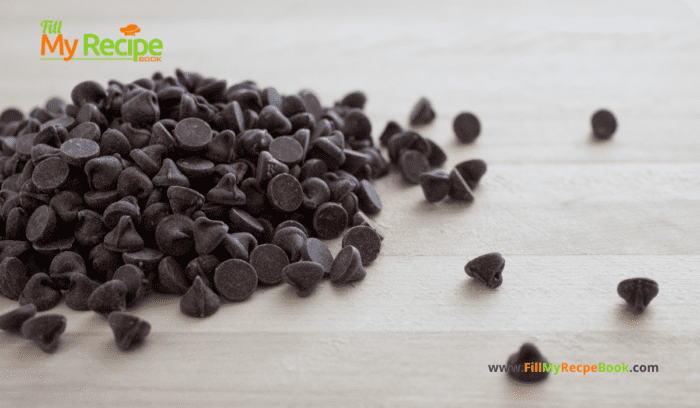 small chocolate chips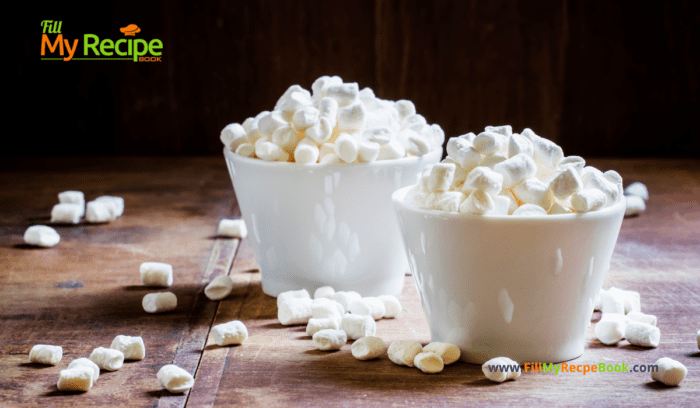 Small marshmallow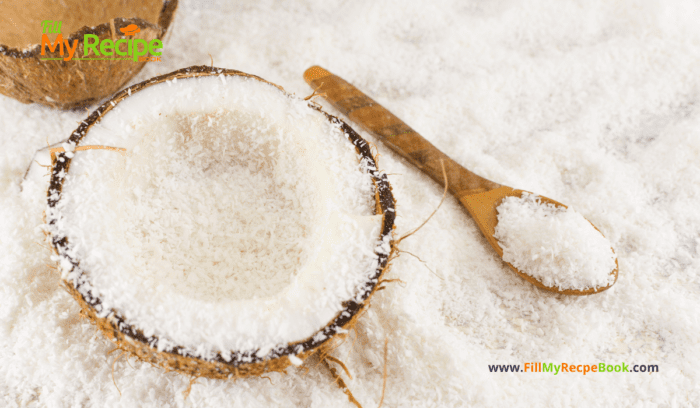 Desiccated coconut
How To
Cush the biscuits and melt the butter, then add it to the crushed biscuits and mix well. Add the half a tin of condensed milk to the biscuit mix and mix that all together.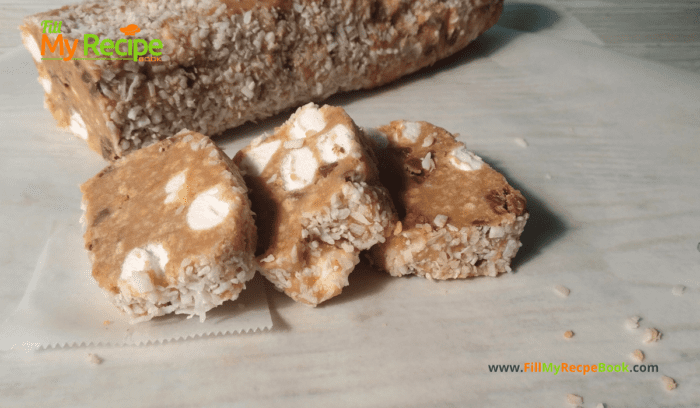 Small marshmallows and tiny chocolate chips are added to this biscuit base. Mix them in with a spoon.
Roll the mixture out onto a wax proof paper and pat it into a long roll.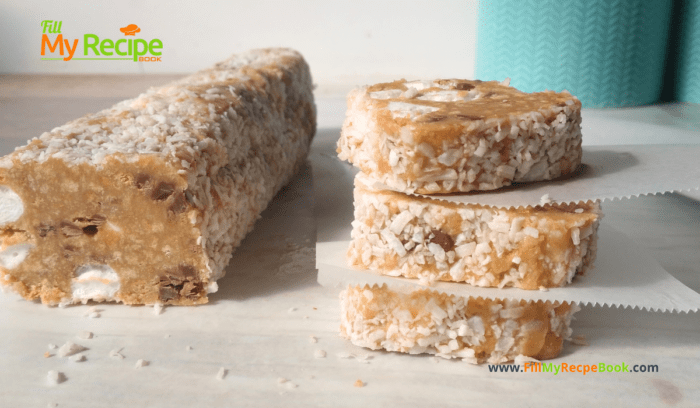 Cover with the fine desiccated coconut all over and around the roll. Pressing it into the biscuit mixture. Wrap the wax paper around the roll and close as tight as you can be twisting the ends.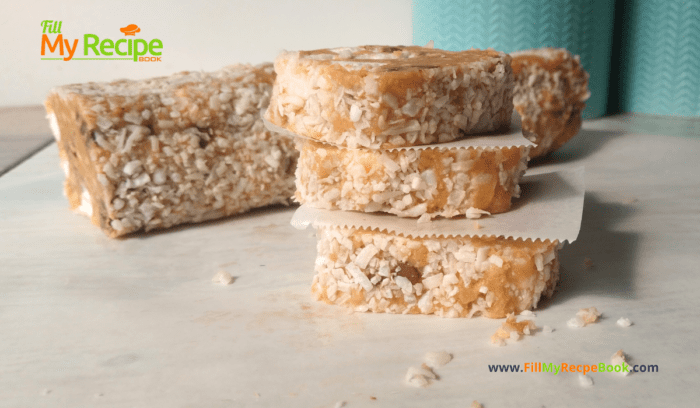 Place this roll to chill in the fridge for at least about 4 hours until firm and set. If needed faster place in the freezer for about half an hour.
Take it out and slice into slices needed to serve for a treat. Kids will love this snack. They love the small marshmallows inside as well. Another alternative is to use colorful marshmallows or soft sweets.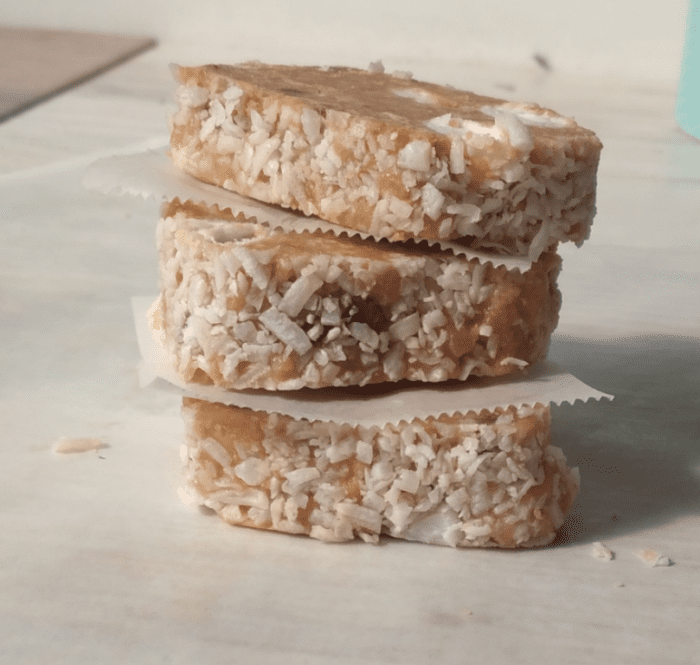 Recommendations
(click the highlighted heading for the recipes)
More cookie or biscuit recipes that include chocolate chips or other chocolate in them —-> Satisfying Chocolate Biscuit Recipes and Chocolate Chip Oat Cookies and Almond Butter Cookies & White Chocolate and Popular Family Butter Biscuits
A few fridge tarts or desserts to keep chilled —-> 11 Easy Fridge Tarts and Simple Fruit Skewers Appetizers and Raspberry White Chocolate Truffles and Tasty No Bake Tiramisu Tart and Chocolate and Peanut Butter Balls and Peanut Butter Caramel Brownies and Healthy Chocolate Avocado Mousse and Blissful No Bake Custard Milk Tart and Chocolate Raspberry Cheesecake Parfait and Tasty Syrupy KoekSisters and Best Homemade Milk Tart and a few different Easy No Bake Truffles Recipes
Here are 28 rather awesome accessories to use in the kitchen! We might not NEED some of these, but they are hard resist!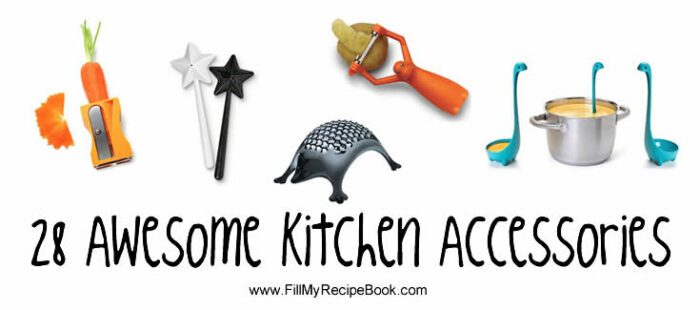 Print
Marshmallow Fridge Cake Biscuits
Marshmallow Fridge Cake Biscuits recipe idea for a dessert. A no bake stove top recipe with biscuit and condensed milk, coconut coated.
Author:
Prep Time:

15 min

Cook Time:

4 hrs chill time

Total Time:

1 hrs 15 min.

Category:

Desserts, fridge biscuits

Method:

Stove top No Bake
Ingredients
250 g

(

9 oz

) biscuits crushed (use tennis biscuits or graham crackers or coconut biscuits or even marie biscuits)

1 1/2

( 113 g) stick butter unsalted, melted

1/2

tin (200g, 7 oz) of condensed milk

3/4 cup

(

150g

) of small marshmallow

1/4 cup

of small chocolate chips

1/2 cup

of fine desiccated coconut
wax wrap
 
Instructions
Crush the biscuits, either with a roller or a cup, even a small chopping cutter. Add to a medium bowl.
Melt the butter and add to the crushed biscuits. Mix them well.
Add the 1/2 tin of condensed milk and mix these altogether.
Add the marshmallows and small chocolate chips(optional)
Mix them together with a spoon.
Cut a piece of wax paper and add this mixture to it. Pushing together to form a roll.
The desiccated coconut should be fine. Add to the roll of biscuit on all sides equally, press it into the roll.
Cover the roll with the wax paper as tight as possible and twist the ends closed.
Place in the fridge to chill for at least 4 hrs. to set.
Or the freezer for at least more than half an hour until set.
Open the wax paper up and place on a cutting board, slice in about 1-2 cm thick slices and serve.
a pleasing treat for the kids and all.
Keywords: Marshmallow Fridge Cake Biscuits recipe