Simple Fruit Skewers Appetizers recipe idea with a yogurt dip. A homemade fruit snack or dessert that is kid safe, a platter for a party.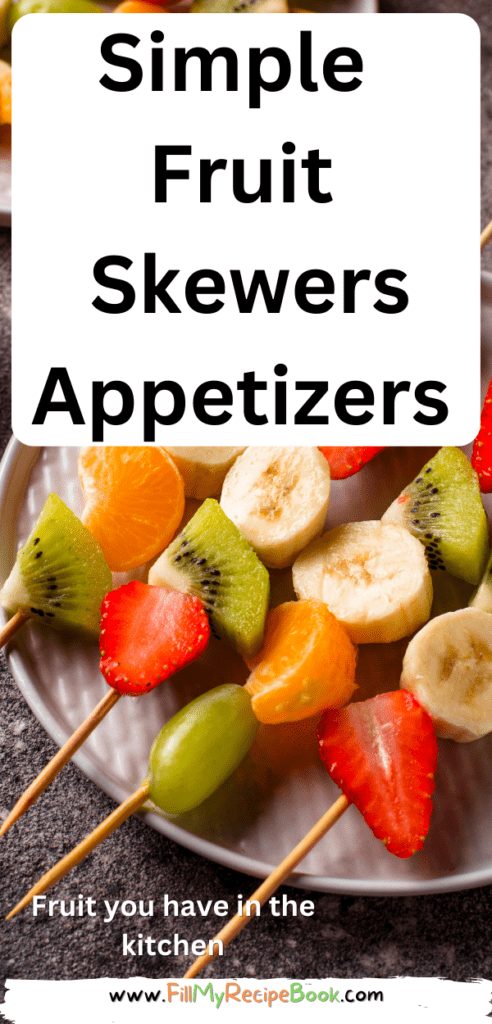 Simple Fruit Skewers Appetizers
Make these sweet and simple fruit skewers appetizers for a dessert or healthy snack. An easy recipe idea to create with the fruit you have in your kitchen. Nothing fancy and a no bake recipe you do not have to cook at all. Serve with a bowl of yogurt for a dip if anybody would like to enjoy it that way. Serve for a kids party or snacks at home or even for the holidays.
How do you keep fruit kabobs from turning brown?
You can squeeze some lemon juice immediately after you cut certain fruits up, for them not to go brown. All fruits such as apples and banana and pear and others that would go brown.
What fruit can you cut the night before?
melons, watermelon,
cantaloupe
honeydew
mangoes
pineapples
These can all be cut at least 3 – 4 days before and kept in a sealed container in the fridge.
How do you display small fruit kabobs?
A simple way to arrange these fruit kababs is on a platter on lettuce or kale. Otherwise you can add them to a vase or a basket and let them stand like flowers or have them stuck in a water melon or other fruit for a better display. On a long or round plate with a bowl of yogurt dip in the middle and have the kebabs around the edges easy to be picked up.
Ingredients
banana
strawberries
grapes
kiwi fruit
naartjie (mandarin)
Greek yogurt for dip.
Get the recipe idea ingredients and instructions from the recipe attached.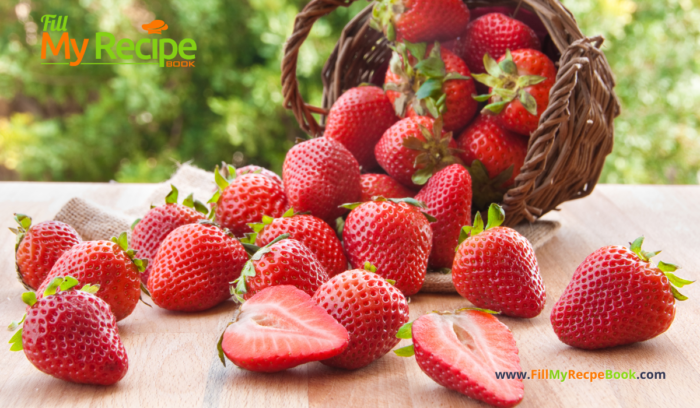 Strawberries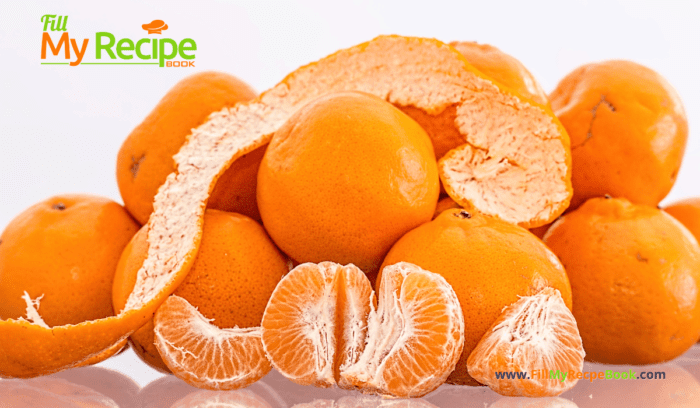 Naartjies (mandarin)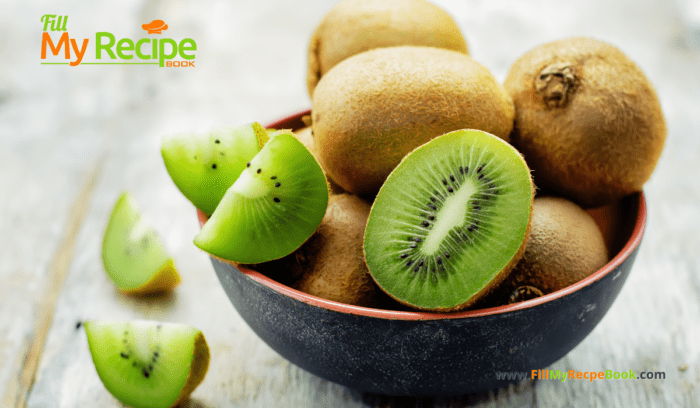 Kiwi fruit
Grapes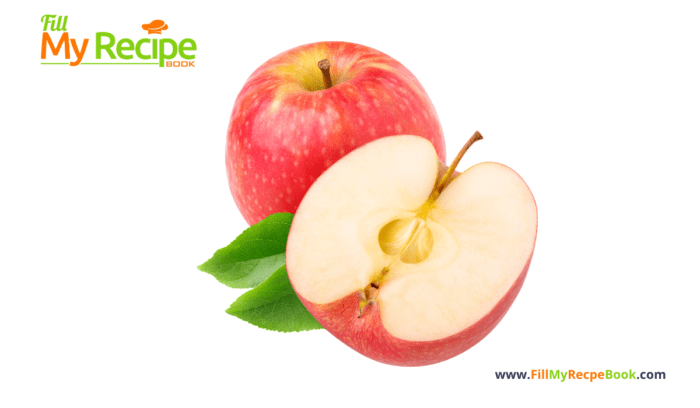 Sweet apple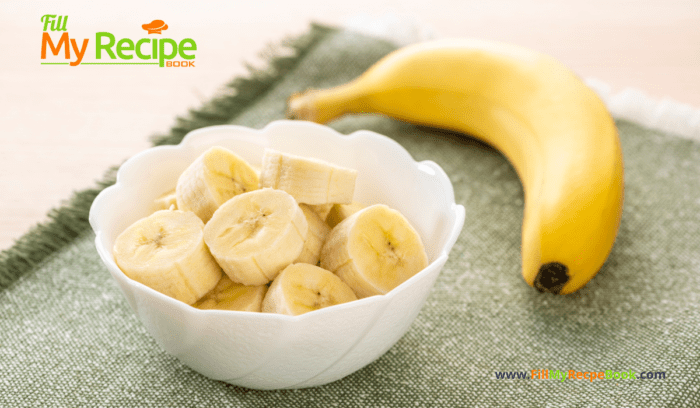 Banana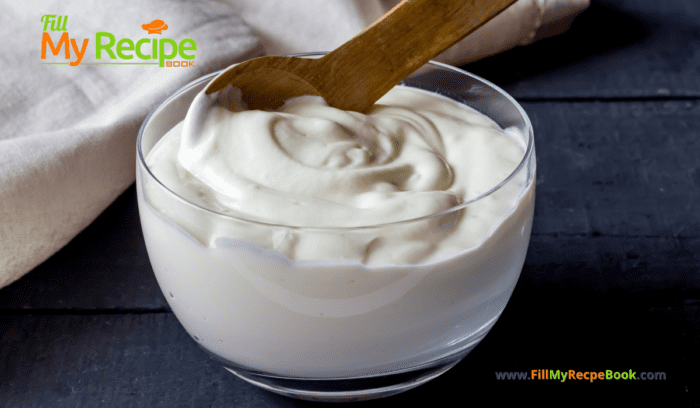 Greek yogurt
How To
Using the simple but fruit you would have in your home. This is an idea for a sweet fruit appetizer to dip in some healthy Greek yogurt as a dip.
Cut or slice the fruit in big, but small enough slices or pieces to just have a bite size appetizer on a skewer. Add them one piece at a time on the skewer, in any order. But a different one each time.
Follow the instructions on the recipe attached.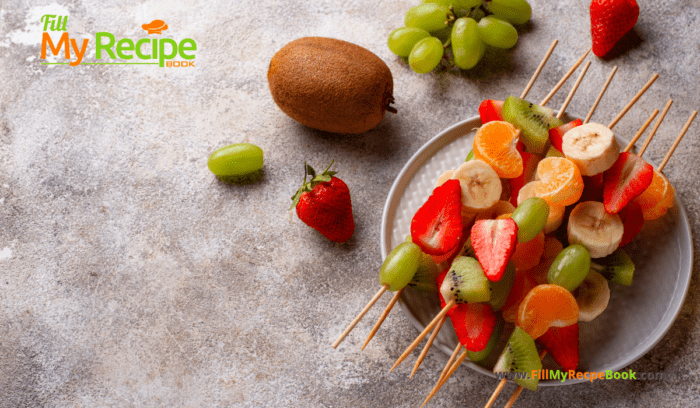 A colorful fruit kebab to enjoy for a sweet healthy snack. Some of the fruit can be made ahead of time and kept in the fridge chilled but sealed. The other option is to cut up or slice the fruits ahead of time and keep in a sealed container chilled to put together to serve. To keep the apple and banana from browning add some lemon juice straight away after cutting. I would recommend only cutting up the apple and banana when you put these fruit skewers together, but still dip or add them in lemon juice first.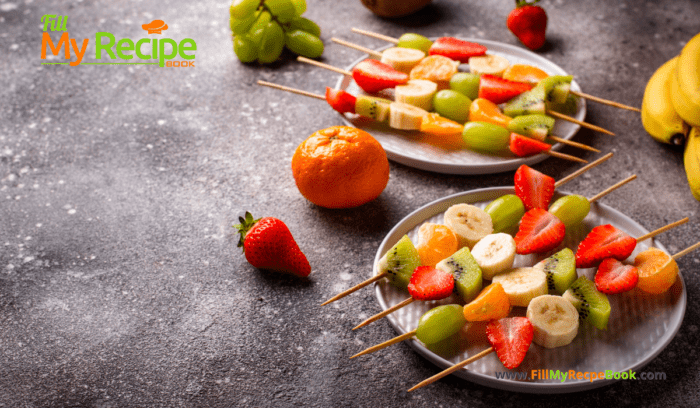 These fruits are sweet and balance out the flavor for this fruit kebab appetizer.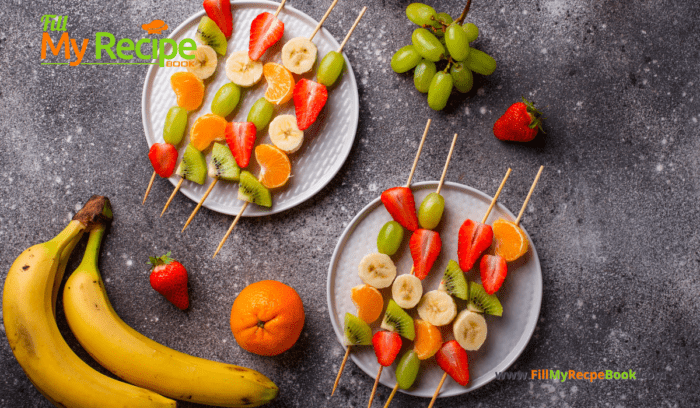 The fussy kids should want to eat these as they a visually attracting them to the snack. Healthy fruit snack is what you would want to give your children.
Some fruits are round and then the strawberries are heart shapes and then the curved shapes of the naartjie or mandarin, oval shapes of the grapes give the fruit kebab more attraction and height.
You know what they say about food, its what the eye sees that attracts you to eat it.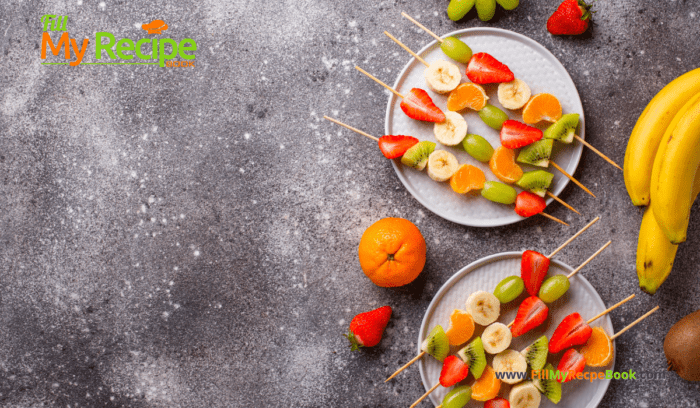 Recommendations
(click the highlighted heading for the recipe)
A fresh summer salad with watermelon idea —-> Fresh Summer Fruit Salad
A few fridge tarts or desserts to keep chilled —-> Marshmallow Fridge Cake Biscuits and 11 Easy Fridge Tarts and Raspberry White Chocolate Truffles and Tasty No Bake Tiramisu Tart and Chocolate and Peanut Butter Balls and Peanut Butter Caramel Brownies and Healthy Chocolate Avocado Mousse and Blissful No Bake Custard Milk Tart and Chocolate Raspberry Cheesecake Parfait and Tasty Syrupy KoekSisters and Best Homemade Milk Tart and a few different Easy No Bake Truffles Recipes
Get inspired to create some toothpick mini appetizers —-> Mini BLT Toothpick Appetizers and Easy Savory Toothpick Appetizers Ideas and Easy Toothpick Vienna Cheese Appetizer and Mini Caprese Salad Skewers and Watermelon and Melon Balls Appetizers and Mini Salami Feta Peach Skewer
Make these summer fruit dishes recipe ideas top —-> Fresh Summer Fruit Salad and Easy Fresh Fruit Salad
Get more skewer appetizers recipe ideas to create —-> Amazing Skewer Appetizers Recipes
Here are 28 rather awesome accessories to use in the kitchen! We might not NEED some of these, but they are hard resist!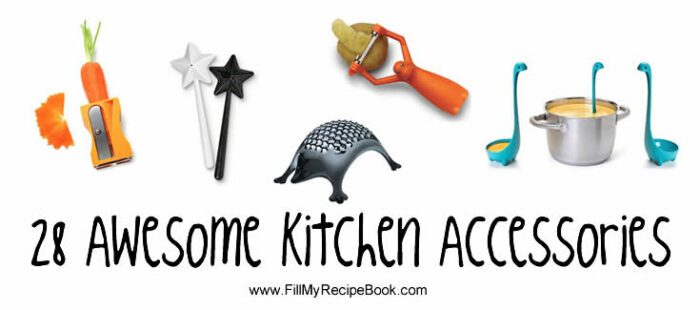 Print
Simple Fruit Skewers Appetizers
Simple Fruit Skewers Appetizers recipe idea with a yogurt dip. A homemade fruit snack or dessert that is kid safe, a platter for a party.
Author:
Prep Time:

10 min

Total Time:

10 min

Category:

Desserts, appetizer, snack

Method:

no bake stove top
Ingredients
bananas cut in about a 1/2 inch or a cm slice. (big enough not to fall of)
strawberries cut in half
green or red grapes cut in half
kiwi fruit cut in bitable size pieces
sweet apple cut into pieces to bite sizes
naartjie, mandarins a piece with skin of or not.
Greek yogurt for dipping fruit skewers in. (optional)
Make as many fruit kebab appetizers as you want, there is no quantity stipulated in this recipe.
Instructions
Wash all fruit and cut into good sizes to have as a bitable appetizer and thick enough to not fall off of the skewer.
Add the fruit one at a time on the skewer, adding a different one every time. Adding about 5 – 6 pieces.
Alternating the color fruit are good on the skewer, for a more pleasing appetizer.
Place these skewers on a dish or nicely in a bowl to serve.
Add the Greek yogurt to a bowl in the middle of the dish for a dip.
Keywords: Simple Fruit Skewers Appetizers