Mini Caprese Salad Skewers recipe idea for an appetizer, using cocktail toothpicks for a finger food, served with a reduced balsamic vinegar.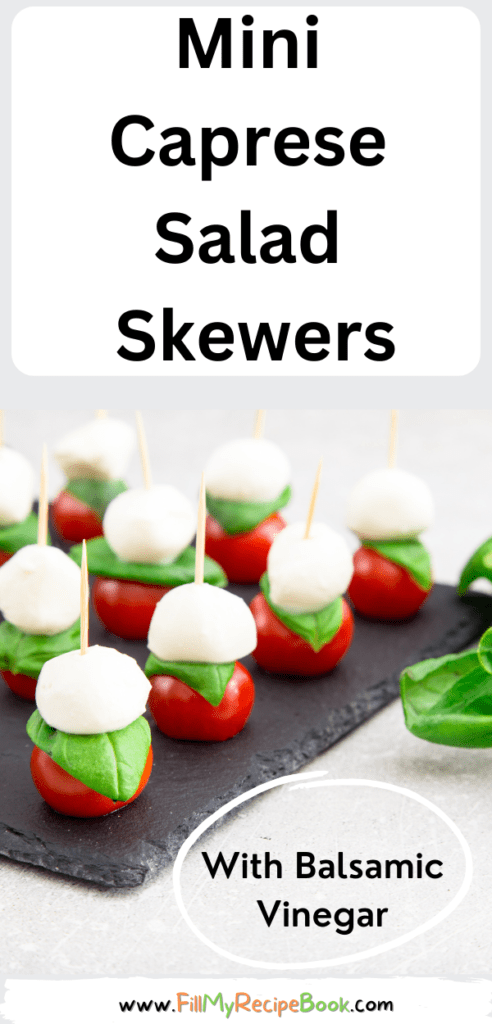 Mini Caprese Salad Skewers
For a tasty and easy appetizer make these mini caprese salad skewers for a recipe idea for a crowd or family get together. Adding a glazed balsamic reduced sauce for extra flavor. A no bake recipe idea that is just one bite and small finger food salad, presented as buffet appetizer on cocktail sticks or toothpicks. Making this an easy to take mini bites with no mess or fuss. A savory appetizer to go with other sweet treats or snacks.
What can I use instead of balsamic vinegar in Caprese salad skewers?
If you would prefer to use something else that balsamic vinegar, then use apple cider vinegar or red wine vinegar with some sugar or honey. The ratio of 1 tablespoon to 1/2 teaspoon of sweetener. Otherwise using olive oil with salt and pepper is just as great. Evan an Italian vinaigrette will be fine as well as soy sauce.
What can I use instead of basil in Caprese salad?
Baby spinach is a great substitute for the fresh basil in a dish where fresh leaves would be served. It provides a similar color and texture and taste to the basil.
What type of basil is best for caprese?
Any type of basil is good to use in a caprese salad or skewer recipe, although it does get recommended that you use sweet basil leaves.
What can I substitute for Caprese cheese?
Feta can be used instead of mozzarella in salad recipes.
Provolone cheese.
Mild Gouda or edam cheeses make good alternatives.
Ricotta cheese.
Or even young cheddar.
Ingredients
cherry tomatoes.
Mozzarella cheese balls
Fresh basil leaves
balsamic vinegar or olive oil
toothpicks
Follow the recipe attached for the amounts and the instructions for this simple yet tasty appetizer skewers that are just one bite.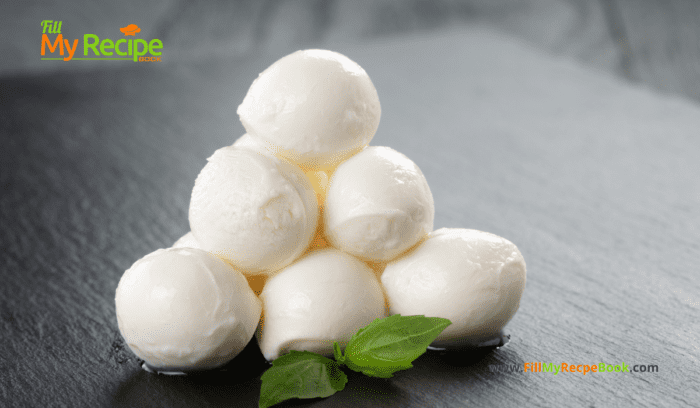 Mozzarella balls
fresh basil leaves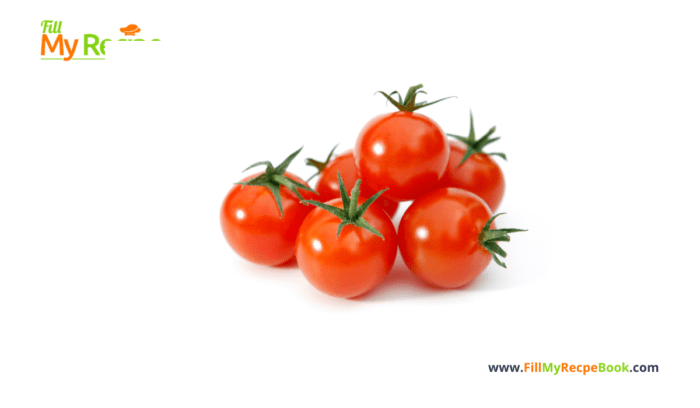 Ripe red cherry tomatoes. (use yellow one to)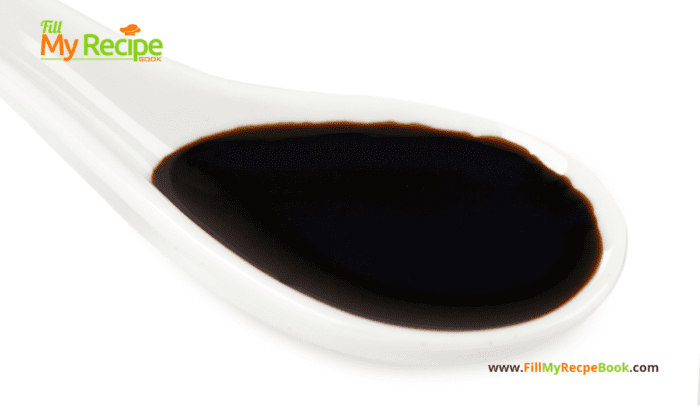 Reduced balsamic vinegar for dipping the caprese skewers in.
How To
Such an easy recipe idea to create with the three main ingredients and fresh basil leaves. Important to use the fresh basil leaves with this caprese salad skewers.
After washing the tomatoes and leaves, make round balls or other shapes you would like with the mozzarella.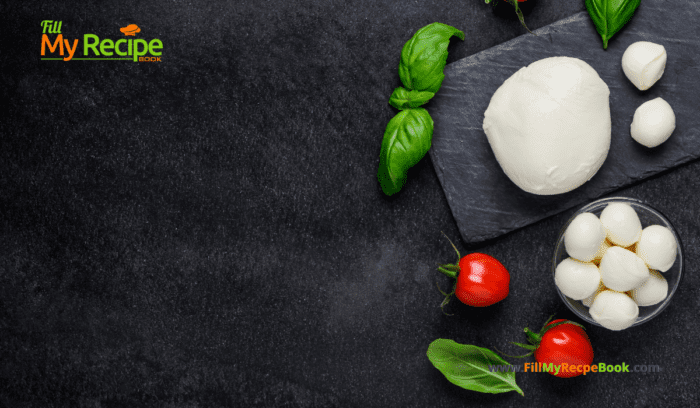 Using toothpicks or other skewers you have available. These are really bites size finger foods to serve your party people for appetizers.
Stick the toothpick through the mozzarella ball then a basil leaf and finally the red fresh cherry tomato.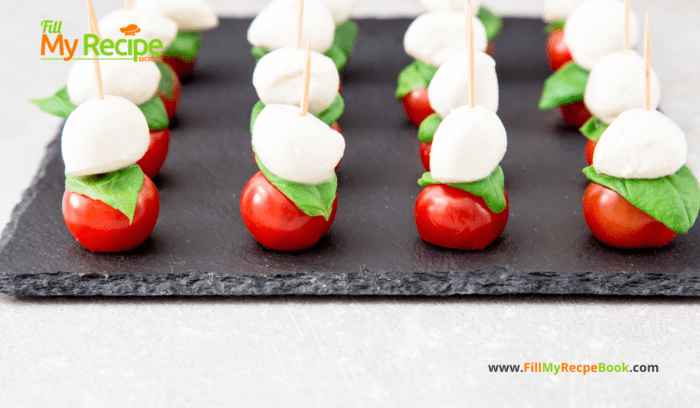 Arrange them on a beautiful serving slate in easy to reach rows for easy picking by the people. They do not want to battle to obtain an appetizer.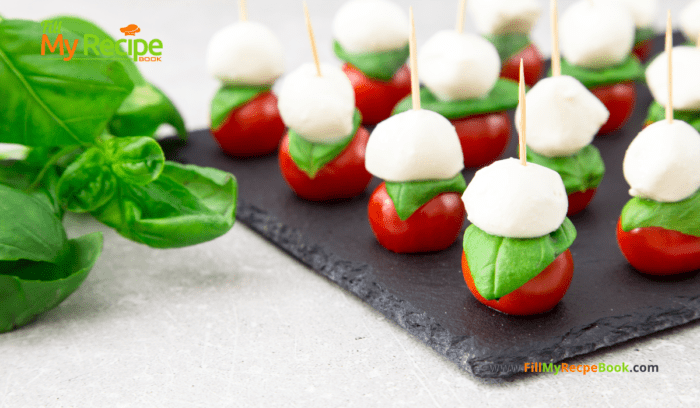 The final ingredient would be to serve separately the balsamic vinegar glaze that has been reduced in a small dipping bowl. For self service for those that would prefer to have some.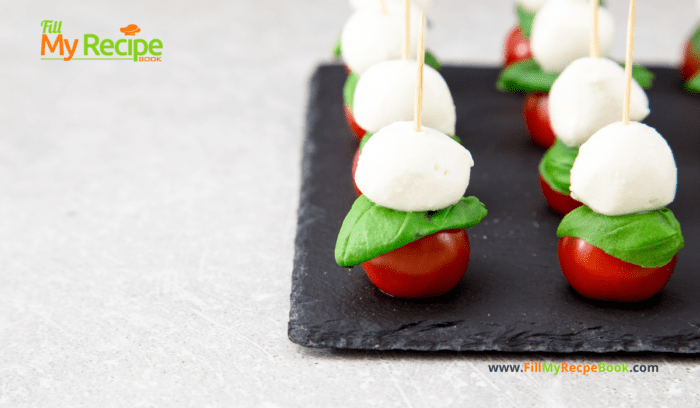 Recommendations
(click the highlighted heading for the recipes ideas)
Other mini finger food appetizer ideas to create —-> Amazing Skewer Appetizers Recipes and Mini BLT Toothpick Appetizers and Mini BLT Toothpick Appetizers and Easy Toothpick Vienna Cheese Appetizer and Simple Fruit Skewers Appetizers and Watermelon and Melon Balls Appetizers and Mini Salami Feta Peach Skewer and 24 Easy Thanksgiving Appetizers Recipes
A fresh summer salad with watermelon idea —-> Fresh Summer Fruit Salad
Purchase these from Amazon store online.
A few purchase online links of Fine Dining Dessert Serving Dishes to choose from. Fine dining desserts must be presented well.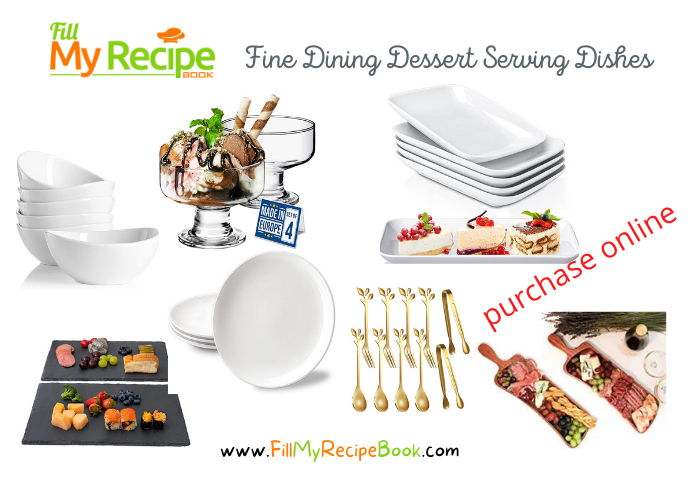 Print
Mini Caprese Salad Skewers
Mini Caprese Salad Skewers recipe idea for an appetizer, using cocktail toothpicks for a finger food, served with a reduced balsamic vinegar.
Author:
Prep Time:

15 min

Cook Time:

2 min

Total Time:

17 min

Yield:

10

Category:

appetizer or snack

Method:

Stove top No Bake

Cuisine:

Italian
Ingredients
Ripe cherry tomatoes x 10
Mozzarella cheese balls x 10
Fresh basil leaves x10 

1/4 cup

Balsamic vinegar or olive oil
Tooth picks x 10
Instructions
Wash the cherry tomatoes, and obtain some fresh washed basil leaves. 
If you do not have small round mozzarella balls then cut them to a small size.
Reduce the balsamic vinegar in a hot pan, then simmering until it thickens. To a syrup like consistency. To test its done, it will stick to the back of the spoon.
With a toothpick Firstly stick the toothpick in the mozzarella ball then add on the basil leaf and lastly the fresh rip red cherry tomato. Try getting the toothpick in the middle of the tomato so it can stand up. All nicely in the middle for a pleasing look.
Place the reduced balsamic vinegar in a bowl for dipping. Other suggestion is to drizzle the balsamic vinegar on the slate or plate so that only a little is used on each skewer. Only add the balsamic just before serving if you going to drizzle it on the plate.
On a good serving slate place the mini toothpick caprese salad skewers nicely and obtainable for the people to take one and add some dipping sauce or not.
Notes
Alternative to using balsamic vinegar, try using olive oil and salt and pepper. Or Italian dressings, and even apple cider vinegar and red wine vinegar with a little sugar or honey for sweetness. Even soy sauce.
Keywords: Mini Caprese Salad Skewers recipe
This post may contain affiliate links, where we earn from qualifying purchases. See more details in the policy page. Does not effect your purchase cost.