Fresh Summer Fruit Salad easy recipe idea. Fresh seasonal fruit cut into shapes to entice children to eat for a family summer dessert.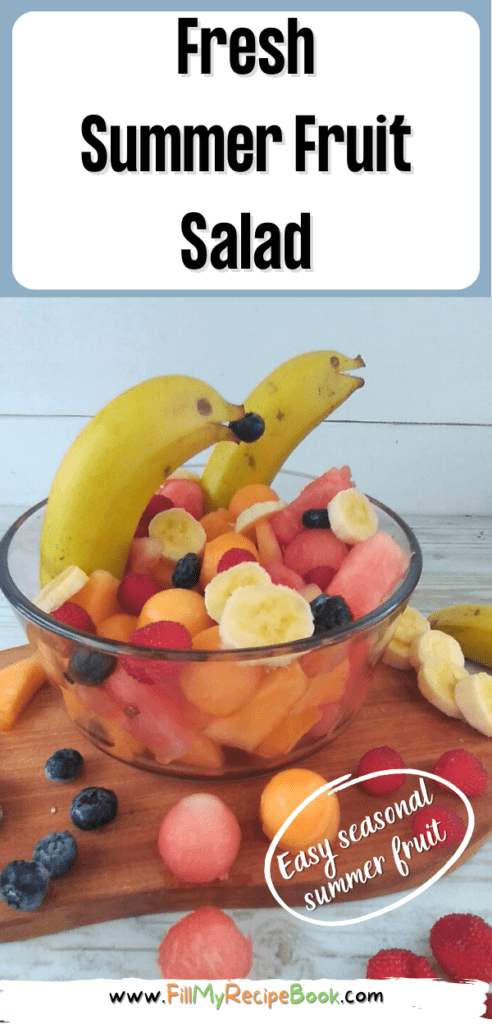 Fresh Summer Fruit Salad
An easy and quick salad to put together for the summer. Using fruit that is needed to be eaten. Cut into shapes to get the kids to eat the salad for a dessert or snack and a healthy breakfast with yogurt. Make it a fun recipe to include the kids to cut out the shapes.
What can you put into a fruit salad?
fresh clean strawberries
pineapple peeled and cored,
grapes
blueberries
kiwi fruit, sliced
Oranges peeled and segmented
mango
watermelon
sponspek
raspberries
banana
Which two fruits Cannot be eaten together?
Try not to mix acidic fruits, such as grapefruits and strawberries, or sub-acidic foods such as apples, pomegranates and peaches, with sweet fruits, such as bananas and raisins for a better digestion. However, you can mix acidic with sub-acidic fruits. For a similar reason, you should not mix guavas and bananas.
How far in advance can you cut up fresh fruit?
As long as you store them in an airtight container they should last up to 5 days in the fridge. Fruits like apples, pears, bananas and avocado are not the best candidates for slicing ahead of time since they brown. Cut them up the day you serve the fruit salad.
Should fruit be stored in plastic or glass?
While there isn't one right way to store fruit, fresh fruit can last much longer after being washed and stored in clean glass jars. When keeping fresh fruit in plastic containers and bags, it will likely decay much faster.
Ingredients.
Basically use any of the summer fruit you have in season.
Water melon
Sponspek.
Peaches
Banana
Raspberries
Blueberries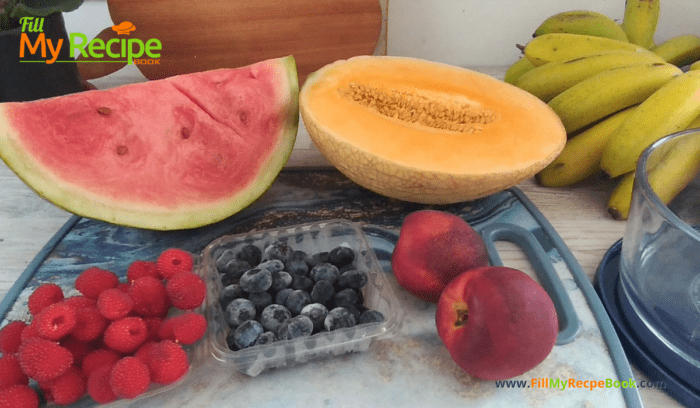 Obtain some cold fresh fruit. On the farm we have fresh raspberries and bananas, and in the fridge was these left over watermelons and sponspek, peaches and frozen blueberries. So why not use up the left over bits of fruit. Never waist food or fruit.
How To
Slice the watermelon in slices large enough to cut out hearts and stars. As goes with the sponspek. But the sponspek was not large enough for my large cookie cutters. I suggest getting smaller cookie cutters for this salad.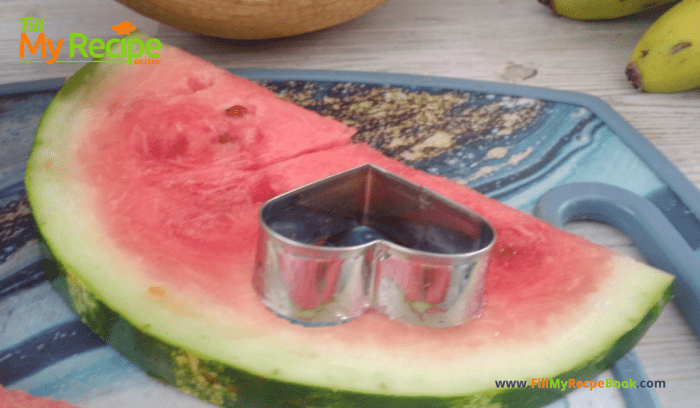 Cutting hearts and stars with a cookie cutter.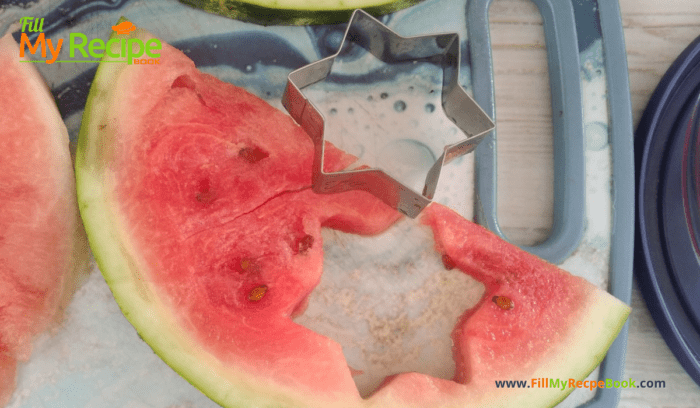 Place some of the cut fruit in a bowl to mix and serve.
With a ball cut out tool. make some balls with the sponspek and watermelon. The cookie cutters where to large for these pieces.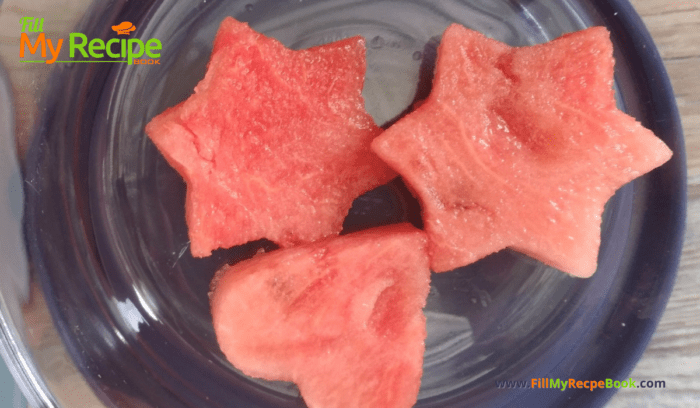 All these fruits make a healthy breakfast served with Greek yogurt.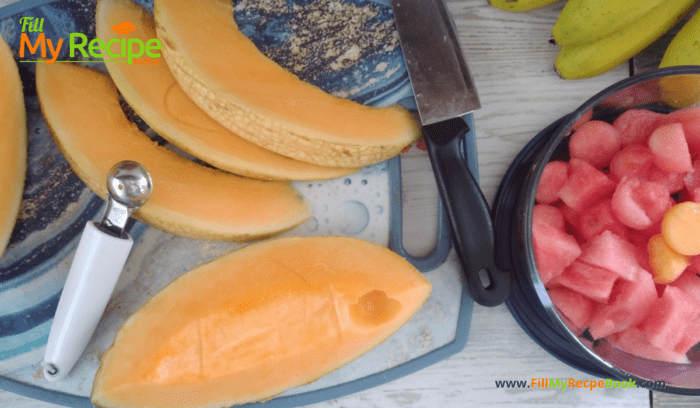 So other than just making round small balls, some triangles where cut and some squares also. Making them to entice a child to eat.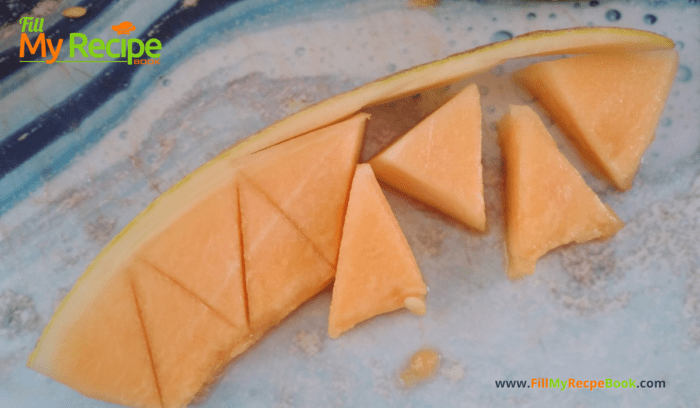 Cut out pieces filling the bowl.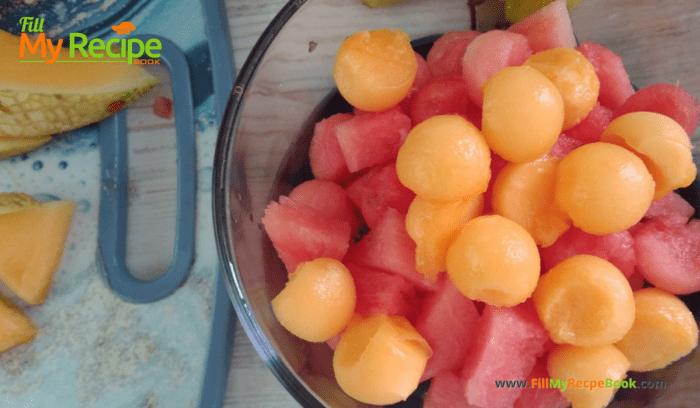 To attract children we cut a little mouth on the ripe bananas to resemble a dolphin. One has a blueberry in its mouth. Color the eye in with black. They are so attractive.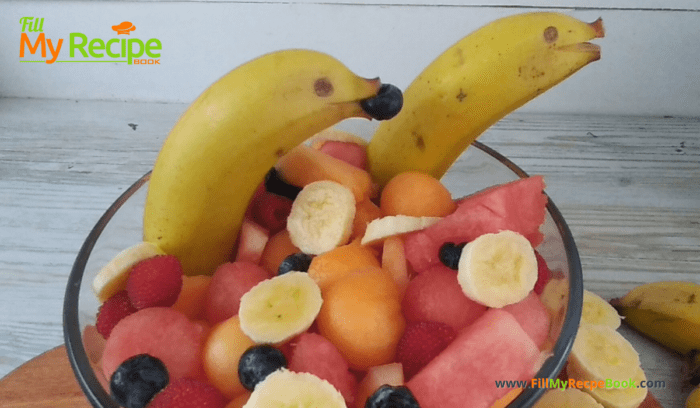 A bowl of fresh cut fruit for a summer fruit salad. Cold and juicy. Sweet enough to eat just like that.
Serve with.
some ice cream
cream
even some evaporated milk (ideal).
For a healthy breakfast add the fresh fruit cut up with full cream Greek yogurt.
Tastes good.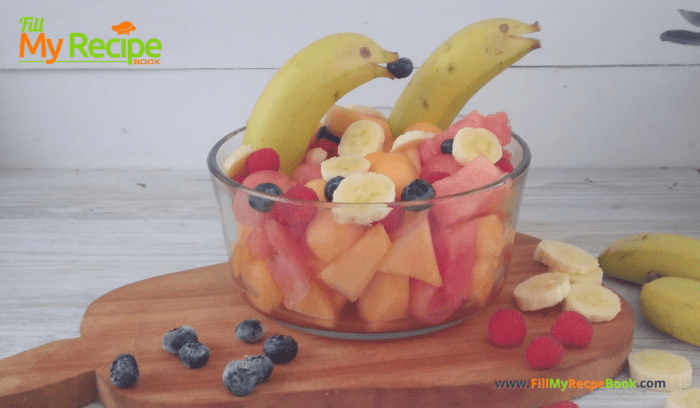 Recommendations
(click on the highlighted headings for the recipe)
A recipe for fresh fruit on skewers —-> Simple Fruit Skewers Appetizers
Make this recipe ideas as well. —-> Easy Fresh Fruit Salad
as well as get ideas to create more —-> 11 Mouth-Watering Fruit Salad Recipes and —-> 12 Healthy Fruit Salad Recipes
Recipe ideas to use fruit —-> 30 Ideas for Fruit Recipes
Print
Fresh Summer Fruit Salad
Fresh Summer Fruit Salad easy recipe idea. Fresh seasonal fruit cut into shapes to entice children to eat for a family summer dessert.
Author:
Prep Time:

20 min

Total Time:

20 min

Category:

Desserts, salads

Method:

no bake

Cuisine:

South african
Ingredients
Fresh or pieces of watermelon
Fresh or pieces of sponspek
Blueberries
Raspberries
Banana
peaches
Instructions
Cut the watermelon in slices to cut out shapes with a cookie cutter. (smaller cookie cutters will work better)
Use a small ball cutter to scoop our balls from the sponspek. Also cut triangles or squares from the sponspek. If possible use smaller cookie cutters for hearts or stars.
Slice some bananas and place all of these in a bowl to mix up. Only add the bananas when you serve the fruit salad, as they might brown if kept for a day.
Wash and place fresh collected raspberries in the bowl as well.
Use frozen or fresh blueberries in the bowl to.
Nectarines left over where cleaned and sliced into the salad.
Mix up the fresh fruit and serve for a fresh cool fruit salad for a dessert
Add ice cream or whipped cream, or evaporated milk (ideal milk)
Notes
Serve with.
1.  ice cream 2.whipped cream 3. evaporated milk. 4. Greek yogurt for breakfast
Use any fresh or cold fruit available for the season or that is left over and has to be eaten.
Keywords: Fresh Summer Fruit Salad