Make this Easy Scrambled Eggs on Toast recipe idea for a healthy filling breakfast. A versatile recipe to add vegetable, grated cheese.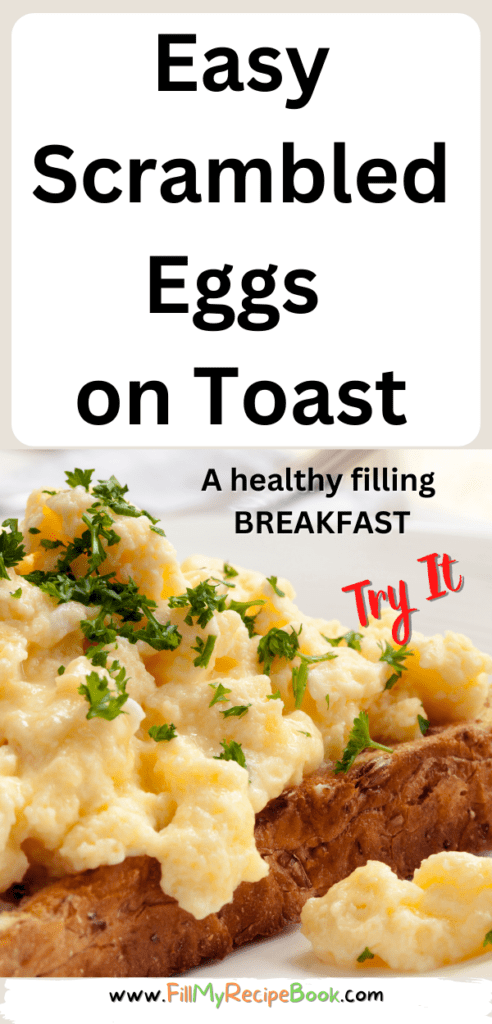 Easy Scrambled Eggs on Toast
A versatile easy scrambled eggs on toast recipe idea to create for many occasions. Family breakfast for Fathers or Mothers Day or even Valentines day. It very filling and healthy you can add any other ingredients in the scrambled eggs. Such as garlic powder or turmeric. My way of adding herbs and spices needed for your health and fussy eaters would not even know. Sprinkle with grated cheese to add more to the dish. Fry tomato and mushroom for sides or eat with bacon. So delicious.
Do I need to add milk to scrambled eggs?
This is an optional step to add water or milk or cream to the scrambled eggs. As this effects the texture of your finished dish. Cream will make it richer. You add milk for a creamy texture of one tablespoon to one egg ratio. For a fluffier texture you would add one tablespoon of water per egg mixed.
Is scrambled egg on toast good for you?
Eggs provide a source of protein and fats, where as healthy wholewheat breads are a source of carbohydrates. Together they provide good nutrients that will provide you with a healthy and very filling meal.
What is the best thing to add to scrambled eggs?
Try adding fresh vegetables, herbs, cheese, mushrooms and spices to this dish. Other sides would include sauté or raw tomatoes, and bacon or sausage and even baked beans. Extra toast buttered with jam as an extra larger breakfast. Even goat cheese or gruyere and sauté some onion.
What are 3 tips for making perfect scrambled eggs?
Do not crack the eggs in the pan, do it in a bowl.
A silicone spatula or egg lifter is the best tool to use to mix up the egg.
Cook it slow and keep a watch not to overcook.
It is a fast meal and will only take a minute or two. Get all your ingredients ready and plan your cooking. Serve warm with side and hot drink.
Ingredients
eggs
milk
olive oil
sat and pepper, lemon pepper
View the recipe attached for the full amounts of the ingredients needed and instructions on how to easily cook them.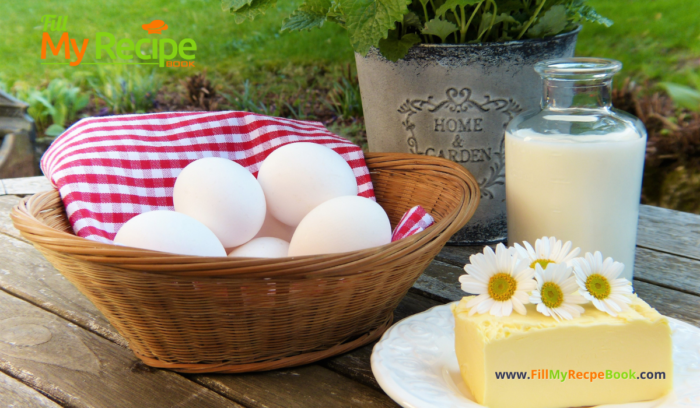 eggs and milk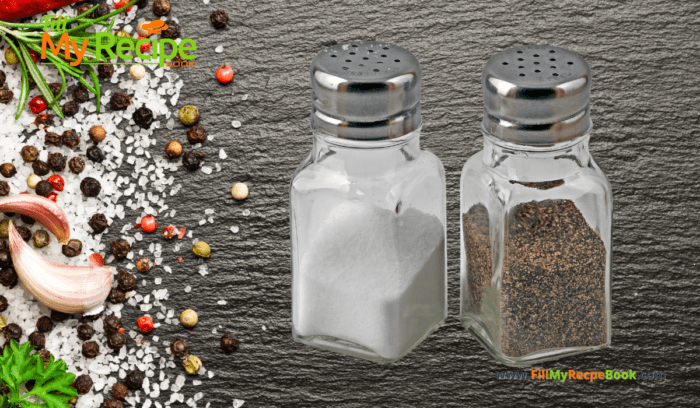 salt and pepper and little olive oil
How To
In a medium bowl break open the eggs into the bowl, adding the measured milk and salt and pepper.
Whisk until all combined and in a frying pan, add a little oil just at the bottom. Then add the egg mix and let cook for a few seconds, then with an egg lifter mix and stir the scrambled egg up until cooked. As simple as that.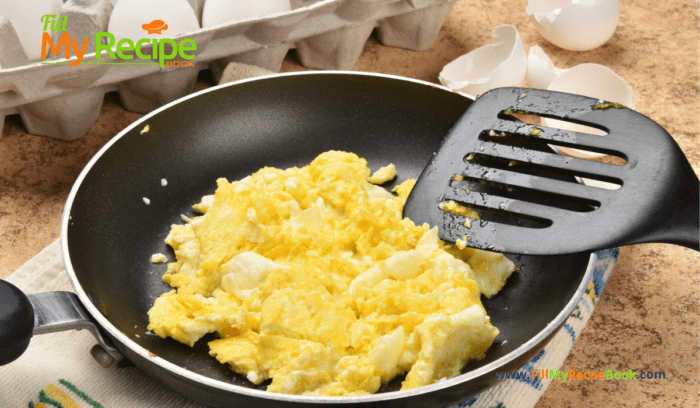 The toast should of been toasting in a toaster while you cook the eggs.
Sprinkle with herbs of choice.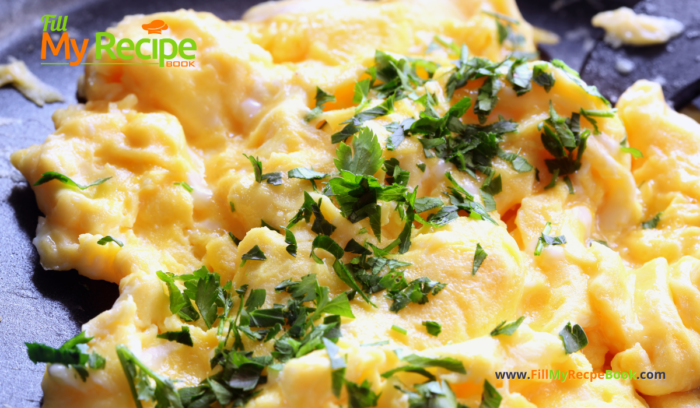 Butter the toast and add the scrambled egg on top with chopped herbs. Serve for a breakfast with tea or coffee or even orange juice.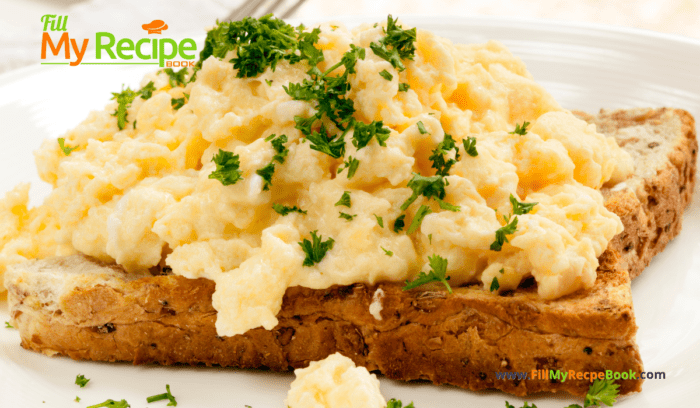 Add some side dishes on the plate such as sauté tomatoes or even mushrooms or bacon.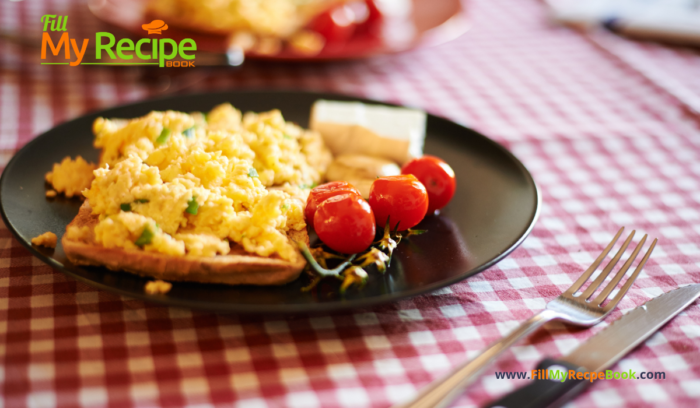 Ideas for Additional side dishes.
Top with grated cheese
Fry tomatoes
Fry mushrooms
Fry bacon
Add baked beans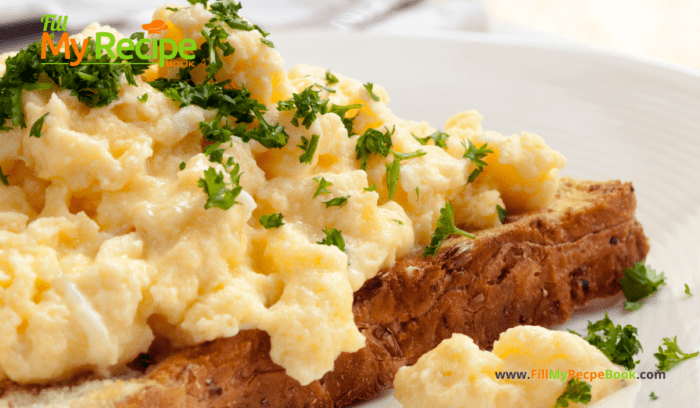 Recommendations
(click on the highlighted heading for the recipe)
Love these recipe ideas to —-> 24 Fathers Day Breakfast or Brunch
Recipes that use eggs for breakfast meal ideas to create —-> Boiled Eggs for Breakfast and Eggs Benedict Breakfast Recipe and Toad In a Hole Breakfast and Cheesy Ham Egg muffins and Traditional Irish Breakfast and Tea
Other uses of eggs for a breakfast ideas —-> Crustless Salmon and Spinach Quiche and Healthy Mushroom and Spinach Omelet and Baked Omelet with Sausage and Vegetables and Moist French Omelette Recipe and One Pan Bell Peppers Omelet and Cheese and Bacon Omelet Recipe and Healthy Breakfast Sweet Potato Hash and French Toast with Berries and Honey and Crammed Savory Breakfast Crepes
16 Eye Catching Kitchen Gadgets, made to inspire you working in the kitchen and give a lot of color and inspiration.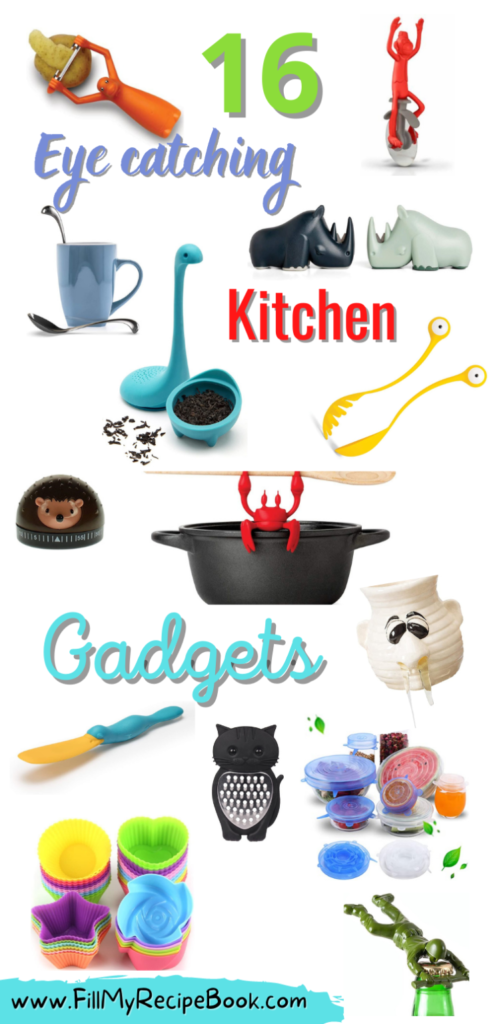 Print
Easy Scrambled Eggs on Toast
Make this Easy Scrambled Eggs on Toast recipe idea for a healthy filling breakfast. A versatile recipe to add vegetable, grated cheese.
Author:
Prep Time:

10 min

Cook Time:

5 min

Total Time:

15 min

Yield:

2

Category:

Meals, breakfast, brunch

Method:

no bake stove top
Ingredients
4

fresh farm eggs

50

ml of milk
salt and lemon pepper or black pepper
olive oil
Instructions
This recipe is for two.
Obtain a clean non stick frying pan.
Break open the eggs in a medium bowl and add the milk and the salt and lemon pepper. Whisk them until all mixed well.
Toast your slices of bread in the toaster.
Heat up the frying pan, add a splash of olive oil just to cover the base of the pan.
Pour in the whisked eggs. Leave for a few seconds until it starts to firm at the bottom of the egg mix.
Then with a egg lifter gently push the mixed eggs until all the scrambled eggs are now mixed up and cooked. It only takes a minute or two. Do not overcook.
Butter your toast and place on a serving plate.
With the egg lifter add enough scrambled egg on the toasts. This serves two people for breakfast.
Sprinkle some fresh chopped herbs of choice on top and enjoy with a cup of coffee or tea or orange juice.
If you would like to add to the breakfast meal then lightly fry some tomatoes whole or cut and serve on the plate.
A healthy very filling and easy breakfast to cook.
Notes
This is a very versatile breakfast to cook, as you can add cheese on top or add bacon and other veggies as well as bell peppers, or even some sauté mushrooms.
Keywords: Easy Scrambled Eggs on Toast recipe idea