Toad In a Hole Breakfast recipe idea. An easy breakfast with bacon and shaped hole in the toasted bread with a fried egg in the middle.
Toad In a Hole Breakfast
Fry this toad in a hole breakfast that is quick and easy. A toasted slice of bread that has a cookie cut out shape in the middle, with a soft fried egg in it. A great simple meal with bacon for the morning. Easily made for any light meal on a week day or weekend. A no bake stove top recipe idea.
What are other names for toad in the hole breakfast?
This american dish is using toast and and egg is called toad in the hole. But it is also called Egg in a basket, egg in a hole, or egg in a hat.
What do you eat toad in the hole with?
You can eat this breakfast with bacon and salad or fried or fresh tomato and avocado. With a cup of coffee or tea or juice. Makes a special breakfast for mothers day or fathers day or valentines day.
Is it egg in a basket or egg in a hole?
Egg in a basket is a fried egg that is situated a hole in a slice of bread. It's basically eggs and toast but made all in one pan (no toaster involved).
Ingredients
Only needs a few ingredients and is a quick and easy recipe idea for a breakfast.
slice of bread
egg
butter
bacon
Get the amounts on the recipe attached and the instructions.
How To Make
Obtain your two slices of bread of choice. Choose the healthiest bread such as brown or wholewheat bread. OR white bread if you prefer.
Use a cookie cutter to cut the shape you would like out of the middle of the slices.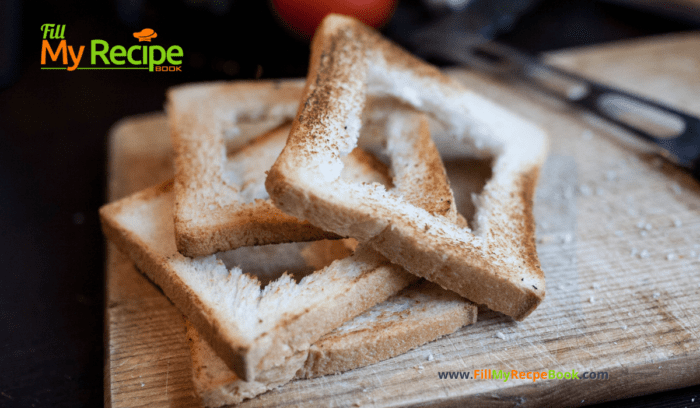 In a heated frying pan with butter sauté the bread slices on one side. Turning it over to add the egg.
Below is another idea of what shapes to cut out and to use for other occasions for special breakfasts. A mother or fathers day or a valentines day.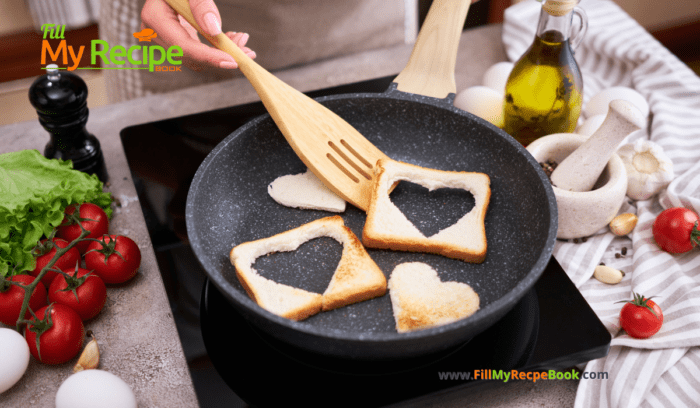 Adding the egg in the middle of the slice. Placing the lid on the pan and leaving the egg to cook for two to three minutes until done.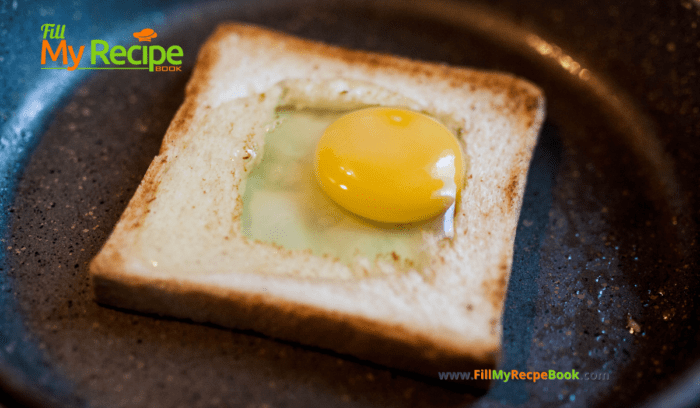 If preferred also sauté your bacon strips before hand. Using some of the bacon fat with some butter added to suite the bread slices. (less butter if you have enough bacon fat.) Bacon fat will give them a better flavor.
Other fats to use are:
butter
bacon fat
olive oi
fats
If you want this breakfast to suite a vegetarian then leave out the bacon and the fat.
A simple and quick breakfast with egg and bacon on a butter fried slice of toast.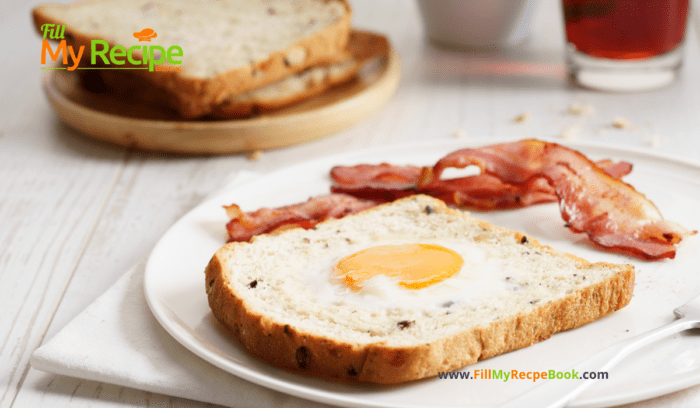 Serve with other toasted breads and coffee or tea or juices for a delicious easy breakfast that a kid would make and to suite a fussy eating child. The cut outs with different shapes will entice the child to eat.
Recommendations
(click on the highlighted heading for the recipe)
Get more recipe ideas to create for fathers day —-> 24 Fathers Day Breakfast or Brunch
Few recipe ideas to create for —-> 22 Easy Mothers Day Breakfast Recipes
Get these easy breakfast recipe ideas to create —-> Easy Scrambled Eggs on Toast and Traditional Irish Breakfast and Tea and Eggs Benedict Breakfast Recipe and How to Cook Basic Oat Breakfast and Lemon Cream Cheese Danish Breakfast and Easy Muesli Yogurt Parfait Breakfast and Chocolate Banana Breakfast Smoothie and Avocado on Toast Breakfast Ideas and Healthy Breakfast Sweet Potato Hash and Cinnamon Roll Breakfast Casserole and Crammed Savory Breakfast Crepes and Breakfast Banana Muffins and Cheesy Ham Egg muffins and Easy Ham and Cheese Croissants . and Vetkoek Bacon Egg with salad Filling and Traditional Irish Breakfast and Tea
Print
Toad In a Hole Breakfast
Toad In a Hole Breakfast recipe idea. An easy breakfast with bacon and shaped hole in the toasted bread with a fried egg in the middle.
Author:
Prep Time:

10 min

Cook Time:

5 min

Total Time:

15 min

Yield:

2

Category:

Meals, breakfast

Method:

Stove top No Bake

Cuisine:

American
Ingredients
2

slices of brown toast (or wholewheat or white)

2

eggs
Tablespoon of butter

4

slices of Bacon (optional)
salt and pepper
Instructions
Take your two slices of brown bread and with a cookie cutter shape of choice, cut out the middle of the slices of bread with it. Place aside.
Fry the bacon strips and leave the bacon fat in the pan. (optional)
In a heated medium frying pan, add the butter or use with the bacon fat and swirl the melted butter around the pan. Add the cut out pieces of bread and the cut out shapes on the butter and brown a little on one side. (this is if you want the bacon with the meal, or a vegetarian friendly meal)
Turnover the toasted bread in the buttered pan and remove the cut outs. Break the egg into the middle and place the lid on the pan. Cook the egg until soft and done. Maybe 2 – 3 minutes. Until you can see its done.
With an egg lifter, scoop out the toasted egg bread onto a serving plate. Salt and pepper it.
Place the bacon next to the fried toad in the hole breakfast. serve.
Notes
The fats that can be used are butter, bacon fat, olive oil, other fats or oils.
Keywords: Toad In a Hole Breakfast