Breakfast Banana Muffins Recipe idea. Baked with ripe mashed banana for a easy healthy brunch or tea snack, full of protein and fiber.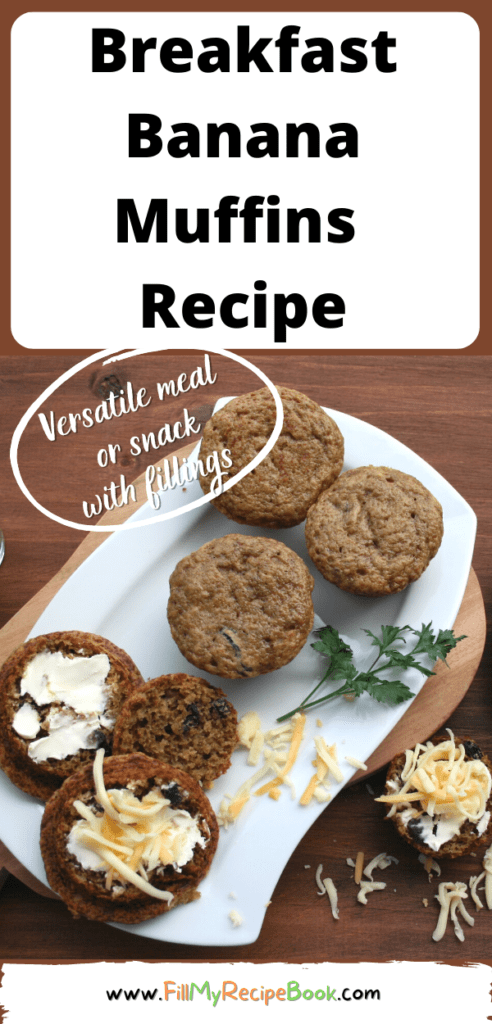 Breakfast Banana Muffins Recipe
Amazing easy and healthy Breakfast Banana Muffins recipe idea. A good base to add ingredients, can be quit filling. They have good protein and fiber for a healthy meal or snack. In my recipes I use organic and healthy ingredients when I can. Oven bake for a breakfast or brunch and snack. They are a very versatile muffin recipe and you can add other ingredients to make them interesting. Make them ahead for when you need them.
Why is banana muffins are good?
Banana Nut Muffins are a good source of Omega 3 and fatty acids and filled with vitamin B, and essential minerals. You will also gain carbohydrates and nutrients to get your metabolism going at the beginning of the day.
Is muffin healthier than cake?
Cake batter contains for fat and sugar than a muffin batter. So because of this muffins are healthier than cake. The ingredients are similar but the proportions used will make the muffin healthier.
How are muffins best served?
Serve muffins either warm, cooled or reheated. They keep well and do not need to be refrigerated, unless they contain ingredients that are perishable. Kept frozen in a sealed container or freezer bag for a month to three months. Left to get to room temperature before use.
What are some mistakes to avoid when making muffins?
do not overmix the batter
not greasing or lining the muffin pan
do not overfill the muffin cup, fill to 3/4 full
do not overbake or under bake the muffin, the test knife should come out clean.
Do not leave the muffins in the pan to cool for to long. A few minutes is good as this will help the mixture to settle and come out easily with out break up.
Ingredients
mashed ripe bananas
flour, baking powder, salt
eggs
vanilla essence
brown sugar
olive oil
View the recipe attached for the amounts and suggested added ingredients below.
Added Suggestions
I love to be able to make these banana muffins with the banana's that are over ripe.
You can add in the raisins which make a more filling muffin.
Then cinnamon is my add in as well, as it helps those who have diabetes keep their sugar levels lower.
Chocolate chips
Cocoa powder.
Nuts
We live in south america, Ecuador. Therefore I find the flour to be very different and I use panella brown sugar.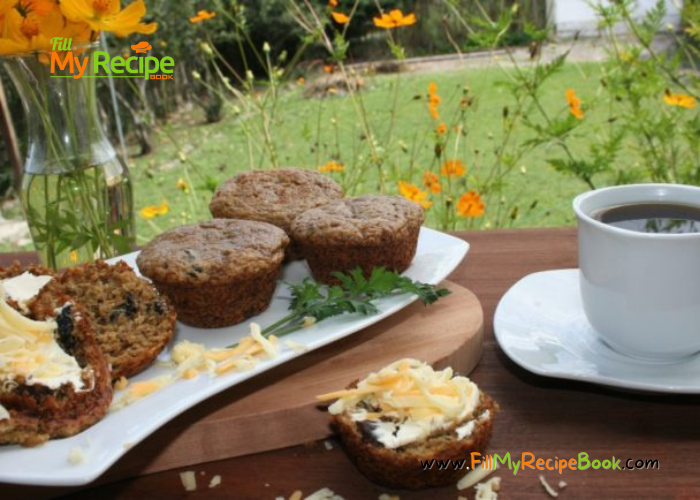 How To
Mix the ingredients together according to the recipe attached.
Greasing the muffin pan then adding the muffin mixture to them and baking in a preheated oven until done. Test if they are cooked.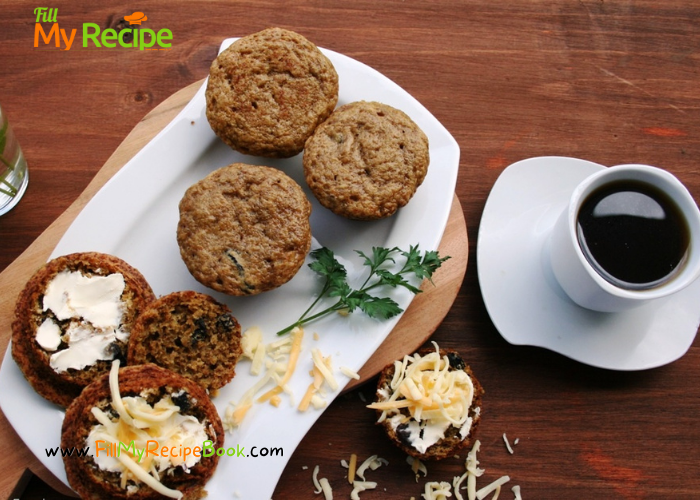 Cooling
Once the muffins have baked, leave them in the muffin tray for at least 15 minutes to cool.
Then you can egg them easier out of the muffin cups without breaking.
Leave to cool on a cooling rack. Before trying to cut and butter them, as they will fall to pieces if you try while they are warm. When the muffins are cool enough you can slice them in half and spread fillings on them. Such as soft butter or cream cheese spread. Add some grated cheese to. Dot with jam or jelly.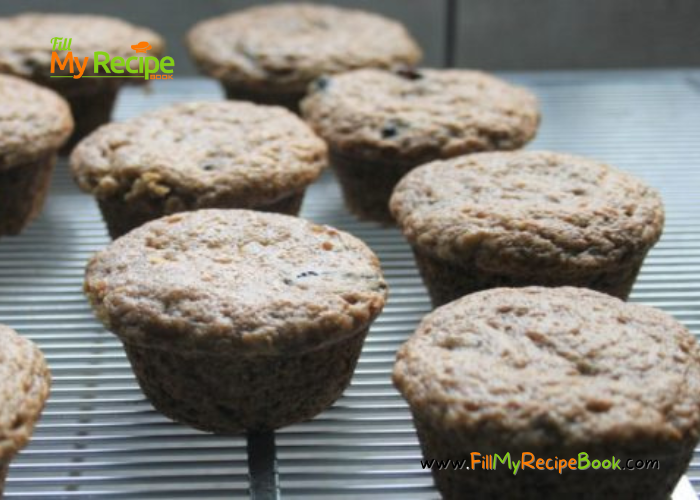 These filling banana muffins are so delicious and make a great breakfast or brunch.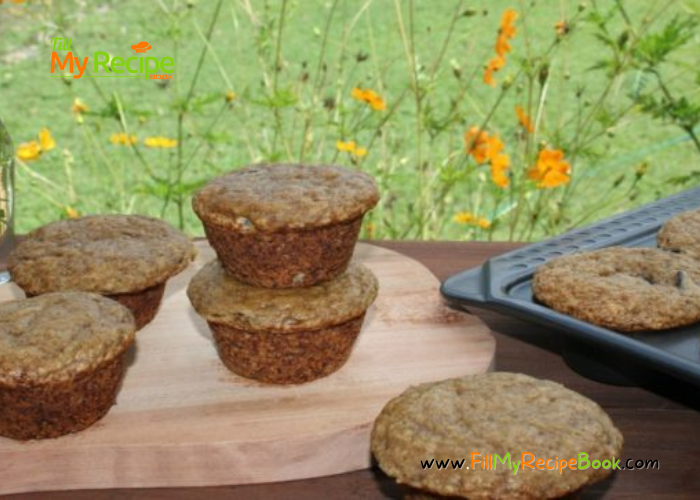 Recommendations.
(click on the highlighted heading or the recipe)
View this cream cheese icing and also make this Tasty Moist Carrot Cake. 
Looking for some recipes for special occasions such as —–> 24 Fathers Day Breakfast or Brunch Recipes.
Get these easy breakfast recipe ideas to create —-> Traditional Irish Breakfast and Tea and Toad In a Hole Breakfast and How to Cook Basic Oat Breakfast and Easy Muesli Yogurt Parfait Breakfast and Eggs Benedict Breakfast Recipe and Crammed Savory Breakfast Crepes and Lemon Cream Cheese Danish Breakfast and Avocado on Toast Breakfast Ideas and Healthy Breakfast Sweet Potato Hash and Cinnamon Roll Breakfast Casserole and Easy Ham and Cheese Croissants and Chocolate Banana Breakfast Smoothie and Cheesy Ham Egg muffins and Vetkoek Bacon Egg with salad Filling
Spoil mother on the special day recipe ideas —-> 22 Easy Mothers Day Breakfast Recipes
Create Brunch or breakfast for easter weekend recipe ideas —-> 26 Easter Breakfast or Brunch Ideas
Create more muffins that use banana and those that don't. —-> Easy Chocolate Banana Muffins and Scrumptious Banana Oat & Honey Muffins and Oat Raisin & Date Muffins and 12 Healthy Zucchini Muffins and Gluten Free Zucchini Muffins and Amazing Pecan Crumb Muffins and Divine Oat and Chocolate Muffins and Simple Crumbed Pecan Muffins and Tasty Banana Blueberry Muffins and Cheesy Ham Egg muffins and Fresh Homemade Raspberry Muffins
Get more of these tasty muffin recipes here—–> 8 Tasty Muffins Collection and these —–> 8 Healthy Oat Muffin Recipes and other recipe ideas —–> 18 Easy Muffin Recipes
Not forgetting about Fathers Day. Make these for him.—–> 16 Fathers Day Breakfast or Brunch Recipes as well as these breakfast ideas —-> 20 Easy Vegetarian Breakfast Recipes and for valentines day ideas —-> 16 Easy Valentine's Day Breakfast Recipes as well as these ideas —-> 14 Valentine Family Breakfast Ideas
There are more fruit filled muffin recipes here —–> 16 Fruit Filled Muffin Recipes
and a few more —-> 25 Healthy Easy Breakfast Recipes
Get some breakfast freezable ideas —-> 17 Make Ahead Breakfast Freezer Recipes
More recipe ideas for kids —–> 20 Easy Kids Breakfast Recipes
Breakfast recipe ideas —–> 28 Easy Breakfast Ideas Recipes
Some vegan breakfast recipe ideas to make ahead —–> 15 Homemade Vegan Breakfasts Recipes
Some ideas for a brunch. —–> 22 Tasty Brunch Recipes
Get these great Christmas breakfast ideas —–> 35 Easy Christmas Breakfast Ideas and make these ahead —–> 17 Vegetarian Christmas Breakfast Recipes
Print
Breakfast Banana Muffins Recipe
Breakfast Banana Muffins Recipe idea. Baked with ripe mashed banana for a easy healthy brunch or tea snack, full of protein and fiber.
Author:
Prep Time:

15 min

Cook Time:

25 min

Total Time:

40 min

Yield:

12

Category:

Desserts, breakfast, snack

Method:

Oven Baking

Cuisine:

South african
Ingredients
125

ml of olive oil or butter melted.

2

large eggs

250

ml of brown sugar or (

1 cup

)

500

ml or (

2 cups

) of flour

4

–

6

mashed ripe bananas

10

ml – (

2 tsp

) of baking powder

5

ml – (

1 tsp

) of vanilla essence

1/2 tsp

of Himalayan salt
Instructions
Preheat the oven to 180 Deg. C
Grease muffin pans.
Beat together the butter or oil and sugar until creamy then add the vanilla essence.
Add one egg at a time mixing in well.
Sift all the dry ingredients then add this to the egg mix and mix in well.
Then add the bananas, mix all together well.
Fill the muffin pans up and bake.
Bake for 25 minutes until done and test knife comes out clean.
Leave to cool.
Serve with cheese and butter on cut halves, 
Keywords: breakfast banana muffins recipe idea
More No Bake Stove Top Recipes to choose from as well.
Download FREE Printables for kitchen charts as well as planners for household and to relax some coloring pages for adults and kids.