Tasty Moist Carrot Cake is a favorite, spiced with cinnamon and crushed pineapple, pecans and coconut. With an amazing fluffy cream cheese frosting.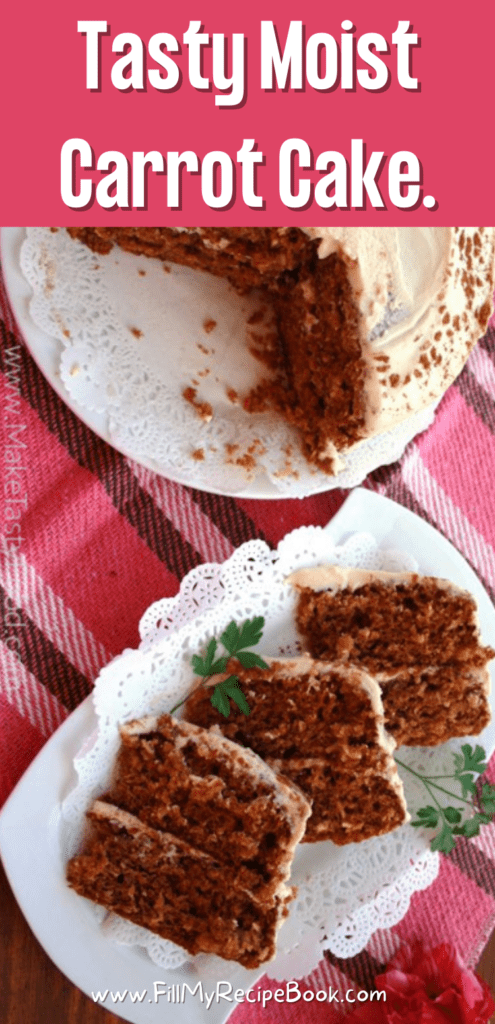 Tasty Moist Carrot Cake.
Make this carrot cake instead of all the sweat baking that is normally baked. Its delishes.
This Carrot cake is so delicious and I used some coconut sugar as well as a 1-1 ratio of flour mix and cinnamon. As we try make it more diabetic friendly.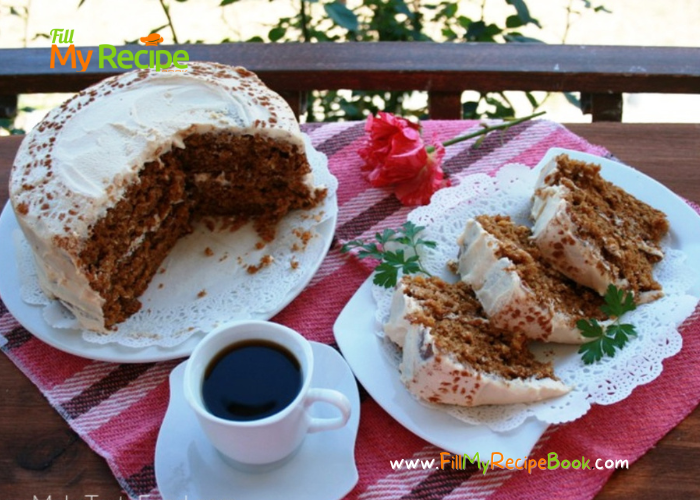 Baking. See Ingredients and recipe to do that.
There is some optional ingredients, such as pecans but I prefer not to add them, which is my preference.
Leave in the baking pans till totally cool.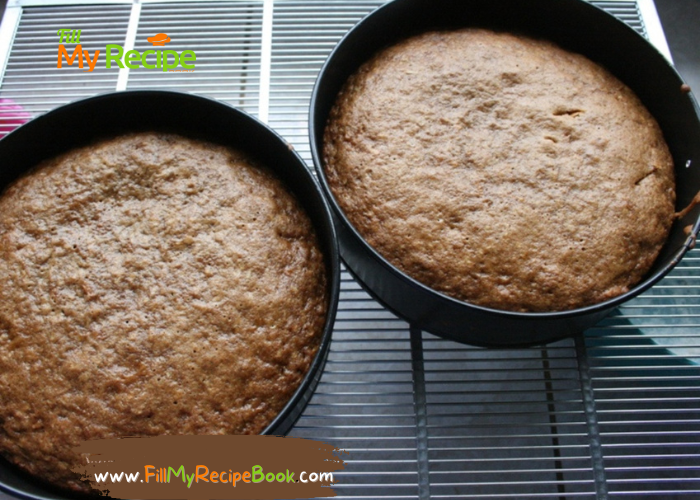 Once cool take out of the pans, leave to cool further. Carrot cake may break if handled to early.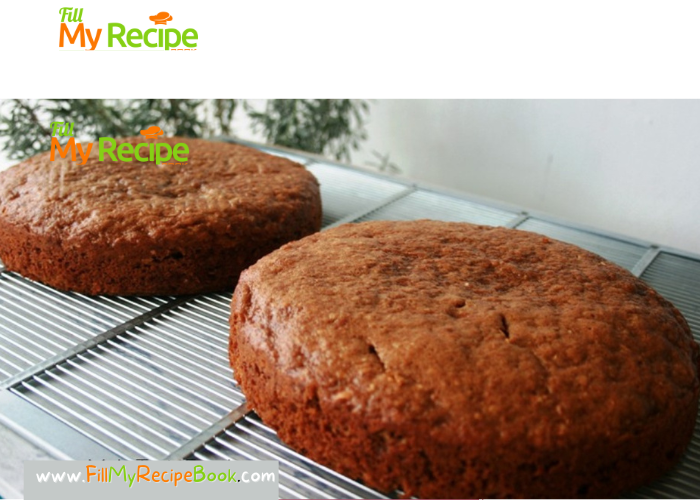 Frosting.
Frosting the cake with cream cheese frosting according to the recipe. If its a warm day you may need to keep the frosting in the fridge. As it is made of cream cheese and butter, which melts easily. Especially if you use normal cream cheese and not full cream cheese.
Once frosted you may need to keep the cake in the fridge as well.
The carrot cake was decorated with a cinnamon pattern.
Then cut and enjoy with a cup of coffee or tea.
Tasty Moist Carrot Cake, ready to eat.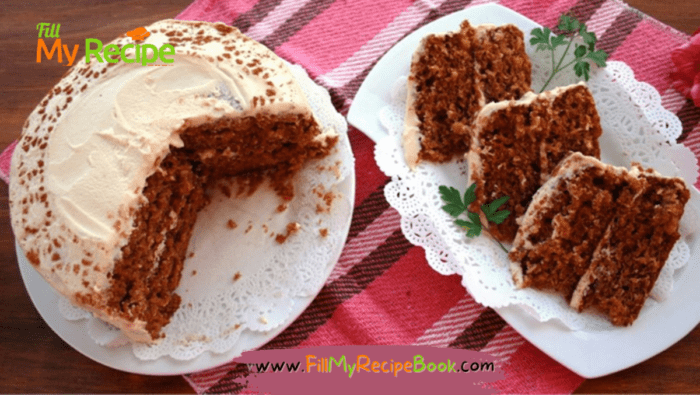 Tea or coffee on the veranda with some sliced carrot cake. Yummy.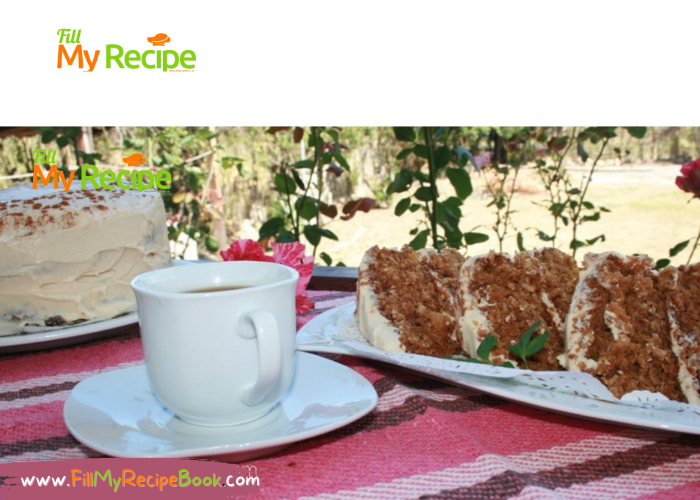 Try baking these wonderful —-> Carrot Cupcakes and Cream Cheese.
Then there are these—–> 10 Versatile Carrot Cake Recipes for more inspiration. As well as these recipe ideas —-> 12 Delicious Carrot Cake Recipes
More of these amazing recipes for afternoon or weekend tea.—-> 24 Yummy Cakes and Tarts Recipes as well as these mixes —–> 16 terrific cake mix recipes
Here are more ideas to make a recipe with cream cheese. —-> 21 Cream Cheese Inspired Dessert Recipes
These are amazing easy cake recipe ideas to —–> 18 Easy Cake Recipes
Recipe below. enjoy.
Print
Tasty Moist Carrot Cake
Tasty Moist Carrot Cake is a favorite, spiced with cinnamon and crushed pineapple, pecans and coconut. With an amazing fluffy cream cheese frosting.
Author:
Prep Time:

20 min

Cook Time:

35 mon

Total Time:

55 min

Category:

Cakes

Method:

Baking
Ingredients
2 1/2 Cups of flour
1 1/2 tsp of baking soda
1 1/4 tsp of baking powder
2 tsp of cinnamon
1/2 tsp of Himalayan Salt
2 cups of sugar(coconut sugar)
4 large organic eggs
1 cup of olive oil
1 tsp of vanilla essence
2 cups of grated fresh carrots
3/4 cup of desiccated coconut
18 oz can of crushed pineapple (drain the juice)
Optional add in is 3/4 cup of pecan nuts
CREAM CHEESE FROSTING
8 oz of cream cheese (room temperature)
1/2 cup of unsalted soft butter
2 cups of castor or powdered sugar (melts easier)
1 tsp of vanilla essence
Instructions
Preheat oven to 180 Deg.C (350 Deg. F)
Grease and line the cake pans with wax proof paper.
In a mixing bowl mix the sugar eggs oil and vanilla essence until smooth and sugar has been dissolved. Or until its all blended and a light color.
Wisk together for seconds the flour baking soda and baking powder cinnamon and salt.
Slowly add the dry ingredients and the wet ingredients on a medium speed on the mixer until moist and then add the crushed pineapple and coconut.
Mix altogether.
Bake for 35 minutes until done.
Cool on the cooling rack before you take out of the pans. 15 min.(otherwise it will break up)
Then cool the removed baked carrot cake on the cooling rack until completely cool before icing.
TO MAKE THE CREAM CHEESE FROSTING
Mix all the cream cheese until smooth and then add in slowly the powdered sugar and butter and vanilla essence.
Mix until a good consistency has been achieved. Leave to cool in the fridge if needed.
Keywords: Moist tasty carrot cake and cream cheese frosting
I would easily invite family over for tea and coffee with this cake, the cream cheese frosting makes a good change to other icing.
Loved this one, more Oven Baking Recipes for you.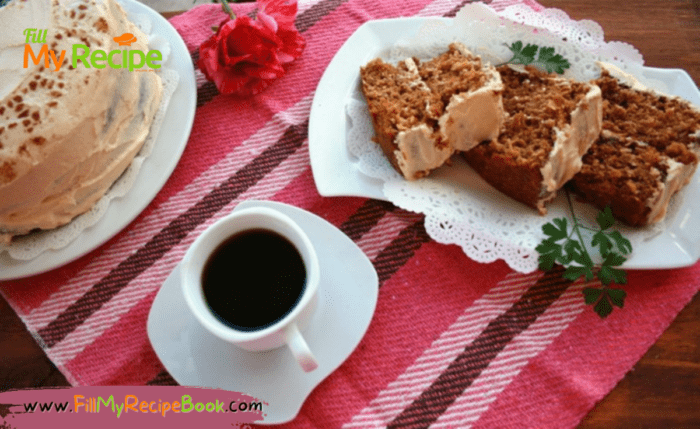 Download your free printable of oven temperatures and measurement chart here