Alcohol Free Christmas Cake recipe is an easy Homemade Christmas fruit cake with dates and cherries, baked a few days ahead no alcohol.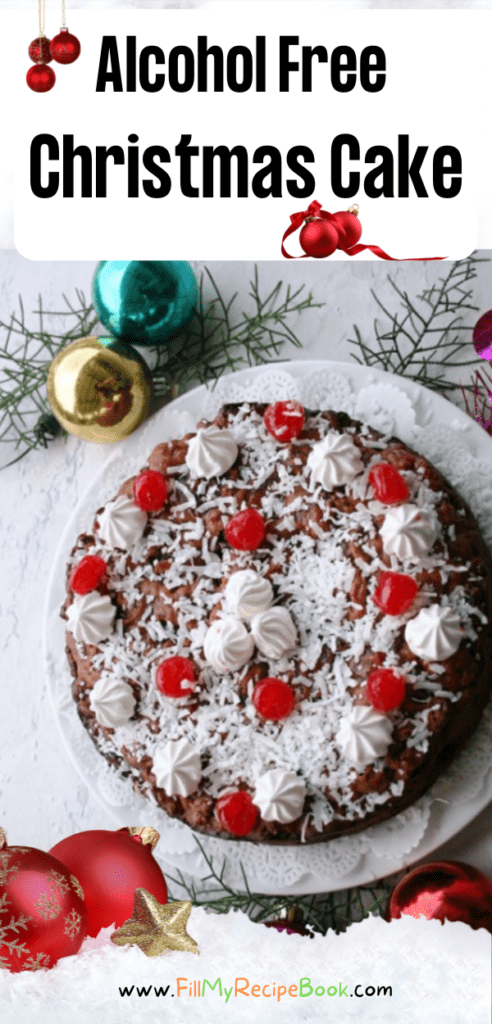 Alcohol Free Christmas Cake
Make it a week before Christmas if you like. Dates sweeten and darken the batter. The tasty whole cherries pop in your mouth when eaten. This cake does not last until new year, therefore it is not necessary to preserve it with alcohol.
What is the traditional Christmas cake called?
The Scottish specialty is the traditional Christmas cake. "Whisky Dundee". The cake originated in Dundee and is preserved with Scotch whiskey. It is a light and crumbly cake and light on fruit and candid peel, currents, raisins, sultanas and cherries.
What can I use instead of alcohol in a Christmas cake?
If you're baking an alcohol-free Christmas cake you can use a few tablespoons of orange, cherry, cranberry or apple juice; something sweet to keep the moisture in the cake. You can also soak the fruit in tea if you prefer a less sweet flavour.
How do you keep the Christmas cake moist?
Wrap the cake in wax proof or baking parchment paper. Then wrap that in foil twice. Be careful to not let the foil touch the cake. Keep it in a cake tin or chill in the fridge. This is for cake with alcohol.
How long does the fruit cake last without alcohol?
Since the cake does not have alcohol to preserve it it will last at least a week. Covered with cling wrap or wax paper, stored in a cake tin. If you want to keep it longer then wrap it well in cling wrap sealed well and freeze it.
Ingredients.
Some images of the ingredients needed for this amazing easy Christmas cake. Some pitted soft dates and fruit cake mix, or raisins and currents. Lots of cherries for color and bite of sweetness in the cake. Also for decorating the top with.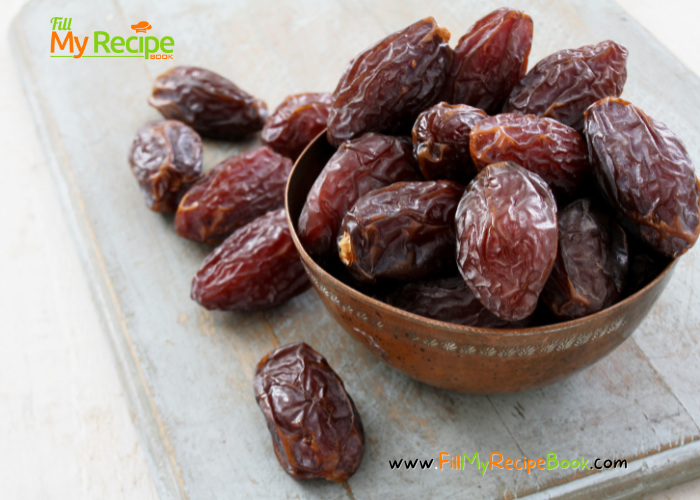 Dates pitted and chopped.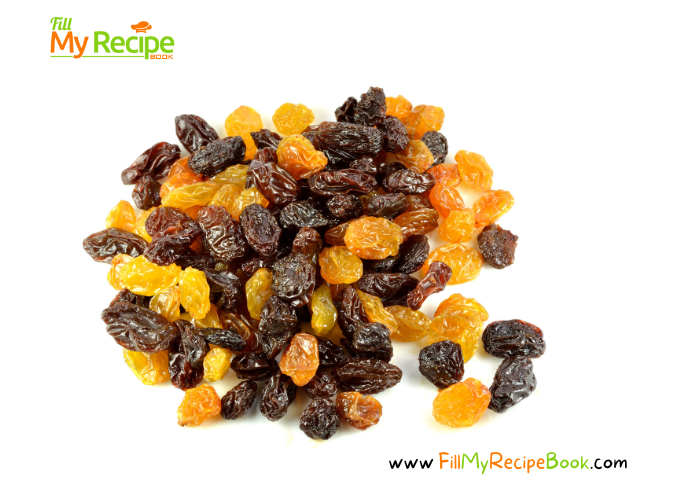 Fruit cake mix, raisins and currents.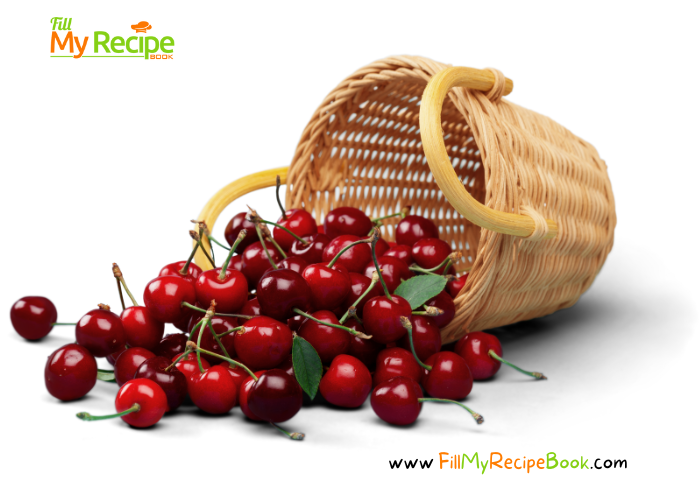 Cherries.
The normal mix for cakes, are flour, baking soda, brown sugar and eggs and butter. (follow the recipe attached for the measurements.)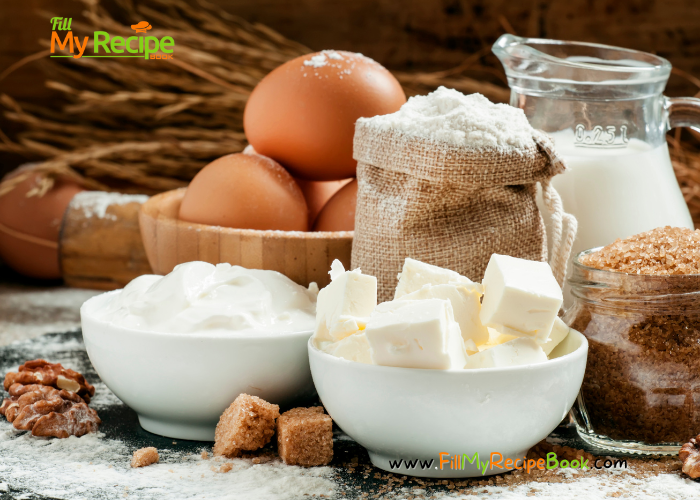 Flour, eggs and sugar.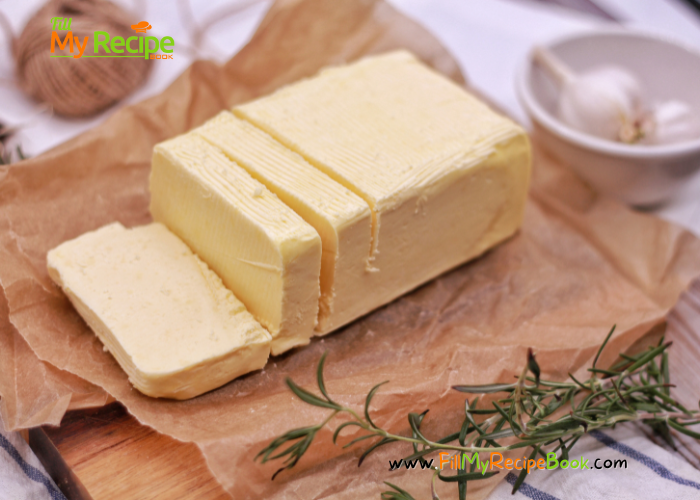 Butter
Dark Alcohol Free Christmas cake, no standing or preserving with alcohol. Tasty as it is.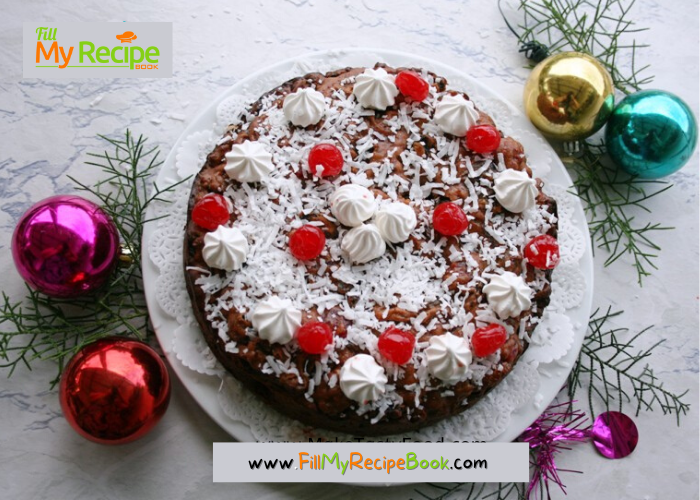 How To.
Firstly the Boiling of the fruit, sugar, butter, dates and cherries in a large pot.(follow the recipe for the specific instructions)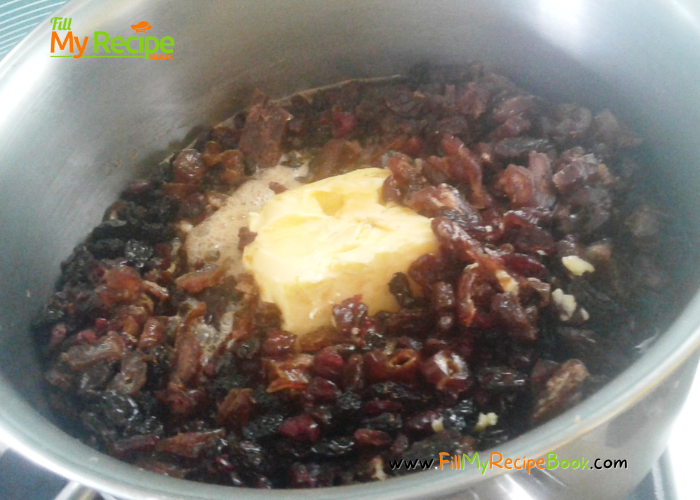 Boiling the ingredients for 5 minutes with stirring the mixture gently. Without breaking the whole cherries, so that it does not stick to the pot, then leave to cool.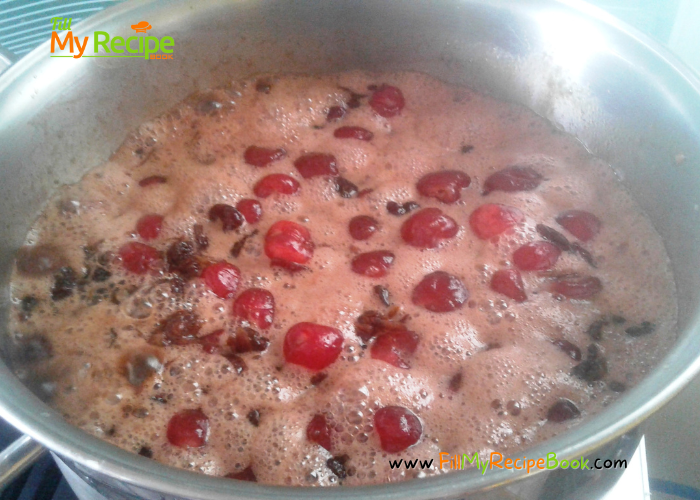 Once the mixture is boiled, then leave to cool either in a larger bowl or the large pot. (but the hot pot will take longer to cool)
Before you add the flour and eggs the mixture should be nice and cool.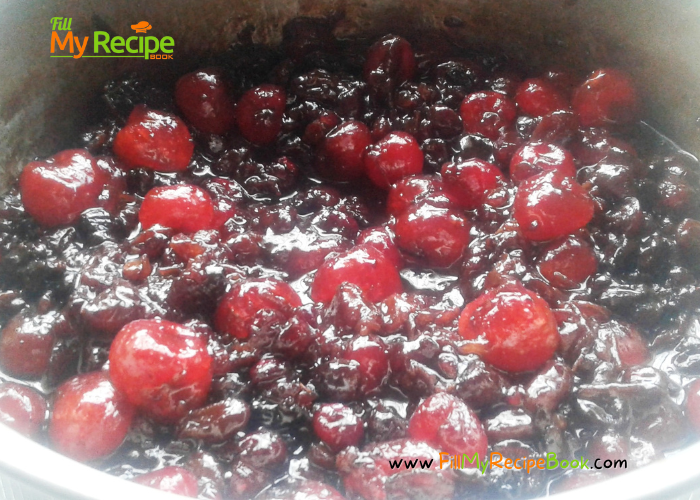 Once the final ingredients are all mixed together. Add them in lined greased baking pans.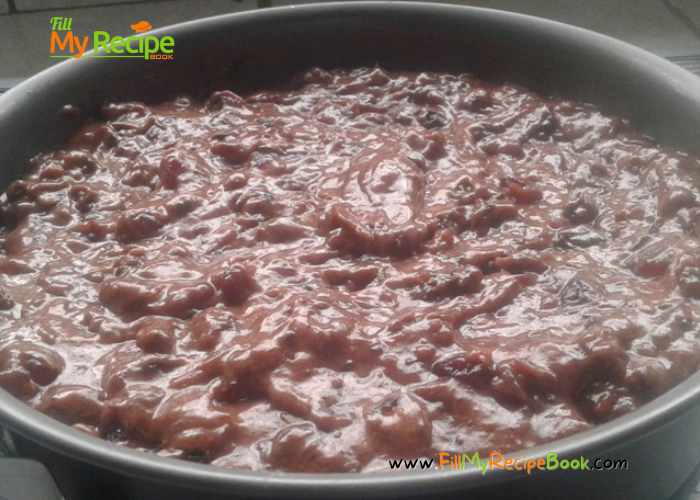 Bake the cake in the oven covered with brown paper or foil. As it will bake for a while and you do not need the cake to burn on the top.
Cover can be removed a half an hour before its finally baked. To give it the finish cooked browning touches of a baked fruit cake.
Poke the cake with a skewer or a clean knife to see if the cake is baked. It may take one and a half hours, therefore check before removing from the oven.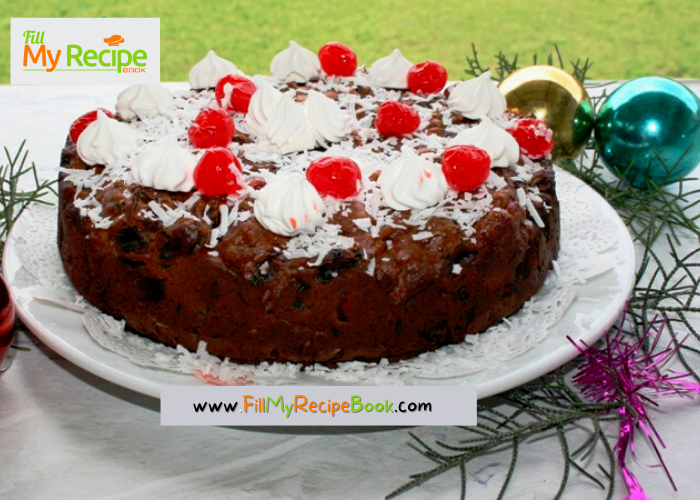 Decorate as you please, as this one was done very simply and used ingredients that was readily available. Small mini white meringues and desiccated coconut sprinkled on top. With of course my favorite whole red cherries.
Recommendations.
Here are more cake mix and homemade recipe ideas to create —–> 16 terrific cake mix recipes
These are amazing easy cake recipe ideas to —–> 18 Easy Cake Recipes
Here are some Christmas recipe ideas to create —-> 15 Christmas Cake & Dessert Recipes
Get these recipe ideas to make other Christmas cakes —–> 8 Delicious Fruit Cake Recipes
Another Christmas Cake recipe idea —–> Caramel Christmas Fruit Cake Recipe
and find more recipes —–> 9 Amazing Fruit Cake Recipes and these ideas —–> 11 Christmas Fruit Cake Recipes
Print
Alcohol Free Christmas Cake
Alcohol Free Christmas Cake recipe is an easy Homemade Christmas fruit cake with dates and cherries, baked a few days ahead no alcohol.
Author:
Prep Time:

15 min

Cook Time:

75 min

Total Time:

90 min

Category:

Cakes
Ingredients
500 g

mixed cake dried fruit

120 g

butter

1 cup

of brown sugar

1 Tbsp

of Bicarb of soda

1 cup

of water

2

eggs

2 cups

of flour

2 Tbsp

of baking powder
Pinch of cream of tartar

250 g

of whole cherries 

250 g

dates chopped 

1 tsp

of Himalayan salt
Instructions
Bring to boil, the the mix fruit, butter sugar and water and bi carb of soda, then add the dates and lastly the cherries for 5 minutes. Stirring now and again. Do not break the whole cherries. Stir carefully.
Leave to cool in an open bowl. 
Preheat oven to 180 Deg.C
Grease cake pan and line with wax paper. then grease that.
Mix the flour, salt and baking powder together and then mix them into the fruit mix. Then add the beaten eggs.
Pour the mixture into the cake pan and cover with brown paper for the first half of the bake.(To prevent burning of the cake. ) Taking the cover off for the last half of the bake.
Bake for about an hour and 15 minutes. Checking regularly when time is almost up. 
Check with a skewer to see if the cake is baked.
Leave to cool.
decorate as pleased.
Notes
This Christmas cake is super easy and quick to make one a day or two before Christmas. Totally alcohol free, and is moistened and sweetened with the dates included. A dark delicious Christmas cake. Absolutely a favorite cake for Christmas. Can make a roasting pan cake and slice and keep covered with wax wrap for a while, to eat for the Christmas season.
Keywords: Easy Christmas alcohol free fruit cake. Made days ahead of christmas
enjoy