Christmas cherry Trifle Bowl recipe idea. Easy family trifle pudding, a sponge cake and cream with blueberries and cherries for dessert.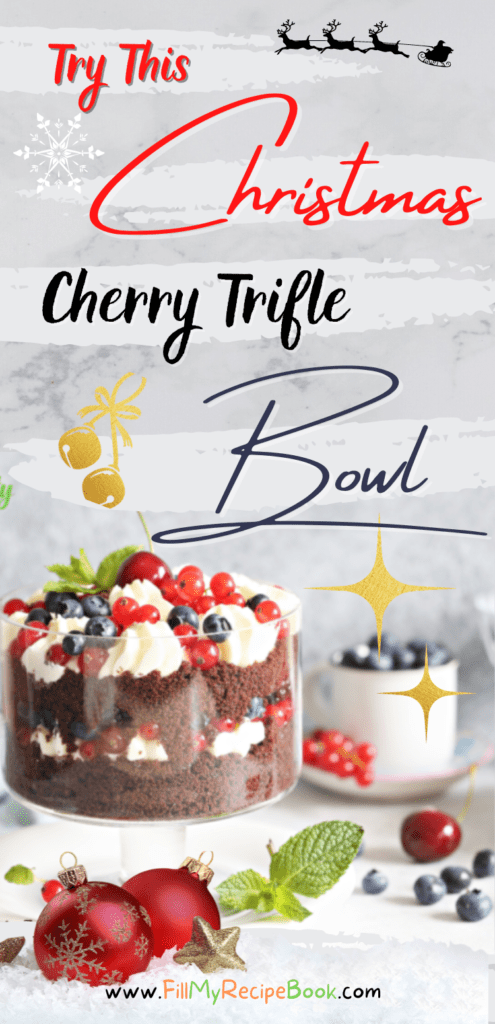 Christmas Cherry Trifle Bowl
The only time our family really made a trifle was at Christmas.
This would be the dessert for Christmas day family lunch. That would be eaten later as there would be no space in the tummy for it after lunch. As appetizing as it is, its just to much.
Quit simple really to put together, as you just use what ever you have available. On the farm we have raspberries and strawberries. Then blueberries and cherries are bought before hand.
Blueberries are so healthy and tasty.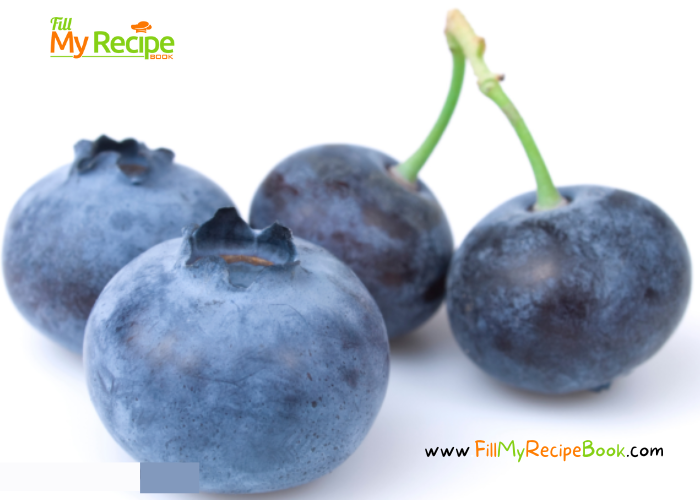 Whole cherries are the best as well. Always sprinkle as much as you like of these two over the trifle.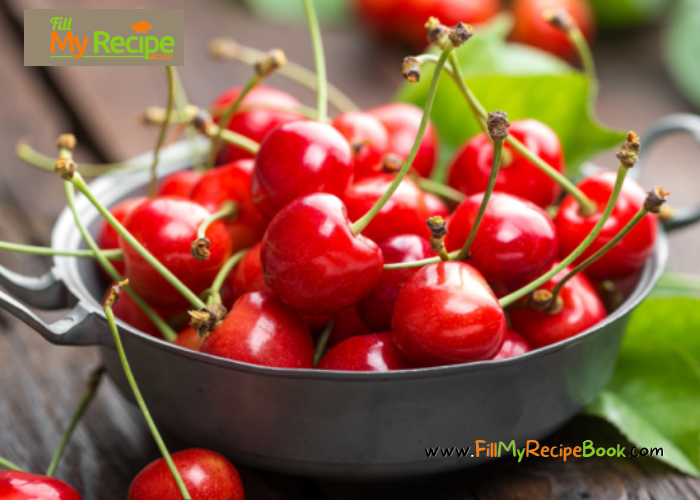 Chocolate chips and chocolate sponge cake cut up into squares and layered in the trifle. Whipped cream or custard and some caramel can be an option as well.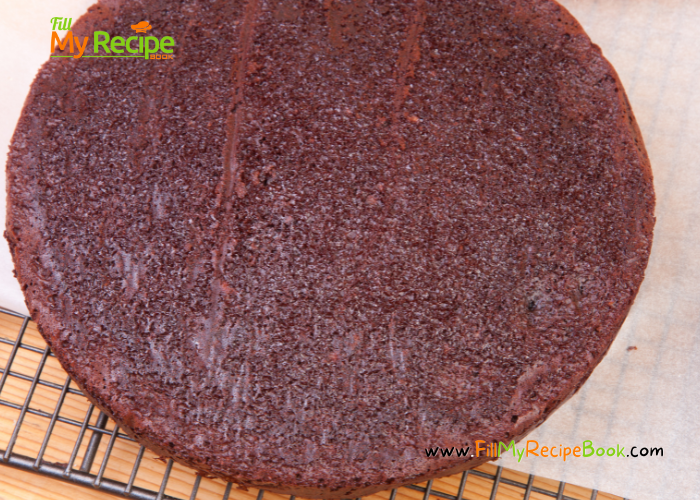 Homemade milk chocolate puddings and other flavors are a great filler.
Just layer your ingredients and fill the bowl.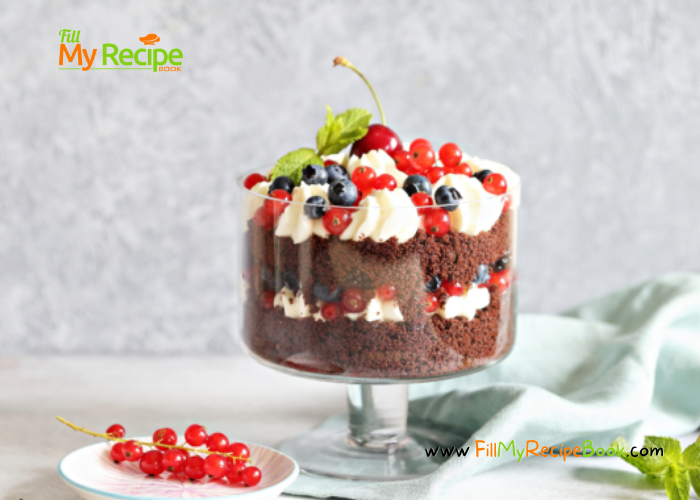 Above you can clearly see the ingredients in this Christmas cherry trifle bowl. Filled with blueberries as well. Crumbed chocolate sponge with chocolate chips. Then layers whipped cream. Between the layers place whole cherries and blueberries.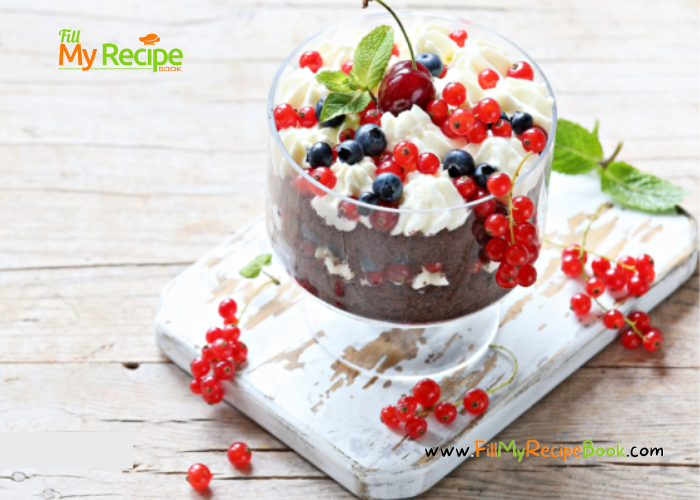 A beautiful bowl of trifle just ready to eat.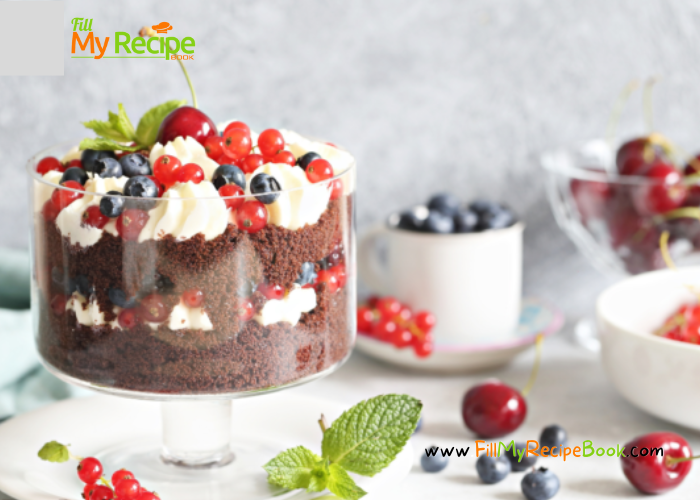 A Christmas Cherry and chocolate berry trifle bowl Recipe below.
Recommendations.
(Click the highlighted heading for the recipes)
Very tasty dessert recipe ideas to create for the family —-> 10 Puddings and Desserts Recipes
View and make some of these —-> 7 Delicious Trifle Terrine Recipe
More recipe ideas for puddings —-> 16 Chocolate pudding Recipe
Here are some Christmas recipe ideas to create —–> 15 Christmas Cake & Dessert Recipes
Amazing Christmas puddings ideas —–> 19 Christmas Pudding Recipe Ideas and Some recipe ideas for Christmas desserts. —–> 24 Christmas Fancy Dessert Recipes and these recipe ideas —–> 19 Vegetarian Christmas Desserts Recipes
Print
Christmas Cherry Trifle Bowl
Christmas cherry Trifle Bowl recipe idea. Easy family trifle would be sponge cake and cream with blueberries and cherries for dessert.
Author:
Prep Time:

15 min

Cook Time:

0 min

Total Time:

15 min

Yield:

8

Category:

Desserts

Method:

no bake
Ingredients
250 g whole cherries (bought in bottle)
250 g blueberries
500 g full cream (whipped)
Baked chocolate sponge cake (sliced and some crumbed)
Chocolate chips
Instructions
Obtain the clean trifle bowl.
Bake chocolate sponge cake and leave to cool. Cut into squares, and crumb some.
Whip the full cream until stiff. (sweeten with castor sugar)
Clean the blueberries. Take out the whole cherries.
Layer the sponge first, then the whipped cream then the blueberries and the cherries.(any other berries you like can be included) Add some sprinkles of chocolate chips.
Start the layers over with the sponge, cream and berries and chocolate chips.
Decorate on top with dollops of cream and whole berries and cherries.
Keep in fridge until serving. Covered.
enjoy.
Notes
Any type of fruits or berries available can be used as this is a versatile trifle. Instead of just cream you can use custard or milk pudding or jellies.  A substitute for sponge cake is finger biscuits.
Keywords: Christmas Cherry Trifle Bowl
This trifle is a Christmas dessert that goes with the meal on Christmas day.
Sponge for a trifle, 7 Min. Chocolate Cake
Some meringues.
Mini lemon curd filled meringues
Choose some more No Bake Stove Top Recipes.
Download some FREE Printables.