7 Min. Chocolate Cake Recipe is a microwave cake bake all baked in one 2 lt. container. Quick and easy bake, or a versatile oven bake.
7 Min. Chocolate Cake Recipe
This 7 Min. Chocolate Cake recipe baked in the microwave for a quick and easy dessert needed. This sponge cake is light and delicious and is a versatile recipe for oven baking as well as muffins.
Such a simple cake to whisk up in a hurry and it taste great. Its a single layer cake. If double layer is needed then make two.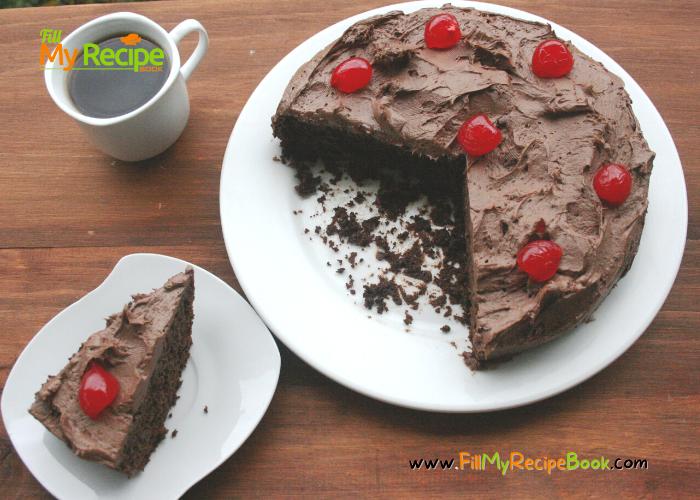 Is cocoa and cacao the same thing?
Cacao vs. Cocoa. While cacao refers to cacao beans that have not been roasted, what is called cocoa is made of beans that have been roasted. So, in turn, a product that is labeled cacao is the raw bean and is often packaged as vegan chocolate that has been minimally processed with no additives.
Why is cacao powder better than cocoa?
One of the most distinctive differences between cacao and cocoa is the taste. Organic Cacao Powder has a bitter, more intense and richer chocolate flavour than cocoa.
Why is my chocolate cake not moist?
A dry cake is usually the result of one of the following pitfalls. Using the wrong ingredients, making mistakes while mixing the batter, or baking the cake too long or at too high a temperature. Once you understand how to avoid the common cake-baking blunders, you'll bake a moist cake every time.
Why do you put hot water in a chocolate cake?
You may have seen a few chocolate cake recipes that utilize hot water or even hot coffee. When the hot liquid is combined with the cocoa powder, it helps to dissolve and 'bloom' the cocoa to bring out as much flavor with as few cocoa lumps as possible.
Ingredients
flour
baking powder
sugar
cocoa
pinch of salt
View the recipe attached for all the amounts needed for these ingredients. You will not be disappointed.
How To Make
Follow the recipe attached for the instructions. Also read how we made this in a normal oven for a light sponge cake. An all in one mix.
If microwaved.
The recipe is for a all in one mix in an 2 liter ice cream plastic container, then microwaved for 7 minutes. Follow the recipe directions for that.
Oven baked
Made in the oven is simply easy as well, need to bake for 25 minutes, till done. Makes a single cake pan. A light sponge cake.
When baked cool on a cooling rack for a few minutes before taking it out of the pan.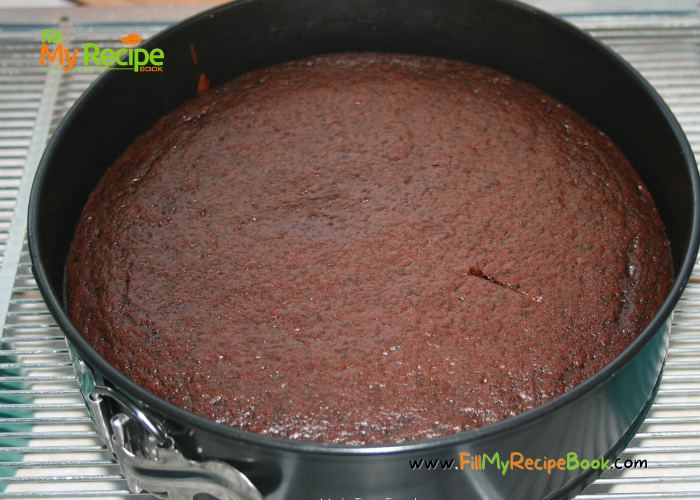 When cooler take the cake out of the baking pan and leave to cool completely before icing.
Make a butter and cream cheese mixture of say 125 grams of each, then add vanilla essence and mix with a mixer adding in icing sugar and coco powder as desired. Then to give it a tasty tang, add 1 drop of peppermint essential oil. then mix and ice the cake.(not more than 1 drop) Adding some amazingly tasty red cherries for decoration. Peppermint essential oils sooth the tummy.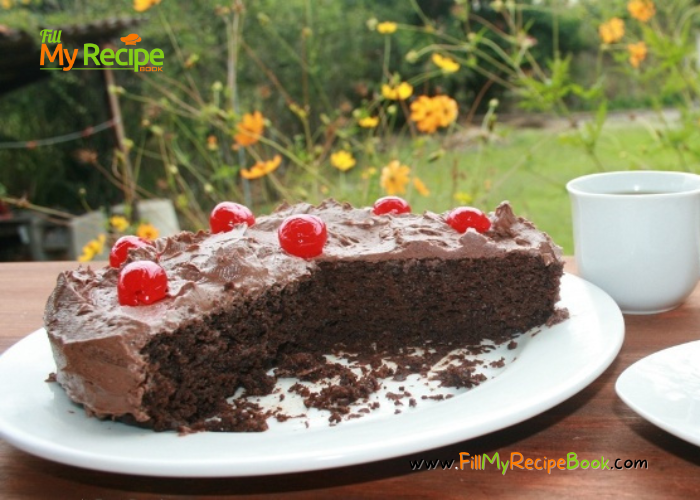 Enjoy this very tasty chocolate cake for tea or coffee, and when needed make muffins.
Recommendations
(click on the highlighted heading for the recipes)
Delicious cake recipes to create —-> A 2 Minute Chocolate Mug Cake and Triple Layer Chocolate Tuxedo Cake and Make a Perfect chocolate cake and A Tasty Vanilla Cake and Tasty Moist Carrot Cake
Mothers day recipe ideas to create —–>18 Mother's Day Morning Tea Ideas
More of these amazing recipes for afternoon or weekend tea —-> 24 Yummy Cakes and Tarts Recipes
Some great ideas for quick and easy recipes —–> 16 Easy Tea Time Treat Recipes
You will love to get more ideas —–> 13 Heavenly Chocolate Cake Recipe
These are amazing easy cake recipe ideas to —–> 18 Easy Cake Recipes
Looking for something simple to bake or not to bake that's quick? then get these —-> 20 Easy Baking Recipes Ideas
Print
7 Min. Chocolate Cake
7 Min. Chocolate Cake Recipe is a microwave cake bake all baked in one 2 lt. container. Quick and easy bake, or a versatile oven bake. 
Author:
Prep Time:

10 min

Cook Time:

7 min

Total Time:

17 min

Category:

Cakes, desserts

Method:

microwave, oven bake

Cuisine:

South african
Ingredients
1 Cup

of flour

1 Cup

of sugar

20

ml (4 tsp of baking powder)

4 Tbsp

of cocoa
pinch of salt

2

eggs

1/2 cup

of olive oil

5

ml of vanilla essence

1 cup

of luke warm water
Instructions
Microwave .
Spray a 2 lt container with spray and cook or grease it.
Mix all the dry ingredients in this container together.
NEXT
Add the 2 eggs and oil and vanilla essence and the luke warm water.
mix all of this together in the container.
Place a dinner plate upside down in the microwave oven for the container to be place on top of it.
Place the container with the mixture in the oven and set the microwave for 7 minutes.
Once done leave to stand for a few minutes, then frost as you desired.
For conventional oven bake.
Set oven At 180 deg.C
Grease a cake pan.(makes one pan)
Mix the wet ingredients till smooth and then add the dry ingredients in a mixing bowl.
Pour in a baking pan.
Bake for 20 – 25 minutes.
Test if done.
Cool on a cooling rack.
Frost with icing as desired.
Notes
A very versatile cake ingredient mixture, that can be microwaved or baked in an oven and make muffins with this recipe. Its a light cake mixture and very delishes.
Keywords: Versatile 7 min. Chocolate cake recipe, microwave or oven
Another amazing microwave recipe below.
Other Oven Baking Recipes here. This Recipe is versatile and is used in a microwave, go view Cooking Appliances Recipes for more.
This cake sponge may be used for a trifle Bowl filling.
Download your free printable of oven temperatures and measurement chart here. more printables for FREE.