Tasty Curry Beetroot Chutney to bottle for holidays. A useful beetroot light curry chutney recipe that can be used as a side dish and as a salad.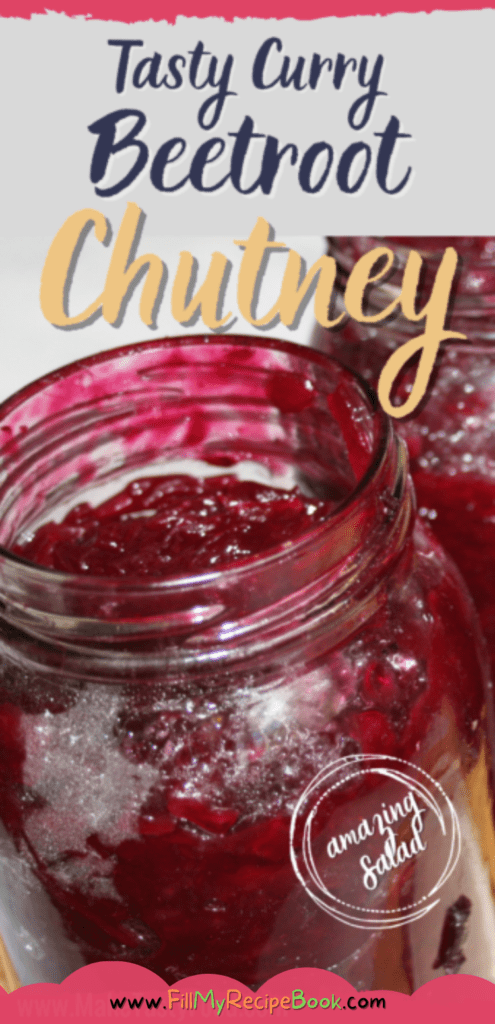 Tasty Curry Beetroot Chutney
Another family favorite of this handy bottled beetroot, that can be made and kept for the summer salads. Prevents the cooking of meals in the holidays. Much less vinegar liquid than the normal bottles beetroot. Stock up for the holiday seasons and for extra salad when you have unplanned guests popping in. Or when you having a braai with salads.
Ingredients.
Spices and onion chopped. Sugar and corn flour for thickening.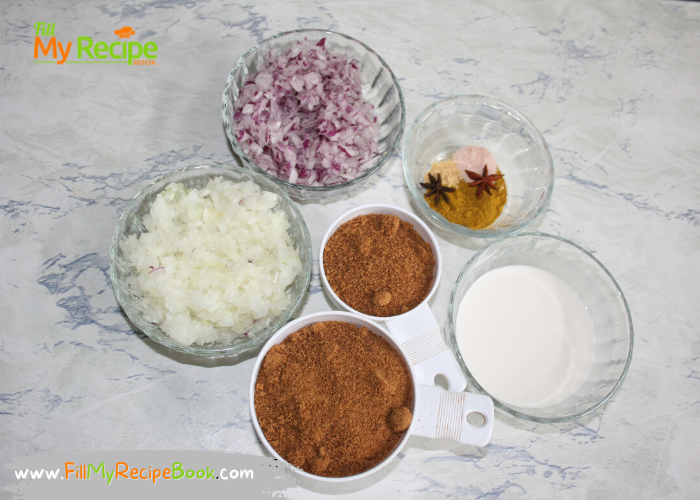 How To.
Vinegar and onions and spices brought to boil in a pot.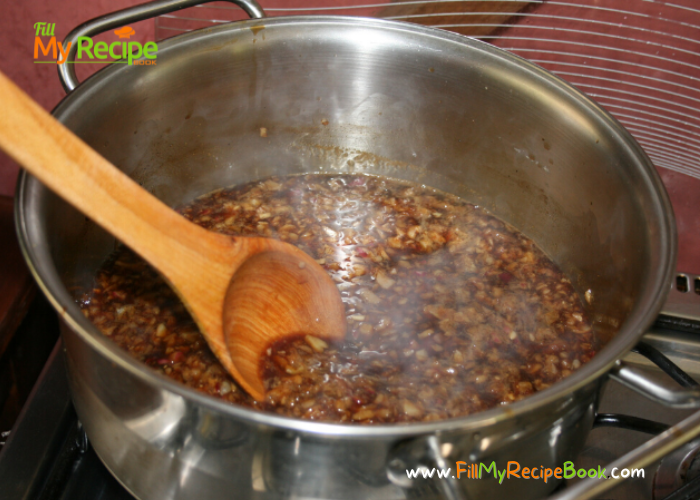 Grated beetroot added to mixture, left to simmer after adding the corn flour to thicken the mix. I used cooked beetroot but you can use raw beetroot just cook till tender.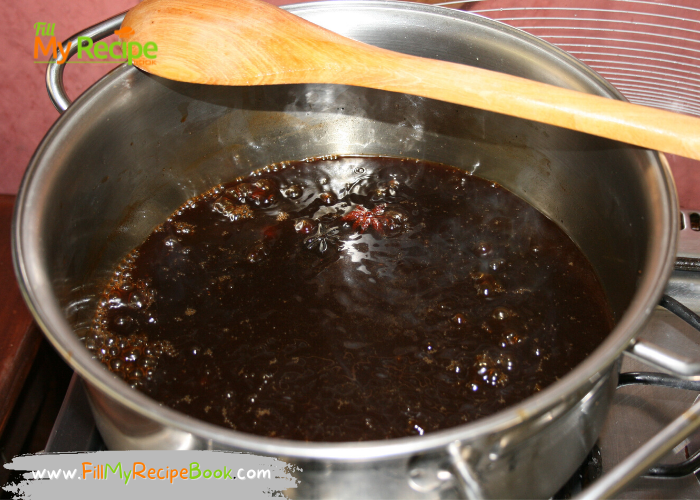 Bottle the beetroot mixture hot and seal. 6 Cups of grated beetroot makes 3 x 500 g of curry beetroot chutney. Stir occasionally with a wooden spoon or silicone spatula.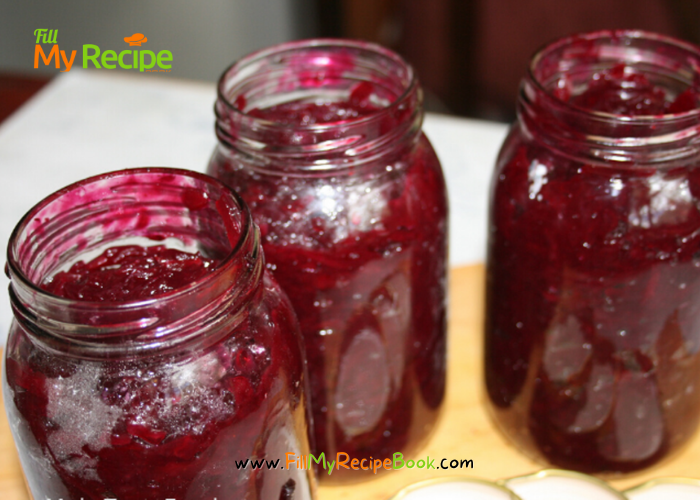 What flavors go well with beetroot?
Warm spices like all spice, cumin, cinnamon, pepper, paprika and caraway seeds. As well as combined spices like curry or roast masala. Even fresh or dried herbs, thyme, tarragon, dill, parsley, mint, basil, coriander.
How do you add flavor to beetroot?
A sprinkle of thyme is a great finishing touch for beet root. Like tomato and basil. The flavor´s intense that you can serve it with grilled meats seasoned with salt and pepper and makes a delicious side dish.
Some sandwich filling ideas —–> 13 Simple Sandwich Filler Recipes
An idea to use this amazing tasty beet root on a sandwich.
Recommendations.
Make a braai menu with these side dish ideas. —-> 10 Best Braai Salad Side Dishes
—–> 7 Homemade Bottled Curry Vegetable Recipes as well as these recipe ideas —-> 16 Easy Tasty Curry Recipes
Try these amazing delicious vegetable recipes. —-> 24 Easy Veggie Side Dish Recipes
Beet root makes a delicious sandwich filling. get more ideas for fillings for a sandwich —–> 13 Sandwich Filling Ideas
Get these salad ideas to create —–> 19 Amazing Salad Recipes and more salad ideas to create —–> 18 Quick Salad Recipes
Get more curry recipe ideas —–> 19 Tantalizing Curry Recipes
Sharing Thanksgiving side dishes to create —–> 27 Thanksgiving Side Dishes
Ideas for a vegetarian Christmas meal —–> 34 Vegetarian Christmas Dishes Recipes
Did you know you can enjoy a braai or barbecue as a vegetarian? get these ideas —–> 25 Vegetarian Braai or Barbecue Recipes
Summer Barbecue or Braai side dishes recipe ideas —–> 19 Easy Salad Recipes Ideas
A great few Christmas cold side dish salads to choose from.—–> 21 Healthy Cold Christmas Salads Recipes
These —–> Apple Cider Vinegar Salads and Dressing will make your sauces for salads tasty.
Print
Tasty Curry Beetroot Chutney
Tasty Curry Beetroot Chutney to bottle for holidays. A useful beetroot light curry chutney recipe that can be used as a side dish and as a salad.
Author:
Prep Time:

10 min

Cook Time:

15 min

Total Time:

25 min

Yield:

3 cups, 3 x 500g

Category:

Chutney, salad

Method:

Stove top No Bake

Cuisine:

South african
Ingredients
2 Cups

of berry or apple cider vinegar

1 1/2

to

2

cups of sugar

2

star anise (optional)

6 cups

of grated cooked beetroot (or uncooked)

2

onions grated (or rings if desired)

1/2 cup

chopped fresh coriander

1 Tbsp

of mild curry powder or toast masala

1/2 tsp

of ground ginger

1 tsp

of Himalayan salt

3 Tbsp

of cornflour (mix with a little water for a paste)
Instructions
In a saucepan heat the vinegar and sugar, stirring. Add the anise and bring to a boil.
Add beetroot and onion and coriander and all other spices. stir.
Bring this mixture to a boil the lower the heat and simmer for about 10 min until beetroot and onion are soft.(if you used cooked beetroot then it will not take that long. check it)
Add the cornflour paste and simmer stirring continuously until thickened.
Fill warm jars with this hot chutney, seal.
leave to cool.
Store in cool place or fridge. 
Notes
In this recipe i used cooked beetroot, but can use raw ones to. This recipe is amazing as a salad or a chutney.
Keywords: tasty curry beetroot chutney salad
More Storage Ideas and Recipes.
Other salads for Side Dishes.
Not to forget some other side dishes you would love.
Braai or Grilled Stuffed Portabella Mushrooms
Meats that need salads.
Beet Root is amazing on sandwiches as well.
Choose some No Bake Stove Top Recipes.
Download your FREE Printables for use in your kitchen.