Tasty Homemade Pear Chutney to make when you have a lot of fruit over and need to use it. A basic recipe guide for various fruits available.
How to.
Cut up pears and apples in smaller pieces. I left the skins on but you can peal them as well.
All ingredients were thrown in a pot and brought to boil.
Once it was constantly bubbling the pot was placed to medium and simmered for about 30 minutes.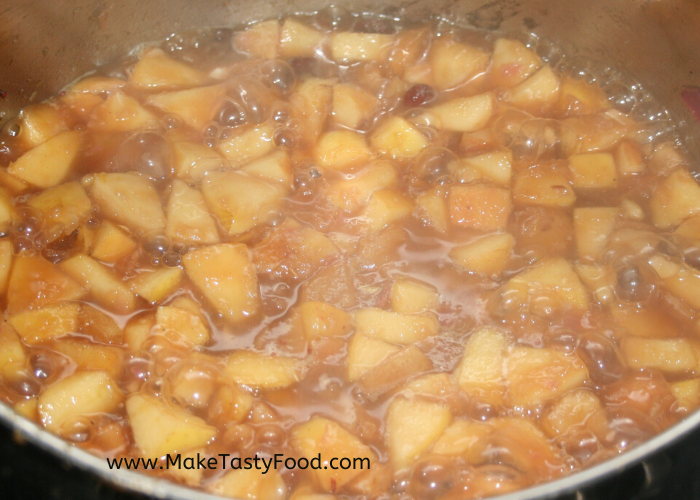 After about 30 minutes the fruit was soft and mixture not as liquidy.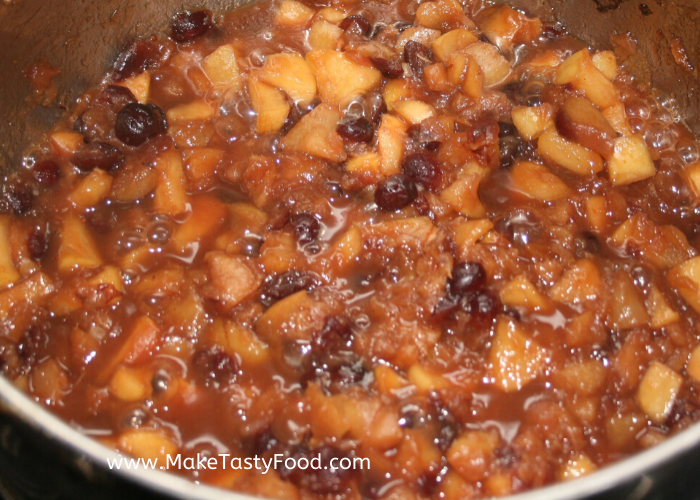 To test the mixture a spatula was pulled through the mixture. You can see that the liquid was less and didn't run back together.
That means it was cooked.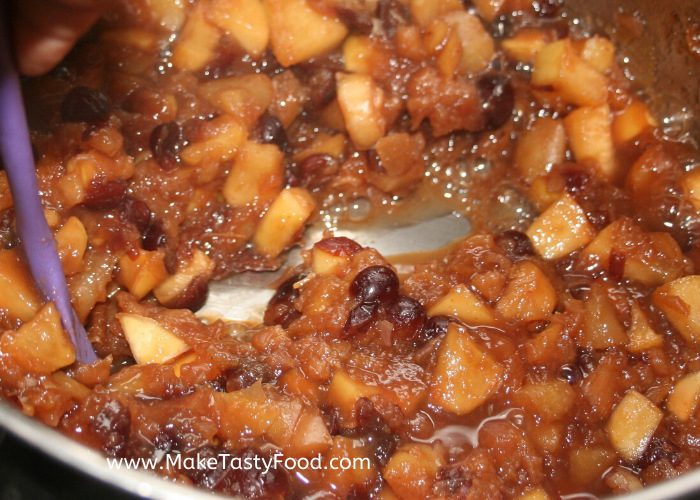 Bottling
I bottled this tasty homemade pear chutney in clean jam jars.
The mixture made two 500 g jars full.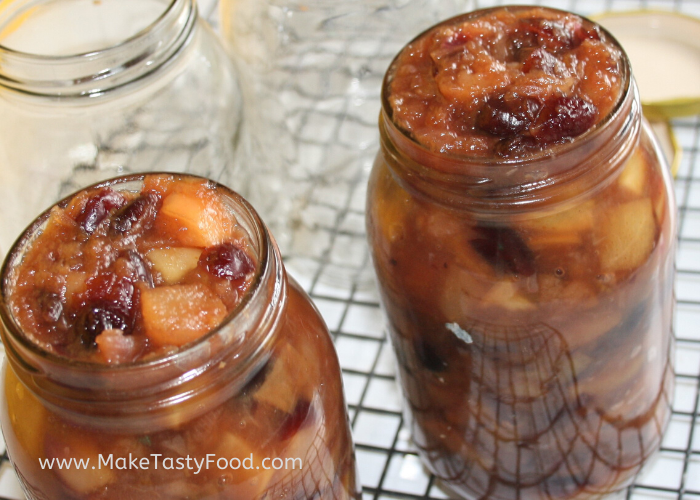 Sealed and filled warm two jars of pear chutney.
This basic Recipe was made with.
Made with apple and mostly pears cut up. Added some home picked orange rind and juice. Used cranberries for my dried fruit. My herbs I used cinnamon and also finely grated red onions.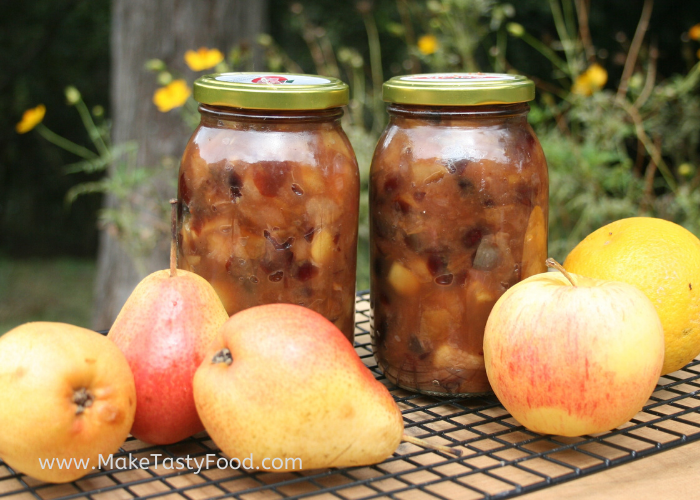 This is such an easy recipe and would try the various fruits again, once we have plenty of fruit.
In south america where we live you don't get chutney. Therefore homemade is essential for many condiments.
Tasty Homemade Pear Chutney.
I had a few pears getting ripe to quickly and apples. I found this amazing basic chutney recipe for various fruits and have cooked up some pear and apple chutney. It came out amazingly.
Other recipe ideas to use pears—-> 7 Healthy Breakfast with Pears Recipes and other fruity ideas —-> 27 Fruit Inspired Recipes
Here are some amazing recipe ideas for you —–> 30 Ideas for Fruit Recipes
Print
Tasty Homemade Pear Chutney
Tasty Homemade Pear Chutney to make when you have a lot of fruit over and need to use it. A basic recipe guide for various fruits available.
Prep Time:

20 min

Cook Time:

30 min

Total Time:

50 min

Yield:

1 kg

Category:

Chutney

Method:

bottled
Ingredients
5 Cups of chopped fresh fruit. (pears )(a few apples included is good)
1 cup of raisons (dried fruit option)
1 cup of chopped onions (yellow or red)
1 cup of vinegar (malt vinegar is a favorite, but any will do)
1 cup of sugar (used brown or coconut sugar)
1 Citrus fruit (the zest and the juice) I used a lemon (or orange)
Mixed herbs and spices to taste.(clove, nutmeg and all spice mix)
Instructions
Peel, chop and core the fruit, pears or an apple or two.
Grate the onion finely.
Grate and zest the lemon and then squeeze the juice out.
In a large pot place all the ingredients. bring to boil.
Once the mixture starts to bubble consistently, reduce the heat to medium and stir now and again.
simmer for 25 – 30 minutes until fruits are tender and the mixture has thickened. 
Test this process with a spatula, to see that when you pull the spatula through no liquid fills the channel it leaves behind at the bottom of the pot.
Then the mixture is done. 
Place in hot jars while warm. Seal.
Place in the fridge when cool.
This recipe will keep for about a month.
Proper canning jars can keep on the shelf for at least 1 year. (can them if required)
Notes
This recipe only makes 2 x 500 g jars. I would double the recipe if more is required. Although this will be for our daily use, then this amount will be good.  
Keywords: Tasty homemade pear chutney
Recipe from Garden Betty.
Click here for other Storage Ideas and Recipes. Also choose some No Bake Stove Top Recipes.
Download some FREE Printables to help when baking.