Simple Marinara tomato sauce recipe. A tangy sauce that is simple to make yet tasty made with some garlic and herbs and spices, bottle it.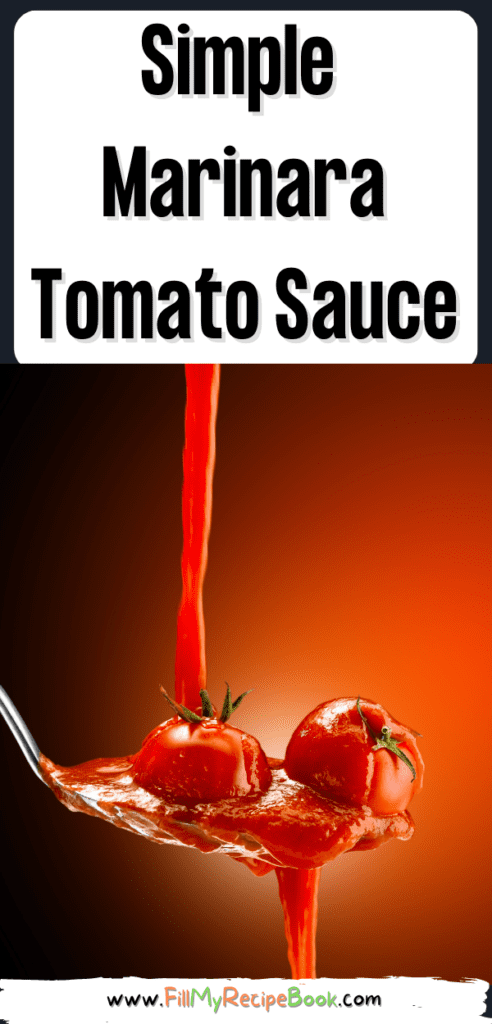 Simple Marinara Tomato sauce.
An easy tomato sauce to make that is versatile, and can be added to dishes. Make this sauce with the bare minimum such as garlic and onion and herbs and spices.
What is the difference between marinara sauce and tomato sauce?
They can be similar but the two sauces differences are the consistency, although they share similar ingredients. Marinara sauce is thinner than tomato sauce.
Is marinara sauce just tomato sauce?
Marinara is tomato sauce, but it's a thinner, simplier sauce that cooks very quickly: It only needs to simmer for about an hour. The sauce gets its characteristic flavor by the addition of garlic, crushed red pepper flakes and herbs like basil and oregano.
What is the difference between marinara sauce and spaghetti sauce?
One of the key differences is that pasta sauce is more robust and complex, with a longer ingredient list and rich flavor. Marinara does not typically contain meat (while spaghetti sauce does), giving it a thinner texture. Marinara is traditionally used as a dipping sauce, while pasta sauce is not.
Ingredients
tomato
onions
garlic
basil
oregano
salt
sugar
tomato paste
water
How To
After preparing the ingredients (as per recipe below) then blend the cleaned tomatoes in a blender until smooth.
Chop the onions garlic and basil for the mixture.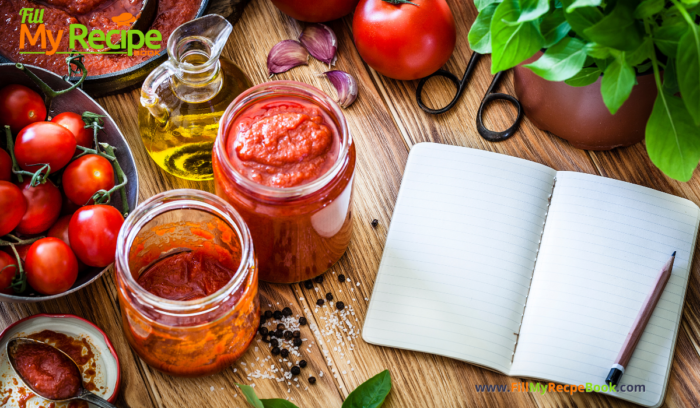 In a large pot sauté the onions and garlic in a little olive oil. Then add the blended tomatoes to this mixture with all the other herbs and spices and sugar and water.
Mix and blend all until it gets warmed up. Then place a lid on the pot and leave to simmer for about 20 minutes.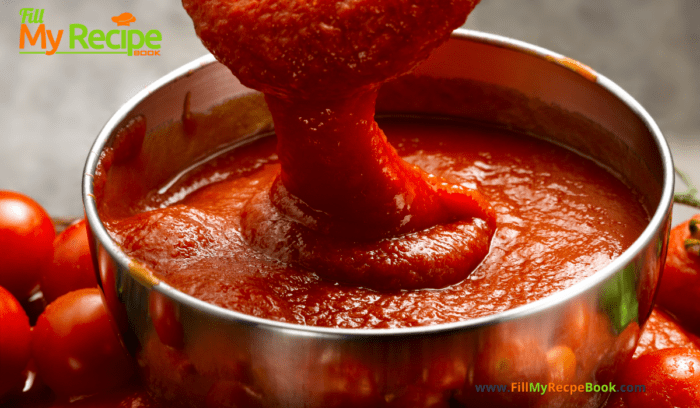 You may use this for your recipes or make some soup out of it. Then add your other ingredients you would love for soup. Even some cheddar cheese and some Worchester sauce or hot sauce you would prefer.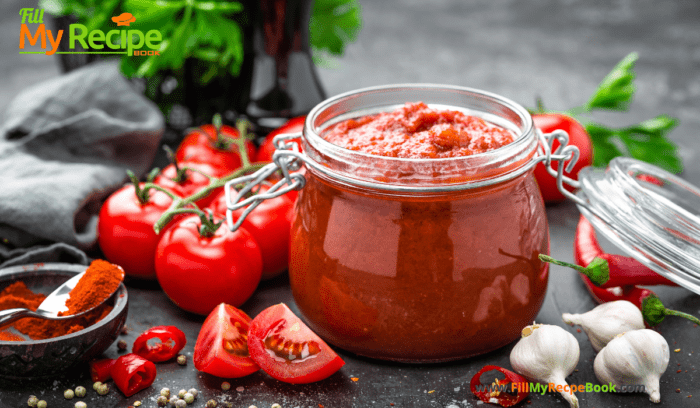 This recipe is used for lasagna or you can bottle it if you have plenty tomatoes to use up.
On the farm when your veggie garden has produced many tomatoes and you do not want them to go to waste then bottle them this way.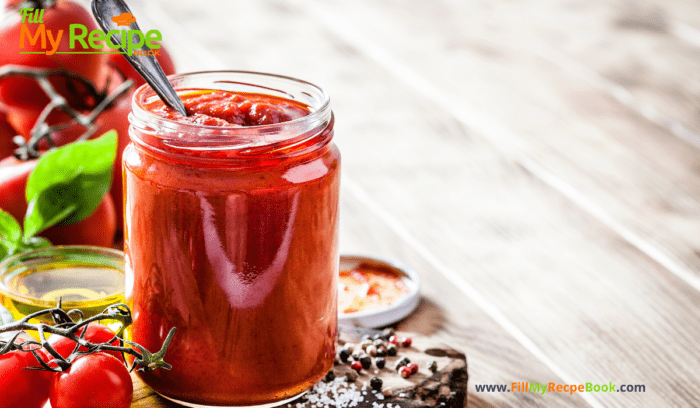 Bottle or can this mixture easily as per recipe below. Use this tomato sauce when needed in a jiffy.
Recommendations.
(click the highlighted heading for the recipes)
More sauces and dressing to create —-> As well as this dressing —-> Easy Mint Sauce for Lamb and Homemade Sweet Chili Sauce and Tasty Cranberry Sauce Recipe and for veggies A Simple White Sauce and Savory Nutty Parmesan Cheese Sauce  and a dressing Honey Balsamic Mustard Salad Dressing
A recipe to create for a large one pot meal —-> Tasty One Pot Beef Stew
Use this sauce on —–> Spaghetti & Meatballs with Sauce
Get some other ideas with these recipes.—–> 15 Tasty Healthy Tomatoes Recipes and this recipe idea —-> Scrumptious Spaghetti Sauce Recipes
Here are more DIY homemade condiment recipes —–> 14 Amazing DIY Condiment Recipes
Other recipe ideas that use Basil —–> 16 Cooking With Basil Recipes
Get more Italian recipe ideas —–> 17 Easy Italian Recipes
Learn how to cook with herbs and spices, get the guides —–> Cooking with Herbs and Spices
Here are some sauces and gravy recipe ideas to create —-> 16 Amazing Sauces & Gravy Recipes
A great and simple recipe to print or save below. Go on make it.
Print
Simple Marinara Tomato Sauce
Simple Marinara tomato sauce recipe. A tangy sauce that is simple to make yet tasty made with some garlic and herbs and spices, bottle it.
Author:
Prep Time:

10 min

Cook Time:

20 min

Total Time:

30 min

Yield:

8 cups

Category:

Sauces

Method:

Stove top No Bake

Cuisine:

American
Ingredients
1. 3 Tbsp of olive oil
2. 1 cup of onions finely chopped
3. 3 garlic cloves chopped or grated
4. 1/4 cup of fresh chopped basil
5. 1/2 tsp of dried oregano herbs
6. 1 tsp of Himalayan salt and pepper
7. 1.kg 600  g of whole tomatoes (blended to liquid in a blender)
8. 2 Tbsp of tomato paste
9. 2 Tbsp of brown sugar
10. 1/2 cup of water
Instructions
1. In a large pot add the oil to sauté the onion and garlic, until soft.
2. Add the tomatoes that have been blended with other spices, such as the herbs and salt and pepper, sugar and water.
3. Mix the ingredients in well, while getting heated.
4. Cover the pot and simmer for about 20 minutes until you have reached the correct consistency needed. 
5. If you are bottling this sauce then clean and heat up the canning bottles to use once the mixture is done. Add tomato mixture to the bottles. Then place in a bottling large pot with a rack and place the bottles on top. The water in there should be brought to a boil. Then remove and seal the canning bottles. Store.
6. The sauce is a versatile sauce and can be used for many dishes. Such as soups or pasta or even pizza and lasagna.
Enjoy.
Notes
The recipe is also a canning tomato sauce, that is versatile for many dishes.
Keywords: Simple Marinara Tomato Sauce
Use this sauce with recipes
More Storage Ideas and Recipes. As well as some FREE Printables to help in your kitchen.
Choose more No Bake Stove Top Recipes.