Spaghetti & Meatballs with Sauce. Homemade fresh ground beef and spices meat balls with Marinara tomato Sauce on spaghetti.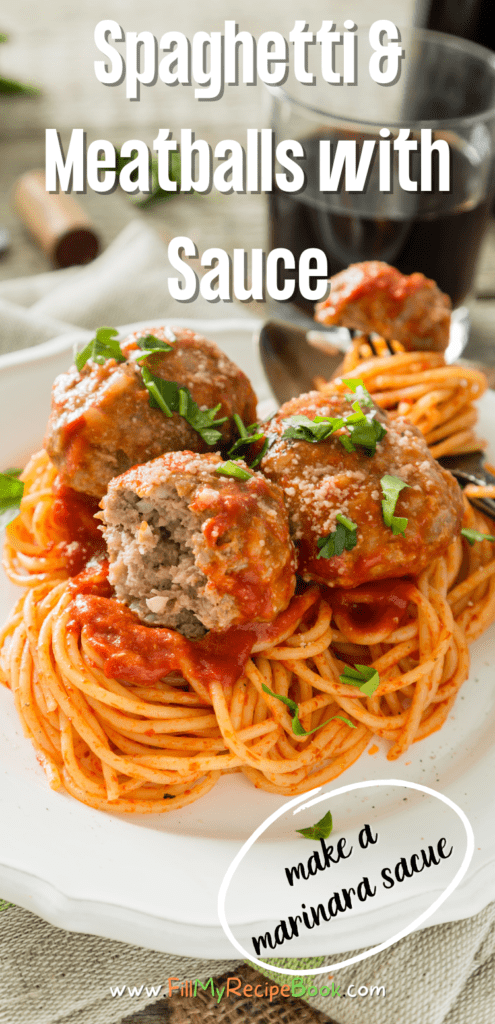 Spaghetti & Meatballs with Sauce
An amazing pasta spaghetti dish with ground beef meatballs with bacon and onion and spices.
Making a great homemade simple marinara tomato sauce that goes well with pasta. Bottle the rest of the sauce for future recipes. Recipes —-> Simple Marinara Tomato Sauce
Some Ingredients.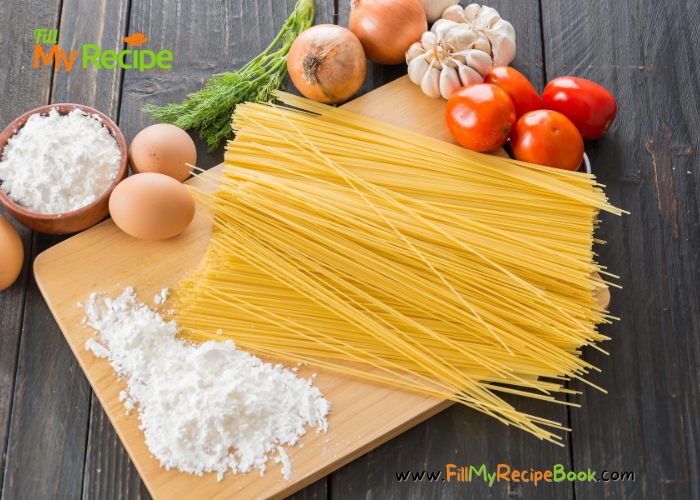 Spaghetti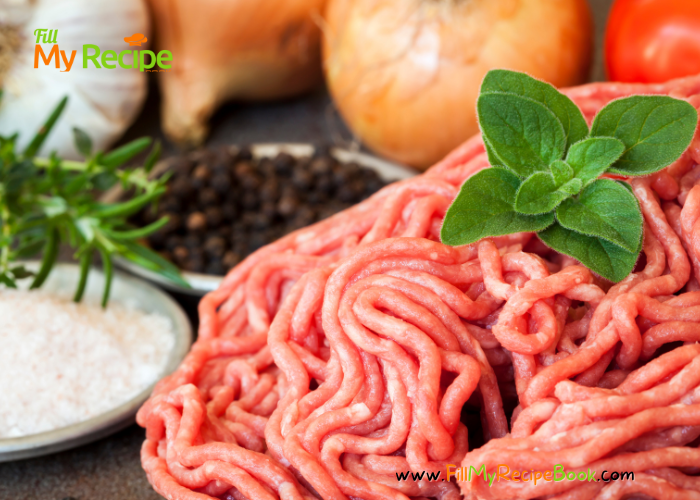 Ground Beef and spices with bacon and onion.
Other ingredients according to the recipe below.
How To
Firstly make this recipe according to the recipe. By mixing the ground beef with the bacon bits and chopped onion and other ingredients with spices. Rolling into meat balls to cook.
Making the marinara sauce before and storing the left overs for future use. Get the —–> Simple Marinara Tomato Sauce (click the highlighted link for the recipe) this sauce is tasty because it contains basil and oregano and herbs. So delicious and easy.
Boiling the spaghetti in a pot of water until done.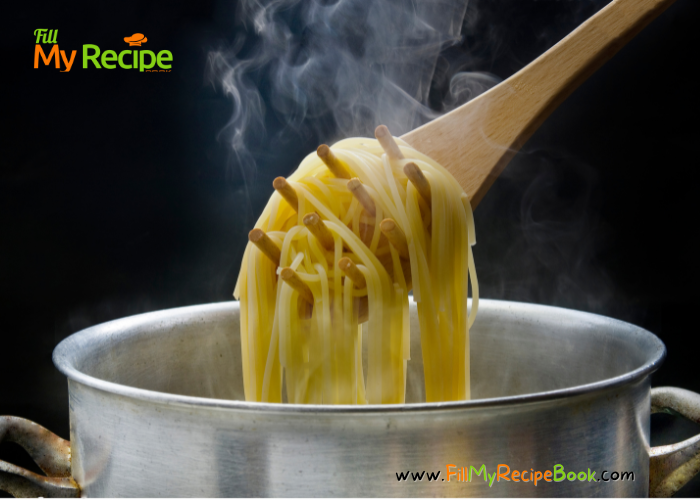 Leaving the meat balls once cooked in a dish resting in some tasty marinara sauce to serve on the spaghetti for a delicious lunch or supper. Serve with a small salad or vegetables.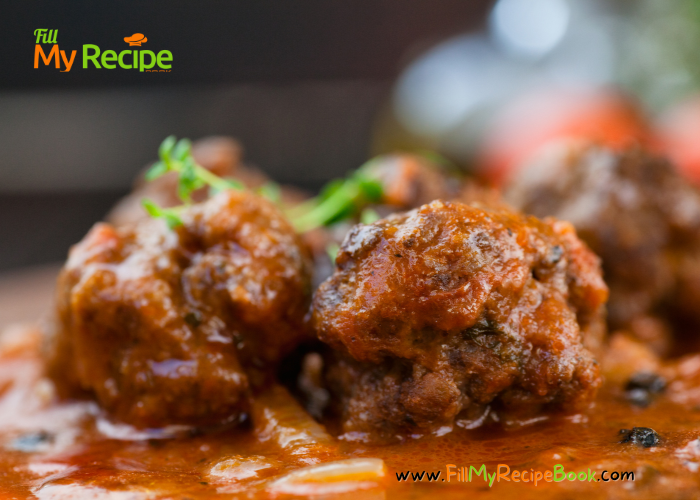 Serve this tasty spaghetti and meatballs with marinara sauce and enjoy.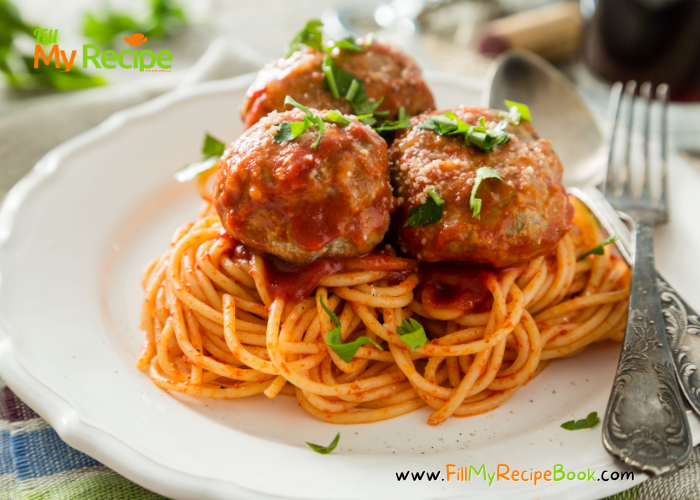 A filling meal to be served for a family with a salad of choice. Keep the left overs for sandwiches or fillings for wraps or tortilla.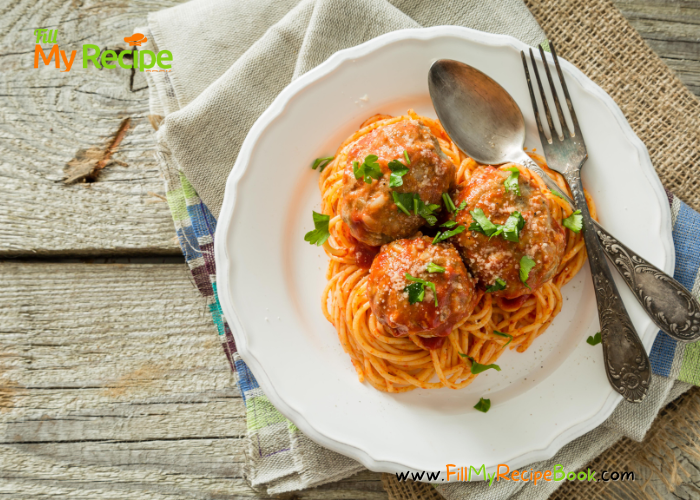 Again get this great tasty —–> Simple Marinara Tomato Sauce Make it for future recipes and for this recipe. Contains some great herbs such as basil and oregano and other. You wont regret bottling some to keep for other great recipe uses.
More recipe ideas for ground meat —-> 15 Mince Meat Supper Recipes Ideas
Get this easy recipe idea —–> Minced Beef Spaghetti and Veggies
Look no further for these pasta recipe ideas —–> 22 Easy Pasta Recipes
Print
Spaghetti & Meatballs with Sauce
Spaghetti & Meatballs with Sauce. Homemade fresh ground beef and spices meat balls with Marinara tomato Sauce on spaghetti.
Author:
Prep Time:

20 min

Cook Time:

30 min

Total Time:

50 min

Yield:

6

Category:

Meals

Method:

no bake stove top
Ingredients
500g of ground Beef
2 rashes of bacon
1/2 cup of bread crumbs
1 onion chopped
1 teaspoon of thyme
1 teaspoon of salt and pepper
1 egg
about 100 g of Spaghetti (to suite the quantity of people you serving)
olive oil
Make this easy marinara sauce that goes well with meatballs and spaghetti. (click the highlighted heading for the recipe)
Instructions
Obtain a bowl to mix the mince/ground beef and ingredients in. Cut the bacon into smaller pieces and mix with the mince meat by hand or with a wooden spoon. Adding all of the spices and egg and bread crumbs and chopped onion to this ground beef mixture, mixing all together well.
Roll into golf ball sizes and press the meat firmly. Place on a side plate until done. (making these the day before and refrigerating them will make them nice and firm)
Make the simple-marinara-tomato-sauce
Place the spaghetti in a pot with water and pinch of salt boil until done.
In a heated frying pan add the olive oil and the meat balls. cook until the meatballs are brown and cooked all sides. Add some of the marinara tomato sauce in the meatball pan and warm up. Leave aside.
Drain your spaghetti and plate in some serving bowls, scoop a few of the meatball and marinara sauce over the spaghetti. Dish up per plate as desired.(Optional )Sprinkle some grated mozzarella cheese on the top and serve with a green salad.
Serve warm and enjoy.
Keywords: Spaghetti & Meatballs with Sauce