Make these Black Bean & Corn Burrito Wraps for a light lunch or tasty breakfast meal. Easy vegetarian no bake recipe for burrito wraps.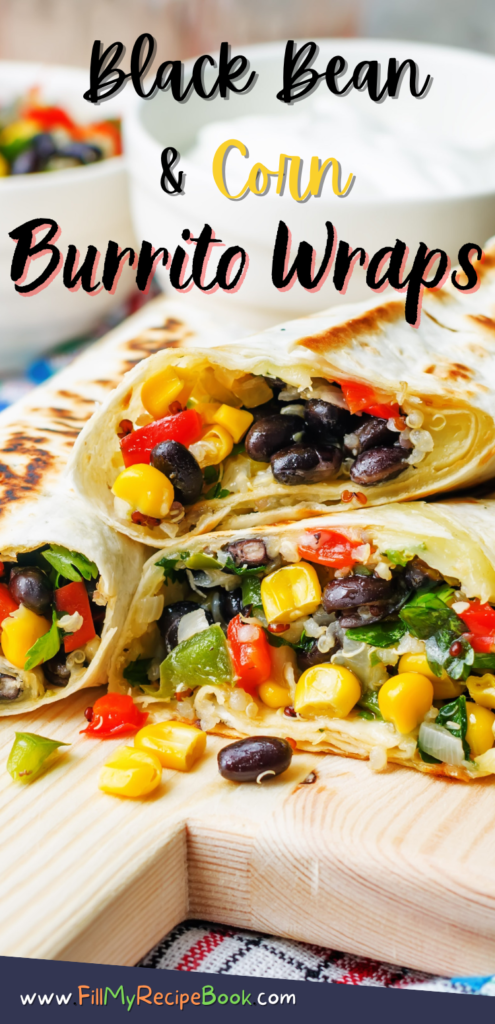 Beans & Corn Burrito Wraps
Wraps make amazing versatile meals with various filling for different diets. They are easy and tasty and may be used for a light meal at lunch or a tasty breakfast. Use your previous days left overs for fillings and add some tasty salsa when eating.
These can be made quickly at home and are far better and healthier than take away fast food.
Ingredients needed.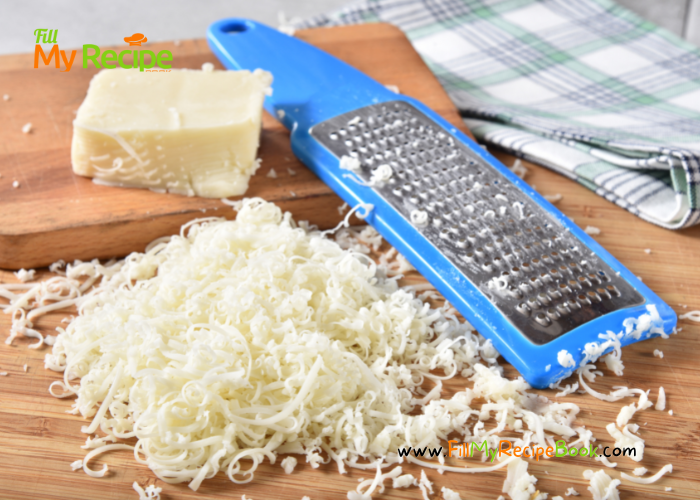 Grated Mozzarella cheese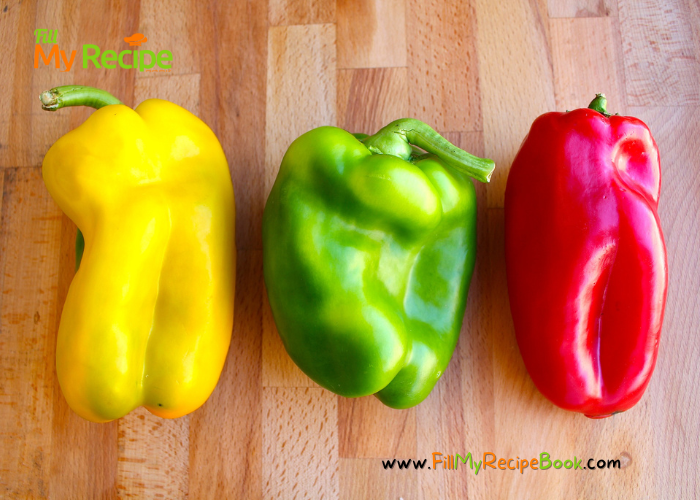 yellow green and red bell peppers chopped.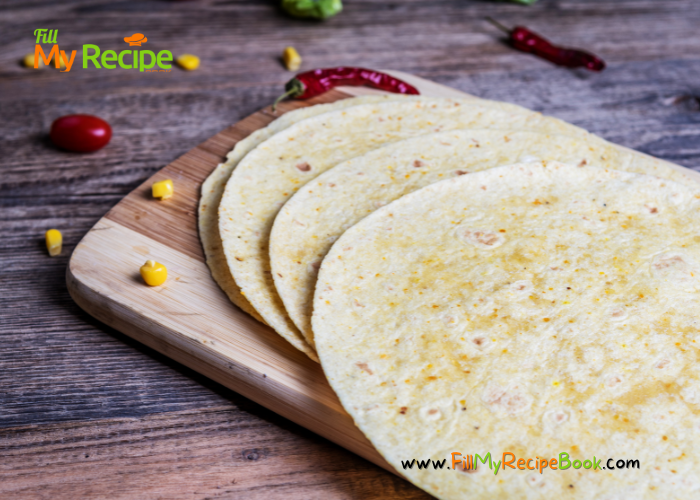 a few tortilla wraps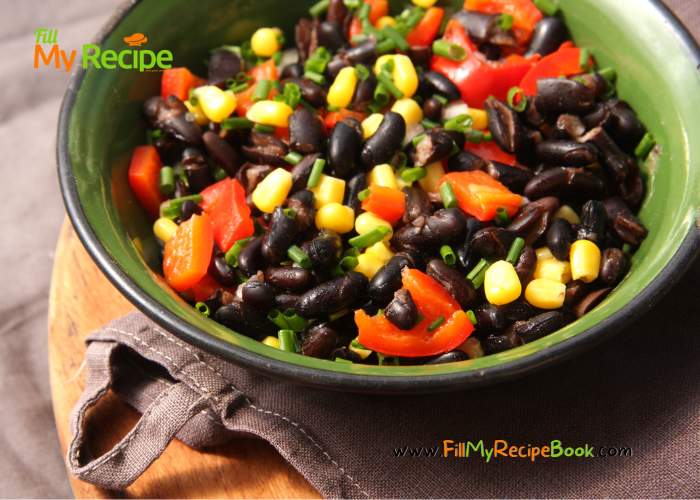 Black beans and corn
How to.
These are so easy to whip up for a meal. The ingredients is sautéed for a few minutes.(according to the recipe). Then the tortilla´s are lightly warmed up and ready for the fillings.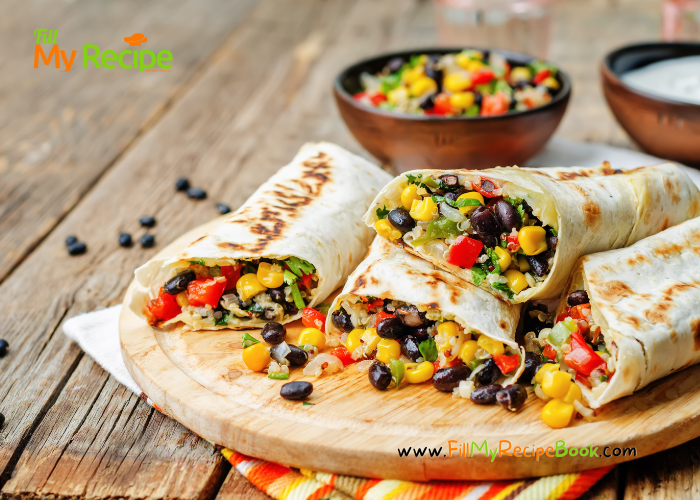 Fill the tortilla with the sauté mixture and then add the cheese and wrap them from the bottom then the sides and serve warm. Serve with some salsa for dipping.
Burrito´s make a healthy homemade meal with versatile fillings or left overs. They are quick to make and very simple. All you need to do is sauté some veggies with spices and fill the tortilla´s with cheese and wrap them up and serve. They are versatile meals for vegetarian or meat eaters as well. Simply use the veggie fillings then add your meat shredded for the meat eaters. Showing how versatile these can be. Enjoy
Make these tortilla´s at home with this recipe. —–> Quick Homemade Tortilla Recipe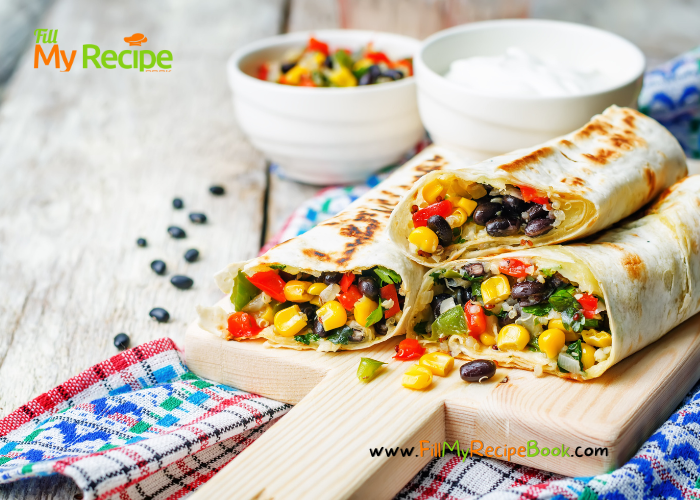 Get this recipe with chicken as well.—–> Homemade Corn and Black Bean Tortillas
Another vegetarian recipe —–> Easy Vegetarian Tortilla Wrap Recipe and Tortilla with Avocado Spinach & Tomato
A few more ideas —–> Easy Homemade Tortillas Recipes
Get these recipe ideas —–> 16 Leftovers Dishes Recipes Ideas
Print
Black Bean & Corn Burrito Wraps
Make these Black Bean & Corn Burrito Wraps for a light lunch or tasty breakfast meal. Easy vegetarian no bake recipe for burrito wraps.
Author:
Prep Time:

5 min

Cook Time:

5 min

Total Time:

10 min

Yield:

8 servings

Category:

Light lunch or breakfast

Method:

stove top no bake
Ingredients
1 can of black beans
1/2 can of sweet corn or corn
1 1/2 cups of grated mozzarella cheese
1/2 cup of chopped different color bell peppers
1/2 cup of chopped red onions
1/4 cup of cilantro
1 Tablespoon of butter
1 teaspoon of olive oil
1 teaspoon each of salt and pepper
1 teaspoon of cumin
juice of 1/2 lemon or lime
8 tortilla wraps
Instructions
In a non stick pan add your oils, butter and onions, bell peppers, cilantro, beans and corn. Lime juice and salt and pepper. Sauté for about 4 min on high until tender, then remove and leave aside.
In another non stick pan warm up the tortilla wraps lightly and lay on a plate.
Add on one tortilla wrap in the middle about a 1/4 cup of the warm bean mixture and then about 3 tablespoons of grated cheese. fold over the bottom then wrap the edges over the bottom fold. Then do the same with the rest of the tortilla wraps.
Optional extra, if you would like some salsa to serve with the tortilla burrito wraps.
Keywords: Black Bean & Corn Burrito Wraps