White Chocolate Panna Cotta with chocolate castor sugar coated leaves. A golden gooseberry and sliced strawberry for decoration with sauce.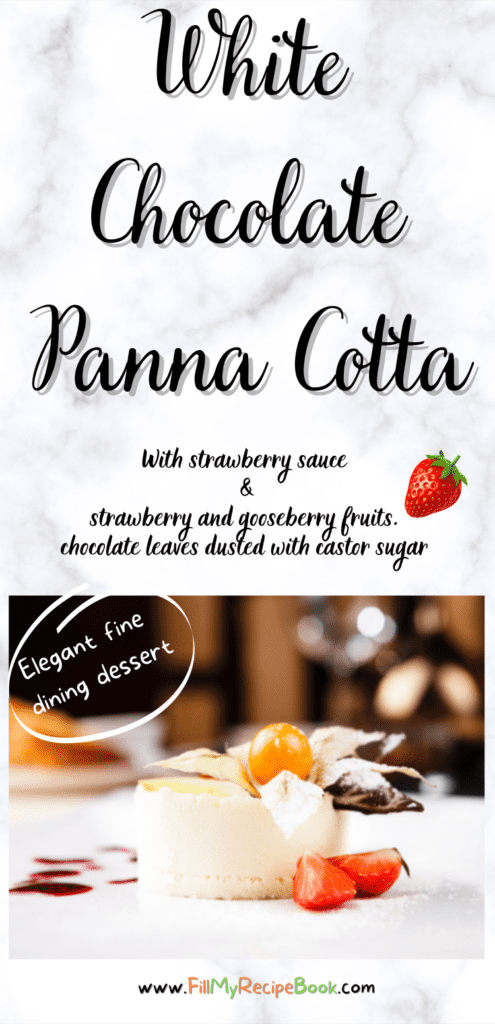 White Chocolate Panna Cotta
A question often asked is what is panna cotta. Its a cooked cream and sugar with flavor and set with gelatin that makes an easy dessert. Decorated with fruits or chocolate or any other sauces.
Panna cotta can be made in a glass with different flavors chilled for it not to be mixed. Also served plated with decoration for an elegant dessert.
This dessert can be kept for up to ten days covered in the fridge.
Ingredients suggested.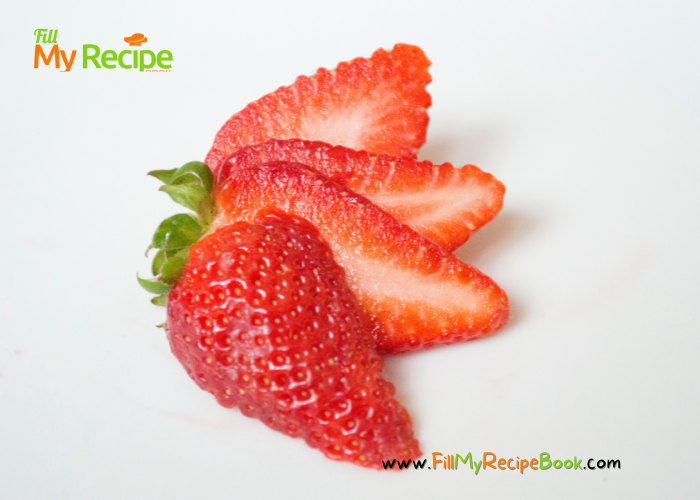 strawberry sliced for decoration on plate.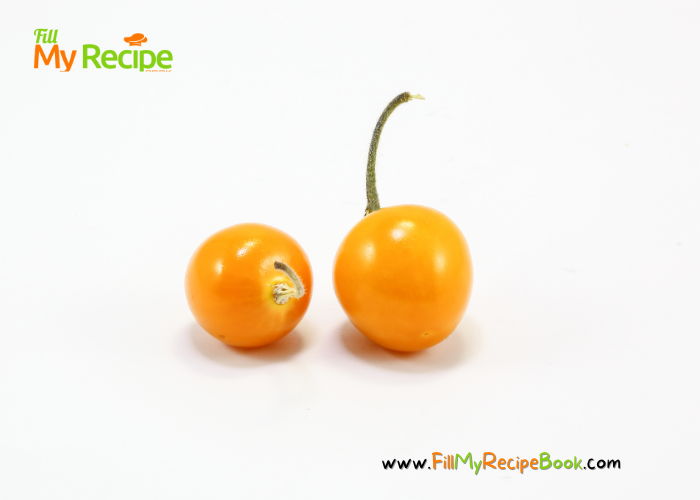 a golden gooseberry placed on top of the panna cotta for taste and decoration.
How To.
You can make these chocolate decorations before you make the panna cotta according to the recipe provided. Or make these chocolate leaves while the panna cotta is chilling and setting in the fridge.
These images are to show you what you can do with the chocolate for decorations. Once you melt the dark chocolate let it set on a leaf for the shape. Other wise make shapes you prefer that are easier.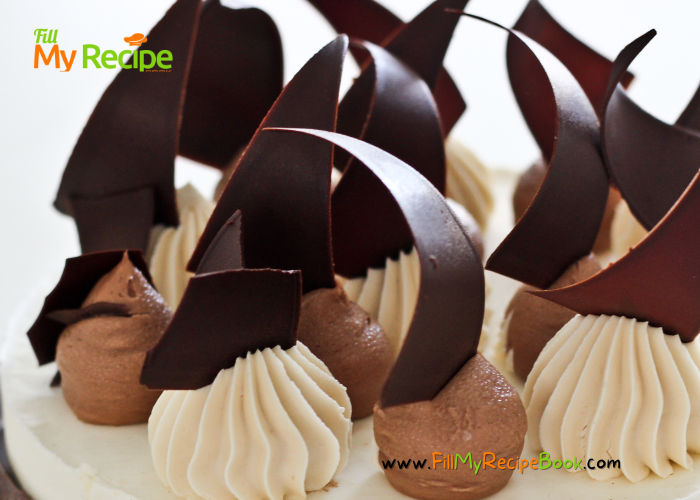 To decorate you can simply melt the chocolate and pipe this pattern on some wax paper to set. Anything is great to decorate this panna cotta to serve for a fine dining dessert.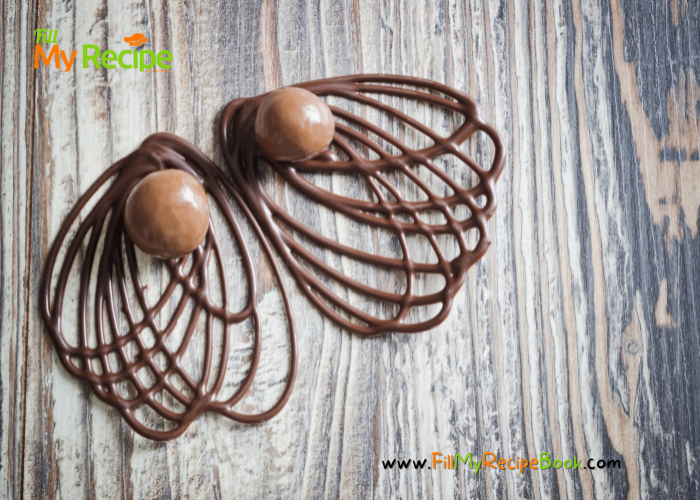 The panna cotta has been set and plated on a serving dish, decorate with cut strawberry on the side and place the gooseberry on the chocolate leaf like decorations. But we did sprinkle some castor sugar over the leaves and panna cotta to serve with a strawberry sauce dotted on the plate. (decorating is anything you can do simply. choice is yours)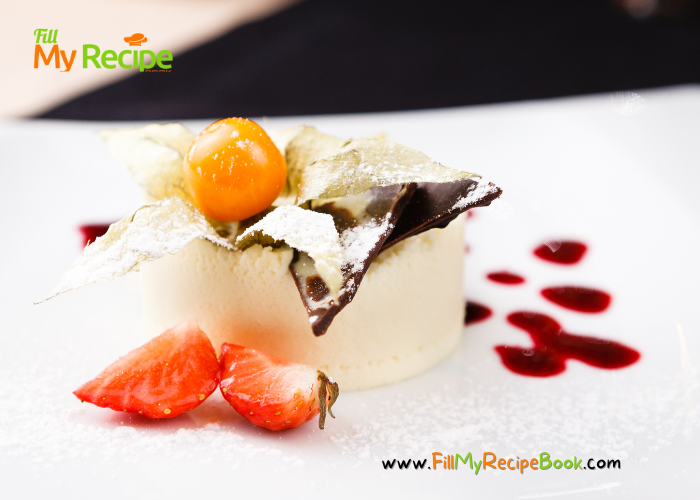 Serving this panna cotta with one or two fruit and chocolate or white chocolate leaves. Dot some sauce on the plate and serve for a pleasing dessert after your meal.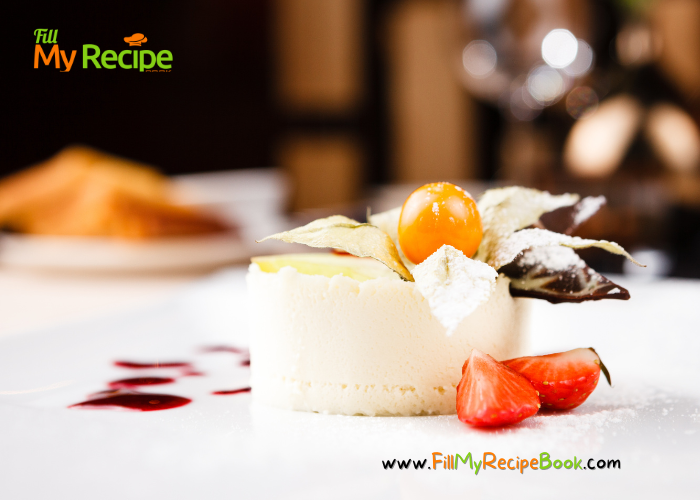 Recommendations.
(click on the highlighted heading for the recipe)
Get some more ideas to serve an elegant fine dining dessert —-> 15 Gourmet Fine Dining Desserts Recipes and these Valentine desserts ideas —-> 14 Special Valentine Dessert Recipes for Two
Sharing more delicious dessert ideas —–> 20 Scrumptious Dessert Recipes and other you would love to make —-> 24 Easy Mini Dessert Recipes
Who doesn't love desserts get some ideas here —–> 21 Easy Dessert Recipes
Sharing more thanksgiving dessert recipe ideas for you to create. —-> 23 Thanksgiving Dessert Recipes
Great ideas for a Christmas Desserts —–> 20 Pleasing Christmas Dessert Recipes and Some recipe ideas for Christmas desserts. —–> 24 Christmas Fancy Dessert Recipes
Print
White Chocolate Panna Cotta
White Chocolate Panna Cotta and fruit with chocolate castor sugar coated leaves. A golden gooseberry and sliced strawberry for decoration with sauce.
Author:
Prep Time:

15 min

Cook Time:

5 min

Total Time:

20 min chilled 2 hrs

Yield:

4

Category:

Desserts

Method:

no bake
Ingredients
1/2 cup of milk and 2 Tablespoon of milk
300 ml of thickened cream
100 g of white chocolate chopped finely
2 Tablespoons of castor sugar (or sweetener of choice)
1 1/2 teaspoons of gelatin powder
Fruit to decorate and chocolate chips to melt and make decorations.
For the strawberry sauce
10 oz strawberries
2 Tablespoons of fine sugar
2 Tablespoons of brandy
Instructions
In a pot place the 1/2 cup of milk, cream and white chocolate and castor sugar. On a low heat heat up this mixture until the chocolate has melted and the mixture is smooth just coming to bubble. (Do not boil) Take of the heat.
In a small bowl add the 2 tablespoons of  milk with the powdered gelatin and leave to bloom. once this is done then add it to the pot of cream and chocolate and mix until blended.
Leave to cool and place in greased ramekins in the fridge for and hour or two until set.
Before plating place the ramekins in some warm water for a minute to release the panna cotta to plate.
Cut up some strawberries, add a gooseberry and melt chocolate and make some chocolate decorations of leaves or other for serving the panna cotta.
To make the strawberry sauce, Crush the fresh strawberries finely with the added sugar and mix well. Add the brandy and mix then leave to stand for an hour before serving on the plate or sprinkled on the panna cotta.
Notes
Any fruit of choice may be used for additional taste or decoration.
Keywords: White Chocolate Panna Cotta with strawberry and gooseberry and chocolate decoration