Easy Biltong Pasta Potjie Recipe made with sour cream and cheddar cheese. Best ever south african creamy potjie meal cooked on coals.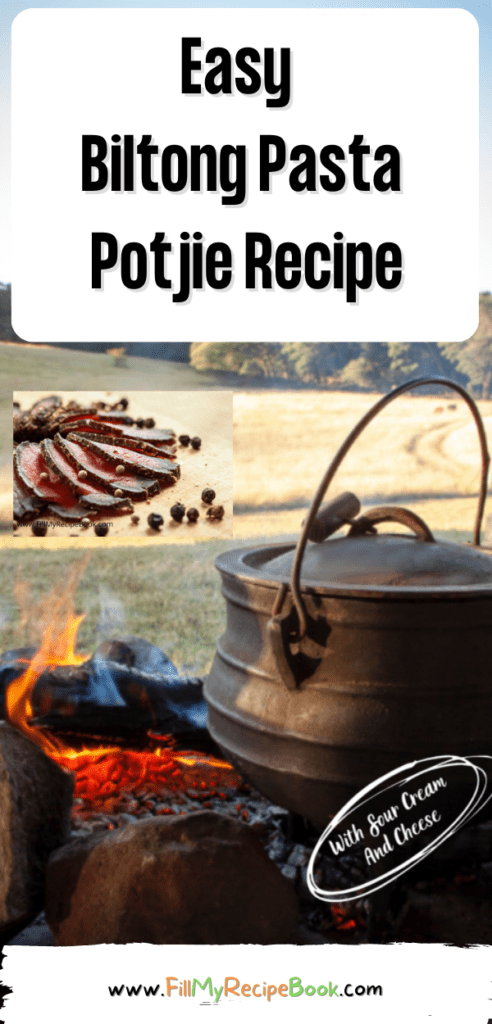 Easy Biltong Pasta Potjie Recipe
Biltong or Jerky as Americans call it is a traditional south Africans meat snack. Then this traditional easy biltong and pasta with sour cream and vegetables potjie is a must to cook. A family meal for lunch or supper cooked on warm coals for a braai.
Like all potjie recipes you first have to make coals from wood burned or from charcoal heated to coals. Then you place the oiled potjie over some coals that would heat up the potjie to a simmer. (medium heat) Then start the cooking process. The secret of a potjie is that you cook it slowly with the lid on. Adding different ingredients at a time.
What is the difference between stew and potjiekos?
"Potjiekos"is a traditional South African Afrikaner stew that is cooked over a fire in a three-legged cast-iron pot."The difference between a potjie"and a stew is that a potjie"is never stirred during the cooking process and is always cooked slowly over hot coals in a cast iron pan.
What are the layers of a potjie?
A "potjie" is made up of layers. The bottom layers is the meat, the middle layer the vegetables and the top layer the starch.
What is the difference between beef jerky and biltong?
Jerky is cut very thin and cooked on a rack at a low temperature to slowly dehydrate and cook the meat. While biltong is cured and marinated for 24 hours and then hung on hooks to air dry for up to a week. It is left in thicker pieces and left to dry out slowly before slicing to the desired size.
Ingredients
biltong slices
pasta shells
sour cream
garlic, mushrooms, onion, bell peppers
mixed vegetables
chicken stock
tomato paste
thyme
grated cheese
View the recipe attached for the amounts and all the ingredients.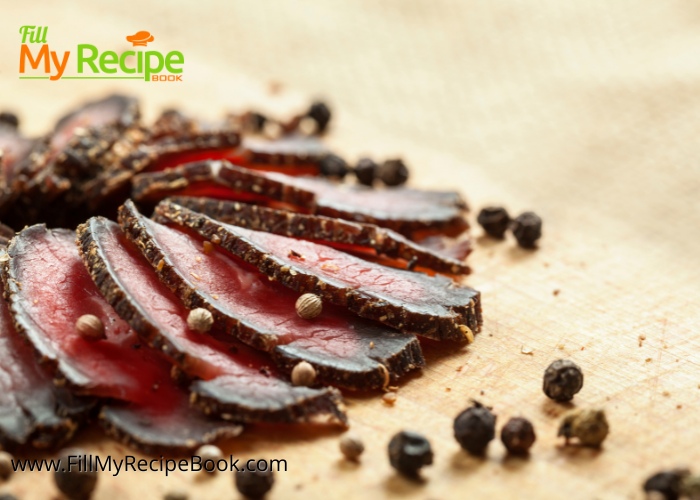 Biltong such as above.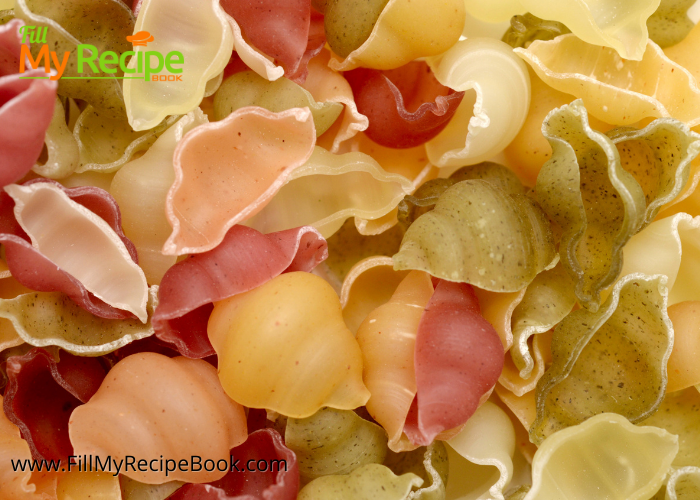 Pasta shells of choice.
How To Make
Firstly as mentioned above that the coals should be ready to cook this potjie. Notice in the image below that the potjie is only placed on the coals. Yet this is to much already for a medium heat. Taking away some coals that leave only some small coals that are nearly ash will do for this recipe. As you are not cooking meat tender. Only the veggies and pasta.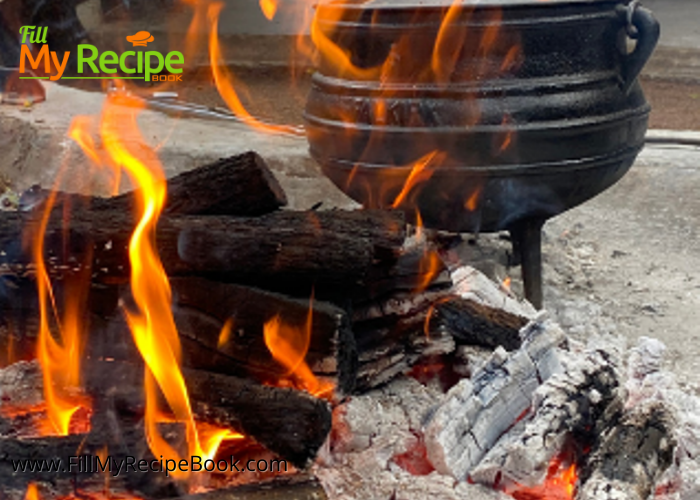 An amazingly easy recipe to cook in a potjie. Making it a lunch or supper for a week end when all family is around the fire chatting. Nothing nicer than to sit around the fire and watch the food cooking. Having some snacks or drinks.
Once its cooked serve with some salad as this is a rich Italian type of dish that the pasta is cooked in cream and cheese. Bringing out the meaty taste of the biltong.
Recommendations
(click the highlighted heading for the recipe)
Some more beef recipe ideas to create —-> Summer Beef Strips Stir Fry and Tasty One Pot Beef Stew Beef Recipe and Simple Oven Roasted Beef Recipe and Minced Beef Spaghetti and Veggies and Beef Fillet Garlic Potato and Homemade Ground Beef Chili Recipe and A Classic Beef Stroganoff and Grilled Beef and Peppers Sosaties and Beef Stew with Fresh Vegetables and Homemade Cottage Pie Dish and Spaghetti & Meatballs with Sauce and Curry and Yellow Rice PotjieSauce and Filet Mignon in Red Wine Sauce and Traditional Bobotie and Yellow Rice and Pan Seared Garlic Butter Steak and Homemade Tangy Lasagna Dish and Curry Mince Vetkoek FillingRecipe and Mini Puff Pastry Sausage Rolls make this recipe idea to —-> Beef Stew with Fresh Vegetables create these beef recipes to —-> Filet Mignon in Red Wine Sauce
A few Mothers Day recipe Ideas to create —-> 21 Mother's Day Braai Ideas
Get a FREE General Recipe page to write out this recipe. Also download Printables for FREE the Kitchen Charts and Household Planners that help for the planning of weekly and monthly meal preparations as well as the shopping and Budgeting. Go get them for FREE.
Get these amazing recipe ideas for —-> A Braai or BBQ for Fathers Day and Cold side dishes for a braai
Love potjie pot recipes then view more —–> Original SA Potjie Pot Recipes and Creamy Seafood and Wine Potjie Recipe and Curry and Yellow Rice Potjie and Chicken and Noodle Potjie Recipe and Tasty Oxtail Potjie Recipe and Filling Lamb Shank Potjie
Purchase these online.
When using cast iron potjie pots and accessories get the equipment them. Cleaning as well as preserving the cast iron pots and pans.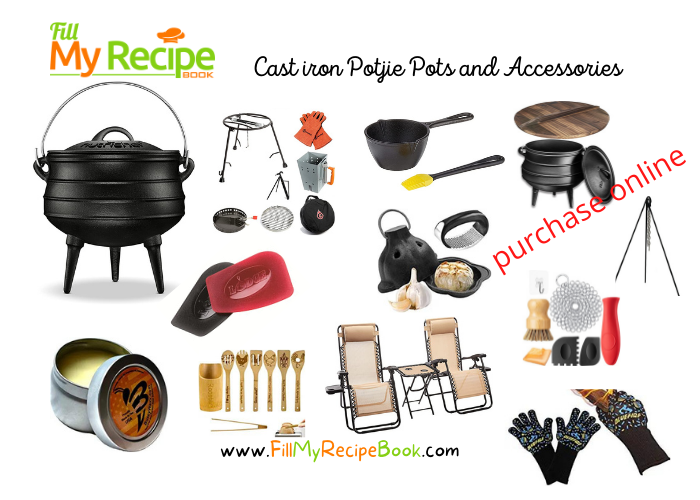 Print
Easy Biltong Pasta Potjie Recipe
Easy Biltong Pasta Potjie Recipe made with sour cream and cheddar cheese. Best ever south african creamy potjie meal cooked on coals.
Author:
Prep Time:

15 min

Cook Time:

1 hr

Total Time:

1 hr 15 min

Yield:

4

Category:

easy

Method:

braai on coals

Cuisine:

South african
Ingredients
12

Onions chopped

2

cloves of crushed garlic

500 g

of mushrooms

2

sprigs of Thyme

1

kg of biltong (not dry but with a bit of red meat in the middle)

1

kg of frozen mixed veggies. (or tin of corn kernels) optional

1.500

kg of pasta shells or twirls

2

red and green bell pepper sliced

5

cubes of chicken stock

750

ml sour cream

8 tablespoons

of tomato paste

1

kg of cheddar grated cheese
Instructions
Fry onion in the medium heated potjie over the coal with a little olive oil until tender.
Add the garlic crushed and bell peppers and cook for about 5 minutes.
Reduce your heat on the potjie pot. (take away some coals from under the potjie)
Add the vegetables, Then place the pasta shells on top and then the sauce with the chicken stock cubes. Place the lid on and let it simmer for about 30 minutes.
Then add the sour cream mushrooms and mix all together.
The biltong and cheddar cheese can now be added to this mixture and mix all together. Then place the lid on the potjie and let it simmer on a low heat of ash coals for another 30 minutes.
Serve and enjoy with salads or bread.
Keywords: Easy Biltong Pasta Potjie Recipe