Baked Omelet with Sausage and Vegetables recipe This healthy easy omelet casserole is the perfect make ahead omelet for breakfast or brunch.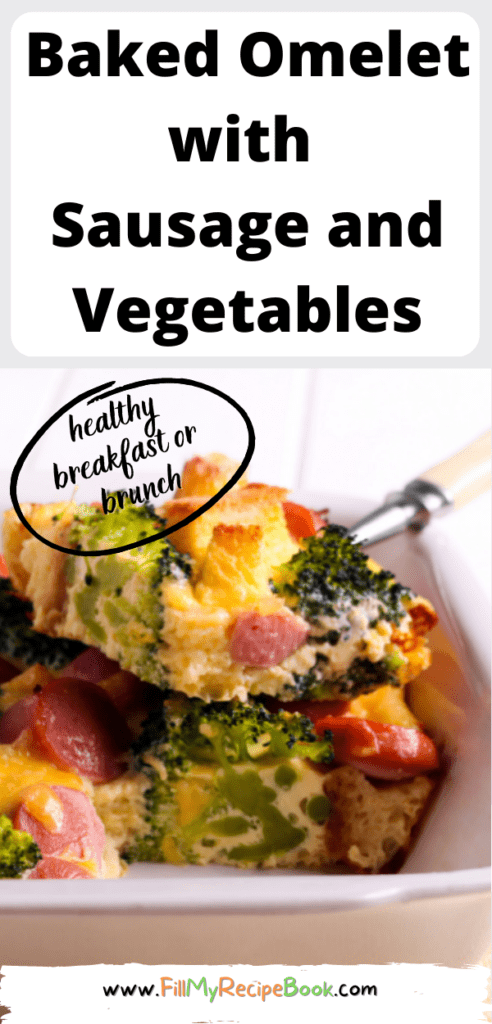 Baked Omelet with Sausage and Vegetables
A healthy and easy oven baked breakfast or brunch omelet with sausage and veggies such as broccoli and onion. In a casserole dish filled with egg custard mix with turmeric and spices and cheese. A great family make ahead meal that is filling and tasty. Versatile recipe to add veggies you have in the kitchen.
Standing over the stove and cooking takes so much time and time is limited. That is why this is a favorite of mine to whip up quickly and place in the oven to bake.
The family love this omelet that is quick and easy to put together for a breakfast on a weekend or a Sunday brunch. Make for family occasions such as Fathers or Mothers day. The dish will be eaten up immediately.
Should you sauté veggies before adding to omelette?
Cooking the vegetables first before adding to the omelet is good as they contain water and would make the omelet soggy if added raw to the dish. This way the omelet will keep its vegetable together with the mix and all the flavors of the vegetables will still be there.
What is the best seasoning for an omelette?
Salt. As it is the obvious seasoning for eggs.
peppers
red bell pepper flakes, paprika.
chili flavor
tarragon
hot sauce
basil
dill
turmeric
What kind of cheese is good in an omelette?
cheddar
mozzarella
alpine cheeses like Gruyère
feta
parmesan
manchego
These cheeses melt well in an omelet. Where as paneer or halloumi, would not melt good but you can add them in small cubes.
Why add cream to omelette?
Adding a little cream to the milk or just the cream will provide more fats to the omelet. It also makes the omelet a little tangy and tastier. Depending on how much cream is added.
What is the difference between omelet and omelette?
Omelet is the spelling used in American English. Omelette is the spelling used in British English
Ingredients
eggs
milk
cheese
sausage (of choice and diet)
broccoli
onion
salt and pepper and turmeric
olive oil
See the recipe attached for the full ingredients and amounts and instructions.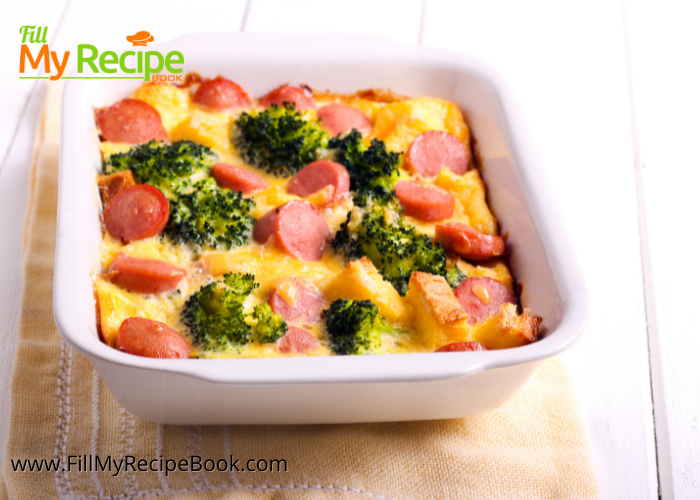 How To
I place some turmeric in the omelet as this always allows to add in healthy ingredients that they family can not see or taste. Turmeric is a spice that helps with inflammatory conditions. So whenever possible add some to your recipes. I always like to try and make the healthiest recipes as possible. Using good ingredients.
Firstly sauté the veggies such as the small florets of broccoli and onion and sausage in a little olive oil in a pan. Because broccoli and sausage will not be cooked in the egg mix while you are baking the omelet. They normally will take longer to cook.
A egg mix with milk and spices is added to this casserole omelet breakfast dish and then baked in the oven.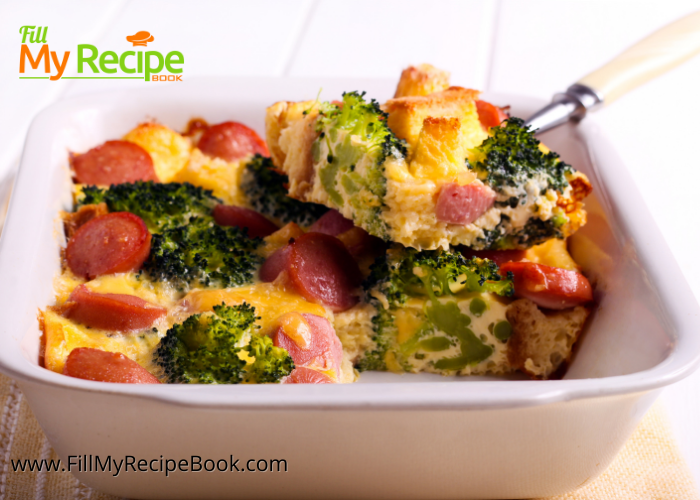 As you can see the above image shows you a delicious breakfast or brunch for a busy weekend. Make this dish for a lunch with salad or a filling supper. For my household as long as its got meat in is what counts.
If you would love to write out the recipe then go download this General Recipe Page.
Recommendations
(click the highlighted heading for the recipe)
Great omelet recipe ideas to create. —-> Cheese and Bacon Omelets and Healthy Mushroom and Spinach Omelet and Moist French Omelette Recipe and Tasty Banana and Cheese Omelet and One Pan Bell Peppers Omelet
Create Brunch or breakfast for easter weekend recipe ideas —-> 26 Easter Breakfast or Brunch Ideas
Some other omelet recipes to choose from and make.—–> Easy Satisfying Omelet Recipes
and other —–> 20 Easy Egg Recipes
Like to make meals ahead and freeze then get some recipe here.—–> 10 Make Ahead Freezer Casserole Recipes and for breakfast Get some breakfast freezable ideas —-> 17 Make Ahead Breakfast Freezer Recipes
Not forgetting about Fathers Day. Make these for him.—–> 16 Fathers Day Breakfast or Brunch Recipes
Get these —–> 9 Easy Crustless Quiche Recipes as well as these ideas —– 13 Amazing crustless quiche recipes
and a few more —-> 25 Healthy Easy Breakfast Recipes
Get these recipe ideas —–> 16 Leftovers Dishes Recipes Ideas, Obtain these recipe ideas —-> 22 Leftovers Ideas for Monday Meals
Get inspired here —–> 10 Oven Baked Omelet Recipes
Breakfast recipe ideas —–> 28 Easy Breakfast Ideas Recipes
Other recipe ideas for eggs —–> 17 Simply Easy Egg Recipes
Some ideas for a brunch. —–> 22 Tasty Brunch Recipes
and these are other recipe ideas to try —-> 18 Yummy Fat Free Recipes
Some great family recipe ideas for dinners —–> 34 Easy Family Dinner Recipes and budget friendly ones —–> 23 Simple Family Budget Meals
Get these great Christmas breakfast ideas —–> 35 Easy Christmas Breakfast Ideas
Print
Baked Omelet with Sausage and Vegetables
Baked Omelet with Sausage and Vegetables recipe This healthy easy omelet casserole is the perfect make ahead omelet for breakfast or brunch.
Author:
Prep Time:

5 min

Cook Time:

30 min

Total Time:

35 min

Yield:

6

Category:

Breakfast, Brunch

Method:

Oven Baking
Ingredients
8

eggs

1/2 cup

of cream/milk (or

1/2 cup

almond milk)

250 g

of sausage of your liking. (use vegetarian sausage for vegetarians)

1 cup

of cheese grated (cheddar or mozzarella)

2 cups

of bites size broccoli florets

1/2 cup

of red onion
salt and pepper to taste

1/8 teaspoon

of turmeric

1 tablespoon

of olive oil To fry in.
Instructions
Preheat oven to 200 Deg. C (400 Deg. F)
Grease your baking dish and set aside. 
Heat a pan and add the olive oil in to sauté the sausage and onion and broccoli. Turning until brown and broccoli is slightly cooked which should be about 3 minutes.
Whisk the egg and cream/milk together with spices. 
Place the cooked ingredients in the baking dish and sprinkle over the cheese and then pour the egg/milk mixture over the ingredients until all is evenly covered.
Sprinkle some dried parsley or basil over the top and bake for 25 – 30 minutes until brown and cooked in the middle.
Serve warm for a breakfast or lunch with salad. Suites any meal.
Notes
Omelete keep well chilled and freeze well. In sealed container. Make ahead and preheat this oven baked dish as well.
Keywords: Baked Omelet with Sausage and Veggies recipe